SUATU EKPLORASI EARNINGS MANAGEMENT SEBAGAI DAMPAK DARI PROFITABILITAS DAN UKURAN PERUSAHAAN DI INDONESIA DAN MALAYSIA
Keywords:
banking, corporate size, profitability, earnings management
Abstract
This study is quantitative empirical evidence about how the effect of profitability and return on assets on earnings management, this study also examines whether company size can moderate the effect of profitability on return on assets. The findings of this study support the state-owned bank program that was formed into holdings, merger was carried out for the purpose of making banks in Indonesia bigger, stronger in competing with foreign banks, so that they would be more trusted and produce better levels of profitability. The results of this study also shown that banks with a large level of profitability tend to (although not significant) report that their operating profit smaller than they should to, in order to reduce tax liability and corporate social responsibility to the community. Other results from this study have also shown that larger bank significantly effect earnings management, that is by reporting bank profits that are greater than what actually happened. The purpose of the company to do such earnings management is to maintain, even to increase the credibility of the bank. It was required a better supervision from internal banks (including audit committees) also from external banks (by external auditors), so that the reported quality of earnings be better, yet the investors and creditors are more secure in placing every single money in the bank.
References
Biddle, G. C., Hilary, G., & Verdi, R. S. (2009). How does financial reporting quality relate to investment efficiency? Journal of Accounting and Economics , 48, 112-131.
Ernayani, R., & Oviantari, I. (2015). Effect of Ligitation,Taxes and Political Cost, and Debt Covenant of Accounting Conservatism. 5th Annual International Conference on Accounting and Finance. doi:doi: 10.5176/2251-1997_AF15.49
Fahmi, I. (2014). Analisis laporan keuangan. Bandung, Jawa Barat, Indonesia: Alfabeta.
Godfrey, Jayne; Hudgson, Allan; Tarca, Ann; Hamilton, Jane; Holmes, Scott. (2010). Accounting Theory (7 ed.). New York: John Wiley & Sons.
Ifada, L. M., & Wulandari, N. (2015). The Effect of Deferred Tax and Tax Planning Toward Earnings Management Practice: An Empirical Study On Non Manufacturing Companies Listed In Indonesia Stock Exchange in The Period Of 2008-2012. International Journal of Organizational Innovation, 8.
Kieso, D. E., Weygant, J. J., & Warfield, T. D. (2014). Intermediate Accounting. john Wiley & Sons.
Koradia, V. C. (2013). Profitability Analysis A Study of Selected Oil Companies in India. Indian Journal of Applied Research. Volume: 3, Issue: 5, May 2013.
Lazzem, S., & Jilani, F. (2017, 7 3). The Impact of Leverage on Accrual-Based Earnings Management: The Case of Listed French Firms. Research in International Business and Finance , 1-22.
Mulyana, A., Zuraida, & Saputra, M. (2018). The influence of liquidity, profitability and leverage on profit management and its impact on company value in manufacturing company listed on Indonesia stock exchange year 2011-2015. International Journal of Managerial Studies and Research (IJMSR) , 6, 8-14.
Pangaribuan, H., Gunarto dan Pranata, D. (2015). Bank Ownership and Size on Audit Quality: Study in Indonesia. Jurnal Ekonomis. 9(2), 20-33, 2015.
Pangaribuan, H., dan Pranata, D. (2016). Ownership, Company Size and Audit Quality in Indonesia Banking Industry: An Empirical Evidence During The Relatively Stable Economic Condition. Journal of International Scholars Conference- Business and Governance. 1(3), 2016.
Prasetyorini, B. F (2013). Pengaruh Ukuran Perusahaan, Leverage, Price Earning Ratio Dan Profitabilitas Terhadap Nilai Perusahaan. Jurnal Ilmu Manajemen Volume 1 Nomor 1. Januari 2013.
Rusydi, Utama, & Djakman. (2017). Pajak dan Konservatisme Akuntansi. Jurnal Akuntansi Multiparadigma, 8(1), 1-227. Retrieved April 2017, from http://dx.doi.org/10.18202/jamal.2017.04.7050.
Sartono, A. (2008). Manajemen keuangan: Teori dan aplikasi. Yogyakarta: BPFE-Yogyakarta.
Scott, W. R. (2003). Financial Acoounting Theory-Prentice Hall (3 ed.). Canada: Prentice-Hall Canada Inc. Scarborough: Ontario.
Stickney, C. P., Weil, R. L., Schipper, K., & Francis, J. (2010). Financial Accounting: An Introduction To Concept, Methods, And Uses (13 ed.). Canada: South-Western Cengage Learning.
Sudarmadji, A. R & Sularto, L. (2007). Pengaruh Ukuran Perusahaan, Profitabilitas, Leverage, dan Tipe Kepemilikan Perusahaan terhadap Luas Voluntary Disclosure Laporan Keuangan Tahunan. Proceeding PESAT (Psikologi, Ekonomi, Sastra, Arsitek, & Sipil) Vol 2 . Agustus 2007.
Wiyadi, Trisnawati, R., Sasongko, N., & Fauzi, I. (2015). The effect of information asymmetry, firm size, leverage, profitability and employee stock ownership on earnings management with accrual model. International Journal of Business, Economics and Law , 8 (2), 21-30.
Yip, E., Staden, C. v., & Cahan, S. (2011). Corporate Social Responsibility Reporting and Earnings Management: THe Role of Political Costs. Australian Accounting, Business, and Financial Journal, 5(3), 17-34. Retrieved from https://ro.uow.edu.au/aabfj/vol5/iss3/3/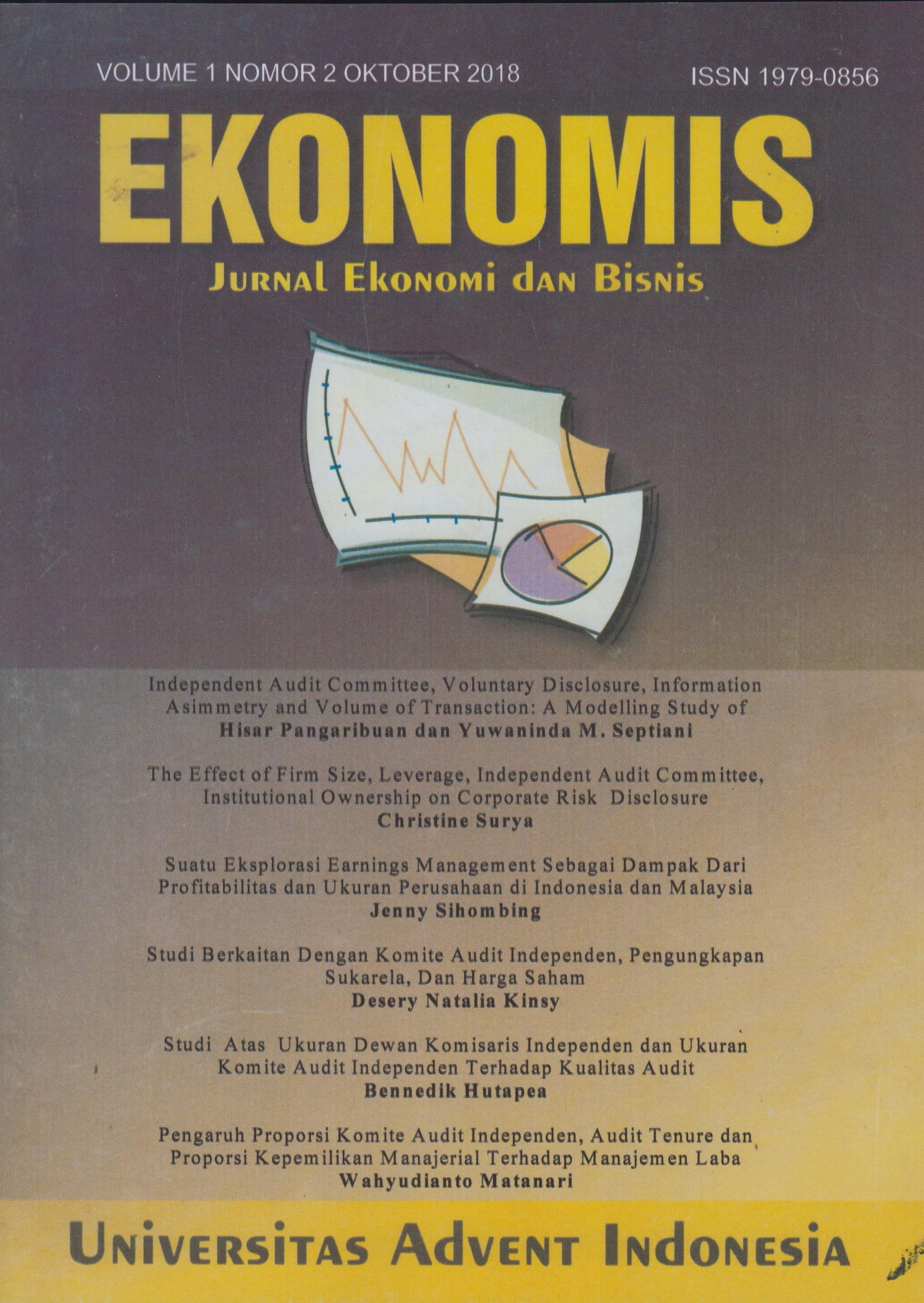 Downloads
How to Cite
Sihombing, J. (2019). SUATU EKPLORASI EARNINGS MANAGEMENT SEBAGAI DAMPAK DARI PROFITABILITAS DAN UKURAN PERUSAHAAN DI INDONESIA DAN MALAYSIA. Jurnal Ekonomis, 11(2), 39-52. Retrieved from https://jurnal.unai.edu/index.php/jeko/article/view/2057