THE INFLUENCE OF SUSTAINABILITY REPORT DISCLOSURE AND OWNERSHIP CONCENTRATION TO THE COMPANY'S PERFORMANCE
Prisca Sylvani Laksono

Universitas Pelita Harapan

Lina Lina

Universitas Advent Indonesia
Abstract
This research attempts to examine the influence of sustainability report disclosure and ownership concentration towards the company's performance. Our sample consists of 86 listed companies in Indonesian Stock Exchange during 2009 - 2011. We use two models in this research. The first model examined the influence of sustainability report disclosure in aggregate level and ownership concentration towards company's performance. The second model examined the sustainability report disclosure in individual level, measured by disclosure of economic performance, disclosure of environmental performance, and disclosure of social performance, towards the company's performance. This study used the return on asset as a proxy of company's performance. Our result found evidence that sustainability report disclosure whether in aggregate or individual level and ownership concentration have influence towards the company's performance.
References
Abdo, A. and G. Fisher. (2007). The Impact of Reported Corporate Governance Disclosure
on the Financial Perfonnance of Companies Listed on the JSE. Investment Analysts
Journal No. 66 p. 43-56.
Ahmed, Sarwar Uddin, Md. Zahidul Islam and Ikramul Hasan. (2012). Corporate Social
Responsibility and Financial Perfonnance Linkage - Evidence from the Banking
Sector of Bangladesh. Journal of Organizational Management VoL 1 No.1 p. 14-21.
Bagella, M., L. Becchetti and I. Hasan. (2006). Transparency, Governance and Markets.
Uuited Kingdom: Elsevier.
Burhan, Anuisa Hayatun N. and Wiwin Rahmanti. (2012). The Impact of Sustainability
Reporting on Company Perfonnance. Journal of Economics, Business, and
Accountancy Ventura VoL IS, No.2 p. 257-272.
Cadburry, Adrian. (1992). Cadbury Report: The Financial Aspect of Corporate Governance.
London: The Committee on The Financial Aspects of Corporate Governance.
Davis, Duane. (2205). Business Research for Decision Making, 6th Edition. United States of
America: Thomson South-Western.
Demsetz, Harold and Belen Villalonga. (2001). Ownership Structure and Corporate
Performance. Journal of Corporate Finance Vol. 7 p. 209-233.
Global Reporting Initiative. (2011). Sustainability Reporting G3.l Guidelines. Available
from https:llwww.globalreporting.orglresourcelibrary/G3.l-Guidelines-Incl-
Technical-Protocol.pdf: Internet; accessed 8 September 2012.
Khaveh, Amir, Seyed Rajab Nikhashemi, Abdolaziz Yousefi and Ahasanul Haque, (2012).
Voluntary Sustainability Disclosure, Revenue and Shareholders Wealth - A
Perspective from Singaporean Companies." Business Management Dynamics Vol. 1
No.9 p. 6-12.
Ongore, Vincent Okoth. (2011). The Relationship between Ownership Structure and Firm
Performance: An Empirical Analysis of Listed Companies in Kenya." African Journal
of Business Management Vol. 5 No.6 p. 2120-2128
Solomon, Jill. (2010). Corporate Governance and Accountability, 3n1 Edition. United
Kingdom: Wiley.
Standard & Poor's Corporate Governance Services. (2002). Standard & Poor's Corporate
Governance Scores: Criteria, Methodology and Definitions. United States: Mc Graw
Hill.
Weygandt, Jerry J., Paul D. Kimmel, and Donald E. Kieso. (2013). Financial Accounting
lFRS. Second Edition. John Wiley & Sons, Inc.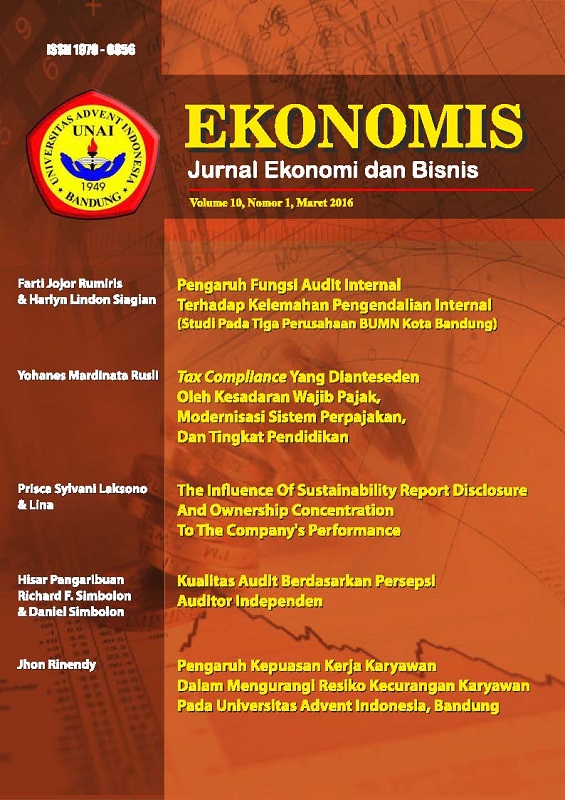 How to Cite
Laksono, P., & Lina, L. (2016). THE INFLUENCE OF SUSTAINABILITY REPORT DISCLOSURE AND OWNERSHIP CONCENTRATION TO THE COMPANY'S PERFORMANCE. Jurnal Ekonomis, 10(1), 30-45. Retrieved from https://jurnal.unai.edu/index.php/jeko/article/view/429