The Perception of Premarital Sex Among Students in a Religious Moral Based University
Keywords:
Collective worship, Moral development, Morality, Premarital sex, Sexual activity
Abstract
Previous studies have shown that premarital sex is prevalent among youth in schools and
universities. Most institutions use methods such as rules, seminars, or sex prevention
programs to help prevent students from engaging in premarital sex. Not many institutions
have used religious moral development activities to prevent premarital sex among young
people. The purpose of the study was to investigate the relationship between religious moral
development on perception of premarital sex among students in a religious based university
in Thailand, and to also explore the factors that shape students" perceptions of premarital sex.
The research design of this study was quantitative, non-experimental and descriptive, using
the survey method of data collection. Permission was granted from the university research
committee for distribution of the survey through the university intranet, and the data was
analyzed using Statistical Package for the Social Sciences (SPSS). The total number of
participants was 103 undergraduate students from the international programme.
The findings of the study suggest that most university students are against sex before
marriage. Moral development activities taught them not to have premarital sex. Participants
responses showed that the factor that most impacted perceptions of premarital sex was the
internet. The findings also suggested that movie/television viewing, is an important factor
that shapes perceptions of premarital sex. The result show that moral development activities
and perceptions of premarital sex are related, however it was a weak correlation (r=.03).
Moral development activities may have a small influence on students" perceptions of
premarital sex.
There is a need for improvement of moral development activities such as the implementation
of more discussions on premarital sex to help students understand the value of sex. Future
research in this area could use qualitative approaches to examine the factors that impact
perceptions of premarital sex, and regression analysis to investigate the influence of moral
development on perceptions of premarital sex.
Downloads
Download data is not yet available.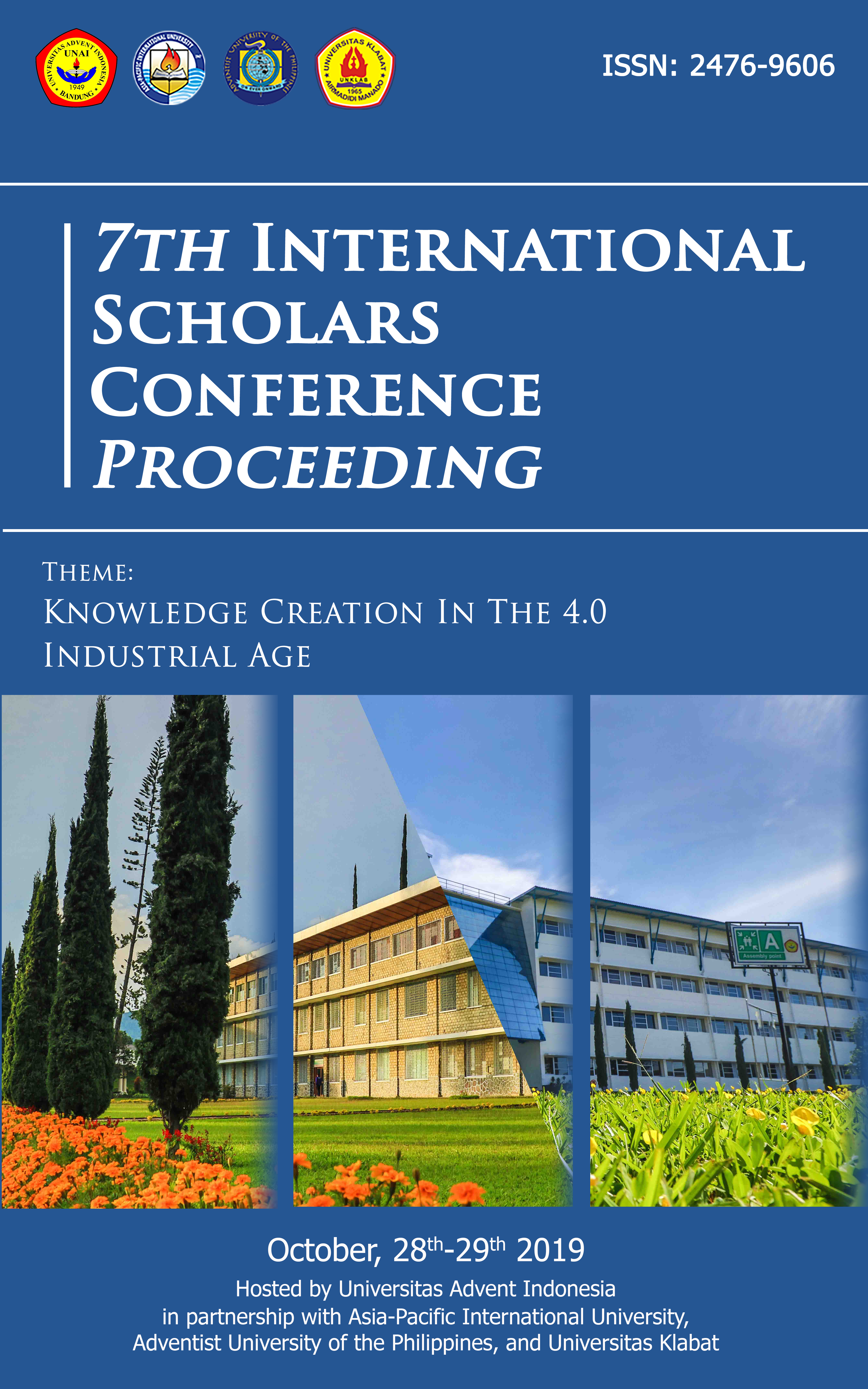 Downloads
How to Cite
Teo, H. S. Y., & Simon, A. (2019). The Perception of Premarital Sex Among Students in a Religious Moral Based University. Abstract Proceedings International Scholars Conference, 7(1), 1558-1585. https://doi.org/10.35974/isc.v7i1.1004
License
Copyright © 2019 ISC Committee.