Students' Perception on the Characteristics of Online News andStudents' Perception on the Characteristics of Online News andSocial Media as News Medium 
Andrea Louise C. Seguin

Adventist University of The Philippines

Genfil Q. Villahermosa

Adventist University of The Philippines

Romeo Barrios

Adventist University of The Philippines
Keywords:
online news, social media, news medium, credibility
Abstract
Social media have become significant in the lives of many young people. Use of social media increases as that of newspapers decreases. Nowadays, cellphones andother electronic devices have taken over all forms of communication. As access andavailability on online news grow, the concern for the quality of information foundonline deceases. This descriptive study determined students' perception on thecharacteristics of online news and social media as news medium. Further, itexamined the significant difference in the characteristics of online news and socialmedia as news medium considering gender, school affiliation, and religion.Credibility Perceptions of Television and Online News questionnaire was used togather information from a purposively sampled 120 students among three collegesin Region IV. Bipolar adjectives in a semantic scale of 1-5 were used in thisquestionnaire. The respondents used Facebook (91.67%), Twitter (41.67%),YouTube (43.33%), Snapchat (5.83%) and Others (17.5%). The respondentsperceived a low credibility of online news and social media in terms of fairness,unbiased, coverage of the story, accuracy, public, privacy, separating facts andopinion, trustworthiness, concerns, factual, and presentation. Further resultsrevealed that the respondents perceived that online news cares about the audience'sneeds and interests, concerned about the public interest and community's wellbeing,uses activevoice,with political leanings,andoffers fresh news. The gender difference on the characteristics of news and social media as news medium is significant in favor of females. Therespondents'perceptionof the characteristics ofnewsand social media as news mediums significantly differ by schools and religion.Itisrecommendedtofindotherfactors that influence the credibility of newsmedium. Otherimplicationswere discussed in the study.
Downloads
Download data is not yet available.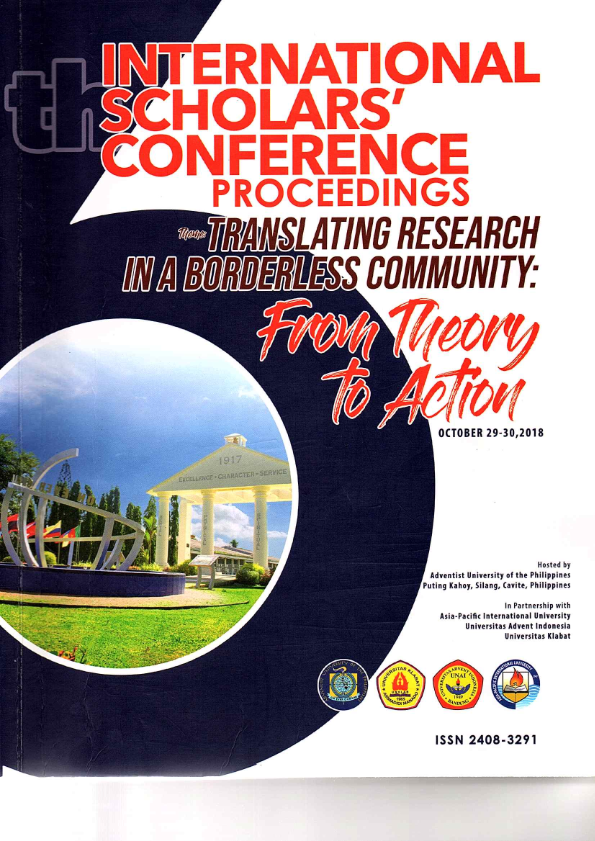 How to Cite
Seguin, A., Villahermosa, G., & Barrios, R. (2018). Students' Perception on the Characteristics of Online News andStudents' Perception on the Characteristics of Online News andSocial Media as News Medium . Abstract Proceedings International Scholars Conference, 6(1), 237. https://doi.org/10.35974/isc.v6i1.1155
Section
Art, Humanities & Social Sciences
Copyright (c) 2018 International Scholars Conference
This work is licensed under a Creative Commons Attribution-NonCommercial-ShareAlike 4.0 International License.
Copyright © 2019 ISC Committee.