Ing Ngarsa Sung Tuladha Learning Model
Kartini Hutagaol

Universitas Advent Indonesia
Keywords:
Ing ngarsa, Tuladha, Learning Model.
Abstract
This paper aims to describe a design of cooperative learning models that emphasizeexemplary criteria in conveying information or concepts / ideas in the classroom. Inconveying information or concepts, teachers as educators and leaders must be truly preparedand know well that the examples of the concepts to be conveyed are good and true. Realizingthat a teacher or leader who determines the direction is a role model, and as a role model, thepeople around him will follow, so as a leader must be able to give a survey and who cling tohis responsibilities, is expected to be aware of his actions, behavior, ways of thinking, eventhe habit will be followed by many people. Ing Ngarsa Sung Tuladha is a leadership aspectthat has a group learning leader. These aspects are capable of moving and directing groupmembers to determine the direction and purpose of learning. This study uses descriptive,comparative and development research methods. Descriptive and comparative methods tosupport empirical research. With the development research method the learning environmentwill be developed and evaluated to test the effectiveness of the model design. Based on thetesting criteria for the two mean differences are if the acquisition is p. sig. value < 0.05 thenH0 is rejected. Because of the acquisition of p. sig. value = 0.00 < 0.05 so H0 is rejected,meaning that the learning outcomes of students who use Ing Ngarsa sung Tuladha'scooperative learning model are better than ordinary learning. Learning outcomes of studentswho get the Ing Ngarsa Cooperative Learning model are better than students who do not useit. Overall students have good attitudes and morals.
Downloads
Download data is not yet available.
References
Alfaiz. (2014) Pembelajaran Afektif merupakan salah satu Strategi dalam Pembentukan Karakter Peserta Didik (Sebuah Tinjauan dari Perspektif Psikologi; Social Cognitive Theory). Jurnal Pelangi. 7(1), 85-96A
Bandura, A,1986. Social foundations of thought and action. Englewood Cliffs, NJ: Prentice Hall.Another reference
Efe, R., & Efe, H. A., (2011) Using Student Group Leaders to Motivate Students in Cooperative Learning Methods in Crowded Classrooms. Educational Research and Reviews 6(2), 87-196
Gillies, R. (2016). Cooperative Learning : Review of Research and Practice. Australian Journal of Teacher Education Psychology, 41, 39-51.
Hutagaol, K. (2007). Pembelajaran Matematika Kontekstual untuk Meningkatkan Kemampuan Representasi Matematis Siswa Sekolah Menengah Pertama. Tesis SPS UPI Bandung: Tidak diterbitkan
Hutagaol, K. (2010). Strategi Multi Representasi Dalam Kelompok Kecil untuk Meningkatkan Kemampuan Pemecahan masalah dan kemampuan Komunikasi Matematis Siswa Sekolah menengah Pertama. Disertasi. Tidak Diterbitkan.
Hutagaol, K., Saija, L., Simanjuntak, D. (2018). Model Pembelajaran Kooperatif Ing Ngarsa Sung Tuladha. Jurnal Padegogik, 101-102.
Johnson, D. W., & Johnson, R. T. (2008). Social independence theory and cooperative learning: The teacher's role. In R.B. Gillies, A.F. Ashman, & J. Terwel Eds. , The teacher's role in implementing cooperative learning in the classroom pp. 9-37). New York: Springer.
Natalia, I. G. A. K. (2015). Implementasi Pandangan Ki Hajar Dewantara pada Pembelajaran Matematika. Proceeding Seminar Nasional. FMIPA UNDIKSHA V tahun 2015.
Rijal. (2016). Pengertian Model Snowball Throwing. Blog Berbagi Ilmu. Online https://www.rijal09.com/2016/05/pengertian-model-snowball throwing.html diakses 30 Agustus 2018.
Saija, L. M. (2010). Pembelajaran berbasis Masalah dengan Model Kooperatif MURDER untuk Meningkatkan Kemampuan Pemecahan Masalah Matematis Siswa SMA. (Studi Eksperimen pada Siswa SMA Kelas XI IPA Lembang, Bandung). Tesis. Bandung: UPI.
Samho, B., Yasunari, O. (2009) Konsep Pendidikan Kihajar Dewantara danTantangantantangan Implementasinya di Indonesia Dewasa Ini. Lembaga Penelitian dan Pengabdian Kepada Masyarakat. Repository Universitas Katolik Parahyangan.
Slavin, R. (2014). Cooperative learning and academic achievement: Why does groupwork work? Anales De Psicologia, 30, 785-791.
Soedjadi.1999/2000, Kiat Pendidikan Matematika di Indonesia, Jakarta: Direktorat Jenderal Pendidikan Tinggi Departemen Pendidikan Nasional.
Suparlan, Dkk. (2016). Pendidikan Kewarganegaraan dalam konteks Indonesia. Malang: Madani.
Suparlan, H. (2015). Filsafat Pendidikan Ki Hadjar Dewantara dan Sumbangannya bagi Pendidikan Indonesia. Jurnal Filsafat. 25(1), 57-74.
Susilo, S. V. (2018). Refleksi Nilai-Nilai Pendidikan Ki Hadjar Dewantara Dalam Upayaupaya Mengembalikan Jati Diri Pendidikan Indonesia. Jurnal Cakrawala Pendas. 4(1), 33-40.
Trianto.(2010). Mendesain Model pembelajaran Inovatif-Progresif: konsep, landasan dan Implementasinya pada Kurikulum Tingkat satuan Pendidian (KTSP). Jakarta: Kencana Prenada Media Grup.
Yuki, G. (2015). (Ed. 7). Kepemimipinan dalam Organisasi..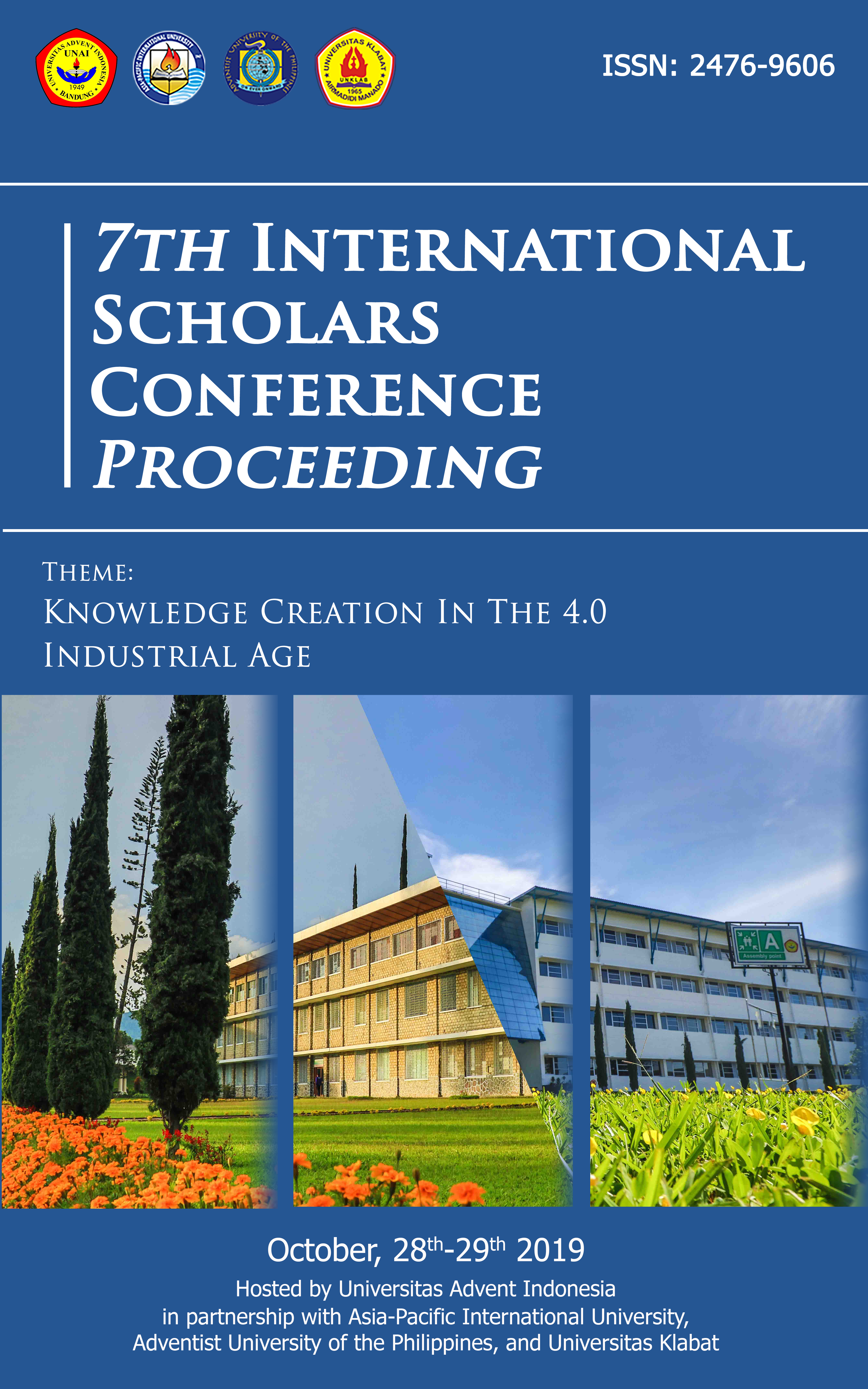 How to Cite
Hutagaol, K. (2019). Ing Ngarsa Sung Tuladha Learning Model. Abstract Proceedings International Scholars Conference, 7(1), 1597-1609. https://doi.org/10.35974/isc.v7i1.1373
Copyright (c) 2019 Abstract Proceedings International Scholars Conference
This work is licensed under a Creative Commons Attribution-ShareAlike 4.0 International License.
Copyright © 2019 ISC Committee.