Art as an Escape: A Narrative of a Fine Arts Graduate
Hyreizl Love Acosta Tangonan

Adventist University of the Philippines

Charlton Sales Selda
Keywords:
Visual arts, Escapism, Narrative inquiry
Abstract
In the field of visual arts, there are a few studies conducted on the subject of es-capism among artists. This research paper is conducted, in the context of contemporary visual arts, with the purpose of contributing to the knowledge regarding escapism and the experiences of artists who resort to art as an escape. Using the narrative research design, the central research question is "How do personal experiences trigger a Fine Arts graduate artist to resort to art as an escape?". A graduate of Fine Arts who personally considers art as an escape was the participant of the study. Data were gath-ered using semi-structured interviews, and analysed based on the narrative inquiry research framework by Connelly and Clandinin (1990). The findings were categorised into the following three themes: (a) situation, (b) interac-tion, and (c) continuity. This research will contribute to the existing knowledge of escapism in the field of visual arts even in the local context. Further research on the lives of contemporary artists and artisans is needed in the field of narrative inquiry. Moreover, a deeper understanding of the mental and emotional issues among artists will clary misconceptions in the field of visual art and also give new perspectives and insights to a common mentality of artists as introverts or other negative stereotypes..
Downloads
Download data is not yet available.
References
Akinsanya, A. (2014). Narrative analysis: The Personal Experience Narrative Approach.
Proceedings of ASEE 2014 Zone I Conference. Retrieved from https://www.
asee.org/documents/zones/zone1/2014/Student/PDFs/21.pdf
Andrews, M. (2004). Narrative Research. in: eds Qualitative Research Practice. London:
Sage.
Baier, M, and Buechsel, R. (2012). A model to help bereaved individuals understand the grief
process. Mental Health Practice, 16(1), 28-32.
Bell, A. (2003). A Narrative Approach to Research. Canadian Journal of Environmental
Education. Retrieved from https://files.eric.ed.gov/fulltext/EJ881749.pdf
Clandinin, D. and Connelly, F. (2000). Narrative inquiry: Experience and story in qualitative
research. San Francisco, CA: Josey-Bass.
Cohen, S. (2010). Searching for escape, authenticity and identity: Experiences of "Lifestyle
Travellers". In M. Morgan, P. Lugosi & J.R.B Ritchie (Eds.), The Tourism and Leisure
Experience: Consumer and Managerial Perspectives. Bristol: Channel View
Publications.
Collins English Dictionary - Complete & Unabridged 10th Edition. (n.d.). Escapism. Retrieved
from https://www.dictionary.com/browse/escapism
David, L. (2016). Uses and Gratification Theory, in Learning Theories. Retrieved from
https://www.learning-theories.com/uses-and-gratification-theory.html
Disch, T. (2005). On SF. United States: The University of Michigan Press.
Efthymiadi, E. (2014). Modern Escapism: A Discussion at the FvF Apartment. Retrieved from
https://www.freundevonfreunden.com/journal/modern-escapism-a-discussion-at-thefvf-
apartment/
Evans, A. (2001). This virtual life. Escapism and simulation in our media world. London:
Fusion Press.
Flynn, C. (2017). A Narrative Exploration Of The Music Therapist's Experience Of Patient
Voice In Hospice. Gilsum: Barcelona Publishers. Retrieved from
https://search.proquest.com/docview/2070893048?accountid=38643
Kircaburun, K. and M. Griffiths. (2018). Problematic Instagram Use: The Role of Perceived
Feeling of Presence and Escapism, International Journal of Mental Health Addiction,
(4), 909-921. Doi: https://doi.org/10.1007/s11469-018-9895-7
Hart, P. (1996). Problematizing enquiry in environmental education: Issues of method in a
study of teacher thinking and practice. Canadian Journal of Environmental Education,
(1), 56-88.
Hart, P. (2002). Narrative, knowing, and emerging methodologies in environmental education
research. Canadian Journal of Environmental Education, 7(2), 140-165.
Henning, B. and P. Vorderer. (2001). Psychological Escapism: Predicting the Amount of
Television Viewing by Need for Cognition. International Communication Association.
Hoffman, C., C. Lutz & S. Meckel. (2017). Facebook Escapism and Online Political
Participation. Canada: Association for Computing Machinery.
Hurd, M. (2015). Escapism vs. Refueling: Good? Bad? or Indifferent? Retrieved from
https://drhurd.com/2015/03/18/escapism-vs-refueling-good-bad-or-indifferent/
Igorevna, O. (2015). Escapism: current studies and research prospects in contemporary
psychology. Vienna: Austrian Journal of Humanities and Social Sciences.
Kardapoltseva A. (2012). Eskapizm kak slozhnoe psihologicheskoe yavlenie v zhizni obshch
estva i lichnosti [Escapism as a complex psychological phenomenon in a life of person
and society]. Proceedings of the VII International students' scientific-practical
conference. Moscow: People's Friendship University of Russia.
Katz, E., Blumler, J. G., & Gurevitch, M. (1973). Uses and gratifications research. The Public
Opinion Quarterly, 37(4), 509-523.
Kohler, S. (July 9, 2015). Procrastination and media use as a escapism: Same same but
different. Paper presented at the 9th Biennial Procrastination. Research Conference,
Bielefeld, Germany.
Kuo, A., R. Lutz, & J. Hiler. (2016). Brave new World of Warcraft: a conceptual framework
for active escapism, Journal of Consumer Marketing. Emerald Group Publishing.
Makris, S. (2012). Spoken Stories: A Narrative Inquiry on the Lives and Experiences of
"Outsider Teachers." Retrieved from https://drum.lib.umd.edu/bitstream/handle/
/12538/Makris_umd_0117E_12911.pdf;sequence=1
Mcleod, S. (2017). Defense Mechanism. Retrieved from https://www.simplypsychology.org/
defense-mechanisms.html
Merriam-Webster Learners Dictionary.com. (n.d.). Escapism. Retrieved from
http://www.learnersdictionary.com/definition/escapism
Merriam-Webster.com. (n.d.). Escapism. Retrieved March 04, 2019, from
https://www.merriam-webster.com/dictionary/escapism
Muylaert, C., Sarubbi Jr., V, Gallo, P., & Neto, M. (2014). Narrative interviews: an important
resource in qualitative research. Revisita da Escola de Enformagen da USP. 48 Spec
No.
184-9. 10.1590/S0080-623420140000800027. Retrieved from https://www.research
gate.net/publication/274400778_Narrative_interviews_an_important_resource_in_
qualitative_research
Rivera, N. (2016). Filipino Escapism: Deconstructing Karaoke as Medium of Escape.
Retrieved from https://www.academia.edu/38155950/Filipino_Escapism_Deconstru
cing_Karaoke_as_a_Medium_of_Escape
Sandelowski, M. (2004). Using Qualitative Research. Qualitative Health Research, 14,
-1386.
Sincero, S. (May 7, 2013). Sensory Overload and Deprivation. Retrieved from
Explorable.com: https://explorable.com/sensory-overload-and-deprivation
Squire, C., Davis, M., Esin, C., Andrews, M., Harrison, B., Hyden, L. & Hyden, M. (2014).
What is narrative research? London: Bloombury.
Stenseng F. (2009). A Dualistic Approach to Leisure Activity Engagement – On The Dynamics
of Passion, Escapism, and Life Satisfaction. University of Oslo.
Stenseng, F., J. Rise & P. Kraft. (2012). Activity Engagement as Escape from Self: The Role
of Self-Suppression and Self-Expansion, Leisure Sciences An Interdisciplinary
Journal, 34(1), 19-38.
Warmelink, H., C. Harteveld & I. Mayer. (2009) Press Enter or Escape to Play:
Deconstructing Escapism in Multiplayer Gaming. Retrieved from
http://citeseerx.ist.psu.edu/viewdoc/download?doi=10.1.1.190.4190&rep=rep1&type=
pdf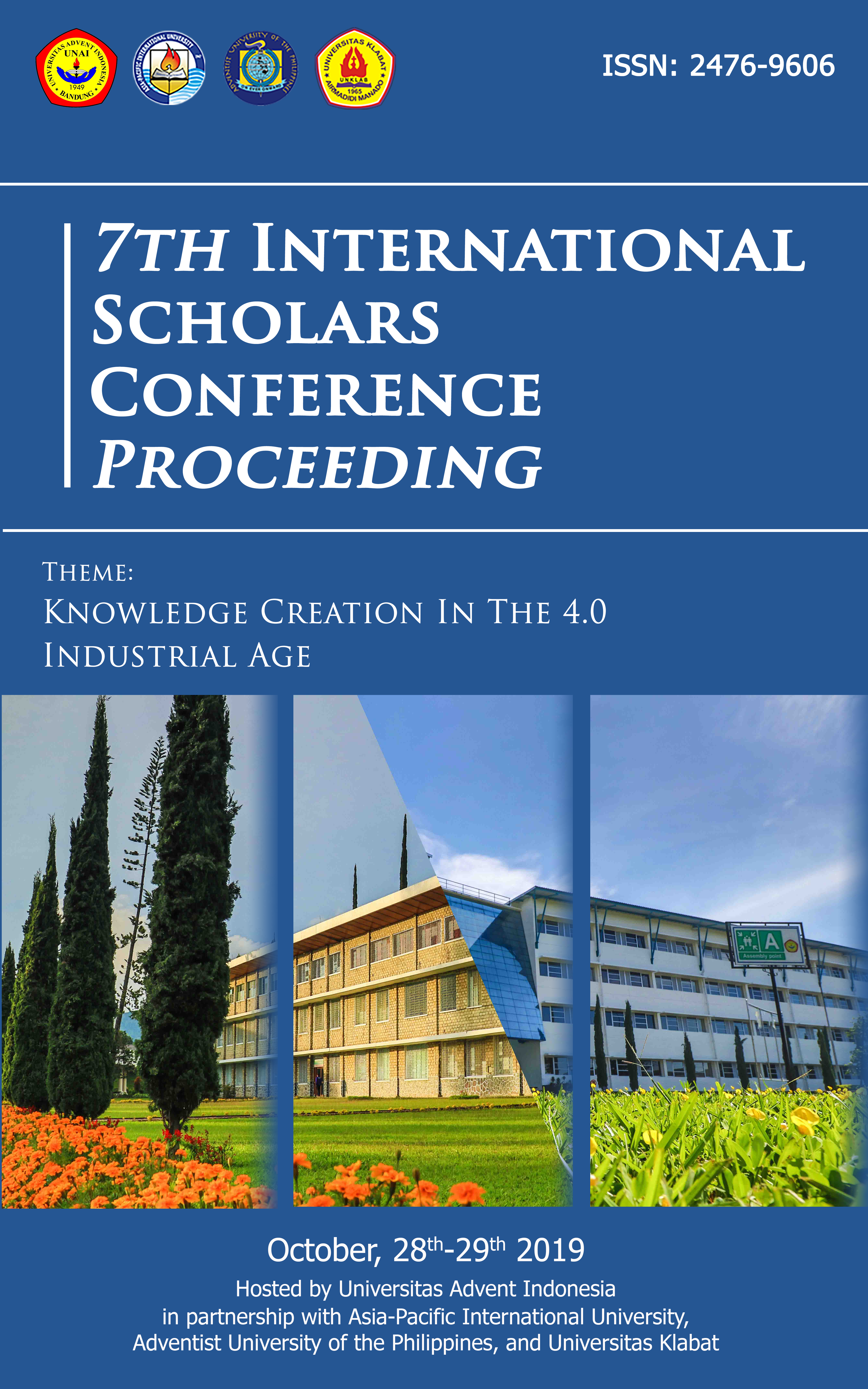 How to Cite
Tangonan, H. L., & Selda, C. (2019). Art as an Escape: A Narrative of a Fine Arts Graduate. Abstract Proceedings International Scholars Conference, 7(1), 909-924. https://doi.org/10.35974/isc.v7i1.1578
Section
Art, Humanities & Social Sciences
Copyright (c) 2019 Abstract Proceedings International Scholars Conference
This work is licensed under a Creative Commons Attribution-ShareAlike 4.0 International License.
Copyright © 2019 ISC Committee.