Exploratory Data Analysis Towards Terrorist Activity in Indonesia Using Machine Learning Techniques
Green Arther Sandag

Computer Science, Universitas Klabat
Keywords:
Prediction, K-Nearest Neighbor, K-Fold Cross-Validation
Abstract
Terrorism Activity is the subject of the talks in various countries, especially in Indonesia. Theactivities of terrorism are carried out in various ways using suicide bombs, violent action thataimed to demoralize by creating fear to the society and national security. In Indonesia,according to Kompas news website recorded there were 10 suicide bombings occurred in thepast 6 years and took many casualties in every event. With this, it certainly gives a threat tothe people in Indonesia in terms of physical, moral and even in terms of national security. Toovercome this problem, it is necessary to increase the national security so that terrorism canbe prevented, and it will not happen again. This study is aimed to conduct an exploratory dataanalysis and predict terrorist activity in Indonesia using K-Nearest Neighbor (KNN), and ¬kfold cross-validation. In this research, data selection, data cleaning, data reduction wascarried out and feature selection process which aimed to find out the most influential dataattributes. Based on the result of the analysis to predict the terrorist activity, the result of theaccuracy was obtained with a value of k = 8 at 88.86%.
Downloads
Download data is not yet available.
References
Rachmawati, I. (2019). Profil Negara Indonesia Lengkap, Retrieved from: https://portal-ilmu.com/negara-indonesia/#
Darmono, B. (2016). Konsep Dan Sistem Keamanan Nasional Indonesia, Jurnal Ketahanan Nasional, 15(1), 1–42.
Sanur, D. (2018). Terorisme: Pola Aksi dan Antisipasinya. Kajian Singkat Terhadap Isu Aktual dan Strategis, 10(10), 25-30.
Nasari, F., & Sianturi, C. J. M., (2016). Penerapan Algoritma K-Means Clustering Untuk Pengelompokkan Penyebaran Diare Di Kabupaten Langkat. CogITo Smart Journal, 2(2), 108–119.
Hutami, R., & Astuti, E. Z. (2016). Implementasi Metode K-Nearest Neighbor Untuk Prediksi Penjualan Furniture Pada CV. Octo Agung Jepara. (tugas akhir). Fakultas Ilmu Komputer. Universitas Dian Nusantara Semarang, Semarang, Indonesia.
Yustanti, W., (2012). Algoritma K-Nearest Neighbour untuk Memprediksi Harga Jual Tanah. Jurnal Matematika, Statistika, & Komputasi, 9 (1), 57–68.
Asriningtias, Y. & Marhadiyah, R. (2014). Aplikasi Data Mining Untuk Menampilkan Informasi Tingkat Kelulusan Mahasiswa. Jurnal Informatika, 8(1), 837–848.
Pratiwi, R. W. & Nugroho, Y. S. (2016). Prediksi Rating Film Menggunakan Metode Naïve Bayes. Jurnal Teknik Elektro, 8(2), 60-63. doi: https://doi.org/10.15294/jte.v8i2.7764
Fithri, D. L. and Darmanto, E. (2014). Sistem Pendukung Keputusan untuk Memprediksi Kelulusan Mahasiswa Menggunakan Metode Nave Bayes. in Prosiding SNATIF Ke-1 Tahun 2014, 319–324.
Sandag, G. A., Leopold, J. & Ong V. F. (2018). Klasifikasi Malicious Websites Menggunakan Algoritma K-NN Berdasarkan Application Layers dan Network Characteristics. Cogito Smart Journal. 4(1), 37-45. doi: 10.31154/cogito.v4i1.100.37-45
Murtopo, A. A. (2016). Prediksi Kelulusan Tepat Waktu Mahasiswa STMIK YMI Tegal Menggunakan Algoritma Naïve Bayes. CSRID (Computer Science Research and Its Development Journal), 7(3), 145–154.
Banjarsari, M. A., Budiman, I. & Farmadi, A. (2015). Penerapan K-Optimal Pada Algoritma KNN Untuk Prediksi Kelulusan Tepat Waktu Mahasiswa Program Studi Ilmu Komputer FMIPA UNLAM Berdasarkan IP Sampai Dengan Semester 4. KLIK-Kumpulan Jurnal Ilmu Komputer, 2(2), 159–173.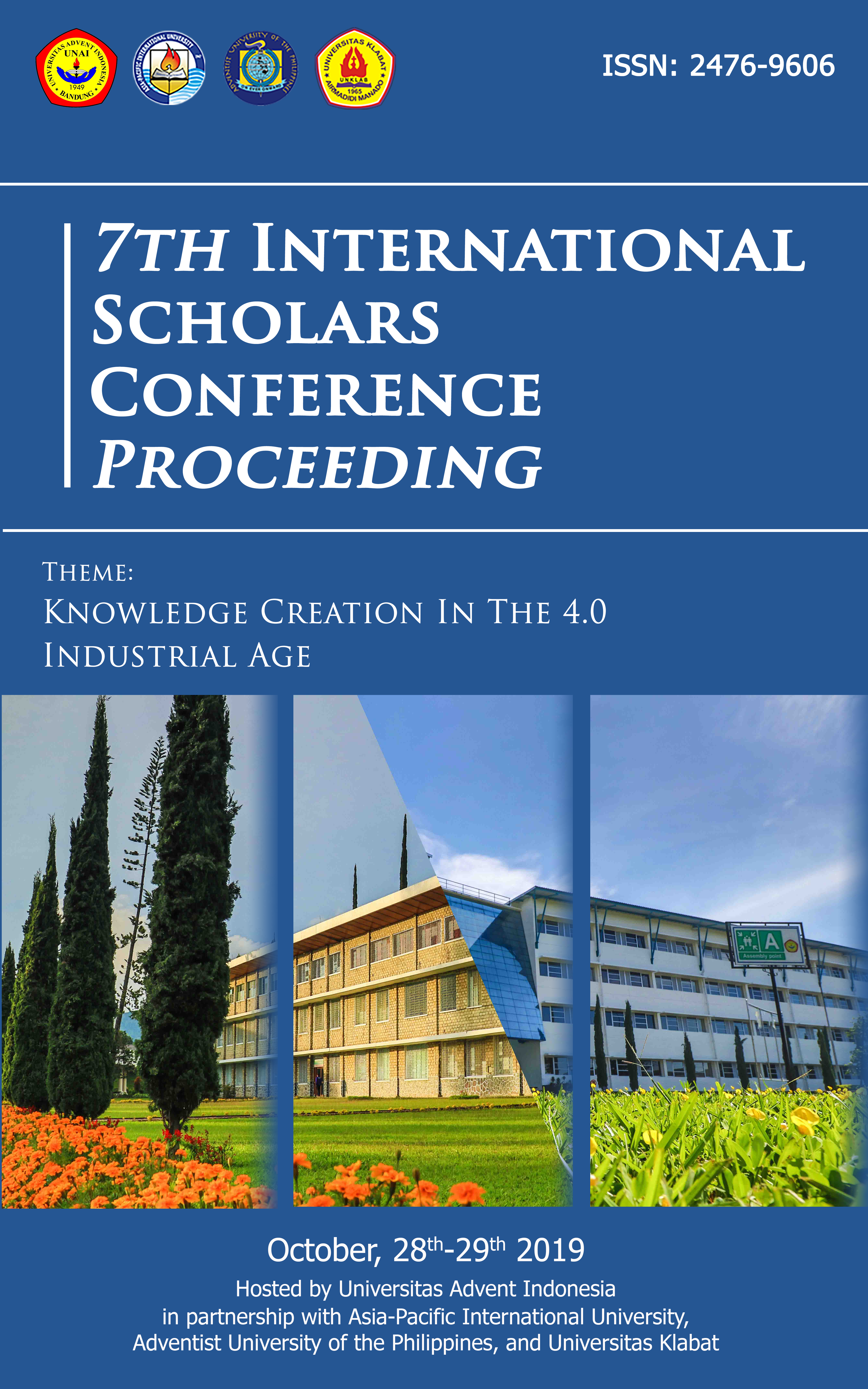 How to Cite
Sandag, G. (2019). Exploratory Data Analysis Towards Terrorist Activity in Indonesia Using Machine Learning Techniques. Abstract Proceedings International Scholars Conference, 7(1), 1774-1785. https://doi.org/10.35974/isc.v7i1.1628
Section
Engineering & Technology
Copyright (c) 2019 Abstract Proceedings International Scholars Conference
This work is licensed under a Creative Commons Attribution-ShareAlike 4.0 International License.
Copyright © 2019 ISC Committee.