The Comparing of Demographic Profile with Obstacles and Successfulness of Using English for Communication Skills in the Nursing Profession of Nursing Students in Private University, Saraburi
Poomarin Intachai

Asia Pacific International University

Hathaichanok Chanthawimon

Asia-Pacific International University
Keywords:
Obstacles, success, English for Communication skills, Nursing profession, Nursing students
Abstract
At present, with the ASEAN community in Thailand, a nursing professional field is requiring more English communication at work, and with others in this 21st century. The English communication skills are important to ensure the smooth and successful achievement at work of their profession. The objectives of this study were 1). to study the level of obstacle and success in English communication of nursing students at private university, Saraburi 2) to compare the difference of the obstacles and success in using English skills for communication of nursing students at private university, Saraburi divide by demographic profile. The purposive sampling group was a cohort of ninety-two nursing students at private university, Saraburi who passed the "English for nursing communication" course in the academic year 2018. The tool was adapted from the relevant literature review. The statistical analysis was t-test and One-Way ANOVA. The three sections; general information, the obstacles in using English for communication which was further branched into the learners, the instructors and the institution, and the success in using English for communication and was tested for the content validity and the reliability. The Alpha-reliability Coefficient obtained was 0.90. The study found that the obstacles to the learners were high, while both the instructors and institution were at a moderate level. The successfulness in using English for communication was high. The different genders and ages have no obstacles and success different. However, the different grades have a different level of both obstacles in learner and instructors at significant level of 0.05 but not different in obstacle of institution and success. Therefore, instructors should encourage and increase the motivation to study English communication for the learners. In the 21st century, there are many opportunities to practice using English for communication in everyday life which help increase confidence in using English for Communication in the nursing profession. Moreover, using English for communication increases the nursing students' self-confidence and their opportunities in the professional field of nursing.
Downloads
Download data is not yet available.
References
Asian Economic Community. (2018). Asian Economic Community Progress and Issues.
Retrieved May 2, 2019, from www.thai-aec.com
Arunsuksawang,T.& Sungrugsa,N.(2015).The factors that have an affect on ability of English
usage following the learning skills in the 21st century of the mattayom 6 students of
schools in Bangkok secondary educational area office 2 to support the entrance into
the ASEAN Economic Community.Veridan E- journal. 8(2),493-505
Kanasut,P. (1999). Statistics for Behavioral Science Research. 3rd edition. Bangkok: Publisher
of Chulalongkorn University.
Ritthirat,N.&Chiramanee,T.(2014).Problems and Obstacles to Developing English Speaking
Skill of Thai University Students. Graduate Research Conference.Khon Kean
University. Retrieved from https://gsbooks.gs.kku.ac.th/57/grc15/files/hmp39.pdf
Rittirat,N. (2013). English speaking ability and problems in developing English speaking skills
of Thai university students (Master's Degree Thesis, Songkhla) Retrieved from
http://kb.psu.ac.th/psukb/bitstream/2010/9696/1/391116.pdf
Thanirat,S.,Turner,K.& Wichianrat,S. (2010) Monitoring of Nursing Competency of
Graduates of Academic Year 2004 from Boromarajonani College of Nursing,
Nonthaburi (Research Report). Nonthaburi: Boromarajonani College of Nursing
Wikipedia. (2018). EF English Proficiency Index. Retrieved May 2, 2019, from
https://en.wikipedia.org/wiki/EF_English_Proficiency_Index
Yimon,Y.(2014).The Use of English in The Careers of Thai Graduates in Bangkok.
Panyapiwat Journal 5(2),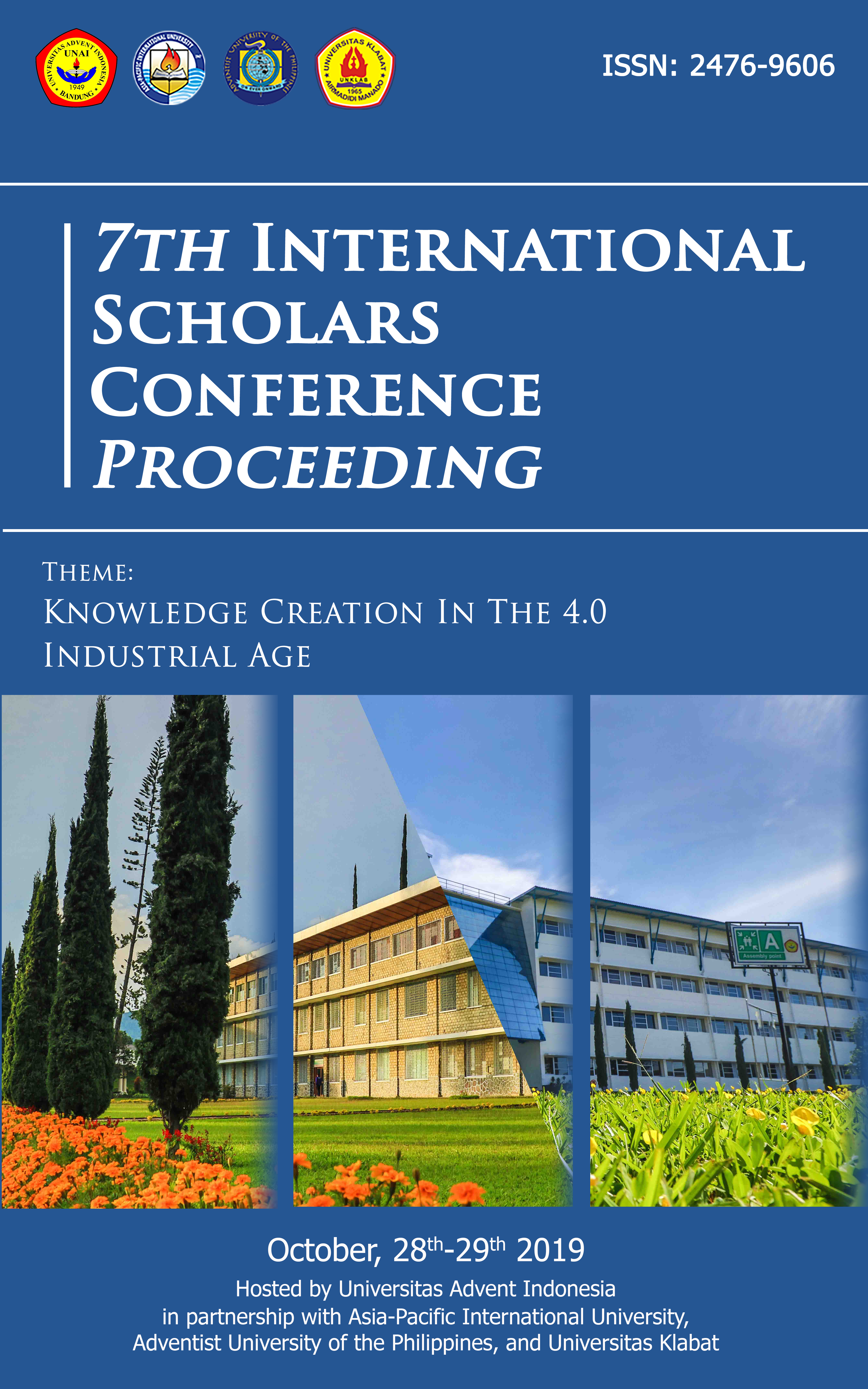 How to Cite
Intachai, P., & Chanthawimon, H. (2019). The Comparing of Demographic Profile with Obstacles and Successfulness of Using English for Communication Skills in the Nursing Profession of Nursing Students in Private University, Saraburi. Abstract Proceedings International Scholars Conference, 7(1), 925-935. https://doi.org/10.35974/isc.v7i1.1678
Section
Art, Humanities & Social Sciences
Copyright (c) 2019 Abstract Proceedings International Scholars Conference
This work is licensed under a Creative Commons Attribution-ShareAlike 4.0 International License.
Copyright © 2019 ISC Committee.