Impact of Facebook Likes and Shares on Campaign Posts in Predicting the 2016 Philippine Presidential Election Results
Cherryl Lauron

Adventist University of the Philippines
Keywords:
Facebook Likes, Facebook Shares, Campaign Posts, 2016 Philippine Presidential, Election Results
Abstract
The active usage of the Filipinos in the social media application called Facebook may influence the society, the election campaign and result but hard evidence is scarce. Hence, this study intends to analyze how the engagement of users through 'likes' and 'shares' on the Facebook campaign posts can impact the outcome of the 2016 Presidential election. The study delved on interpreting how Facebook as a communication channel influenced the election result based on the engagement in likes and shares on the Facebook campaign posts. Only the number of likes and shares of the posts based on the total count on the original post on the candidates' official Facebook page were analyzed. These were posted during the campaign period declared by the Commission on Elections. The social net importer was used in the data gathering process then the calculation using a statistical tool followed as basis for analysis. The official election result from the COMELEC confirmed that Rodrigo Duterte won in the 2016 Presidential election with a total of 16,601,997 votes. Grace Poe secured the highest number of likes and shares, 13,036,065 likes and 1,511,020 shares, respectively but she only ranked as third in the official election. Results show that the number of likes and shares on the Facebook election campaign posts are not significant in influencing the election result. Future studies in relation to Philippine Presidential election may be conducted and other variables can be considered like the Presidential debate likes and shares, comments, and other Facebook reactions like heart, wow, sad and thankful.
Downloads
Download data is not yet available.
References
Chadwick, A & Philip, N. (2009). The Routledge Handbook of Internet Politics. New York:
Taylor & Francis Books.
Polsby, N.W. & Wildavsky, A. (1996). Presidential Elections Strategies and Structures of
American Politics Ninth Edition. New Jersey : Chatham House Publishers, Inc.
West, Darrell, M. (1954). Air Wars.Television Advertisingand Social Media Election
Campaigns 1952-2012.United States of America.SAGE : Publications India
Pvt.Ltd
Antonopoulos, N., & Giomelakis, D., & Veglis, A., & Gardikiotis, A. (December 2016) Web
Third-Person Effect Hypothesis: Do likes and Shares Affect Users' Perceptions?
Journalism and Mass Communication, 6(12), 711-729. Retrieved from
https://www.davidpublisher.org/Public/uploads/Contribute/58a6999fb6869.pdf
Boyd, Dana M & Ellison, Nicole B. ( 2007, October). Social Network Sites: Definition,
History, and Scholarship. Journal of Computer- Mediated Communication, 13(1),
-230. doi: https://doi.org/10.1111/j.1083-6101.2007.00393.x
Crisostomo, Sheila ( 2016, January). Comelec teams up with Facebook to promote 2016 polls.
Philstar. Retrieved from
http://www.philstar.com/headlines/archive?page=641&sa=U&usg=AFQjCNFecvW
xOVgCD7FiWatB4ccr1jgoYg&ved=0ahUKEwjPjprstDLAhWiYJoKHQAuApwQwW4IHjAE%
Fnomobile%3D1%3Fnomobile%3D1
Bimber, B. (2014) Digital Media in the Obama Campaigns of 2008 and 2012: Adaptation to
the Personalized Political Communication Environment. Journal of Information
Technology & Politics. 11(2), 2014.
Giglietto, F. (2012) If Likes Were Votes: An Empirical Study on the 2011 Italian Administrative
Elections. Retrieved from
https://pdfs.semanticscholar.org/dbc3/773ad563818b1bd074874d52bc70405f8020.p
df
Harris, L., & Harrigan, P. ( 2015) Social Media in Politics: The Ultimate Voter Engagement
Tool or Simply an Echo Chamber. Journal of Political Marketing. 14(3), 2015.
Retrieved from
http://www.tandfonline.com/doi/full/10.1080/15377857.2012.693059?src=recsys&
Jones, J., & Bond, R., & Bakshy, E., & Eckles, D., & Fowler, J. (2017) Social influence and
political mobilization: Further evidence from a randomized experiment in the 2012
U.S. presidential election. Retrieved from
http://journals.plos.org/plosone/article?id=10.1371/journal.pone.0173851
Kalsnes, Bente, (2016). The power of likes: social media logic and political communication.
Retrieved from https://www.duo.uio.no/bitstream/handle/10852/53278/PhDKalsnes-
DUO.pdf?sequence=4&isAllowed=y
Paurom, Dan, Mangosing, Frances , Corrales, Nestor. ( November, 2015). Social media
and the 2016 national elections. Inquire.net. Retrieved from
http://newsinfo.inquirer.net/742458/social-media-and-the-2016-national-elections
Riffe, Daniell, Lacy, Stephen & Varouhakis, Miron. (2008). "Media System Dependency
Theory and Using the Internet for In-depth, Specialized Information." January 8,
Retrievedfrom:https://www.researchgate.net/profile/Daniel_Riffe/publication/
_Media_System_Dependency_Theory_and_Using_the_Internet_for_Indepth_
Specialized_Information/links/54859ee50cf24356db6106a7.pdf
Teehankee, J. ( 2012) Internet Campaigning in the Philippines. Philippine Political Science
Journal, 31(54), 2010. Retrieved from
http://www.tandfonline.com/doi/abs/10.1080/01154451.2010.9723526?src=recsys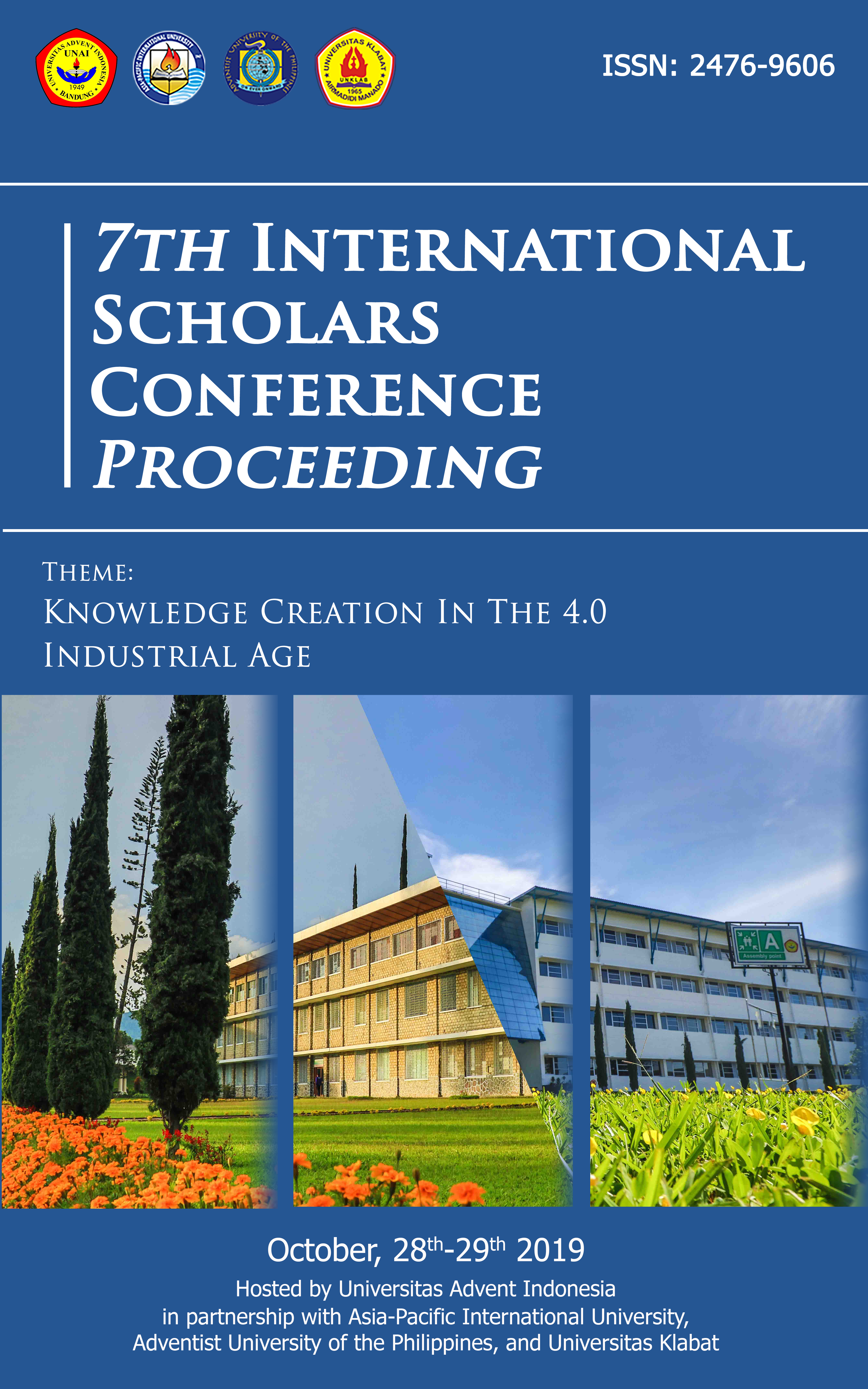 How to Cite
Lauron, C. (2019). Impact of Facebook Likes and Shares on Campaign Posts in Predicting the 2016 Philippine Presidential Election Results. Abstract Proceedings International Scholars Conference, 7(1), 936-952. https://doi.org/10.35974/isc.v7i1.1919
Section
Art, Humanities & Social Sciences
Copyright (c) 2019 Abstract Proceedings International Scholars Conference
This work is licensed under a Creative Commons Attribution-ShareAlike 4.0 International License.
Copyright © 2019 ISC Committee.