The Role of Christian Counseling towards Character Building of High School Students in Salemba Adventist School, Jakarta Based on the Theology of Titus 2:6-7a
Jeremy Jeremy

Universitas Advent Indonesia

Stimson Hutagalung

Universitas Advent Indonesia
Keywords:
Theology, Christian Counseling, Character building
Abstract
The purpose of this study is to look the role of Christian counseling towards characterbuilding of high school students with a theology of Titus 2:6, 7a as the base of research. Themethod used in the study is quantitative research by using a survey questionnaire as researchtool with five indicators. The research was conducted in Salemba Adventist Academy,Jakarta with 40 high school students as its sample respondents. Data analysis is done usingstatistical software that analyses mean, standard deviation, t-test, and regression analysis. Theresult of the study shows that from the five main indicators studied that (1) Titus wascommissioned to counsel the youth so that they may be sober-minded in everything, (2)Christian counseling is a ministry that God entrusted to Pastor or a trained-church member,(3) Counseling at school is a program to help students to develop their self-identity, to helpstudents that involved in youth's misbehavior to repent and change, (4) The beginning ofone's conduct is in their mind. By the conduct one's character can be known. Therefore, mindis the beginning of the character building, (5) Environment situation is one of the mostimportant factors of building or changing character. Counseling can be made as theenvironmental situation to build or to change character. Based on the filled questionnaires, itis interpreted that students have a good understanding of the five main indicators. The authorsuggests to optimize this good situation by conducting systematic and sustainable counseling.
Downloads
Download data is not yet available.
References
Adams, Jay E. Anda pun Boleh Membimbing. Malang: Yayasan Penerbit Gandum Mas, 1986.
Agustiana, Siti Lulus. Hubungan Latar Belakang Keluarga Terhadap Pembentukan Karakter Siswa di MTs. Wachid Hasyim Surabaya. Surabaya: UIN Sunan Ampel Surabaya, 2015.
Arifin, Zaenal. Keutuhan Wacana. Tangerang: Pustaka Mandiri, 2010.
Barnes, Albert. Barnes Notes on The Old & New Testament—Thessalonians – Philemon. Michigan: Baker Book House, 1980.
Carter, Charles W., & Ed. The Wesleyan Bible Commentary. (Michigan: Baker Book House, V, 1979.
Collins, Garry R. Effective Counseling. Canada: Creation House, 2010.
Crabb, Larry. Konseling yang Efektif dan Alkitabiah. Bandung: Kalam Hidup, 1995.
Friedrich, Gerhards, Ed. Theological Dictionary of the New Testament. Michigan: WM. B. Eerdmans Publishing Company, 1993.
Gunarsa, Singgih D. Konseling dan Psikoterapi. Jakarta: BPK Mulia, 2011.
Marbun, Alex Halomoan. Masalah dan Prevensi Penyalahgunaan Obat di Kalangan Remaja Siswa Perguruan Advent di Kota Bandung. Bandung: Institut Alkitab Tiranus Bandung, 2003.
Muhidin, Sambas Ali, Maman Abdurahman, Analisis Korelasi, Regresi dan Jalur dalam Penelitian. Bandung: Pustaka Setia, 2007.
Mujono, Epafras. Diktat Kuliah—Bimbingan dan Penyuluhan, sem. IV, 2010.
Mulawarman, Buku Ajar Pengantar Keterampilan Dasar Konseling bagi Konselor Pendidikan. Semarang: Fakultas Ilmu Pendidikan Universitas Negeri Semarang, 2017).
Mutiara. Penerapan Terapi Suportif untuk Meningkatkan Manajemen Emosi Negatif pada Individu yang Memiliki Pasangan Skizofrenia. (Jurnal Muara Ilmu Sosial, Humaniora, dan Seni Vol. 1, No. 1, 2017.
Nichol, Francis D., Ed., The Seventh-Day Adventist Bible Commentary. Washington D.C.:
Review And Herald Publishing Association, VI, 1957.
Nichol, Francis D., Ed.,. The Seventh-Day Adventist Bible Commentary. Washington D.C.: Review And Herald Publishing Association, VII, 1957.
Sharf, Richard S. Theories of Psychotherapy and Counselling. USA: Thomson Higher Education, 2008.
Sidjabat, B. S. Strategi Pendidikan Kristen. Yogyakarta: Yayasan ANDI, 1996.
Sugiyono, Metode Penelitian Bisnis. Bandung: Alfabeta, 2004.
Susabda, Yakub. Menjadi Konselor Profesional. Yogyakarta: ANDI Offset, 2007.
Susabda, Yakub. Pastoral Konseling. Malang: Yayasan Penerbit Gandum Mas, 2001.
White, Ellen G. Pikiran, Karakter dan Kepribadian Bandung: Indonesia Publishing House, I, 2015.
Young, Robert. Young's Analytical Concordance to The Bible. Nashville: Thomas Nelson Publisher, 1995.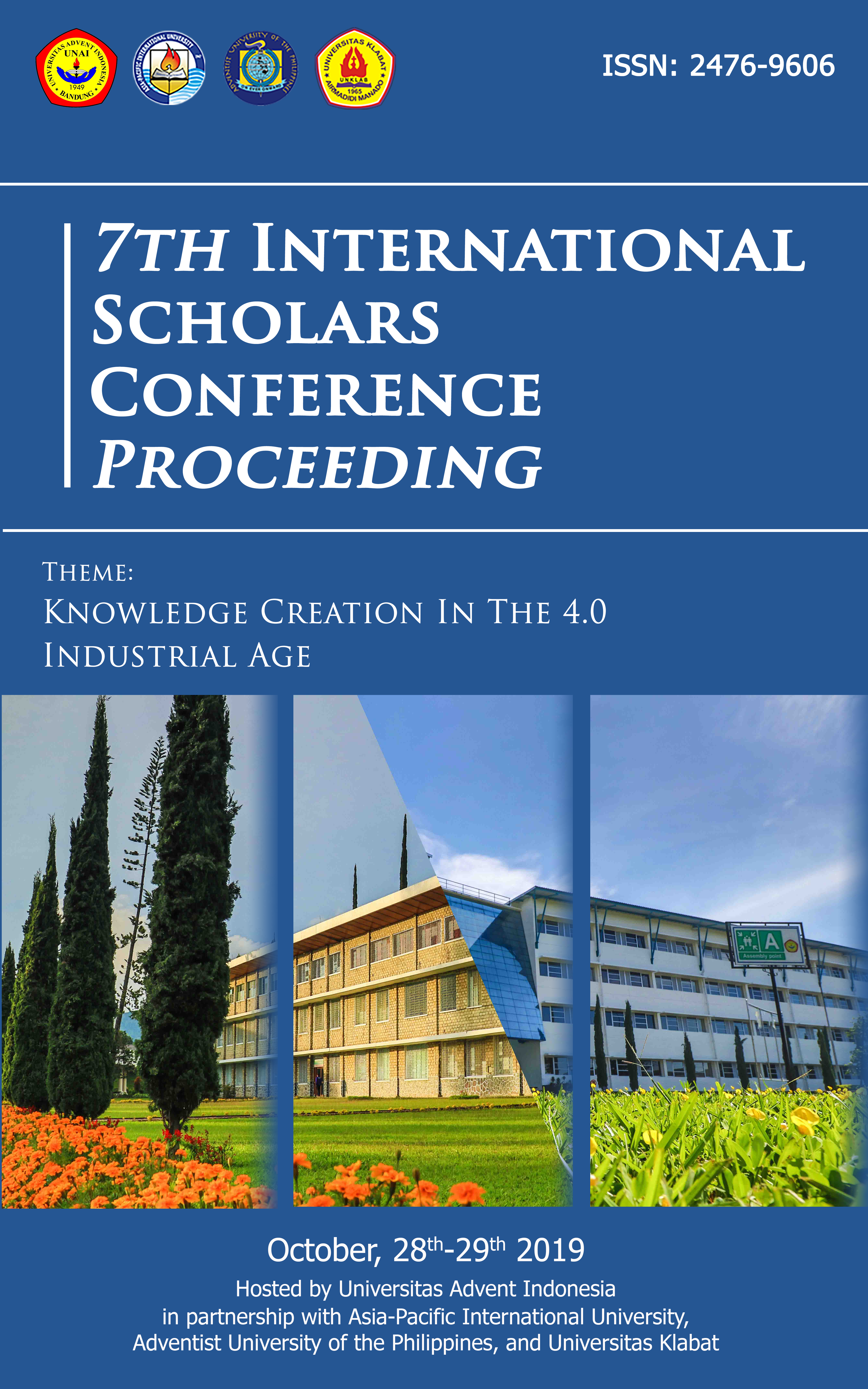 How to Cite
Jeremy, J., & Hutagalung, S. (2019). The Role of Christian Counseling towards Character Building of High School Students in Salemba Adventist School, Jakarta Based on the Theology of Titus 2:6-7a. Abstract Proceedings International Scholars Conference, 7(1), 2102-2112. https://doi.org/10.35974/isc.v7i1.1928
Copyright (c) 2019 Abstract Proceedings International Scholars Conference
This work is licensed under a Creative Commons Attribution-ShareAlike 4.0 International License.
Copyright © 2019 ISC Committee.