The Effect of Implementing Self-Assessment System on Tax Compliance for Small-Medium Enterprises (SMEs), Lembang, West Bandung District
VICTOR CORNELIS SINAGA

UNIVERSITAS ADVENT INDONESIA

JUDITH T. GALLENA SINAGA

Universitas Advent Indonesia
Keywords:
Smes, Revenue, Self-Assessment, Socialization, Compliance
Abstract
Small-Medium Enterprises (SMEs) play a vital role in economic development of Indonesia. To support its economic development, the government is obliged to generate revenue. In order to generate more revenue, Indonesian government implemented self- assessment system in compliance with tax obligations. Most of the SMEs are compliant while some are not that aware of it because of lack of socialization. The aim of this study is to comprehend the effect of implementing self-assessment system on tax compliance. This study focused on SMEs in Lembang, West Java, Indonesia. It was exploratory research based on data were gathered from West Java Regency Office. Questionnaires were distributed to 70 (based on Slovin formula) respondents from the total population of 244. The result showed that the correlation of implementation of self-assessment system on tax compliance is weak, thus, the findings showed that implementation of self-assessment system has no significant influence on tax compliance. Implementation of self-assessment system has no significant influence on tax compliance. There are several reasons for this, such as, most of the people around the district of Lembang are not yet fully aware about its implementation. Also, it is not well socialized by the tax authorities from the Revenue Offices. It lacks personnel to do the socialization. The stated reasons were affirmed during the interview with the Head of SMEs located in West Bandung Regency. Implementation of the self-assessment System is worth to grab by SMEs in the district of Lembang, Bandung, Indonesia. It is highly recommended to socialize again the implementation and assign personnel that can extend time and effort to socialization.
Downloads
Download data is not yet available.
References
Anonymous. (1995), Self-assessment: A clearer tax system. Management
Accounting. ABI/INFORM Collection, p. 59.
Barr, N.A., James, S.R., & Prest, A.R. (1977). Self-Assessment for Income Tax. London,
Heinemann.
Fan, L.K. and Sin, C.L. (1999). Unveiling the self-assessment tax system. The New Straits
Times Press (M) Berhad,Kuala Lumpur, page 5.
Gambo, E. J., Mas'ud, A., Nasidi, M., & Oyewole, S. (2014). Tas Complexity and Tax
Compliance in African Self-Assessment Environment, International Journal of
Management Research & Review, Volume 4, Iss. 5, Article No. 5, pp. 575-582.
Inland Revenue Department. (1995, April). Taxpayer Compliance Standards and Penalties2:
Detailed Proposals and Draft Legislation: A Government Discussion
Document.Wellington, New Zealand.
Isa, K. (2014). Tax complexities in the Malaysian corporate tax system: minimise to
maximise. International Journal of Law and Management, Vol. 56 No. 1, pp. 50-65.
DOI 10.1108/IJLMA-08-2013-0036.
James, S., & Alley C. (2002). Tax compliance, self-assessment and tax administration
pp.27-42.
James, S. (1995). Self-Assessment and the UK Tax System, London, Research Board of
the Institute of Chartered Accountants in England and Wales.
Jones, H. (1996). Shifting the burden of tax compliance. Consumer Policy Review ; London
Vol. 6, Iss. 2, (Mar/Apr 1996): 50.
Kirchler E, Hoelzl E, Wahl I. (2008). Enforced versus voluntary tax compliance: The
"slippery slope" framework, Journal of Economic Psychology, Vol. 29 (2), pp. 210-
Kirchler E, Hofmann E, Gangl K. (2012). From Mistrusting Taxpayers to Trusting Citizens
Empirical Evidence and Further Development of the Slippery Slope Framework. Vol.
(4), pp. 125.
Kogler C, Batrancea L, Nichita A, Pantya J, Belianin A, Kirchler E. (2013). Trust and power
as determinants of tax compliance: Testing the assumptions of the slippery slope
framework in Austria, Hungary, Romania and Russia, Journal of Economic
Psychology, Vol. 34, pp. 169-180.
Loo, E.C. (2011). The influence of the introduction of self assessment on compliance
behaviour of individual taxpayers in Malaysia.
Okello, A. (2014). Managing Income Tax Compliance through Self-Assessment.
International Monetary Fund, pp. 1-37.
Saad, N. (2014). Tax Knowledge, Tax Complexity and Tax Compliance: Taxpayers' View.
Procedia- Social and Behavioral Sciences 2014; 109: 1069-1075.
Sandford, C., & Wallschutzkty, I.G. (1994). Self-Assessment of Income Tax: Lessons from
Australia. British Tax Review, No. 3.
Sapiei, N.S. & Kasipillai, J. (2013). Impacts of the Self-Assessment System for Corporate
Taxpayers. American Journal of Economics; Vol. 3 (2), pp. 75- 81.
Tan, L.M. and Sawyer, A.J. (2003). A synopsis of taxpayer compliance studies – overseas
vis-a´-vis New Zealand, New Zealand Journal of Taxation Law and Policy, Vol. 9, pp.
-24.
Veerinderjeet, S. (1997). Self-assessment tax system will cut administrative costs. Business
Times ; Kuala Lumpur 21 Mar 1997: 05.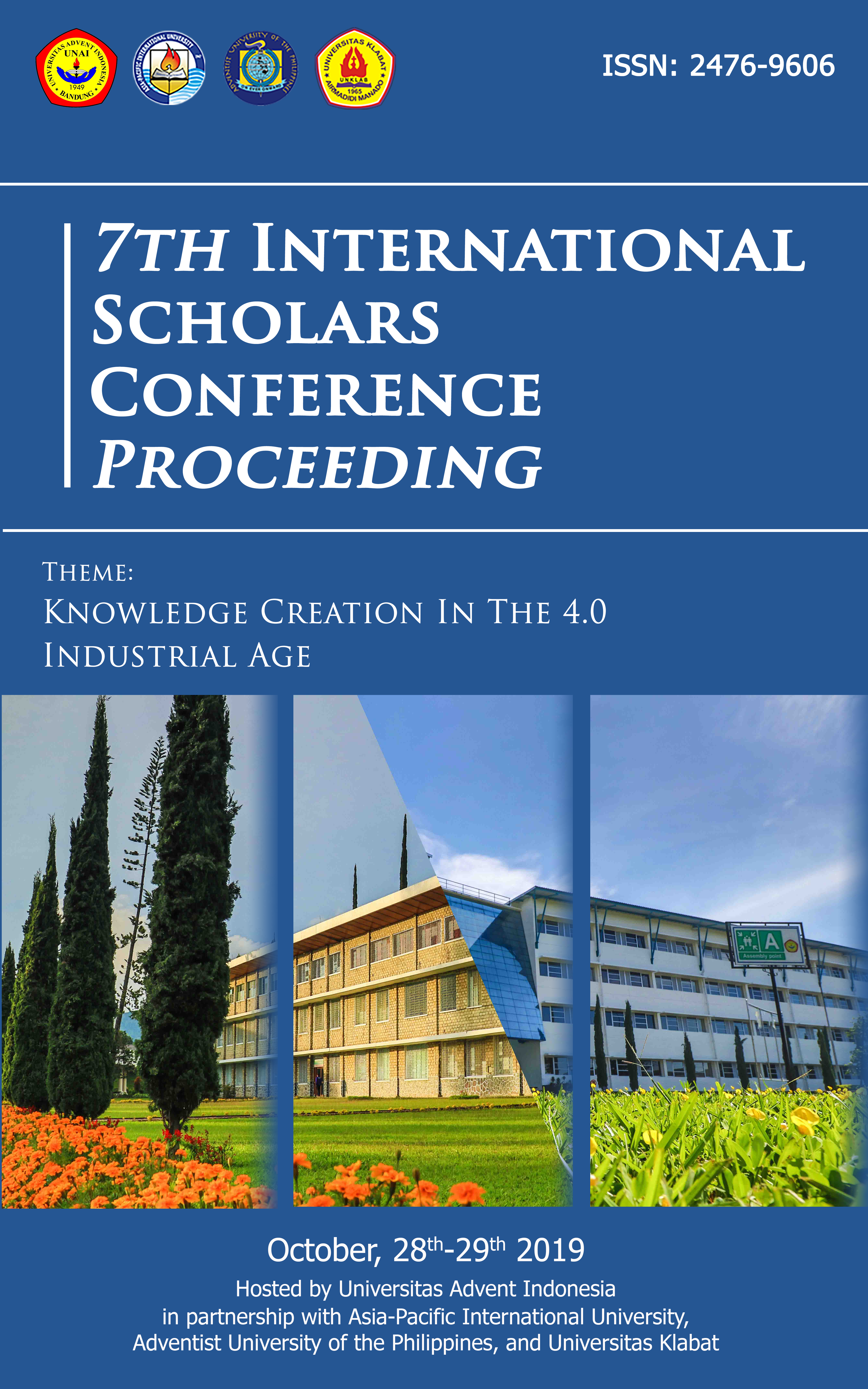 How to Cite
SINAGA, V., & SINAGA, J. (2019). The Effect of Implementing Self-Assessment System on Tax Compliance for Small-Medium Enterprises (SMEs), Lembang, West Bandung District. Abstract Proceedings International Scholars Conference, 7(1), 1270-1282. https://doi.org/10.35974/isc.v7i1.1974
Section
Business & Governance
Copyright (c) 2019 Abstract Proceedings International Scholars Conference
This work is licensed under a Creative Commons Attribution-ShareAlike 4.0 International License.
Copyright © 2019 ISC Committee.