Study of Phenomenology of Drug Consumption Patterns of Individuals With Hypertension in Working Areas of Parongpong Health Center West Bandung
Glory Grifith B. Saragih

Universitas Advent Indonesia

Jeanny Rantung

Universitas Advent Indonesia
Keywords:
Drug consumption pattern, Experience, Hypertension
Abstract
In 2016 West Java was the fourth-ranked province as the region with the highest prevalence ofhypertension, which was 29.4% in Indonesia. Failure to treat hypertension was found due tolow compliance in the use of hypertension drugs. Non-compliance with the consumption ofantihypertensive drugs will have an impact on the incidence of uncontrolled blood pressure.Long term Uncontrolled blood pressure can cause complications of the disease and even death.The purpose of this study is to identify the overview of hypertensive patients in consuminghypertension drugs.This study uses a qualitative method with a phenomenological approach through in-depthinterviews on 6 people with hypertension, using semi-structured questions about theirexperience in taking hypertension medication.From this study, it was found that taking medication for a long period caused a feeling oflaziness and boredom in taking medicine, resulting in patients with hypertension who stoppedconsuming medication. Fear of side effects from taking medication for a long time makeshypertensive patients decided to stop the consumption of hypertension medicine.It is hoped that this research can be an input to improve health promotion to reduce the failureof hypertension treatment.
Downloads
Download data is not yet available.
References
Adikusuma, W., Nurul Q., Fita Y. (2015). Kepatuhan Penggunaan Obat Antihipertensi di Puskesmas Pagesangan Mataram. Mataram: Universitas Muhammadiyah Mataram.
Riset Kesehatan Dasar Nasional Kementerian Kesehatan Republik Indonesia. (2017). <http://www.depkes.go.id/article/view/17051800002/sebagian-besar-penderitahipertensi-tidak-menyadarinya.html>.
Saepudin. (2013). Kepatuhan Penggunaan Obat Pada Pasien Hipertensi di Puskesmas. Yogyakarta: Universitas Islam Indonesia.
Sari, C. W. M. (2017). Pemberdayaan Kelompok Peduli Hipertensi Sebagai Upaya Penurunan Hipertensi di Rajamandala Kulon Bandung Barat. Bandung: Universitas Padjadjaran.
Sinuraya, R. (2018). Tingkat Kepatuhan Pengobatan Pasien Hipertensi di Fasilitas Kesehatan Tingkat Pertama di Kota Bandung. Sumedang: Universitas Padjadjaran.
Smantummkul, C. (2014). Tingkat Kepatuhan Penggunaan Obat Antihipertensi Pada Pasien Hipertensi di Instalasi Rawat Jalan Rumah Sakit X Pada Tahun 2014. Surakarta: Universitas Muhammadiyah Surakarta.
Tim Bumi Medika. (2017). Berdamai Dengan Hipertensi. Jakarta: Bumi Medika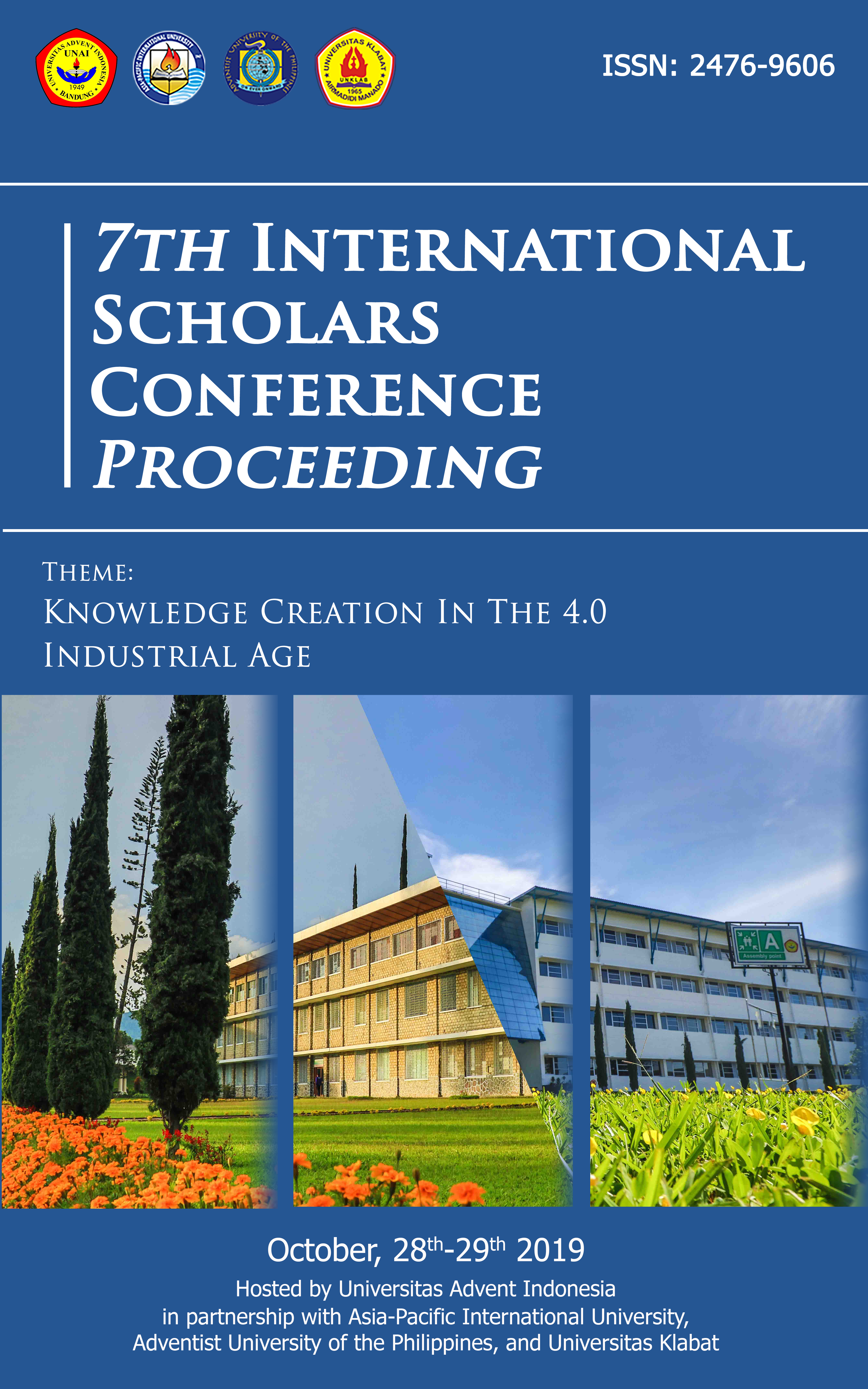 How to Cite
Saragih, G., & Rantung, J. (2019). Study of Phenomenology of Drug Consumption Patterns of Individuals With Hypertension in Working Areas of Parongpong Health Center West Bandung. Abstract Proceedings International Scholars Conference, 7(1), 636-641. https://doi.org/10.35974/isc.v7i1.1983
Copyright (c) 2019 Abstract Proceedings International Scholars Conference
This work is licensed under a Creative Commons Attribution-ShareAlike 4.0 International License.
Copyright © 2019 ISC Committee.