ALUMNI TRACER STUDY SYSTEM DESIGN USING WEB-BASED GPS (CASE STUDY OF UNIVERSITAS ADVENT INDONESIA)
Keywords:
Tracer Study, GPS, laravel, Waterfall
Abstract
Introduction: Graduate is one of the important support in the development of a university. Graduate have a role to assist universities in developing the university into the community through collaboration in academic terms. Since the establishment of the Adventist University of Indonesia (UNAI) to date has resulted in 12 608 qualified graduates, but the problems that exist today data on students graduated from UNAI difficult to find because UNAI not have a special service for containing information about the data the continuation of a career each of graduate that will be created as the relationships that can support the advancement of the quality of the Graduate at Adventist University of Indonesia.
Methods: With the difficulty of knowing the whereabouts of graduate, an graduate tracer study system was created using Web-based GPS that aims to make it easier for universities to find out the alumni position and is expected to be able to overcome the problems above. The graduate tracer study system was designed using a website-based system. .The system of Graduate tracer study was designed using a web-based system. The system is easy to use by any user because it is built using the waterfall method as a method of system development, laravel framework for building websites and using the Global Positioning System (GPS) locator that serves Graduate.
Results: The end result of this research is to facilitate UNAI system to track and determine the position of the Graduate as well as get information takes on new Graduate pass or long pass which spread to various area
Discussion: It is expected that the future can be developed to add features that are useful scholarship to help students who are still studying, and add graphs about graduate information in getting a job.
Downloads
Download data is not yet available.
References
B, FS, Safi'ie, MA, & WA, OD (2016). IMPLEMENTATION OF ACADEMIC INFORMA TION SYSTEM BASED WEB USING FRAMEWORK laravel. Journals TRANS FORMATION, 46-50.
Billy, RE, & Sons, EK (2015). Information Systems Graduate School of Computer Science University of Klabat. National Conference on Systems and Informatics, 880-884.
Develop Faster with the laravel PHP, (2015, April 17). Taken back from developer.com
Effendy, DU, & Suswanto, B. (t.thn.). MODEL-BASED DESIGN GRADUATE SURVEIL LANCE APPLICATIONS WEBSITE. DotCom Dynamics Journal Vol. 5 No. 1, 14-26.
Khair, M., Astuti, IF, & Khairina, DM (2016). Graduates Tracer Web-Based System (A Case Study of the Faculty of Mathematics and Natural Sciences). Proceedings of the Seminar on Science and Technology Faculty Unmul, 471-475.
Nasuha, A., & Siahaan, K. (2016). ANALYSIS AND DESIGN OF INFORMATION SYST EMS GRADUATES (TRACER STUDY) WEB-BASED IN Sulthan Taha Saifuddin IAIN JAMBI. Journal of Management Information Systems Vol 1 No. 1, 18-29.
Pressman, R. (t.thn.). Software Engineering: Practitioner Approach Book I. Yogyakarta: Andi.
Purwati, N., Halimah, & Rahardi, A. (2018). Website Designing Information System Studies Institute of Informatics and Business Darmajaya Bandar Lampung. Journal of Information Systems and Database Management (SIMADA), 71-80.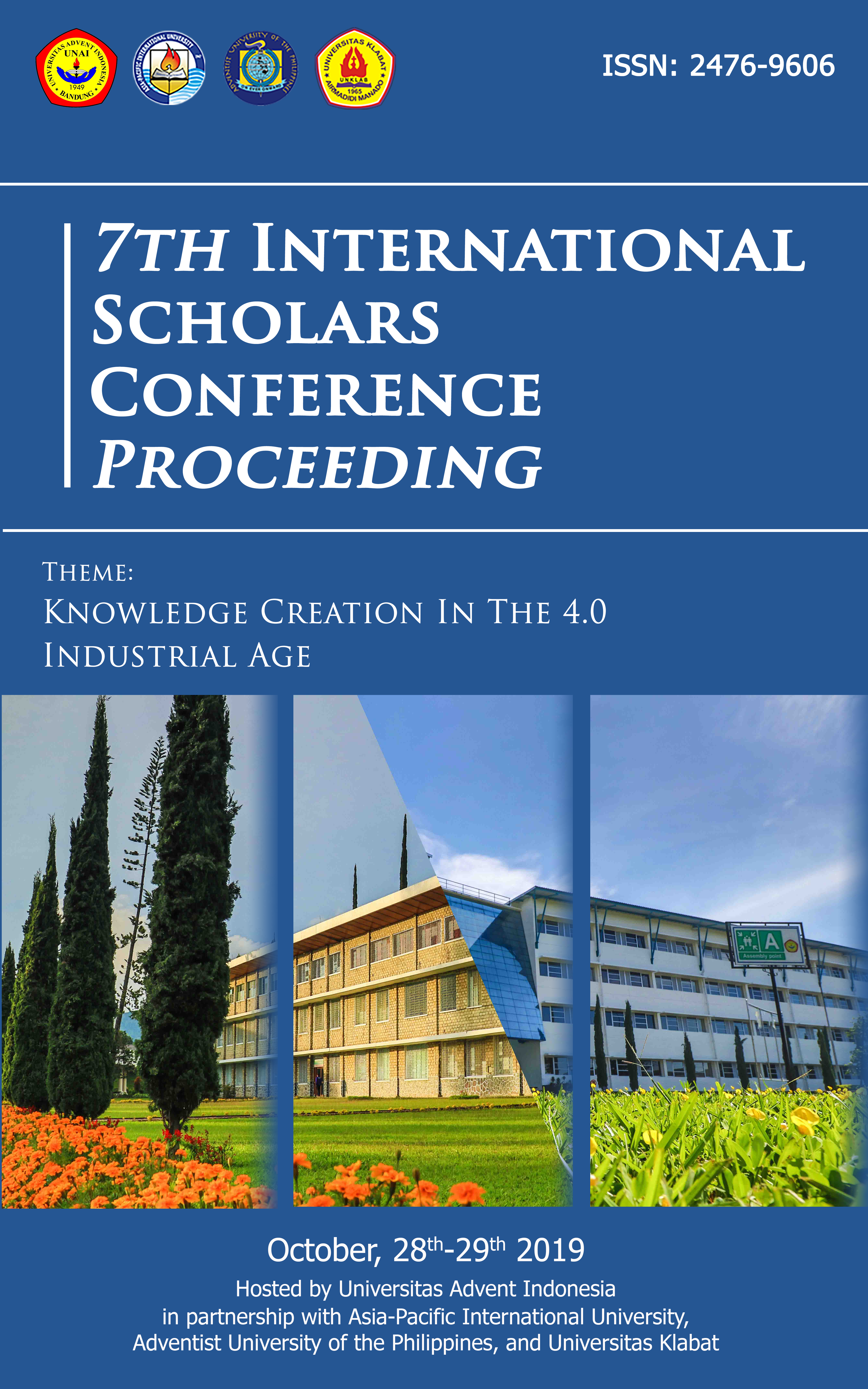 Downloads
How to Cite
Thomas, G. G., & Wagiu, E. (2019). ALUMNI TRACER STUDY SYSTEM DESIGN USING WEB-BASED GPS (CASE STUDY OF UNIVERSITAS ADVENT INDONESIA). Abstract Proceedings International Scholars Conference, 7(1), 1826-1841. https://doi.org/10.35974/isc.v7i1.2006
Section
Engineering & Technology
License
Copyright © 2019 ISC Committee.