Life Experience of Seventh-Day Adventist Church Members in Caring for Their Parents Who Suffer from Alzheimer's Dementia
Idauli Simbolon

Fakultas Ilmu Keperawatan Universitas Advent Indonesia

Christine Sacha

Universitas Advent Indonesia

Evelyn Hemme

Universitas Advent Indonesia

Sapti Heru Widyarti

Universitas Advent Indonesia
Keywords:
Life Experience, Older Adult, Alzheimer Dementia, Family Care Giver
Abstract
Introduction: Previous phenomenological studies explain that family member faced many consequences in caring for family members with Alzheimer's Dementia at home. The consequences are in the form of the impact of financial, social and psychological pressure. Considering such consequences, families especially in Eastern cultures will continue to care for their elderly at home for reasons of compassion or retribution toward parents even though they feel frustrated and burdened. The purpose of this study is to describe the life experience of Seventh-day Adventist church members in caring for their parent who suffer from Alzheimer's Dementia. Method: This qualitative study is using phenomenological design. There are 3 participants are selected who are fit with the inclusion criterions: immediate family member, seventh-day Adventist church member, live together with their Alzheimer's Dementia parent who suffer at least 2 years of dementia, and agree to sign inform consent after the full explanation of the study. Data are gathered using semi structured face to face interview in participant's home setting. Data than transcribed in to world document and analyzed using Cresswel step by step content analysis. Result: There are five negative categories of family member experiences in taking care of their Alzheimer's Dementia parent: 1) physical abuse, 2) psychological abuse, 3) social limitation, 4) spiritual distress, and 5) knowledge deficit. It also found that there are several coping mechanism or adaptation made by family member in caring their Alzheimer Dementia parent: 1) family members are motivated to learn more about Alzheimer Dementia, 2) spiritual growth that they pray more often and surrendered to God, 3) increase understanding toward elderly. Discussion: Based on the result of the study, all the informants experienced pressures in all holistic aspects of life. If they are not able to cope with the pressure, illness may be arrived and made the family situation become worse. Therefore, professional health care must provide support to the family who take care of their Alzheimer Dementia parent.
Downloads
Download data is not yet available.
References
Adam, K. B., McClendon, M. J., & Smith, K. A. (2008). Personal losses and relationship quality in dementia caregiving. Dementia, 301-319.
Anonymous. (2019, November 4). 10 Ways to help a Family Living with Alzheimer's. Diambil kembali dari Alzheimer Association: www.alz.org/media/Documents/alzheimers-dementia-care-10-ways-to-help-a-family-c.pdf
Anonymous. (2019, November 4). What is good health care. Diambil kembali dari Having a Friendly and Caring Attitude: http://www.healthtalk.org/learning-teaching/teaching-resources/having-friendly-and-caring-attitude
Association, A. (2010). Alzheimer's Disease Facts and Figures. Diambil kembali dari Alzheimer's Association: Alzheimer's Association. 2010 Alzheimer's Disease Facts andhttp://www.alz.org/documents_custom/report_alzfactsfigures 2010.pdf.
Association, A. (2019, September 9). Causes and Risk Factors. Diambil kembali dari Alzheimer Asociation: https://www.alz.org/alzheimers-dementia/what-is-alzheimers/causes-and-risk-factors
Biggs, S., Phillipson, C., & Eastman, M. (1994). Elder abuse & neglect: developing training program. London: Chapman & Halls.
Clinic, M. (2019, November 3). Social support: Tap this tool to beat stress. Diambil kembali dari Healthy Life Style Stress Management: https://www.mayoclinic.org/healthy-lifestyle/stress-management/in-depth/social-support/art-20044445
Dondok, C. S., & Soputri, N. (2017). Teapi Relaksasi Otot Progressi Dan Rendam Kaki Dengan Air Hangat Terhadap Skala Insomnia pada Lansia di Panti Tresna Werdha Karitas Cimahi. Jurnal Skolastik Keperawatan, 102.
Miller, C. (2004). Nursing for wellness in Older adult: Theory and Practice. 4t. hed. Philadelpia: William Wilkins and .
Neugroschl, J., & Wang, S. (2011). Alzheimer's Disease: Diagnosis and Treatment Across the Spectrum of Disease Severity. Mt Sinai J Med., 596-612.
Qualls, Zarit Steven, H., & Honn, S. (2009). Aging Families and Caregiving. New Jersey : John Willey & Sons, Inc.
Rantung, J., & Leuna, C. F. (2018). Phenomenological study of Nurse Experience in Proving Paliatif Nursing Care on Patient with Terminal Case in Icu Adventist Hospital Bandung. Jurnal Skolastik Keperawatan, 83.
Rocha, R. C., Pereira, E. R., Silva, R. M., Medeiros, A. Y., Refrande, S. M., & Refrande, N. A. (2018). Spiritual needs experienced by the patient's family caregiver under Oncology palliative care. Rev. Bras. Enferm. vol.71 , supplemen 6.
Volicer, L., Hurley, A., & Mahoney, E. (1998). Behavioral symptom of dementia. In Volicer, L., Hurley, A.C. (Eds), Hospice care for patients with advance progressive dementia. New York: Springer Publishing Company.
Watson, L., Lewis, C., Moore, C., & Jeste, D. (2011). Perceptions of depression among dementia caregivers: findings from the CATIE-AD trial. Int J Geriatr Psychiatry, 397-402.
Weller, J., & Andrew, B. (2018). Current understanding of Alzheimer's disease diagnosis and treatment. F1000Research, 1-9.
WHO. (2002). World Report on Violence and Health. Geneva: WHO.
WHO. (2017, April). 10 Facts on Dementia. Diambil kembali dari World Health Organization: https://www.who.int/features/factfiles/dementia/en/
Widyastuti, R. H. (2011). Gambaran Beban Keluarga dalam Merawat Lansia dengan Demensia di Kelurahan Pancoranmas Depok Jawa Barat: Studi Fenomenologi. Jurnal Kesehatan (The Journal of health) volume 1 no 7 Juni 2011 hal 53-57 , 1 (7). pp. 53-57., 53-57.
Wulandari, I. S., Ibrahim, K., & Fatimah, S. (2018). Efektifitas Relaksasi Autogenic Terhadap Kualitas Tidur Pasien Hemodialisis di Rumah Sakit Advent Bandung. Jurnal Skolastik Keperawatan, 26.
Yuliawati, A. D., & Handadari, W. (2013). Hubungan antara Tingkat Stres dengan Tindak Kekerasan Pada Care Giver Lansia dengan Demensia. Jurnal Psikologi Klinis dan Kesehatan Mental, 52.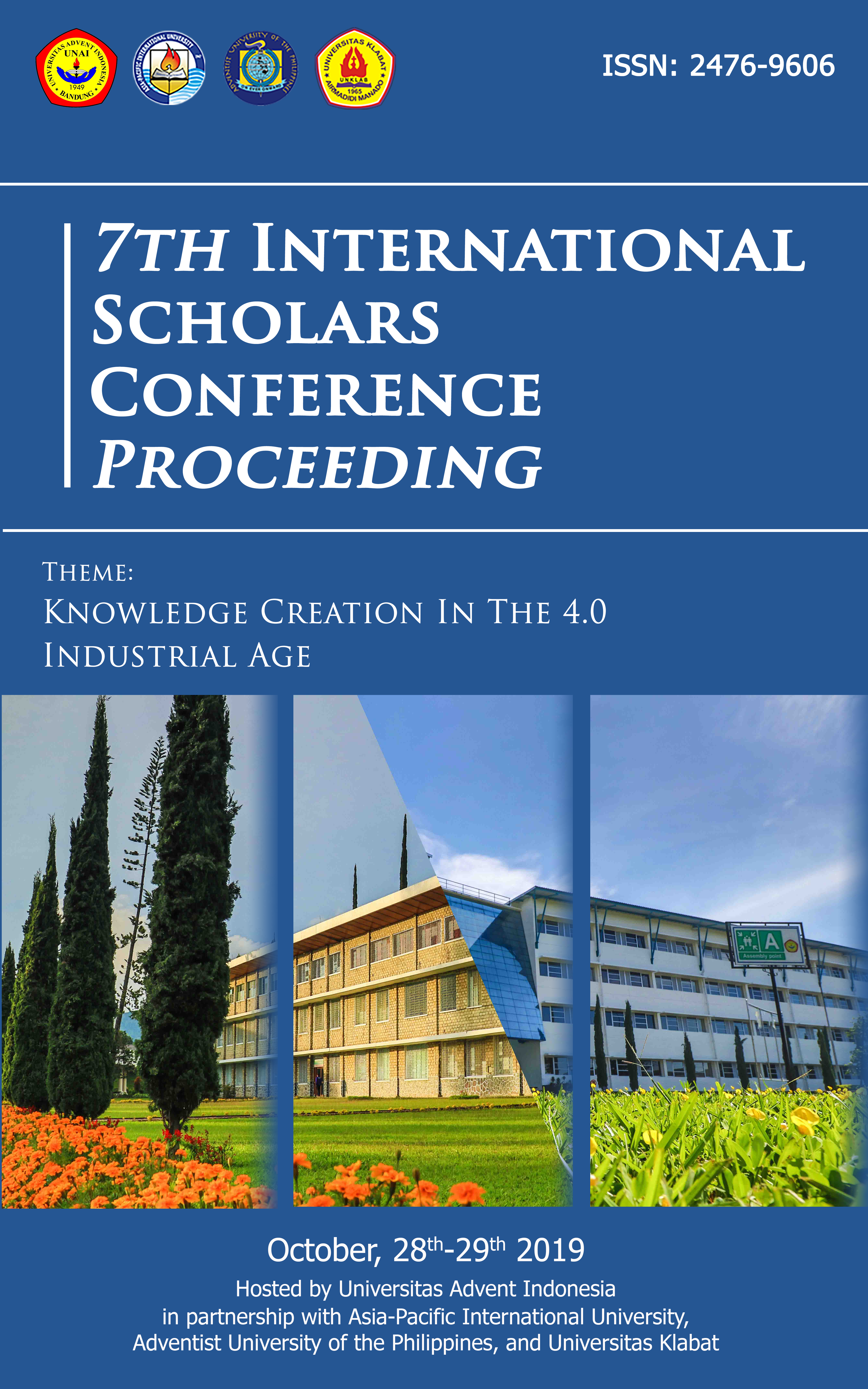 How to Cite
Simbolon, I., Sacha, C., Hemme, E., & Widyarti, S. (2019). Life Experience of Seventh-Day Adventist Church Members in Caring for Their Parents Who Suffer from Alzheimer's Dementia. Abstract Proceedings International Scholars Conference, 7(1), 674-684. https://doi.org/10.35974/isc.v7i1.2008
Copyright (c) 2019 Abstract Proceedings International Scholars Conference
This work is licensed under a Creative Commons Attribution-ShareAlike 4.0 International License.
Copyright © 2019 ISC Committee.