The Accuracy of The Springate and Zmijewski in Predicting Financial Distress in Cosmetic and Household Subsector Companies
Lorina Siregar Sudjiman

universitas advent indonesia

Paul Eduard Sudjiman

Universitas Advent Indonesia
Keywords:
Financial Statement, Springate, Zmijewski, Financial Distress, Bangkrupt
Abstract
Bankruptcy begins with a condition of financial distress. The purpose of this study was to test and analyze the accuracy of financial distress predictions in Cosmetic and Household Subsector Companies listing on the Indonesia Stock Exchange use two models: the Springate (S-Score) model and Zmijweski model. The population in this study are companies in the Cosmetic and Household Subsector Companies listing on the Indonesia Stock Exchange which publishes audited financial statements for fiscal year 2010-2017, which amounted to 5 companies: Martina, MRAT, TCID, UNLV, and ADES. Data analysis technique used is descriptive qualitative analysis using Springate score and Zmijewski score. Model Springate with valuation criteria S> 0.862 classified as healthy company, while Zmijewski sets the criteria, if the firm's score is less than 0 (X <0), then the company goes into nonfinancial distress (healthy). From the analysis of financial distress used the S-Score Springate model on Cosmetic and Household Subsector Companies in 2010-2017, companies experiencing distress condition of 21.57%. From the second model used a Zmijweski model, the entire enterprise in good condition. Thus, the accurate prediction method for Cosmetic and Household Subsector Companies registered in Indonesia is the Zmijweski models. The issue of effectiveness in carrying out the company's operational activities must be payed attention both from sales activities, purchases and other activities, so that reduce the decline in corporate profits. However, based on the overall average value the five companies showed healthy conditions. 
Downloads
Download data is not yet available.
References
Almilia, K. (2003). Analysis of Financial Ratios to Predict Financial Conditions Distress
Manufacturing Companies listed on the JSX. Accounting journal and Indonesian
Auditing.Vol 7. No. 2
Anandarajan, M., & Simmers, C.A. (2005). Developing human capital through personal web
use in the workplace: Mapping employee perceptions. Communications of the
Association for Information Systems, 15 (41), 776-791
Anggi Meiliawati & Isharijadi. Comparative Analysis of the Springate and Altman Modelsz
score of Financial Distress Potential (Case Study of the CompanyCosmetic Sector,
which is listed on the Indonesia Stock Exchange). Accounting Journal and Education,
Volume 5, Nomor 1, April 2016
Altman, E. 1968. Financial Ratio, Discriminant Analysis, and the Prediction of Corporate
Bankruptcy. The Journal of Finance, September, Vol. 23, page. 589-609.
Dewi, Karina Mutiara. (2013). Analisis Faktor – Faktor Yang Mempengaruhi Ketepatan Waktu
Dan Audit Delay Penyampaian Laporan Keuangan. Skripsi. Fakultas Ekonomi Dan
Bisnis Universitas Diponegoro. Semarang
Fahmi, I. (2014). Financial Statement Analysis. Bandung: Alpabeta
Fahmi I. (2013). Financial Statement Analysis. Bandung: Alfabeta
Hery. (2017). Financial Statement Analysis: Integrated and Comprehenive. Edition.
Cetakan ke2. Jakarta: PT. Grasindo
Kasmir. (2009). Introduction to Financial Management. Jakarta: Kencana
Merkusiwati, & Putri. (2014). The Effect of Corporate Governance Mechanisms,Liquidity,
Leverage, and Company Size in Financial Distress. E-Jurnal Akuntansi.Vol. 1, No. 7,
Halaman 93–106
Platt, H dan M. Platt. (2002). Predicting Corporate Financial Distress: Reflections on Choice
Based Sample Bias. Journal of Economics and Finance, Vol. 26, No. 2, h. 184 – 197.
Setiawati, Mey Handayani, (2017), Analysis of the Altman Z-Score, Springate, andZmijewski
to Predict Financial Distess in Food and Food Companies Beverage Listed on the
Indonesia Stock Exchange (IDX) Periode 2011-2015, Skripsi, Universitas Lampung
Yuliana. A dan Ita T. (2015). "Effect of Auditors and Financial Ratios onProfit management".
Journal of Business and Accounting.ISSN 1410-9875. Vol 17 No 1, Juni (2015): 33-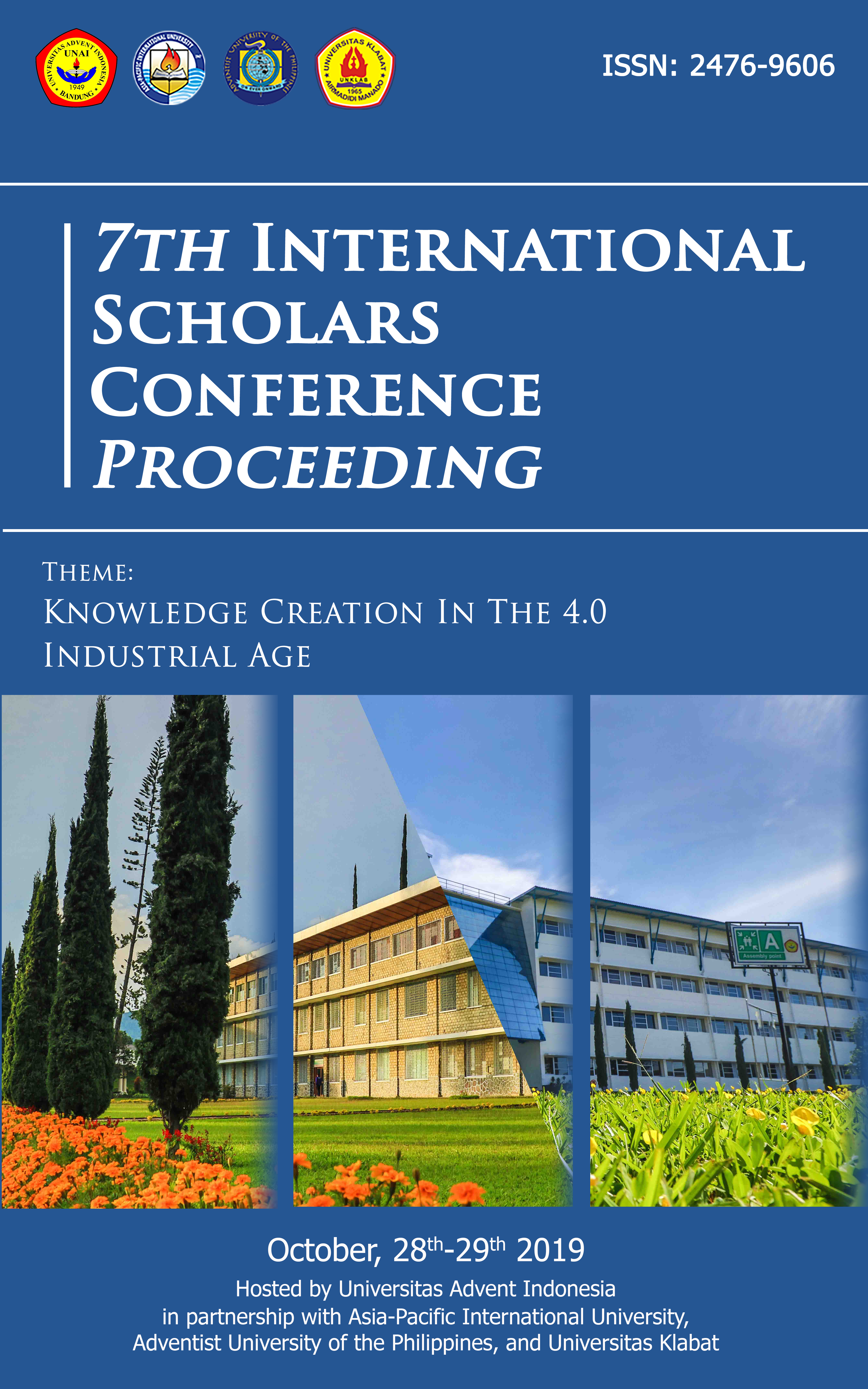 How to Cite
Sudjiman, L., & Sudjiman, P. (2019). The Accuracy of The Springate and Zmijewski in Predicting Financial Distress in Cosmetic and Household Subsector Companies. Abstract Proceedings International Scholars Conference, 7(1), 1343-1358. https://doi.org/10.35974/isc.v7i1.2067
Section
Business & Governance
Copyright (c) 2019 Abstract Proceedings International Scholars Conference
This work is licensed under a Creative Commons Attribution-ShareAlike 4.0 International License.
Copyright © 2019 ISC Committee.