In the Beginning … Creation
Mahaingam Varah

Asia-Pacific International University

Warren A. Shipton

Asia-Pacific International University

Zeny Vidacak

Asia-Pacific International University
Keywords:
Godhead cooperation, agape, existence and essence, origin of morality, image of God
Abstract
The creative activities involved all members of the Godhead. A possible delineation of theirroles was investigated. Further, a rationale for creation was sought given knowledge that theprogenitors of the race would betray their trust.The historical-grammatical approach was used in textual understanding. The Genesis accountwas compared with parallel passages and this was combined with variants in word meaningsand was contrasted with the message conveyed by other passages. An understanding of God'scharacter and the defining features of His government were used to answer the secondresearch question.Accounts given by the apostle John and those recorded at Jesus' baptism and at the preadvent judgment described by Daniel suggests that at creation the Father spoke, the Soninitiated the creative acts, and the Spirit performed an organizational and activating role. Thecooperative activities of the members of the Godhead illustrate the reality of the operation oflove (agape type) from the beginning. Further analysis showed that the creation of this worldrepresented an expression and the triumph of love in the face of knowledge that humanswould fail in the trust given them. Love also explains how the foundational elements ofGod's character and government fit together—concepts of righteousness, justice, truth, mercyand faithfulness— and hence illustrates how human salvation (recreation) is possible.Creation is seen as a planned event dashing the claims of evolution that existence precededessence. The existence of a widespread sense of right and wrong, of human sexuality, of theamazing analytical and creative capacity of the human mind speaks that essence precededexistence. This is confirmed by the day to day experiences of those who permit God toundertake the recreation of His character image in them. Further research on the questionsraised is merited.
Downloads
Download data is not yet available.
References
Bell, P. (2019). Is there purpose in evolution? Journal of Creation, 33(1), 18–22.
Dawkins, R. (2007). The God Delusion. London: Black Swan.
FitzPatrick, W. J. (2017). Human altruism, evolution and moral philosophy. Royal Society Open Science, 4(8), doi: https://doi.org/10.1098/rsos.170441
Hardinge. L. (1991). With Jesus in His Sanctuary. Harrisburg, PA: American Cassette Ministries.
Hodgson, G. M. (2013). The enduring relevance of Darwin's theory of morality. BioScience, 63(7), 513–514.
Lewis, C. S. (1965). The Abolition of Man. New York: Macmillan Publishing Co., Inc.
Nygren, A. (1982). Agape and Eros (P. S. Watson, trans.). Chicago: University of Chicago Press.
Pennock, R. T. (1995). Moral Darwinism: Ethical evidence for the descent of man. Biology and Philosophy, 10(3), 287–307. doi: https://doi.org/10.1007/BF00852470
Sartre, J-P. (1960). Existentialism is a humanism. In W. Kaufman (Ed.), Existentialism from Dostoyevsky to Sartre. New York: Meridian Books, Inc.,
Strong, J. (2007). Strong's Exhaustive Concordance to the Bible. Peabody, MA: Hendrickson Publishers.
White, E. G. (1899). Sacrificed for us. The Youth's Instructor, Washington, DC: Review and Herald Publishing Association.
White, E. G. (1971). Confrontation. Washington, DC: Review and Herald Publishing Association.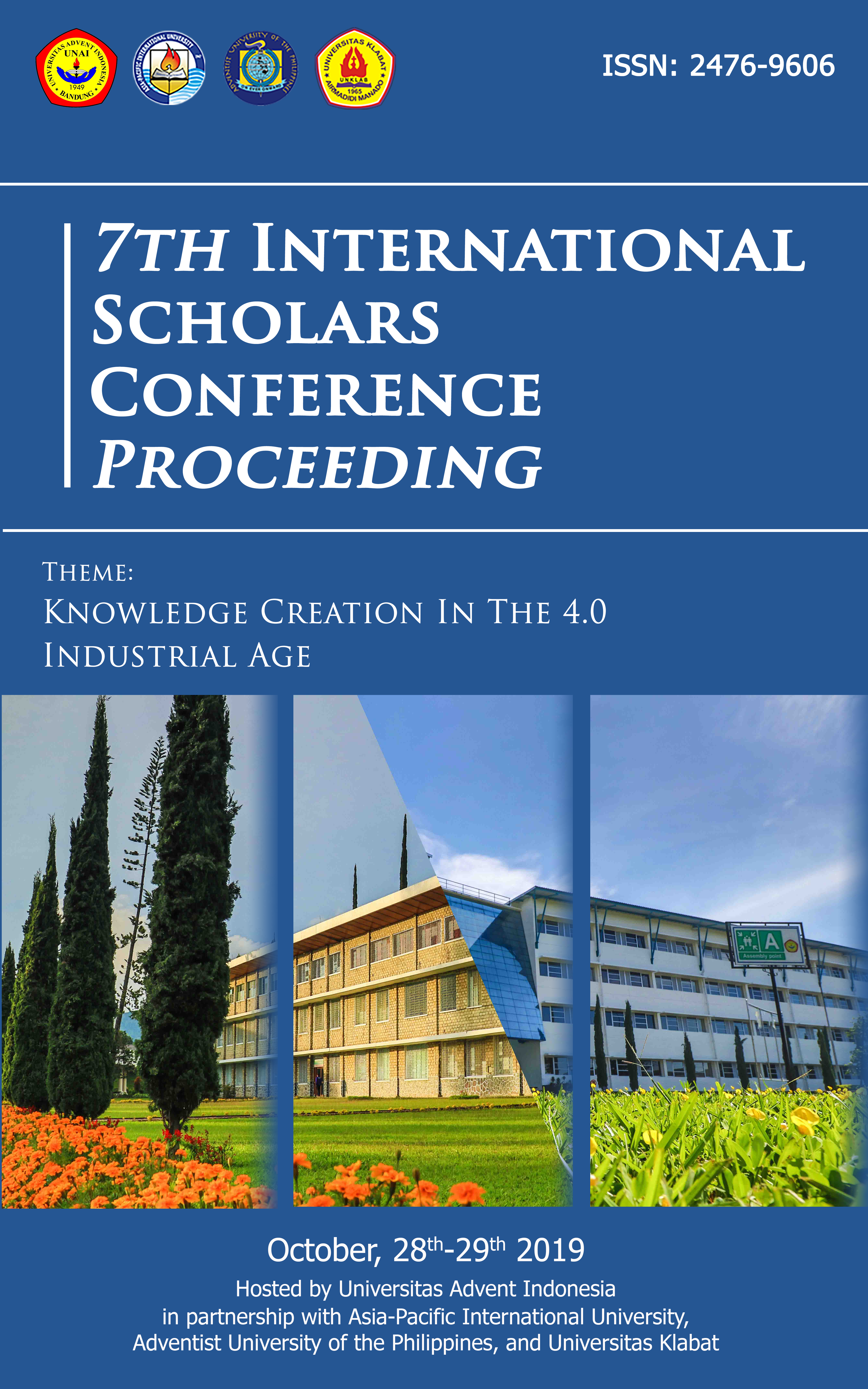 How to Cite
Varah, M., Shipton, W., & Vidacak, Z. (2019). In the Beginning … Creation. Abstract Proceedings International Scholars Conference, 7(1), 2119-2124. https://doi.org/10.35974/isc.v7i1.2196
Copyright (c) 2019 Abstract Proceedings International Scholars Conference
This work is licensed under a Creative Commons Attribution-ShareAlike 4.0 International License.
Copyright © 2019 ISC Committee.