Parents' Body Shape Profile and Overweight Among Students at Singkawang Adventist School
Sultan Fredyansyah Bagaskara Djula

Universitas Advent Indonesia

Sapti Widyarti Djula

Universitas Advent Indonesia
Keywords:
Overweight, Obesity, Body Mass Index(BMI), Body Shape
Abstract
When both parents are obesity, thus the children are 80% potentially become overweight orobesity. If one of the parent is overweight or obesity, thus the children are 40% potentially tobecome overweight or obesity. The purpose of the study is to analyze is there any significantrelationship between parents' body shape with overweight among students at SingkawangAdventist School. The method of the study is descriptive with quantitative method and thecross sectional design. Sampling technique is total sampling among the overweight students.Number of respondens are 35 persons which have been measure body height, body weight anddetermined Body Mass Index (BMI). Data processing using SPSS Program. The results of thestudy show that the status of overweight students is obesity and parents' body shape areoverweight (there is no significant relationship between obesity in adolescents with the bodyshape of the father with a significance of (0.086) with a ρ value> 0.05 as well as no significantrelationship between obesity in adolescents with the body shape of their mothers, with asignificance of (0.411) with ρ value> 0.005). There is no significant relationship betweenoverweight students with parents' body shape. There is not enough evidence to refuse nullhypothesis. Recommendation are given to Singkawang Adventist School Students in order tomaintain a healthy lifestyle and give effort to reduce body weight. To the next researcher to doresearch with bigger sample size.
Downloads
Download data is not yet available.
References
Depkes. (2009). Klasifikasi Remaja, Jakarta
Dewi, M. R. & Sidhiartoko, I. G. L. (2013). Prevalence and Risk Factors of Overweight and Obesity in Adolescent, Paediatr Indonesia 2002;42:2006-11.
Hayati. (2009). Faktor yang Berhubungan dengan Konsumsi Fast Food Waralaba Modern dan Tradisional pada Remaja Siswa SMU Negeri di Jakarta Selatan. Skripsi Departemen Gizi Masyarakat dan Sumberdaya Keluarga, Fakultas Pertanian Institut Pertanian Bogor, Bogor.
Handayani Mega Seasty, Dwiriani Cesilia Meti dan Riyadi, Hadi, (2013), Hubungan komposisi tubuh dan status pada remaja putri di perkotaan dan perdesaan, Jurnal Gizi dan Pangan, 8(3): 181—186.
Juliantini Ni Putu Lia dan I Gusti Lanang Sidiartha (2012) Jurusan Pendidikan Dokter, Fakultas Kedokteran Universitas Udayana
Pareira, M. A., & Ludwig, D. S. Dietary Fiber and Body Weight Regulation Observations and Mechanisms, Paediatr. (in North Am. 2001;59: 556-9).
Roesli. (2014). Faktor Determinan yang Mempengaruhi Kegagalan Pemberian ASI Ekslusif pada Bayi di Kelurahan Mulyorejo Surabaya (Skripsi), Universitas Airlangga, Surabaya.
Undang-undang Perkawinan, No.1 Tahun 1974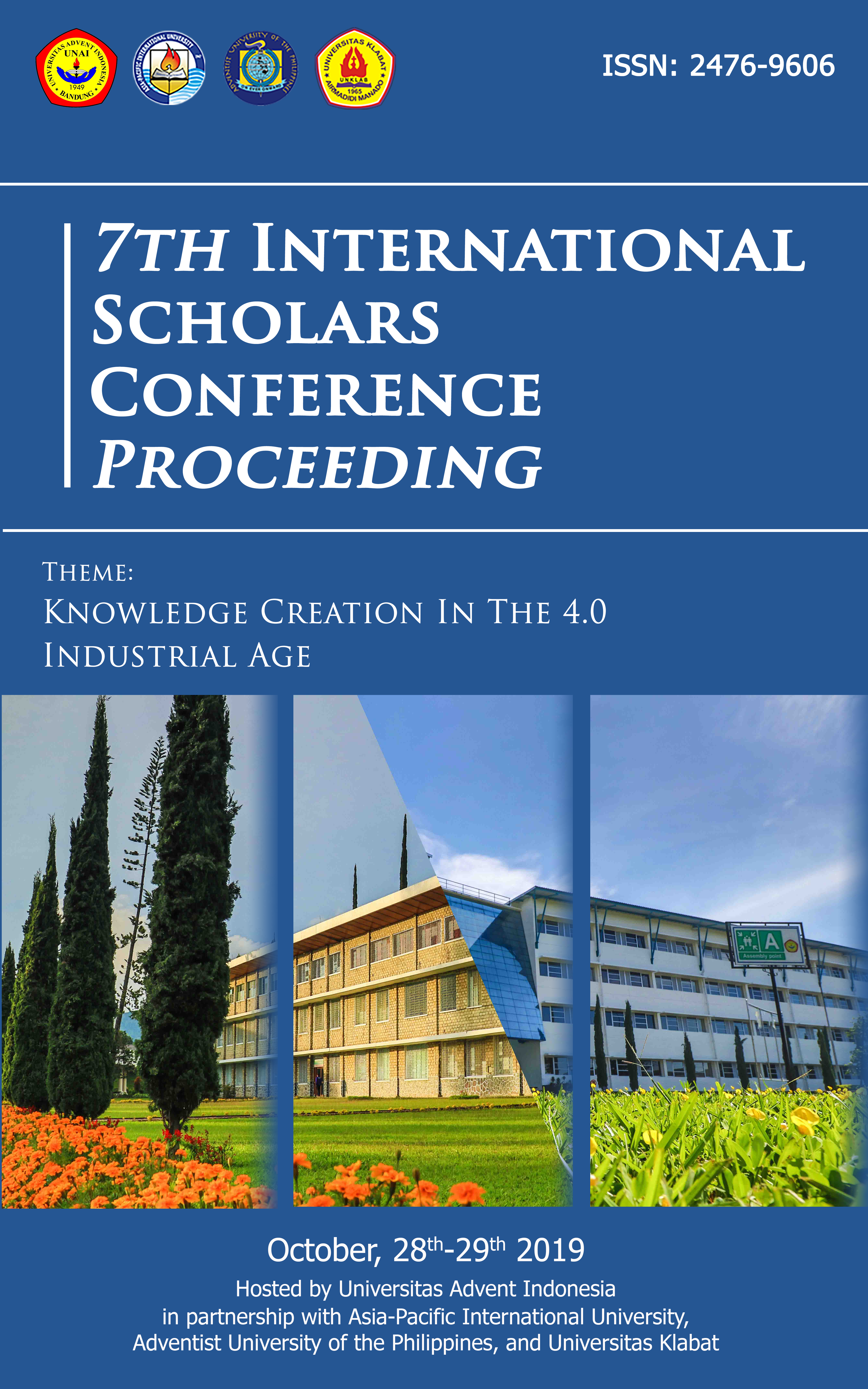 How to Cite
Djula, S., & Djula, S. (2019). Parents' Body Shape Profile and Overweight Among Students at Singkawang Adventist School. Abstract Proceedings International Scholars Conference, 7(1), 17-32. https://doi.org/10.35974/isc.v7i1.806
Copyright (c) 2019 Abstract Proceedings International Scholars Conference
This work is licensed under a Creative Commons Attribution-ShareAlike 4.0 International License.
Copyright © 2019 ISC Committee.