The Difference of Students Attitudes Who Have and Who Have Not Yet Received Palliative Classes on Palliative Nursing Action in Universitas Advent Indonesia of West Bandung District
Nurhayati Siagian

Fakultas Ilmu KeperawatanUniversitas Advent Indonesia
Keywords:
Student Attitude, Palliative Nursing
Abstract
This research is motivated because there are still many students who do not know the real palliative care. The reason is because they have not yet received Palliative theory in class. This is important because they will be dealing directly with palliative patients when practicing in the hospital so that they know that they are doing the right thing in caring for palliative patients while the palliative nursing course is still only applied in the learning curriculum. The main purpos of the study is to analyze whether there is a significant difference between the attitudes of students who have and who have not received a palliative nursing class toward palliative nursing in Universitas Advent Indonesia, Bandung Barat Regency. The research method used is descriptive quantitative. The population in this study were Level III and Level IV S1 Study Program students in Universitas Advent Indonesia. A sample of 84 students (42 students who have received a Palliative Nursing class and 42 students who have not yet received a palliative nursing class) were determined by purposive sampling. The instrument and material used were Frommelt's Attitude Toward Care of the Dying (FATCOD) attitude questionnaire score consisting of 24 questions using a Likert scale. Results: there were significant differences between the attitudes of students who have not and those who have received a Palliative class toward Nursing actions Palliative significance (2 tailed) 0.019 <0.005 means that there are significant differences. Conclusion: After conducting research, it is known that there is a significant difference between the attitudes of students who have not and those who have already received palliative nursing classes in treating palliative patients. The results of this study are expected to be beneficial for students, lecturers, and researchers in order to improve the quality of palliative nursing in Indonesia.
Downloads
Download data is not yet available.
References
Azwar S. (2003). Sikap Manusia, Teori dan Pengukurannya. Yogyakarta, Pustaka Belajar
Becker, R. (2015). Fundamental Aspects of Palliative Care Nursing 2nd Edition. An EvidenceBased Handbook for Student Nurses (Vol 3), Andrews UK Limited.
Bruere, E & Yennurajalinggam, S. (2016). The Palliative care team. Oxford American handbook of hospice and palliative Medicine and Supportive Care. Oxford University Press.
Campbell, M.L. (2009). Nurse to Nurse Palliative Care, Expert Interventions. USA: McGrawHill Medical.
Chris (2009:8) Kelainan Haid [Online]. Avalaible Http:Karyatulisilmiah Keperawatan.Blogspot.Com/2008/03kelainanhaid.Html.
Effendy, C. (2015). The Quality of Palliative Care for patients with cancer in Indonesia. (Ph.D. Thesis). Radboud Universiteit Nijmegen, Netherlands.
Fadli Adzani. (2015). https://www.cnnindonesia.com/gaya-hidup/20151013173237-255 84760/mengenal-lebih-jauh-perawatan-paliati
Flaherty, (2008). Potter &Perry 2006. Pilliterry 2003
Notoadmojo S. (2002). Metodologi Penelitian Kesehatan. Jakarta: Rineka Cipta
Nursalam. (2008).Konsep Dan Penerapan Metodologi Penelitian Ilmu Keperawatan. 2nd ed. Jakarta. Salembah Medika.
Proverawati A, & Misaroh S, (2009), Manarche Yogyakarta Nuhamedika.
Potter, P. A,, A.G. Perry, (2006). Buku Ajar Fundamental Keperawatan, Konsep,Proses, Dan Praktek. Jakarta: Egc.
Siregar (2013) Metode Penelitian Kuantitatif, Dilengkap Perbandingan, Pehitunan Manual Dan Spss Edisi Pertama. Jakarta: Kencana
Sunyoto (2012), menjelaskan pada kriteria pengujian dua pihak.
Yodang. (2018). Buku Ajar Keperawatan Paliatif Berdasarkan Kurikulum AIPNI 2015. Jakarta: TIM.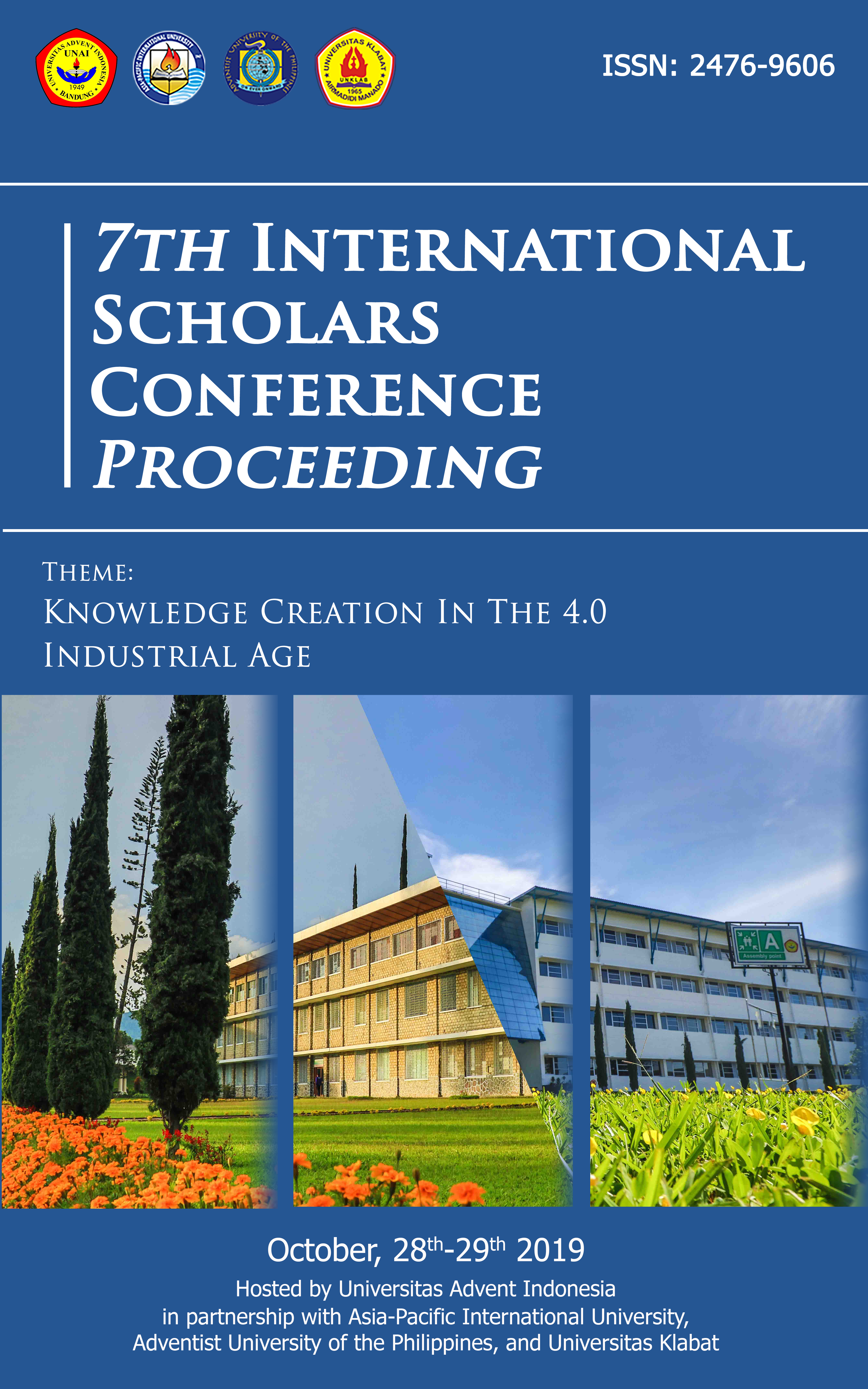 How to Cite
Siagian, N. (2019). The Difference of Students Attitudes Who Have and Who Have Not Yet Received Palliative Classes on Palliative Nursing Action in Universitas Advent Indonesia of West Bandung District. Abstract Proceedings International Scholars Conference, 7(1), 33-41. https://doi.org/10.35974/isc.v7i1.864
Copyright (c) 2019 Abstract Proceedings International Scholars Conference
This work is licensed under a Creative Commons Attribution-ShareAlike 4.0 International License.
Copyright © 2019 ISC Committee.