Organizational Climate and Self-Efficacy as Correlates of Conflict Management in Faith-Based Basic Education Institutions
Leonardo Bonquin Dorado

Adventist University of the Philippines

Garlene Chris B Liona
Keywords:
Organizational Climate, Conflict Management, Faith-Based Institution, Self-efficacy
Abstract
Conflict management has been an issue in higher education institutions (HEIs), howeverlimited studies were conducted specifically among faith-based basic education institutions. The aim of this research was to determine what correlates to conflict management in faith-based basic institutions. This study answered the following objectives: (a) to determine the extent of organizational climate, self-efficacy, and conflict management of teachers; (b) tofind out the significant relationship of the three variables; (c) to determine the moderatorvariables that affect conflict management. This descriptive correlation design and usedrandom sampling and ratio and proportion techniques in the selection of 320 teachers asrespondents in selected faith-based basic education institutions in the Philippines. Usingdescriptive and inferential statistics the study found that the organizational climates of therespondents were highly favorable and their self-efficacy is interpreted as high. All of theconflict management practices were highly practiced. The most practiced conflictmanagement were integrating, compromising, and obliging. Correlation analysis revealed thatorganizational climate and self-efficacy were significant related to integrating,compromising, obliging and/or avoiding. Furthermore, Teachers between 41-50 years oldchoose integrating of conflict management practices and teachers with post-graduate degreestend to use integrating and compromising conflict management. The findings showed that afurther study can be made in faith-based HEI's to see other implication it can bring tomanagement, program and policy of the organization.
Downloads
Download data is not yet available.
References
Abdel-Hadi, S. A. (2017). Emotional self-efficacy among a sample of faculty members and its relation to gender (male/female), experience, qualification and specialization. International Education Studies, 10(1), 211-224.
Aydogdu, B. N., Celik, J., & Eksi, H. (2017). The Predictive role of interpersonal sensitivity and emotional self-efficacy on psychological resilience among young adults. Eurasian Journal of Educational Research, (69), 37-54.
Bailey, R. A., Pfeifer, M., Shillington, A. C., Harshaw, Q., Funnell, M. M., VanWingen, J., & Col, N. (2016). Effect of a patient decision aid (PDA) for type 2 diabetes on knowledge, decisional self-efficacy, and decisional conflict. BMC health services research, 16(1), 10.
Bandura, A. (2016). Self-efficacy for agentic Positive Psychology. http://positivepsycholog yprogram.com/bandura-self-efficacy/
Bandura, A. (1977). Self-efficacy: toward unifying theory of behavioral change. Psychological Review,82. 191-215. doi:10.1037/0033-295x.84.2.191
Bandura, A. (1997). Self-efficacy: The exercise of control. New York, NY: Freeman.
Bartolata, R. L. (2014). Conflict management styles and personality types of administrators of nursing schools in Albay, Philippines. International Journal of Technical Research and application, 5(2), 61-63.
Beitler, L. A., Machowski, S., Johnson, S., & Zapf , D. (2016),"Conflict management and age in service professions", International Journal of Conflict Management, Vol. 27(3).
Berberick, T.R., Lindsay, P., & Fritchen, K. (2017). The leadership habit: transforming behaviors to drive results. Wiley: USA.
Cadiz, A. P., Villena, D. H., & Velasco, A. H. (2016). A Conflict Management Program for Teachers. The Normal Lights, 10(2).
Caesens, G., & Stinglhamber, F. (2014). The relationship between perceived organizational support and work engagement: The role of self-efficacy and its outcomes. Revue Européenne de Psychologie Appliquée/European Review of Applied Psychology, 64(5), 259-267.
McNamara, C. (2013). Types of managerial actions that cause workplace conflicts. Free Management Library, authenticity consulting, LLC. http://www.authenticitycons ulting.com/free_management_library
McShane, S.L., Von Glinow, M. (2016). Organizational behavior. Mc Graw Hill Education: United States of America.
Mohan, V., & Sharma, D. (2015). Organizational climate in relation to work motivation and organizational commitment (No. 2015-12-11).
Mulki, J. P., Jaramillo, F., Goad, E. A., & Pesquera, M. R. (2015). Regulation of emotions, interpersonal conflict, and job performance for salespeople. Journal of Business Research, 68(3), 623-630.
Ozsoy, E. (2016). Conflict management styles and type A personality. The Scientific & Technological Research council of Turkey.
Park, M. R., & Seo, M. G. (2017). The role of affect climate in organizational effectiveness. Academy of Management Review, 42(2), 334-360.
Pinchevsky, N., & Bogler, R. (2014). The Influence of Teachers' Perceived Self-Efficacy and Role Impact on their Preferences in Adopting Strategies to Resolve Conflict Situations with Students. International studies in educational administration (Commonwealth Council for Educational Administration & Management (CCEAM), 42(2), 111-125.
Pozveh, A., Z., & Karimi, F. (2016). The relationship between organizational climate and the organizational silence of administrative staff in education department. International Education Studies, 9(6), 120-129.
Rahim, (2011). Learning material on interpersonal conflict: Rahim's model.
https://creativecommons.org/licences/by/3.0/
Ramos, V., & Unda, X. L. (2016). Work Stress and Organizational Climate in an Educational Context: A comparison study between teachers and support staff.
Robbins, S. P., Judge, T.A. (2013). Essentials of organizational behavior eleventh edition. Pearson: Malaysia.
Saeed, T., Almas, S., Anis-ul-Haq, M., & Niazi, G. S. K. (2014). Leadership styles:
relationship with conflict management styles. International Journal of Conflict Management, 25(3), 214-225. doi.org/10.1108.IJ CMA-12-2012-0091.
Samson, D., & Daft R. L. (2015). Management fifth Asia-Pacific edition. Cengage: China.
Sanglim, K., & Sungeun, Y. (2016). Childcare teachers' job satisfaction: effects of personality, conflict-handling, and organizational characteristics. Social behavior &Personality Journal, 44(2), 177-184. doi:10.2224/sbp.2016.44.2.177
Tobin, T.J., Muller, R.O. & Turner, L.M. Soc Psychol Educ (2016) 9: 301.
https://doi.org/10.1007/s11218-005-4790-z
Wekhian (2015). Conflict Management Styles in the Workplace: A Study of First Generation
Arab Muslim Immigrants in the United States. International Journal of Business and Management; 10(11)
Wood, J., Zeffane, R., Fromholtz, M., Wiesner, R., Morrison, R., Factor, A., McKeown, T. (2016). Organizational behavior: core concepts and applications 4th Australasian edition. Wiley: Singapore.
Yeung, D. Y., Fung, H. H., & Chan, D. (2015),"Managing conflict at work: comparison between younger and older managerial employees", International Journal of Conflict Management, 26(3), 342 - 364
Zenobia, N. (2015). Factors that influence the intention for voluntary turnover among teachers. Annals of'Constantin Brancusi'University of Targu-Jiu. Economy Series, (5).
Zohar, D., & Polachek, T. (2014). Discourse-based intervention for modifying supervisory communication as leverage for safety climate and performance improvement: A randomized field study. Journal of Applied Psychology, 99(1), 113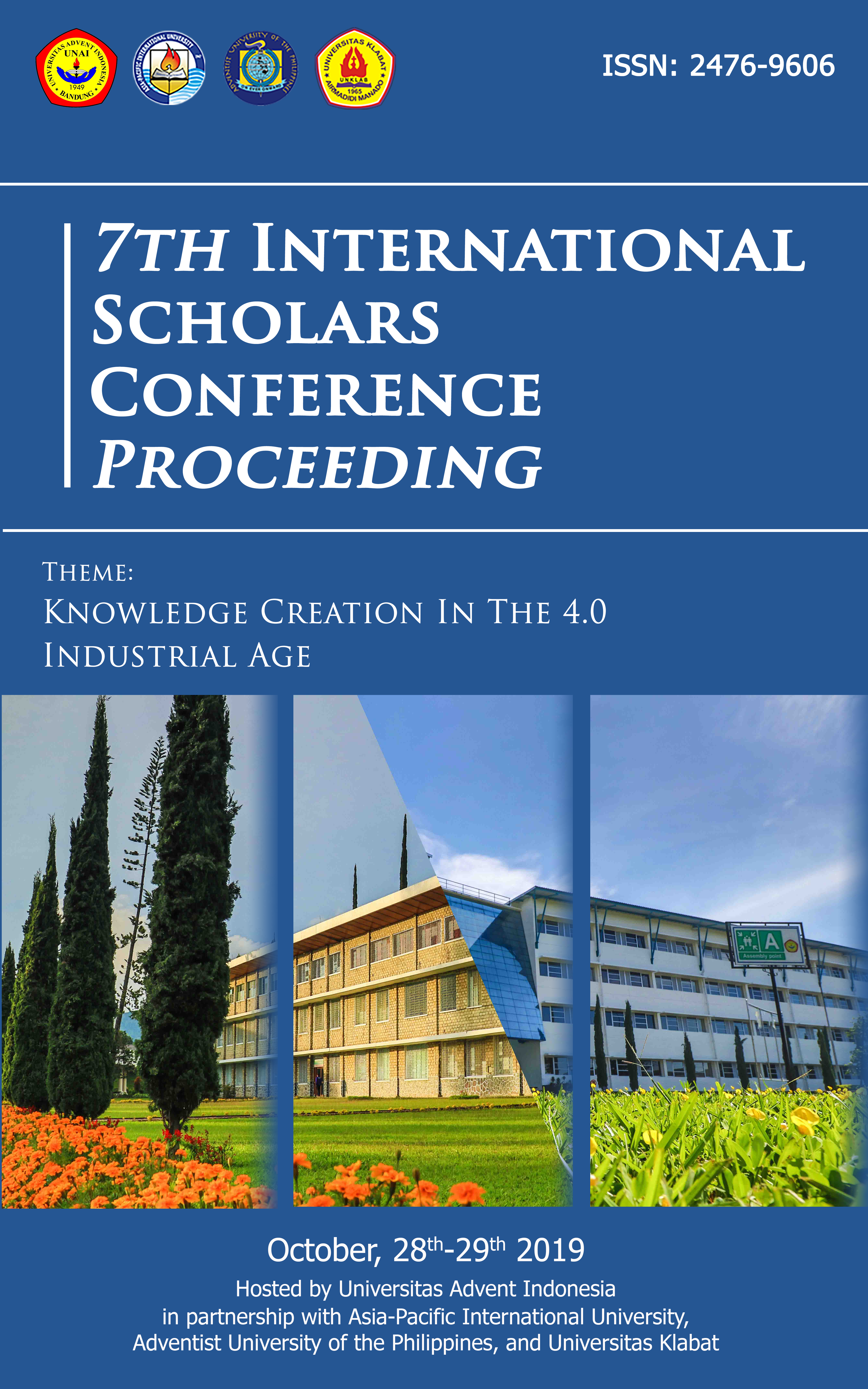 How to Cite
Dorado, L., & Liona, G. (2019). Organizational Climate and Self-Efficacy as Correlates of Conflict Management in Faith-Based Basic Education Institutions. Abstract Proceedings International Scholars Conference, 7(1), 1411-1431. Retrieved from https://jurnal.unai.edu/index.php/isc/article/view/891
Copyright (c) 2019 Abstract Proceedings International Scholars Conference
This work is licensed under a Creative Commons Attribution-ShareAlike 4.0 International License.
Copyright © 2019 ISC Committee.