A Comparative Study on the Different Ethyl Alcohol Disinfection Methods on Dental Casts
Diane Sumagpang Mendoza

Adventist University of the Philippines

Catherine Jill Dequito Palad

Adventist University of the Philippines

Mae Louise Romero Likot

Adventist University of the Philippines

Jason Anthony Bernabe Rodrigo

Adventist University of the Philippines

Deborah Cynthia Teodoro Gatchalian

Adventist University of the Philippines
Keywords:
prosthodontics, dental impressions, disinfectant, ethyl alcohol.
Abstract
Student clinicians are expected to encounter microorganisms during the process of thepatients' treatment that can cause various diseases. In the Dentistry's Prosthodontics clinicmanual, dental students should perform disinfection but no specific method wasrecommended. This study utilized the True experimental research design to evaluate theeffectiveness of two ethyl alcohol disinfection methods (spray and immersion) in thereduction of the bacterial colony count on dental casts and when running tap water is used torinse the dental casts. Informed consent from the 34 participants was first secured from eachof them. They were purposively selected based on their age and if they were partiallyedentulous with at least ten teeth present in each arch. Sixty eight dental casts were producedafter the impression taking of both their maxillary and mandibular arches, 34 of which werefor the experimental group and 34 were for the control group. The Streaking Plate Techniquewas used in determining the bacterial colony count on each dental cast before and after thedisinfection. The results were analyzed statistically using one-way ANOVA. Results revealedthat both the immersion and spray methods in which 70% ethyl alcohol was used as adisinfectant, were found to be independently effective as compared with tap water rinsingonly in reducing the bacterial colony count of each dental cast. However, when the two ethylalcohol disinfection techniques were compared to each other, results showed that there wereno significant statistical differences between them when the ability to reduce the bacterialcolony count on dental casts was observed. From the conclusions, it is recommended that theDentistry students consider using either the immersion or spray method with 70% ethylalcohol as a disinfectant on dental casts. Further studies may also be done to test differentkinds of alcohols with various concentrations.
Downloads
Download data is not yet available.
References
Anusavice, K.J., Sher,C., & Rawls, R.H. (2013). Phillips' Science of dental materials. Elsevier. St. Louis, Missouri.
Demajo. (2016). Effectiveness of disinfectants on the antimicrobial and physical properties of dental impression material. The International Journal of Prosthodontics, 29(1),63-67.
Chang, R. & Overby, J. (2018). Chemistry 13e Education, McGraw Hill, New York.
Garrett, R.H. & Grisham, C.M. (2017). Biochemistry (6th ed.) Cengage Learning, Australia.
Gladwin, M. & Bagby, M. (2013). Clinical aspects of dental materials (4th ed.) Lippincott Williams & Wilkins, Philadelphia.
Marsh, P.D., Lewis, M.A., Rogers, H., Rogers, W., David, W. & Wilson, M. (2016). Marsh & Martin's oral microbiology. Elsevier, United Kingdom.
Naveen, K. & Jaydeesh, R. (2011). Infection control in Prosthodontics. Journal of Dental Sciences and Research, 2(1), 93-104.
Pisulkar, S.K. (2018). Analysis of bacterial colonization due to salivary contamination on gypsum casts and effect of various means of disinfection of dental casts on bacterial colonization: an in vitro study. International Journal of Oral Care and Research. 6(1), 47–53. Retrieved from https://www.researchgate.net/publication/327157633
Salih, M. (2007). Disinfection procedures: Effect on the dimensional accuracy of gypsum casts, msc (dent) in prosthodontics. University of Western Cape, South Africa.
Sousa, J.C. (2013). The effect of water & Sodium hypochlorite disinfection on alginate impressions. 54.
Weeks, B.S. (2012). Alcamo's microbes and society. Jones and Bartlett Learning. Sudbury, M.A.
Zilinskas, J. (2014). Viability changes: Microbiological analysis of dental casts. Medical Science Monitor, 20, 932-937.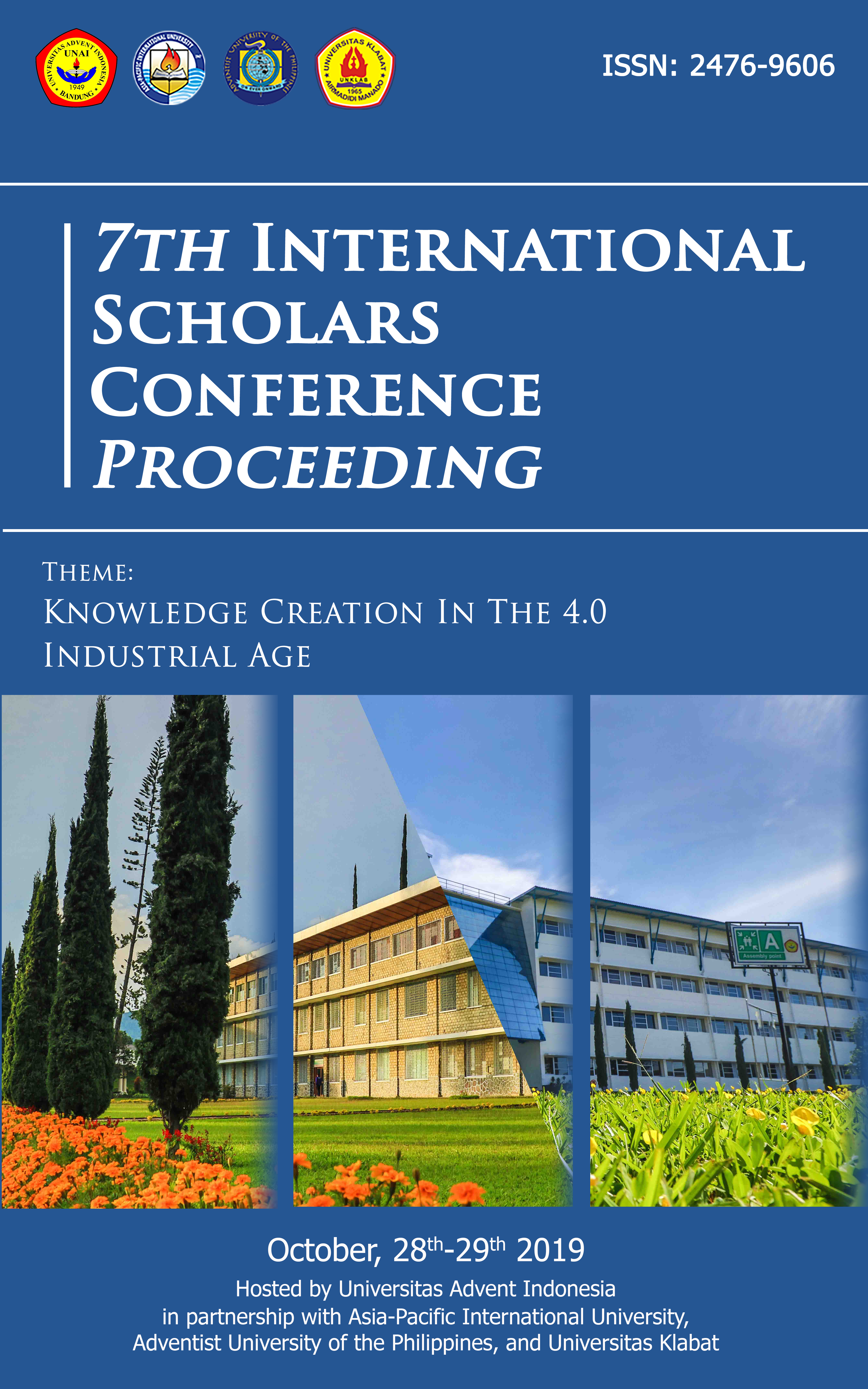 How to Cite
Mendoza, D., Palad, C. J., Likot, M. L., Rodrigo, J. A., & Gatchalian, D. C. (2019). A Comparative Study on the Different Ethyl Alcohol Disinfection Methods on Dental Casts. Abstract Proceedings International Scholars Conference, 7(1), 288-296. https://doi.org/10.35974/isc.v7i1.969
Copyright (c) 2019 Abstract Proceedings International Scholars Conference
This work is licensed under a Creative Commons Attribution-ShareAlike 4.0 International License.
Copyright © 2019 ISC Committee.