The Influence of General Management Practices on Employees' Satisfaction of an Employment Agency in Alabang, Philippines
MEGA PUSPITA

Adventist University of the Philippines

Cing San Lian

AUP
Keywords:
general management practices, employee satisfaction
Abstract
Managing a company is a complex activity, and effective managers face many challenges from within and outside the organization. Management helps company to achieve its goals effectively and efficiently through planning, organizing, leading, and controlling. Employee satisfaction is also important to the success of any business. Many managers believe it is important because they think satisfied employees will do better work. The aim of the study was to evaluate and analyze the general management practices of an employment agency in Alabang, Philippines and determine their relationship to employee satisfaction. Quantitative research method was used in this study. One hundred and ten employees of an employment agency participated in the survey. Questionnaires were distributed using closedended questions. Random sampling technique was used in this study. Descriptive statistics andcorrelation analysis were used for the data analysis. The general management practices of the company were good and the level of the employee satisfaction was very high. A strong positive relationship was found between general management practices and employee satisfaction. There was no significant difference in the level of employee satisfaction when the respondents' profile in term of age, gender, and length of work were considered. For further research, other factors that may influence employee satisfaction may be considered utilizing a larger population size.
Downloads
Download data is not yet available.
References
Bateman, T. S., & Snell, S. A. (2013). Management: Leading & Collaborating in a Competitive
World (10th ed.). Singapore: McGraw-Hill.
Colquitt, J. A., Lepine, J. A., & Wesson, M. J. (2019). Organizational Behavior Improving
Performance and Commitment in the Workplace. New York: McGraw-Hill.
Daft, R. L. (2014). Management (12th ed.). New York: Cengage Learning.
Daft, R. L., & Marcic, D. (2015). Understanding Management (9th ed.). Canada: Cengage
Learning.
DuBrin, A. J. (2012). Management Essentials (9th ed.). Canada: South-Western Cengage
Learning.
Hays, D. W., & Lou, J. Q. (2015). Job Satisfaction of Employees and Consultants in Healthcare
Information Technology. SAM Advanced Management Journal, 80(4), 12-18.
Jones, G., & George, J. (2019). Essentials of Contemporary Management (8th ed.). New York:
McGraw-Hill Education.
Judge, T. A., Ilies, R., & Zhang, Z. (2012). Genetic Influences on Core Self-Evaluations, Job
Satisfaction, and Work Stress: A Behavioral Genetics Mediated Model. Organizational
Behavior and Human Decision Processes, 117, 208-220.
Khetan, O. P. (2018). Winning Management Practices: You don't learn at Business School.
Chennai: Notion Press.
Lim, G. S., Chua, S. B., Skulkerewathana, U., & Daft, R. L. (2015). New Era of Management
in a Globalized World; An Asian Perspective. Singapore: Cengage Learning.
Noe, R. A., Hollenbeck, J. R., Gerhart, B., Wright, P. M. (2019). Human Resource
Management: Gaining a Competitive Advantage (11th ed.). New York: McGraw-Hill.
Rashidi, S., Kozechian, H., & Heidary, A. (2012). The Study and Prioritization of Job
Satisfaction Dimensions in Zanjan-based Refah Bank Employees. International
Journal of Finance and Banking Studies. 1, 23. doi: 10.20525/ijfbs.v1i1.135.
Schermerhorn, J. R., Davidson, P., Poole, D., Woods, P., Simon, A., McBarron, E. (2014).
Management; Foundation and Applications (2nd Asia-Pacific Ed.). China: John Wiley
& Sons.
Sila, E., & Sirok, K. (2018). The Importance of Employee Satisfaction: A Case Study of a
Transportation and Logistics Service Company. Management. 13(2), 111–136
Varma, C., R. (2018). Importance of Employee Motivation and Job Satisfaction for
Organizational Performance. International Journal of Social Science and
Interdisciplinary Research, 6(2), 10-20.
Wilson, T. C. (2015). Value and Capital Management. Great Britain: John Wiley & Sons.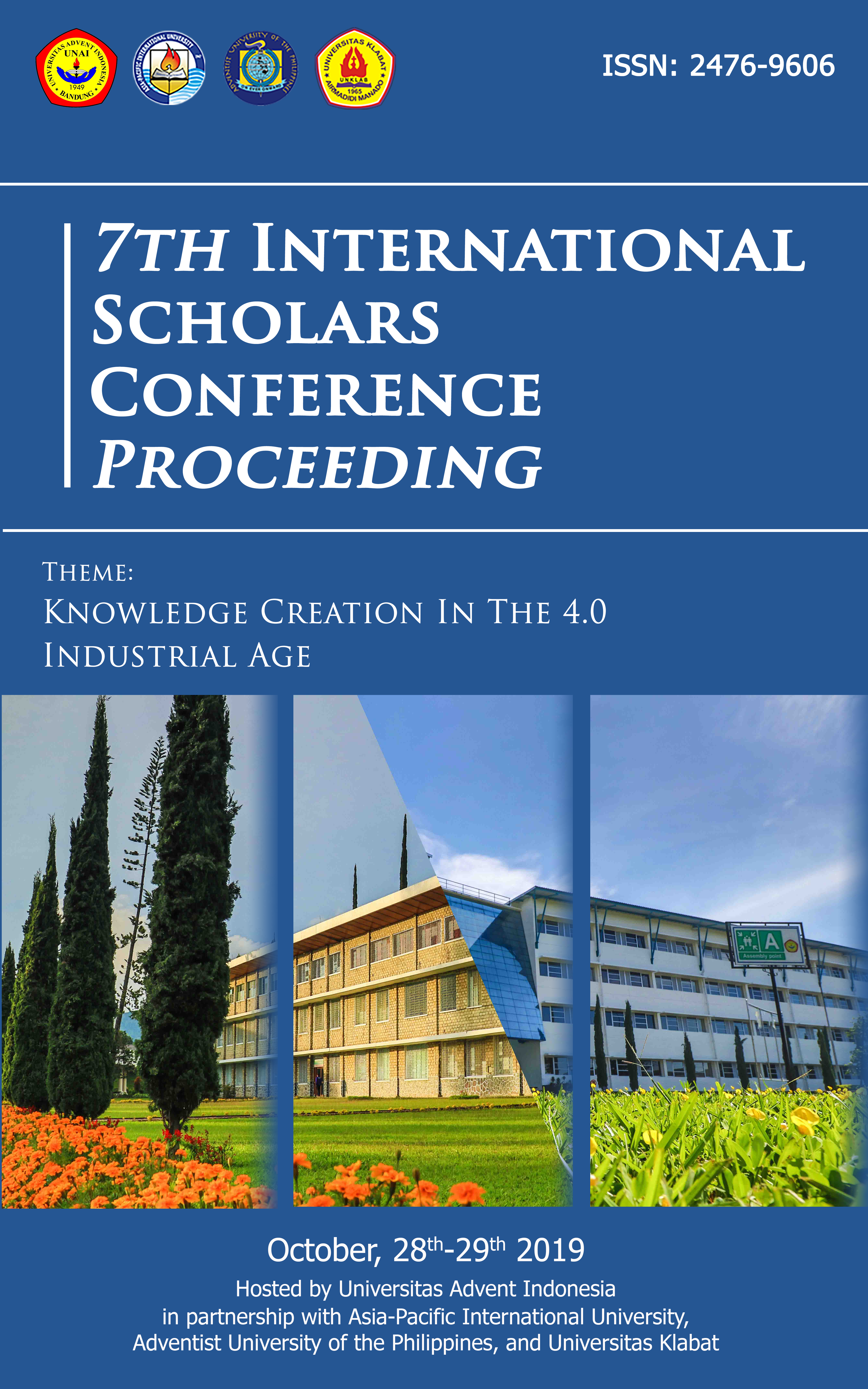 How to Cite
PUSPITA, M., & Lian, C. (2019). The Influence of General Management Practices on Employees' Satisfaction of an Employment Agency in Alabang, Philippines. Abstract Proceedings International Scholars Conference, 7(1), 1103-1116. https://doi.org/10.35974/isc.v7i1.979
Section
Business & Governance
Copyright (c) 2019 Abstract Proceedings International Scholars Conference
This work is licensed under a Creative Commons Attribution-ShareAlike 4.0 International License.
Copyright © 2019 ISC Committee.