Exploring the Effect of Professional Skills and Personality Traits to Job Performance of Employees in Automotive Corporation, Laguna, Philippines
Piang Lian Thang

Adventist University of the Philippines

Saw Dennis Thein

Adventist University of the Philippines

Enoch Asuah Duodu

Adventist University of the Philippines
Keywords:
Employee Performance, Professional Skills, Personality Trait
Abstract
In today's global environment there is a competition on performances of organizations. Business organizations are seeking highly skilled professionals to be employed to achieve high performance and productivity over their competitors. This research is to determine the effects of personality traits, and professional skills on employee performance in an Automotive Corporation in the Philippines. The study is a quantitative research, and a descriptive correlation. Self-Constructed survey questionnaires were distributed to 97 employees of Automotive Corporation using convenience sampling. The statistical tools used for analyzing the results from the SPSS 22, was Pearson correlation to analyze the relationship and standard deviation and the mean for the descriptive study, and t-test and ANOVA were used to analyze the difference, and in terms of predictions, linear regression was used. The study shows that the relationship between Professional Skills has a positive significant relationship with employee performance but there is no significant relationship between personality traits and employee performance, though openness was dominant with the highest mean. The study also revealed that professional skills, personality traits, and employee performance are high. Considering the sex, males had higher employee performance than females. Further results revealed that only professional skills predicted employee performance. The result of the study implies that business owners need employees that can get the job done because employee performance is critical to the overall success of the company. The study recommends that industries should bear in mind that Professional Skills, and Personality Traits of workers isessential to the success of business organizations. 
Downloads
Download data is not yet available.
References
Abdullah, I. & Omar, R. & Rashid, Y. (2013). Effect of personality on Organization
commitment and Employees' Performance: Empirical Evidence from Banking Sector
of Pakistan. Lahore, Pakistan: University Technology.
American Psychological Associaltion (n.d.). Personality. Retireved from
https://www.apa.org/topics/personality
American Psychological Association (2018). Personality. Retireved from
https://www.apa.org/topics/personality
Awadh, A. M & Ismail, W. K. W. (2017). The Impact of Personality thraits and employee
work-related Attitude on employee performance with moderating effect of
organizational culture: the case of Saudi Arabia. Malaysia: University teknologi
Malaysia.
Berman, R. (2017). The big five personality traits and what they mean to psychologist.
Retrieved from https://bigthink.com/robby-berman/the-5-personality-types-andwhy-
you-care
CFI (n.d.). what is Communication? Retrieved from
https://corporatefinanceinstitute.com/resources/careers/soft-skills/communication/
Cipoletti, C. (2017). Advantages of Educated Employee. Retrieved from
https://bizfluent.com/info-8586497-advantages-educated-employees.html
Das, R. (2019). Importance of Human resource. Retrieved from
http://morungexpress.com/importance-of-human-resource-development/
Dunn, W. S., Mount, M. K., Barrick, M. R., & Ones, D. S. (1995). Relative importance of
personality and general mental ability in managers' judgments of applicant
qualifications. Journal of Applied Psychology, 80(4), 500-509.
Grobelny, J. (2018). Predictive Validity toward Job Performance of General and Specific of
Mental abilities. A Validity study across difference Occupation Groups. Poznan,
Poland: Adam Mickiewicz University.
Healthfield, S. M. (2019). What is Human resource? Retrieved from
https://www.thebalancecareers.com/what-is-a-human-resource-1918144
Heller., D & Mount., M.K. (2002). Five Factor Model of Personality and Job Satisfaction: A
Meta-Analysis. Journal of Applied Psychology, 87, 530-541
Hordos, L. (2018). what is the definition of job performance? Retrieved from
https://bizfluent.com/info-7856570-definition-job-performance.html.
Hörmann, H. &Maschke, P. (1996). On the relation between personality and job performance
of airline pilots. The International Journal of Aviation Psychology, 6, 171-178.
Ibrahim, R. & Boerhannoeddin, A. (2017). The effect of soft skills and training methodology
on employee performance. Malaysia, Shah Alam: Al-Madinah International
University.
Judge. T.A., Higgins, C.A., Thoresen, C.J. &Barrick, M.R. (1999). The big five personality
traits, general mental ability, and career success across the life span. Personnel
Psychology, 52, 621-652
Juneja, P. (2015). Benefits of Time Management. Retrieved from
https://www.managementstudyguide.com/time-management-benefits.htm
Karthikeyan, Dr. D. K. Srivastava. (2012). The Relationship Between The Five Factors Of
personality, Individual Job Performance And Its components In The Indian Corporate
Sector. International journal of advanced research in management, pp. 37-55
Kumar, V. (2016). Importance of time Management in the workplace. Retrieved from
http://www.klientsolutech.com/importance-of-time-management-in-the-workplace/
Lombardo, J. (n.d.). Workplace Communication: importance, strategies and examples.
Retrieved from https://study.com/academy/lesson/workplace-communicationimportance-
strategies-examples.html
Lumen. (2015). Introduction of Personality. Retrieved from
https://courses.lumenlearning.com/boundless-psychology/chapter/introduction-topersonality/
Matthews, G. & Gilliland, K. The Personality theories of H. J. Eysenck and J. A. Gray: a
comparative review. Scotland, U.K: Dundee University.
Moeheriono, (2014). Competency – based performance measure. Rajawalipers, Kakarta,
Indonesia.
Morin, A. (2015). What the five Major Personality Traits could reveal about You. Retrieved
from https://www.psychologytoday.com/us/blog/what-mentally-strong-people-dontdo/
/what-the-5-major-personality-traits-could-reveal
N. Lincoln (2019). Professional Skills. Retrieved from
https://www.unl.edu/gradstudies/current/development/professional-skills-buildingyour-
vita-0
Ogunleye, A. J. &. Osekita, D. A. (2016). Effect of Job status, Gender, and employee's
achievement motivation behavior on work performance: a case study of selected local
government employees in Ekiti State, Nigeria. Nigeria: Ekiti State University.
Oppong, D. & Assiseh, D, & Asash, I. (2015). The relationship between personality Traits and
Employee Performance: The Case of Barry Callebaut Chana Limited. Ghana, Legon
Accra: Data Link University College.
Reddy, C. (2018). Important of Flexibility at Workplace. Retrieved from
https://content.wisestep.com/importance-adaptability-flexibility-workplace/
Rothmann S., Coetzer E.P., (2003). The big five personality dimensions and job performance.
S.A Journal of Industrial Psychology, 29(1), 68-74
Salgado, J.F. (1997). The five-factor model of personality and job performance in the European
Community. Journal of Applied Psychology, 82, 30-43.
Schwab (2018). The Future of Jobs Report 2018, Centre for the New Economy and Society.
Retrieved from http://www3.weforum.org/docs/WEF_Future_of_Jobs_2018.pdf.
Tuteja, N. &. Sharma, P. K. (2016). Linking Job Performance and Big five personality traits
of employees in Chandigarh it sector. Mahaveer Open University: Kota.
Vhona-Nanette P., A., Saludo, A., K., M., Virtus, L.,M., R. and Tun, W., M. (2015). Job
satisfaction and performance level of employees of ajinomoto Philippines corporation
lucena branch. lpu- Laguna. Business and Accountancy Journal, 1(2), September
Wade, M. & Parent, M (2002). Relationships between job skills and Performance: a study of
Webmaster. British Columba: Simon Fraser University.
Weitzel. N. L (2018). Skill Approach. Retrieved from
https://wikispaces.psu.edu/display/P5PFLMASTRO/SKILLS+Theory+Page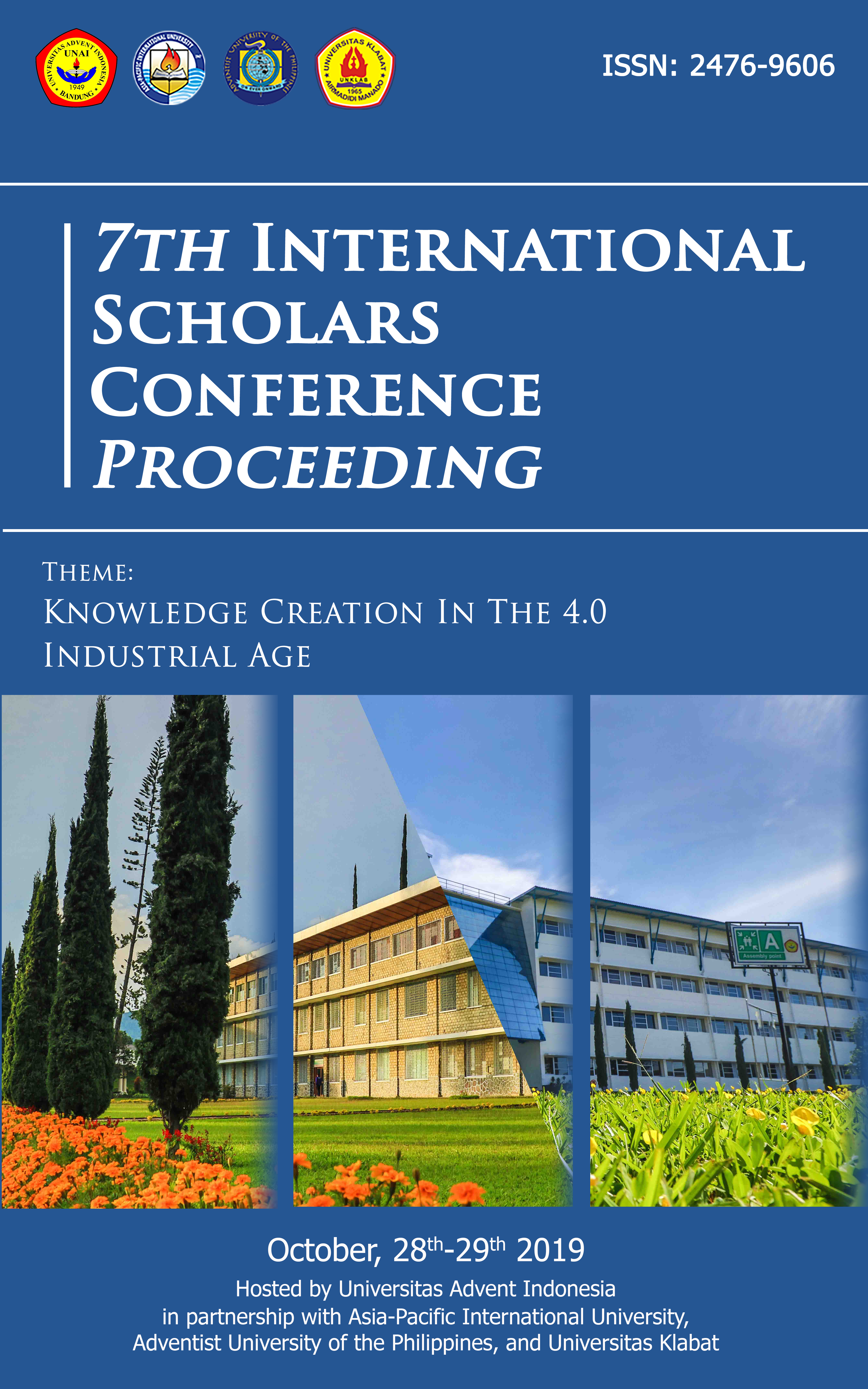 How to Cite
Thang, P., Thein, S., & Duodu, E. (2019). Exploring the Effect of Professional Skills and Personality Traits to Job Performance of Employees in Automotive Corporation, Laguna, Philippines. Abstract Proceedings International Scholars Conference, 7(1), 1117-1132. https://doi.org/10.35974/isc.v7i1.984
Section
Business & Governance
Copyright (c) 2019 Abstract Proceedings International Scholars Conference
This work is licensed under a Creative Commons Attribution-ShareAlike 4.0 International License.
Copyright © 2019 ISC Committee.