The The Mediating Effect of Intellectual Capital on the Quality of Higher Education and Capital Wellness
Daniel M Kyamuhangire

Ruben Tangonan Carpizo

Adventist University of the Philippines

Robert A Borromeo, Dr

Adventist University of the Philippines

Reuel E Narbarte, Dr

Adventist University of the Philippines

Glenda Joy B Lopez, Dr

Adventist University of the Philippines

Vicky C Mergal, Dr

Adventist University of the Philippines
Keywords:
Quality of Higher Education, Intellectual Property, Financial Wellness
Abstract
This study aimed to determine the mediating effect of intellectual capital on the quality of higher education and financial wellness. It is a quantitative research that made use of descriptive-correlation design with 403 respondent institutions from public and private HEIs in the East Africa Community. Data were analyzed using descriptivE AND INFERENTIAL STATISTICS. Results showed that quality of higher education and intellectual capital was perceived to be high; the level of financial wellness was good, and intellectual capital partially mediated the relationship of quality higher education and financial wellness. The direct effect of quality higher education on financial wellness is 0.613 at p-value 0.05 and its indirect effect, which is the mediation effect of intellectual capital, is 0.266 (0.378 * 0.703). The total effect of quality higher education on financial wellness when mediated by intellectual capital is 0.879 (0.613+0.266). Higher Education Institutions need to create a system that will ensure the regular assessment of the quality of education that they offer and their intellectual capital to increase capital wellness.
Downloads
Download data is not yet available.
References
Adams, D. (1998). Defining Educational Quality: Educational Planning. Educational
Planning. 11(2), 3-18
Barker, K. C. (2002). Canadian recommended e-learning guidelines. Vancouver, BC: FuturEd
for Canadian Association for Community Education and Office of Learning
Technologies, HRDC.
Bontis, N. (2015). Managing Organizational Knowledge by Diagnosing Intellectual Capital:
Framing and Advancing the State of the Field. Intellectual Journal of Technology
Management, Vol. 18(5/6/7/8), 433-462.
Chan, K. H. (2014). Impact of Intellectual Capital on Organization Performance: An Empirical
Study of Companies in the Hang Seng Index (Part 1 & 2). The Learning Organization,
(1), 4-21, 22-39.
Cheng, Y., & Tam, W. (1997). Multi-models of quality in education. Quality Assurance in
Education, 5(1), 22–31. doi: http://dx.doi.org/10.1108/09684889710156558.
Deshpande, Farley, and Webster. (2013). An Empirical Investigation of an Incentive Plan that
Includes Nonfinancial Performance Measures. The Accounting Review. 75 (1),65-92.
Eshiwani, G. (2013) Flagship Universities in Africa: Achievements, Success, and Potentials.
Durban, South Africa: International Network for Higher Education in Africa (INHEA).
,17-22.
Gary, G. (2015). A Controversial Education Model. www.cnbc.com/2015/12/15/acontroversial-
education-model-us-is-exporting-to-the-world.html
Johnson, N. (2012). Approaches to Learning Evaluation of Teachings and Preferences for
Contrasting Academic Environment. Higher Education. 19(2), 169-194.
Jones, S. (2013). Measuring the Quality of Higher Education: Linking Teaching Quality
Measures at the Delivery Level to Administrative Measures at the University Level .
Quality in Higher Education. 9(3), 223-229. doi: https://doi.org/10.1080/13538320
Lilford, P. (2013). The Impact of New Public Management and External Quality Assurance
Systems on Education: A Foucaldian Analysis. Sydney, Australia: The Open
Polytechnic of Australia.
OECD. (2016). Views from below: Academic Coping with Quality, Keynote Presentation at
the 6th QHE Seminar in Association with EAIR and SHRE. Birmingham, OECD.
Forum on the Future of Higher Education.
Pandey, I.M. (1979). Financial Management. New Delhi:Vikas Publishing House.
Richardson. A. J., & Kilfoyle E. (2014). Accounting in Markets, Hierarchies and Networks:
The Role of Accounting in the Transnational Governance of Postal Transactions.
Accounting, Organizations and Society, 34(8): 939-956. doi: 10.1016/j.aos.2009.04
.002.
Ringle, C. M., Wende, S., and Becker, J. M. (2015). SmartPLS 3. Bönningstedt: SmartPLS.
Retrieved from http://www.smartpls.com
Stensaker, B. (2004).The Transformation of Organizational Identities: Interpretation of
Policies Concerning the Quality of Teaching and Learning in Norwegian Higher
Education. (PhD Thesis). Ensheda, Center for Higher Education and Policy Studies
(CHEPS).
Stephen, B. (2017). Sooner or later, a British university is going to go bankrupt. Retrieved
from: https://www.newstatesman.com/politics/education/2017/02/sooner-or-laterbritish-
university-going-go-bankrupt
Tam, M. (2010). Measuring quality and performance in higher education. Quality in Higher
Education, 7(1), 47–54. doi: http://dx.doi.org/10.1080/13538320120045076.
Tam, M. (2014). Outcomes-based approach to quality assessment and curriculum improvement
in higher education. Quality Assurance in Education, 22(2), 158–168. doi:
http://dx.doi.org/10.1108/QAE-09- 2011-0059.
Telford, L., and Masson, Y. (2015). Accreditation's Role in Quality Assurance in the United
States. Higher Education Management, 14(3), 249-264.
Yorke, M. (2015). Developing a Quality Culture in Higher Education. Tertiary Education
Management, Vol. 6, No. 1: 19-36.
Johannessen, J., Olsen. B. & Olaisen, J. Philosophy: A Theoretical Perspective. International
Journal of Information Management, 25(2), 151 – 171. doi: 10.1016/j.ijinfomgt.2004.
008.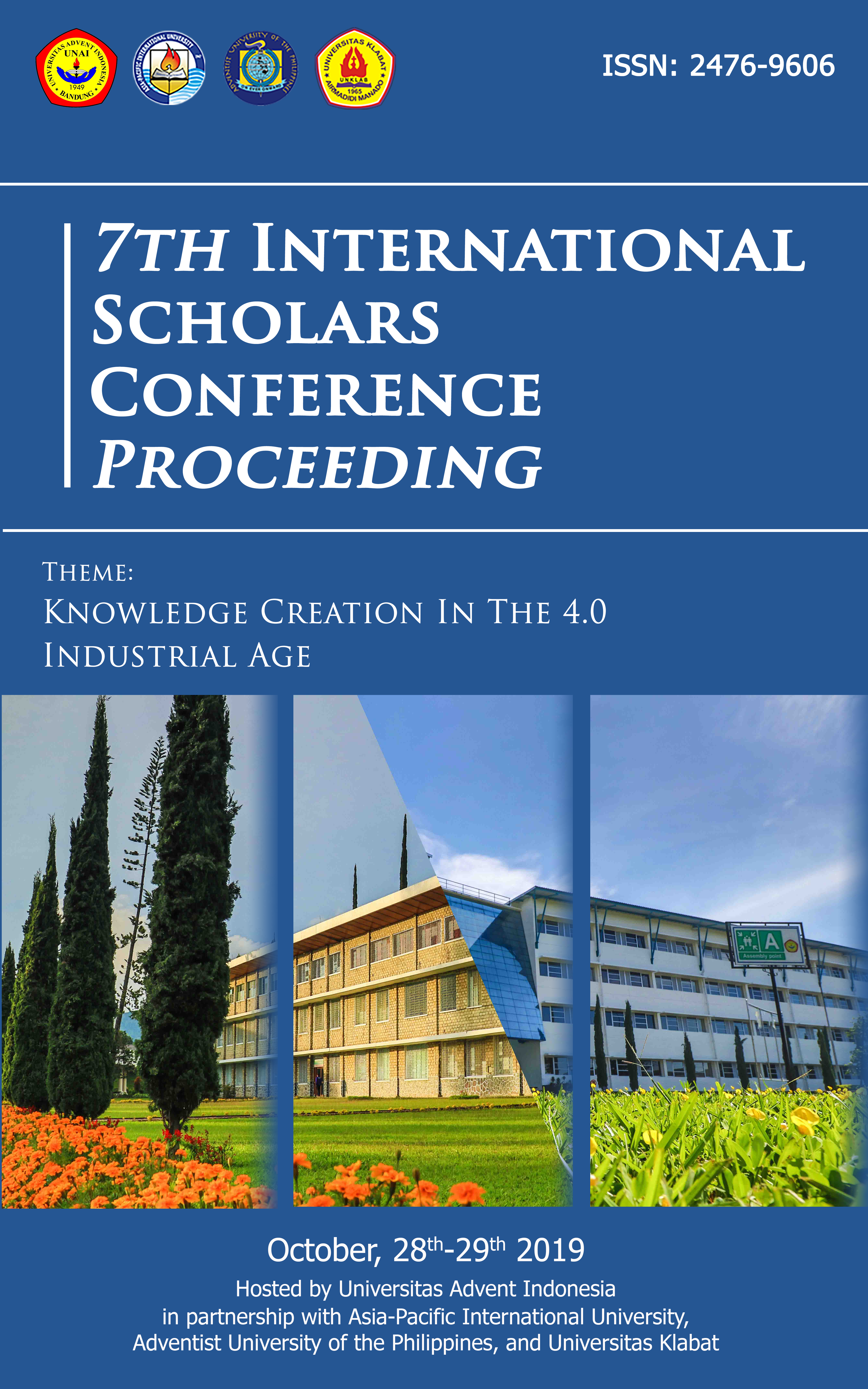 How to Cite
Kyamuhangire, D., Carpizo, R., Borromeo, R., Narbarte, R., Lopez, G. J., & Mergal, V. (2019). The The Mediating Effect of Intellectual Capital on the Quality of Higher Education and Capital Wellness. Abstract Proceedings International Scholars Conference, 7(1), 1133-1142. https://doi.org/10.35974/isc.v7i1.990
Section
Business & Governance
Copyright (c) 2019 Abstract Proceedings International Scholars Conference
This work is licensed under a Creative Commons Attribution-ShareAlike 4.0 International License.
Copyright © 2019 ISC Committee.