PENGARUH CSR DAN LEVERAGE TERHADAP NILAI PERSUSAHAAN PADA PERUSAHAAN SUB SEKTOR KOSMETIK DAN KEPERLUAN RUMAH TANGGA
Abstract
The purpose of this research is to know the Corporate Social Responsibility and Leverage on the value of the company in the Indonesian Stock Exchange index in 2015-2019. The method on this study is purposive sampling. This study was conducted on the company's Sub-sector cosmetics and household use listed on the Indonesia Stock Exchange in 2015-2019 with the number of samples 4 companies that have been arranged by the authors. The results showed that Corporate Social Responsibility and Leverage influenced the company's value simultaneously. The CSR and leverage are not significantly significant in the value of the company registered in the Indonesian Stock exchange in 2015-2019
References
Afni Hilmiyati, Nurdiana Mulyatini dan Aziz Basari. (2019). Pengaruh Biaya Corporate Social Responsibility Terhadap Peningkatan Nilai Perusahaan (Suatu Studi Pada Pt. Telekomunikasi Indonesia, Tbk. Yang terdaftar di Bursa Efek Indonesia Periode 2008-2017). Business Management and Entrepreneurship Journal Volume 1. Nomor 3. September 2019
Gallagher, Timothy J., and Andrew Jr., Joseph D. (2000). Financial Management. 2nd Edition. New Jersey: Prentice-Hall International Inc.
Ghozali, I. (2016) Aplikasi Analisis Multivariete Dengan Program IBM SPSS 23. Edisi 8. Semarang: Badan Penerbit Universitas Diponegoro.
Hadi, Nor. (2011). Corporate Social Responsibility. Yogyakarta: Graha Ilmu.
Harmono, (2009), Manajemen Keuangan Berbasis Balanced Scorecard (Pendekatan Teori, Kasus, dan Riset Bisnis), Bumi Aksara, Jakarta.
Helmi Arif Prasetya. (2018). Pengaruh Pengungkapan CSR Terhadap Nilai Perusahaan Melalui Kinerja Keuangan (Price Earning Ratio). https://ejournal.stiedewantara.ac.id
Jizi, M., Salama, A., Dixon, R., & Stratling, R. (2014). Corporate Governance and Corporate Social Responsibility Disclosure: Evidence from The US Banking Sector. Journal of Businness Ethics
Kasmir. (2016). Analisis Laporan Keuangan. Jakarta: Raja Grafindo Persada.
Rahayu, A.C. (2019). Sektor Kosmetik Kurang Cantik Sepanjang Semester 1, Begini Penjelasan Analisi. [Online]. Available: https://investasi.kontan.co.id/news/sektor-kosmetik-kurang-cantik-sepanjang-semester-i-begini-penjelasan-analis?page=all [30 April 2020].
Satriana, G.C. (2017). "Pengaruh Likuiditas, Pertumbuhan Penjualan, Efisiensi Moda Kerja dan Leverage Terhadap Profitabilitas (Studi Kasus Pada PT. Kereta Api Indonesia (Persero) Tahun 2008-2014). Skripsi.
Wibawa, A.A. (2015). Tak Semua Kinerja Emiten Kosmetik Tetap Cantik. [Online]. Available: https://investasi.kontan.co.id/news/tak-semua-kinerja-emiten-kosmetik-tetap-cantik. [08 April 2015].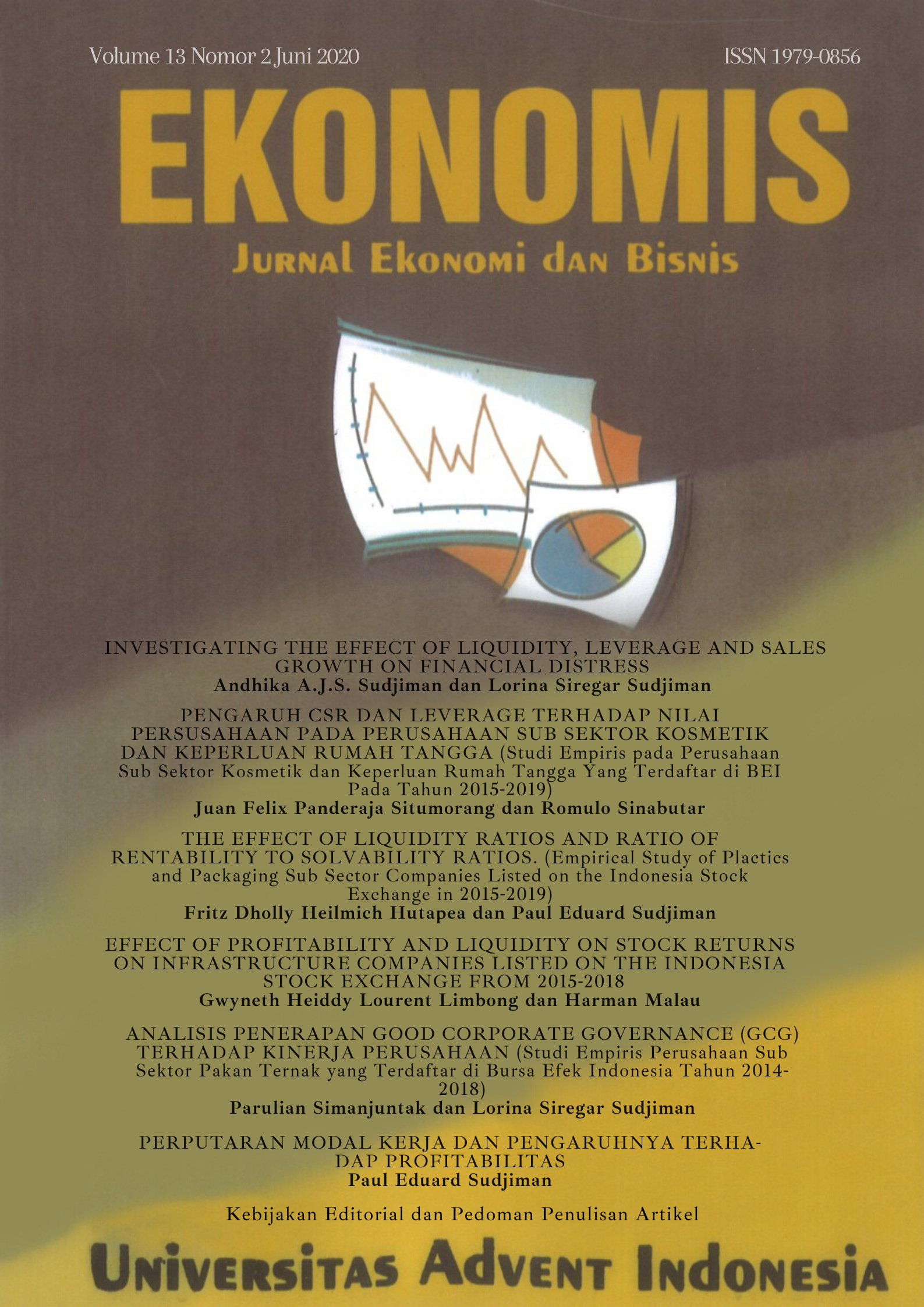 Downloads
How to Cite
Situmorang, J., & Sinabutar, R. (2020). PENGARUH CSR DAN LEVERAGE TERHADAP NILAI PERSUSAHAAN PADA PERUSAHAAN SUB SEKTOR KOSMETIK DAN KEPERLUAN RUMAH TANGGA. Jurnal Ekonomis, 13(2), 19-32. Retrieved from https://jurnal.unai.edu/index.php/jeko/article/view/2341