PENGARUH PENGHINDARAN PAJAK DAN PROFITABILITAS TERHADAP COST OF DEBT PADA PERUSAHAAN SUB SEKTOR TEKSTIL DAN GARMEN YANG TERDAFTAR DI BEI 2016-2019
Keywords:
Tax Avoidance, Profitability, Cost of Debt
Abstract
Cost of debt or cost of debt is an obligation that is owned by a company and that must be paid against its debts. This study aims to determine the effect of tax avoidance and profitability on the cost of debt in textile and garment sub-sector companies listed on the Indonesia Stock Exchange. This study used 40 research samples from 10 textile and garment sub-sector companies with company codes, namely: BELL, INDR, PBRX, POLY, RICY, SRIL, SSTM, TRIS, UNIT, ESTI from 2016-2019.  This type of research is quantitative research. The independent variable (X1) is tax avoidance, (X2) is profitability, while the dependent variable (Y) is cost of debt. Researchers used descriptive statistics, correlation coefficient, coefficient of determination, significant F test, significant T test, and linear regression analysis (simple) as data analysis.  The results of the research that the researchers have done show that there is no significant effect between tax avoidance on the cost of debt. The results of this study also show that there is a significant influence between profitability and cost of debt.
References
Ardyansah, Danis. 2014. "Pengaruh Size, Leverage, Profitability, Capital Intensity Ratio dan Komisaris Independen Terhadap Effective Tax Rate (ETR) (Studi Empiris pada Perusahaan Manufaktur yang Terdaftar di BEI Selama Periode 2010-2012)". Skripsi. Semarang: Fakultas Ekonomika dan Bisnis, Universitas Diponegoro.
Arthur J. Keown. (2010). Basic Financial Management, Diterjemahkan oleh Chaerul D. Djakman, 2010, Edisi 10, Buku 2, Jakarta: Salemba Empat.
Brigham, E. F., & Houston, J. F. (2011). Study Guide for Brigham/Houston's Fundamentals of Financial Management, Concise Edition, 7th. Cengage Learning.
Cahyo Drihartanto dan T.Husain (2017). Pengaruh Mekanisme Corporate Governance dan Profitabilitas terhadap Cost-of Debt (Studi Empiris Pada Perusahaan Sub Sektor Properti Dan Real Estate Yang Terdaftar Di Bursa Efek Indonesia Periode 2009-2014) (Jurnal Ekonomi, Manajemen, Bisnis, Auditing, dan Akuntansi) Vol.2, No.1.
Fahmi, I. (2013). Manajemen Strategis Teori dan Aplikasi. Bandung: Alfabeta.Hendra S. Raharja Putra. (2009). Manajemen Keuangan dan Akutansi Untuk Eksekutif Perusahaan. Jakarta: PT. Raja Grafindo Persada.
Fitriani, Sri Amanda. 2017. Pengaruh Tax Avoidance Terhadap Biaya Hutang Pada Perusahaan Manufaktur Yang Terdaftar Di Bursa efek Indonesia. Skripsi. Universitas Sumatera Utara. Medan.
Hanafi, Mamduh. (2004). "Manajemen Keuangan", BPFE, Yogyakarta.
Indriantoro, Nur., dan Supomo, Bambang. (2013). Metodologi Penelitian Bisnis Untuk Akuntansi & Manajemen. Yogyakarta: BPF.
Kessler, J. (2004)." Tax Avoidance Purpose and Section 741 of taxes Act 1988". British Tax Review.
Manullang, F. Anto, et al. "PENGARUH TAX AVOIDANCE TERHADAP COST OF DEBT PADA PERUSAHAAN MANUFAKTUR YANG TERDAFTAR DI BURSA EFEK INDONESIA." JAKPI - Jurnal Akuntansi, Keuangan & Perpajakan Indonesia.
Nugroho,A.,2010,AnalisisPengaruh Karakteristik Demografi Dan Faktor EkonomiTerhadap Pemilihan Sumber Pendanaan Usaha Angkutan Kota Salatiga, skripsi program JRE: Jurnal Riset Entrepreneurship e-ISSN: 2621-153X 76 S1 fakultas Ekonomi Universitas Kristen satya Wacana.
Peterson, Pamela P dan Frank J Fabozzi. (2007). Capital Budgeting.John Wiley dan Sons.Inc. NewJersey.
Rahayu dan Siti Kurnia (2010) Perpajakan Indonesia: Konsep & Aspek Formal. Yogyakarta, Graha Ilmu.
Rist, Michael & Pizzica, Albert J. (2015). Financial Ratios for Executives: How to Assess Company Strength, Fix Problems, and Make Better Decisions. New York: Apress.
Ross, SA., Westerfield, RW., Jordan, BD., Lim, J., Tan, R. 2016. Fundamentals ofCorporate Finance, Asian Global Edition, Second edition, NewYork:McGraw Hill Education.
S. Munawir. 2014. Analisis Laporan Keuangan. Yogyakarta : Liberty.
Saputro, R. E. (2018). Pengaruh Tax Avoidance terhadap Biaya Hutang (Cost of Debt) Dengan Tranparansi Perusahaan Sebagai Variabel Moderating. Skripsi. Universitas Islam Negeri Syarif Hidayatullah Jakarta.
Sherly, E., & Fitria, D. (2019). Pengaruh Penghindaran Pajak, Kepemilikan Institusional, dan Profitabilitas Terhadap Biaya Hutang (Studi Empiris Pada Perusahaan Manufaktur Yang Terdaftar Di BEI Periode 2011-2015). EKOMBIS REVIEW: Jurnal Ilmiah Ekonomi Dan Bisnis, 7(1), 58-69.
Tandelilin, Eduardus. 2010. Portofolio dan Investasi Teori dan Aplikasi. Edisi pertama. Yogyakarta : Kanisius
Utama, F., Kirana, D. J., & Sitanggang, K. (2019). Pengaruh Penghindaran Pajak Terhadap Biaya Hutang dan Kepemilikan Institusional Sebagai Pemoderasi. Jurnal Bisnis Dan Akuntansi, 21(1), 47-60.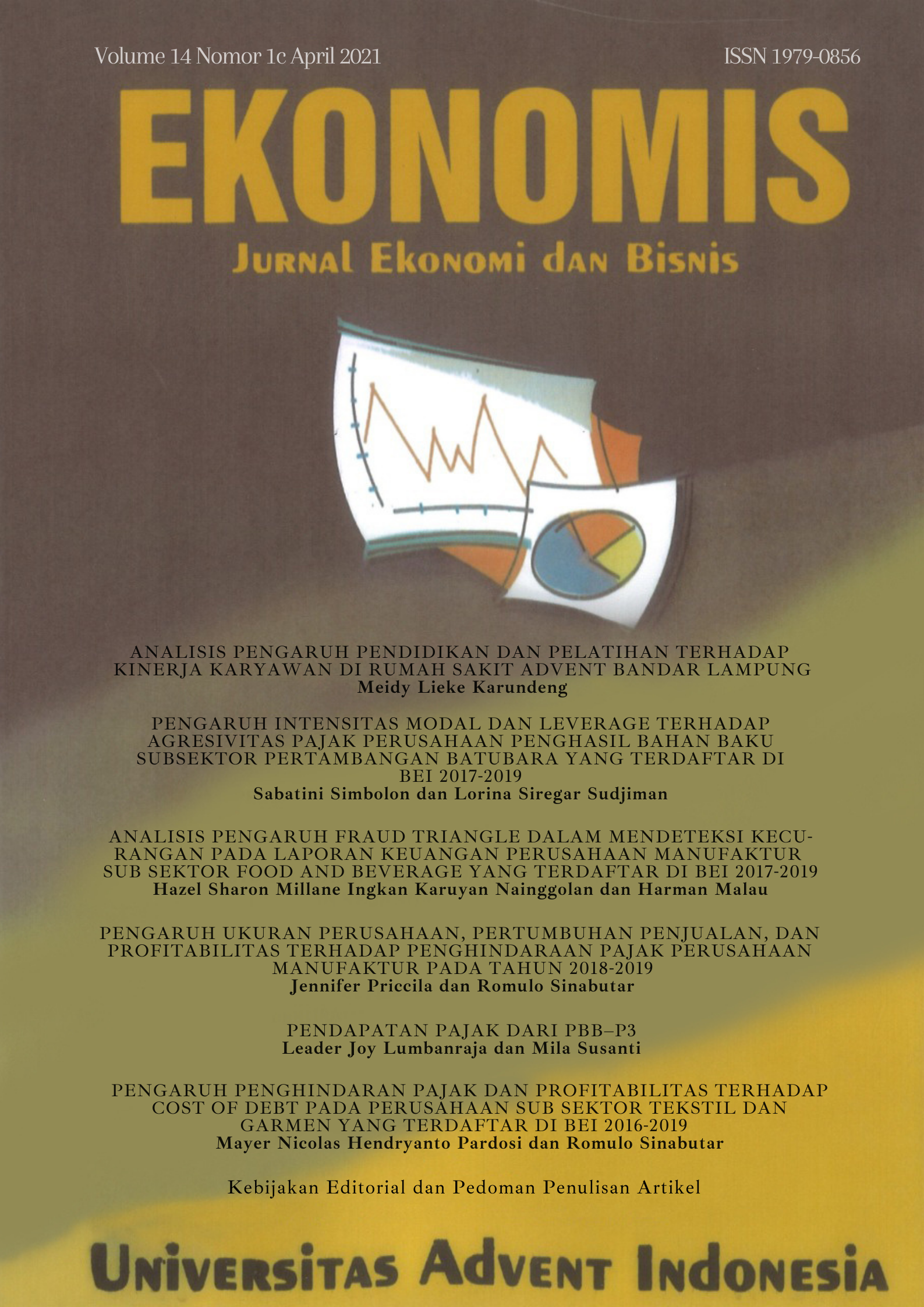 Downloads
How to Cite
Pardosi, M. N. H. ., & Sinabutar, R. (2021). PENGARUH PENGHINDARAN PAJAK DAN PROFITABILITAS TERHADAP COST OF DEBT PADA PERUSAHAAN SUB SEKTOR TEKSTIL DAN GARMEN YANG TERDAFTAR DI BEI 2016-2019. Jurnal Ekonomis, 14(1c). Retrieved from https://jurnal.unai.edu/index.php/jeko/article/view/2516
License
Copyright (c) 2021 Jurnal Ekonomis
This work is licensed under a Creative Commons Attribution-NonCommercial-NoDerivatives 4.0 International License.