A Comperative Study: Original Sin on The View Between Augustine and Neo-Plaonism
Exson Eduaman Pane

Philippine Christian University, Manila
Keywords:
Original Sin, Neoplatonism, Soul, Pre-Existence
Abstract
The doctrine of Original Sin has been debated for centuries among the Theologians includeAugustine. The Understanding of doctrine original sin as a theological term started from theteaching of Augustine around 5century B.C. Augustine‗s understanding regarding original sinderived from his problem and his question concerning the life of Adam and Eve, andparticularly in his youth experiences of adultery. He believed that all men involved inAdam's first sin and original sin was transmitted through the parents to their children.Augustine learned Manichaeism, however, he did not satisfied and then he went to learnedNeo-Platonism and deeply impressed to him both for his Neo-Platonism and the Christianlife. In Neo-Platonism, Augustine respect and received the Plotinus views. For NeoPlatonism, the root of sin is discovered in the very nature of the soul and in relation to thebody as self- isolation. Before it enters the body, the soul has a prior existence. When thesouls fall and that is how it comes to be in the body. But the point is that the soul has anunruly and evil nature in its irrational parts even before it enters the body so that it in onesense the cause of evil is present even in the soul preexistence state. Neo-Platonist believedthat original sin is transmitted from one to another, Neo-Platonism underscored this notion bysuggesting that in addition to such a transmission of evil, human souls would reappear viatransmigration, bringing to the new body their earlier errors and judgments of value.Therefore, this study is to analyze and to compare Augustine's view as a theologian of theoriginal sin with the Neo-Platonism concept.
Downloads
Download data is not yet available.
References
Allen. (1985). Philosophy for Understanding Theology. Atlanta: John Knox.
Amstrong, A. H. (1983). An Introduction to Ancient Philosophy. New Jersey: A Helix Book.
Augustine, (n.d). The Confessions. Dallas, Texas: Southern Methodist University.
Augustine. (1968). The Free Choice of the Will, Grace, and Free Will. Translated by Robert P. Russel. The Fathers of the Church, Vol.59. Washington, DC: The Catholic University Press.
Augustine. (1950). The City of God, XI. New York: Modern Library.
Augustine. (n.d). Answer to Julian, Contra Julian, (C.Jul.imp. III.32).
Augustine. (n.d). A Treatise on the Merits and Forgiveness of Sins, and On the Baptism of Infants,1.2 (NPNF. 1st series,5:16).
Augustine. (n.d). De Gratia Christi et de Peccator Originali; Conta Pelagium (On the Grace of Christ, and Original Sin) 2.33, trans. Holmes and Wallis, NPNF, 1st series, 5:251.
Augustine. (n.d). On Marriage and Concupiscience, 2,11 (NPNF. 1st series, 5:287).
Augustine. (n.d). De Peccatorum Merits et Remossione 1.37, quoted in G.F.Wiggers, An historical Presentation of Augustinanism and Pelagianism from the Original Sources.
Augustine. (n.d). The Nature and Origin of the Soul, De Anima et eius Origine, I.6.6.
Augustine. (n.d). Marriage and Desire; De Nuptiis et Concupiscentia. I.24.27
Augustine. (n.d). Answer to Julian; Contra Julian, IV.4.34.
Bettenson.Ed, H. (1986). The Latter Christian Fhathers: A selection from the writings of the Fathers from St. Cyril of Jerusalem to St. Leo the great. Oxford: Oxford University Press.
Bromiley, G. W. (1978). Historical Theology: An Introductio. Grand Rapids MI: Wiliam B.E.Publishing Company.
Brown, C. (1990). Christian and western theology: A history of philosophers, ideas and Movements. Illinois: University press.
Carre, H.H. (1946). Realists and Nominalists, London: Oxford University Press.
Cahn, Classics of Western Philosophy: Phaedo (64c), Indianapolis: Hackett, 2006.
Chadwick, H. (1991). "Augustine" in founders of Thought: Augustine, ed. Keith Thomas, Oxford: Oxford University Press.
Copleston, S.J. (1985) A History of Philosophy. Vol.I, New York: A Division of Doubleday & Co.
Cooper. (1989). Body, Soul, and Everlasting Life: Biblical Anthropology and MonismDualism Debate. 2nd edition. Grand Rapids MI: Eerdman.
Copleston, F.S.J. (1962). A History of Philosophy. Volume II, New York: Image.
Eliade, E.M. (1987). The Encyclopedia of Religion. Vol I, New York: Macmillan Publishing Co.
Harris, B.R. (1976). The significance of Neoplatonism, Virginia: Old Dominion University.
Hyman, A., & Walsh, J.J. (1967). Philosophy in the Middle Ages: The Christian, Islamic. And Jews Traditions. New York: Harper and Row.
Jacobs, A. (2001). Original Sin, A Cultural History. 1st Edition. New York, NY: HarperCollins.
McGiffert, A.C. (1961). A History of Christian Thought Vol.II, New York: Charles.
O'Connor, W.P. (1921). The Concept of the Human Soul according to Augustine: Immortality of the Human Soul. Milwaukee: Archdiocese.
Palmer, D. (1988). Looking at the philosophy. Californoia MV: Mayfield Publishing Company.
Patout, B.J. (1990). The Development of Augustine's Doctrine of Opretive Grace. Paris: Etudes Augustinienes.
Russel, B. (1965). A History of Western Philosophy, New York: Simon and Schuster.
Stumpf, E. (1971). Philosophy: History and Problems. New York: McGraw-Hill.
Routley, E. (1957). The Wisdom of the Fathers. Philadelphia: Westminster.
Gilson, E. (1967). The Christian Philosophy of Saint Augustine, New York: Vintage Books.
Grudem, W. (1999). Bible Doctrine, Essential Teachings of the Christian Faith, ed. JeffPurswell, Grand Rapids, MI: Zondervan.
Parker, F.H. (1967). The Story of western Philosoph., Boomington; Indiana Press.
.
Drobner, H.R. (2008). The Fathers of The Church, A Comprehensive Introduction. Peabody, Massachusetts: Hendrickson Publishers, Inc.
Redding, J.P. (1939). "The Importance of St. Augustine on the Doctrine of the Council of Orange Concerning Original Sin." Washington DC: Catholic University of America.
New Catholic Encyclopedia, Washington D.C: The Catholic University, 1981.
Nelson, R. (1995). Western Political Thought: From Socrates to the Age of Ideology. New Jersey: Prentice Hall.
Reese, W. (1980). ―Neo-Platonism ―Dictionary of philosophy and religion, Western and Eastern though. Ney York: Humanites press Inc. EBSCOhost, 2007: 259-279.
Rev, M., William, J. & Mc Donald, Ed. (1981) New Catholic Encyclopedia. Washington D.C: The Catholic University.
Schopp, L. (1947). The Fathers of the Church: A New Translation. Saint Augustine: Immortality of Soul, Vol. 4, New York.
Sheperd, S. (1806). An Examination of the account Lately Published by E.Smith: In Two Pamplets Respecting Original Sin. Exeter: Ranlet and Norris.
Song, K.H. (1998). Doctrine of Original sin: A Historical Biblical Evaluation of the Theories of Original Sin as suggested between the 16th and the 18th Centuries, Adventist International Institute of Advanced Studies.
Spangerberg. (2014). "Can a major religion change? Reading Genesis 1-3 in the twentyfirst century," Verbum et Ecclesia 28, Old Testament Abstracts,
Stumpf, S.E. (1971) Philosophy: History and Problems, New York: McGraw-Hill.
Strong, A.H. (1907). Systematic Theology: A Compendium Designed for the Use of Theological Students. Old Tappan, NJ: Fleming H. Revell.
Teselle, E. (1970). Augustine the Theologian. London: Burns and Oates.
Wiggers, G.F. (1840). An Historical Presentation of Augustinianism and Pellagianism from the Original Sources, Translated by Ralph Emerson. New`York: Gould, Newman & Saxton.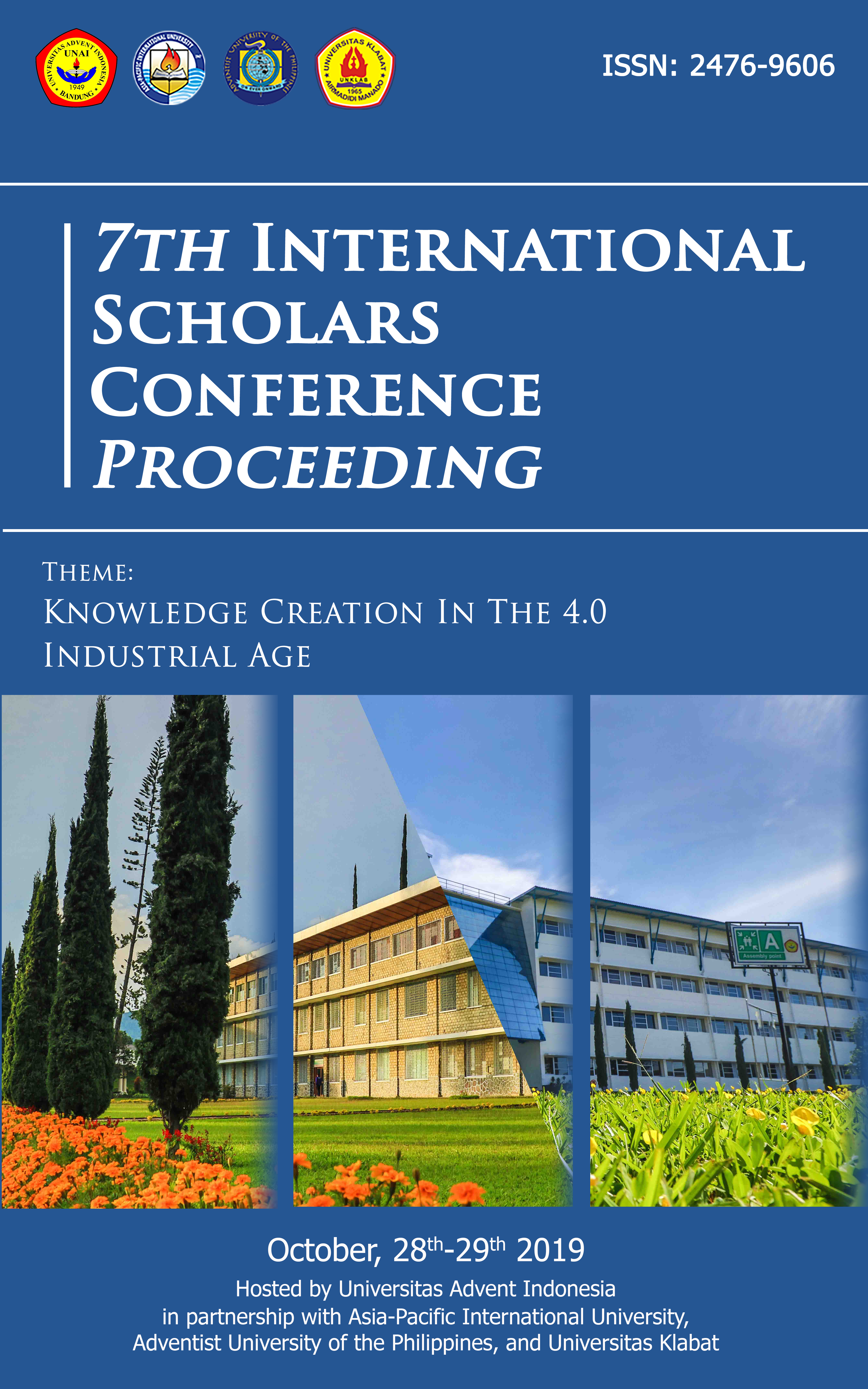 How to Cite
Pane, E. (2019). A Comperative Study: Original Sin on The View Between Augustine and Neo-Plaonism. Abstract Proceedings International Scholars Conference, 7(1), 2065-2083. https://doi.org/10.35974/isc.v7i1.1011
Copyright (c) 2019 Abstract Proceedings International Scholars Conference
This work is licensed under a Creative Commons Attribution-ShareAlike 4.0 International License.
Copyright © 2019 ISC Committee.