Nursing Experience in Treating People Living With Hiv/Aids (Plwha) at Adventist Hospital Bandung
Alma Tauji A. Rimbing

Universitas Advent Indonesia

Palupi Triwahyuni

Universitas Advent Indonesia
Keywords:
Experience, Nurses, HIV/AIDS
Abstract
Health workers that are the most faced by People Living with HIV/AIDS (PLWHA) isanurse. According to UNAIDS, 2016 reluctance of health workers to reach out to thepopulation of PLWHA can limit HIV prevention and care services for PLWHA this statementalso supported by the researcher experience of feeling reluctance to reach out to PLWHApatients. That is why the researcher is interested to do this research. This study usesqualitative methods with the phenomenology approach. There are 6 informants on thisresearch which is female nurses with minimum of working experience in Bandung AdventistHospital for 2 years or above and working in medical hospital ward. The data are gatheredusing snowball sampling and in-depth interview. Coallizi's method are used to analyze theinterview results. From this research can be found that the informant has knowledge ofHIV/AIDS disease, being acceptance to care for PLWHA, providing nursing care ofthoroughly, and can establish good communication despite facing obstacles such as patientswho would not open up. This research can be an input to enhance the sense of empathy inproviding nursing care in patients People Living with HIV/AIDS.
Downloads
Download data is not yet available.
References
Armiyati,Y.,Rahayu,D.A.,&Aisah,S.(2015).Manajemenmasalahpsikososiospiritualpasienhiv/ aids di kotasemarang. In Prosiding Seminar Nasional &Internasional.
Astuti, D., &Mulyaningsih, M. (2017). Nurse Role As Educator Affected the Compliance of Antiretroviral (ARV) Consumption For Patients with HIV/AIDS in the VCT Clinic of Dr. Moewardi Hospital. JurnalNers dan Kebidanan, 3(3), 183-188.
Bare,B.G.,&Smeltzer,S.C.(2013).Brunner&Suddarth:BukuAjarKeperawatan MedikalBedahEdisi 8 volume 3. Jakarta: EGC
Berg, B.L.. (2007).Qualitative Research Methods for The Social Sciences. Boston: Pearson Education
Budiono, &Pertami, S. B. (2016). Konsep Dasar Keperawatan. Jakarta: BumiMedika
Centers for Disease Control. (1991). Recommendations For Preventing Transmission Of Human Immunodeficiency Virus And Hepatitis B Virus To Patients During Exposure-Prone Invasive Procedures. [online]. Available:https://www.cdc.gov/MMWR/PREVIEW/mmwrhtml/00014845.html. [7 Februari 2019]
College of Registered Nurses of British Columbia. (2012). Professional Standards for Registered Nurses and Nurse Practitioners. [Online]. Available: https://crnbc.ca/Standards/Lists/StandardResources/128ProfessionalStandards.pdf. [ 5 April 2018]
Depkes RI. Infodatin AIDS-DepKes. (2014). Jakarta: DepartemenKesehatan. [Online]. Available: http://www.depkes.go.id/folder/view/01/structure-publikasi-pusdatininfodatin.html. [ 4 Februari 2018]
Ermawan, B. (2017). AsuhanKeperawatanPasienDenganGangguanSistemImunologi. Yogyakarta: PustakaBaru Press
George, J. B. (1990). Nursing Theories. Connecticut: Appleton & Lange
Hidayat, A. (2013). PengantarKonsep Dasar Keperawatan. Jakarta: SalembaMedika
Indrawan, R., &Yaniawati, P. (2014). Metodologi Penelitian Kuantitatif, Kualitatif, dan Campuran Untuk Manajemen, Pembangunan, dan Pendidikan. Bandung: Refika Aditama.
Iskandar, S., Hamdi, A. C., & Wijaya, M. (2016). PencegahanPenularan HIV/AIDS: EfektivitasMetode KIE "AkuBanggaAkuTahu (ABAT)". BuletinPenelitianKesehatan, 44(4), 245-252.
Kemenkes RI. (2017) LaporanPerkembanganHiv-Aids &PenyakitMenularSeksual (PIMS) Triwulan I Tahun 2017. Jakarta :Kemenkes RI; 2017.
Kemenkes RI. ProfilKesehatan Indonesia tahun 2016. Jakarta :Kemenkes RI; 2017.
Kurniawan, Y. D., Widjanarko, B., &Shaluhiyah, Z. (2018). StudiKorelasiPersepsiPerawatTentangHiv/Aids TerhadapKepatuhanPenerapan Universal Precautions (UP) UntukPencegahanPenularan HIV/AIDS di RSD SunanKalijagaDemak.
Kusuma, H. (2016). Faktor-faktor yang Mempengaruhi Kualitas Hidup Pasien HIV/AIDS yang Menjalani Perawatan di RSUPN Cipto Mangunkusumo Jakarta. Media Medika Muda, 1(2).
Laras, A., &Prasetyo, A. R. (2017). Coping Terhadap Stress Kerja Pada Perawat Yang PernahMenanganiPasienHiv/aids. Empati, 5(2), 353-356.
Maharani, R. (2014). Stigma dan Diskriminasi Orang Dengan HIV/AIDS (ODHA) pada PelayananKesehatan di Kota PekanbaruTahun 2014. JurnalKesehatanKomunitas, 2(5), 225-232.
Maramis, M. M. 2007. Konseling, Dukungan, Perawatan dan Pengobatan ODHA. Surabaya: Airlangga University Press
Merriam-Webster. (198)1. Webster's New Collegiate Dictionary. London: MerriamWebster, Inc
Moleong, Lexy J. (2017). MetodePenelitianKualitatif, cetakan ke-36, Bandung : PT. RemajaRosdakarya Offset
Moule, P., H. Aveyard, & M. Goodman. 2016. Nursing Research: An Introduction 3rd Edition. SAGE
Muhlisin, A. (2008). Aplikasi Model Konseptual Caring Dari Jean Watson DalamAsuhanKeperawatan.
Naibaho, L., Triwahyuni, P., &Rantung, J. (2017). Fenomena Kualitas Hidup Orang Dengan Human Imunnodeficiency Virus/Acquired Imunno Deficiency Syndrome Dikabupaten Bandung Barat. Jurnal Skolastik Keperawatan, 3(1), 59.
Ndou, Tshifhiwa V., Maputle, Sonto M., &Risenga, PatroneR.. (2016). HIV-positive patients' perceptions of care received at a selected antiretroviral therapy clinic in Vhembe district, South Africa. African Journal of Primary Health Care & Family Medicine, 8(2), 1-6. https://dx.doi.org/10.4102/phcfm.v8i2.926
Nilsson, L., & Berg, M. (2015). Nurses experiences of caring for patients with HIV/AIS in Dar es Salaam: A qualitative study at Muhimbili National Hospital and Buguruni Healthcare Center, Tanzania.
Nurbani, F. (2012). Dukungansosial pada ODHA.
Nursalam&Kurniawati, N.D. (2007 )AsuhanKeperawatanPasienTerinfeksi HIV/AIDS. Jakarta. SalembaMedika Nusantara, I. S., Pujianto, A., Rochana, N., &Widyaningsih, S. (2016). Persepsi dan SikapPerawatterhadapPerawatan Orang dengan HIV/AIDS (ODHA) (Doctoral dissertation, Faculty of Medicine).
Paryati, T., Raksanagara, A. S., &Afriandi, I. (2012). Faktor-faktor yang Mempengaruhi Stigma dan Diskriminasikepada ODHA (Orang dengan HIV/AIDS) oleh petugaskesehatan: kajianliteratur. Abstrak.
Patilima, H. 2014. MetodePenelitianKualitatif. Bandung: Alfabeta
Peraturan Daerah Provinsi Daerah Istimewa Yogyakarta No. 12 Tahun 2010. TentangPenanggulangan Human Immunodefficiency Virus (HIV) dan Acquired ImmunoDefficiencySindrome (AIDS). [Hukum]
Peraturan Menteri Kesehatan RI No. 832/Menkes/SK/X/2006 TentangPenetapanRumahSakitRujukanBagi Orang Dengan HIV/AIDS (ODHA) dan StandarPelayananRumahSakitRujukan ODHA dan Satelitnya. [Hukum]
Rahayu, S. (2018). HubunganPengetahuan dan SikapdenganPerilaku Caring Perawat di RumahSakit. Faletehan Health Journal, 5(2), 77-83.
Republik Indonesia. (2014). Undang-UndangRepublik Indonesia Nomor 38 Tahun 2014 TentangKeperawatanLembaran Negara Republik Indonesia Tahun 2014 No. 5612. [Hukum]
Rumah Sakit Advent.(2019) PrevalensiKasus HIV/AIDS 2013-2017. Bandung: Medical Record RumahSakit Advent Bandung.
Saputro, R. E., Putri, Y. R., &Nasionalita, K. (2017). AnalisisStrategiKomunikasiTerapeutikPerawatTerhadapPasienPenyakitJantungKoron erRumahSakit Hasan Sadikin Bandung. eProceedings of Management, 4(2).
Satori, Prof. Dr. Djam'an, Prof. Dr. AanKomariah. 2017. MetodologiPenelitianKualitatif. Bandung: Alfabeta
Sax, Paul. E., Calvin J. Cohen, Daniel R. Kuritzkes. 2014. HIV ESSENTIALS, 7th Edition. Berlington: Jones & Bartlett Learning.
Selano, M. K., Sujianto, U., &Warsito, B. E. (2016). PengaruhManajemenKasus HIV/AIDS TerhadapKualitasHidupPasien HIV/AIDS. JurnalKeperawatanNotokusumo, 4(1), 6068.
Semiawan, Prof. Dr. Conny R. 2010. MetodePenelitianKualitatif. Jakarta: Grasindo
Sudarsono, S. (2015). Characteristics Associated with Nurses and Midwives Stigma in People with HIV/AIDS (PLWHA) in The District Health TalunBlitar. JurnalNers Dan Kebidanan (Journal of Ners and Midwifery), 2(1), 030-037.
Sugiyono. 2014. MetodePenelitianKuantitatif, Kualitatif dan R&D. Bandung: PT Alfabet
UNAIDS. Global Report: UNAIDS report on the global AIDS epidemic 2016. [Online]. Available: http://www.unaids.org/sites/default/files/media_asset/global-AIDS-update2016_en.pdf [ 1 April 2018]
UNAIDS. (2017). Global Report: UNAIDS report on the global AIDS epidemic 2017. [Online]. Available: http://www.unaids.org/sites/default/files/media_asset/20170720_Data_book_2017_en .pdf [ 1 April 2018]
Urifah, S. (2017). Pengetahuan Dan Stigma Terhadap Pasien Hiv/Aids Di Lingkungan Kesehatan, Indonesia. The Indonesian Journal of Health Science, 8(2).
Wada, K., Smith, D. R., & Ishimaru, T. (2016). Reluctance to care for patients with HIV or hepatitis B/C in Japan. BMC pregnancy and childbirth, 16(1), 31.
Waluyo, A., Nova, P. A., & Edison, C. (2011). Perilakuperawatterhadap orang dengan HIV/AIDS di rumahsakit dan puskesmas. JurnalKeperawatan Indonesia, 14(2), 127132
Wright, William F. 2018. Essentials of Clinical Infectious Diseases,2nd Edition. New York: Demos MedicalPublishing.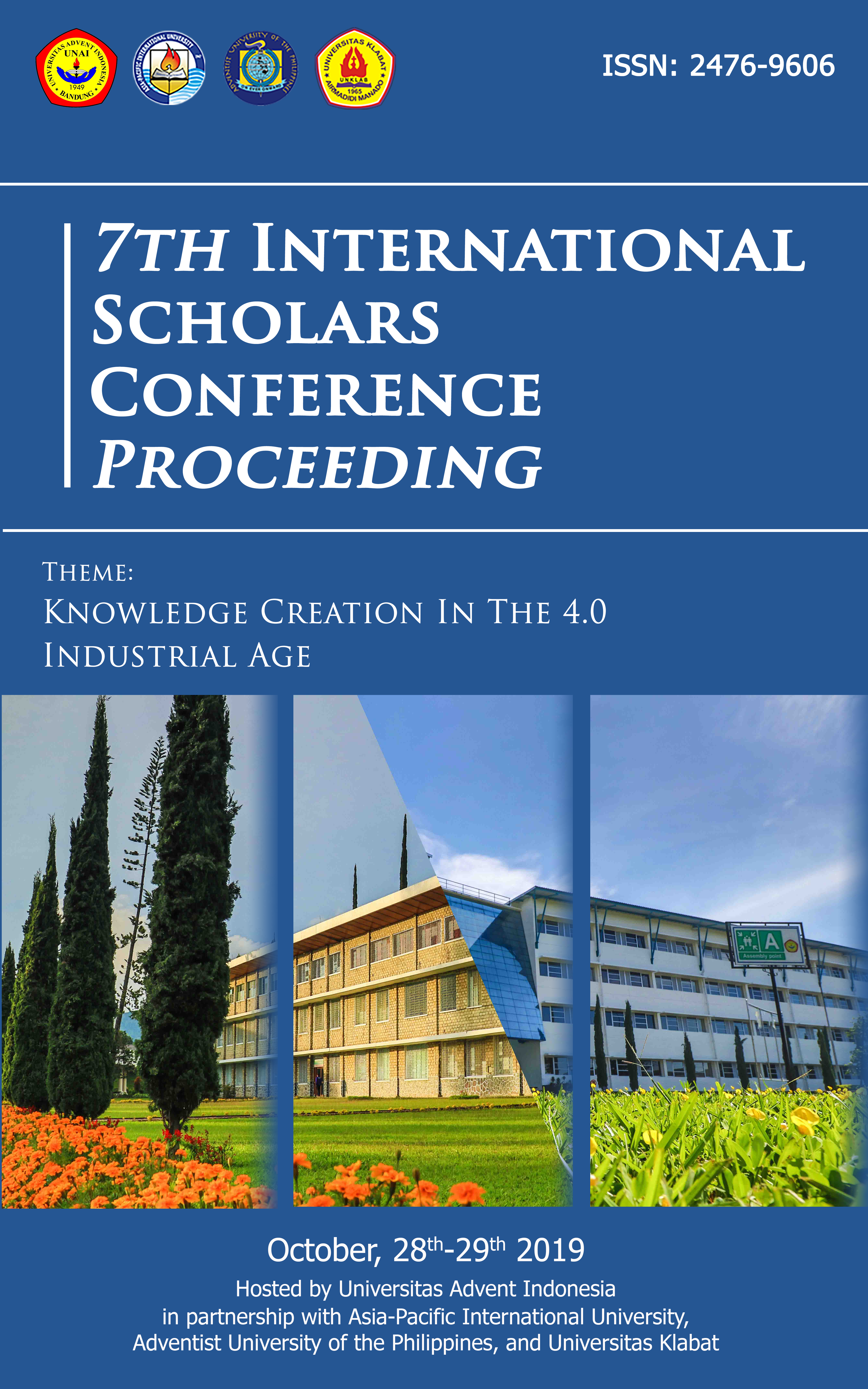 How to Cite
Rimbing, A., & Triwahyuni, P. (2019). Nursing Experience in Treating People Living With Hiv/Aids (Plwha) at Adventist Hospital Bandung. Abstract Proceedings International Scholars Conference, 7(1), 466-474. https://doi.org/10.35974/isc.v7i1.1076
Copyright (c) 2019 Abstract Proceedings International Scholars Conference
This work is licensed under a Creative Commons Attribution-ShareAlike 4.0 International License.
Copyright © 2019 ISC Committee.