Sleeping Pattern, Stress Level and Academic Behavior of Students Enrolled in Health Related Programs
Lea Aguilar Divina

College of Nursing, Adventist University of the Philippines

Cherish Lovely Bindosano

Marissa-Joy Nanez Hammer-Appiah

Ellis Fatmawati Munthe

Angel Grace Fio Bingcang

Adventist University of The Philippines

Kfir Batiller

Adventist University of The Philippines
Keywords:
sleeping pattern, stress level, academic behavior
Abstract
The researchers believe that by identifying the different factors that may influence one'sacademic behavior would enable the learners to be successful in their educational journey. Thispaper sought to compare the relationship between sleeping pattern, stress level and academicbehavior of students enrolled in health-related courses.This descriptive-correlational study was anchored on Johnson's Behavioral Model and Selye'sStress Theory. The study investigated the relationship between sleeping pattern, stress level,and academic behavior among 213 students enrolled in a Health-Related Course. Participantswere gathered by the use of convenience sampling. Pearson-product moment correlationcoefficient formula was used for data analysis.Results revealed that during week days and weekends, the students have an adequate sleepingpattern but during their on-the-job-training days their sleeping pattern was inadequate. Thestress level that they experienced was moderate, while their academic behavior in terms ofacademic self-management was satisfactory, academic motivation was moderate, academicactivity was high, and overall attitude toward study was positive. There was no significantrelationship between stress level and academic behavior. Sleeping pattern during weekdayshas a negative relationship with academic behavior in terms of academic activity (p < .05),self- management (p < .01) and over-all attitude towards studies (p < .05).The result suggested that there was a significant difference in the academic behavior of studentswhen their age, gender, monthly allowance, and academic program were considered. Studentsenrolled in Bachelor of Laboratory Science demonstrated a more positive attitude towardstudies, engaged more in academic activity and demonstrated better self- management, whilethose enrolled in Dentistry exhibited better academic motivation as compared to those enrolledin other health related programs. Researchers suggest that a follow-up study involving otherinstitutions should be conducted for the benefit of result comparison.
Downloads
Download data is not yet available.
References
Ahrberg, K., M. Dresler, L. Genzel, S. Niedermaier, A. Steiger (2012). The interaction between sleep quality and academic performance. Journal of Psychiatric Research, 46, 1618-1622.
Babbie, E. R. (2010). The practice of social research (12th Ed.). Belmont CA., Cengage 2010.
BaHammam, A. S., Alaseem, A. M., Alzakri, A. A., Almeneessier, A. S., & Sharif, M. M. (2012, August 1). The Relationship between sleep and wake habits and academic performance in medical students: a cross-sectional study. BMC Medical Education .
Buboltz, W., Jenkins, S. M., Soper, B., Woller, K., Johnson, P., & Faes, T. (2009). Sleep Habits and Patterns of Students: An Expanded Study. Journal of College Counselling Vol. 12: Issue 2; pages: 113-124.
Curcio, G., Ferrara, M., De Gennaro, L. (2006). Sleep loss, learning capacity and academic Performance. Sleep Med. Rev 2006; pages: 323-337.
Gikunda, R. M., Abura, L., Kiriungi, J., & Odilla, G. (2014). The effect of Sleep Quantity on Performance of Students in Public Universities, Kenya. Menti Research Journal of Education and Review, 216, p113-118.
Greive, C., Morey, P., Beamish, P., Grant, R., Guest, J., Pearce, R., & Ashton, M. (2014). "Struggling to Stay Awake: The Sleep Patterns of Adventist Secondary School Students," TEACH Journal of Christian Education: Vol. 8 : Iss. 2 , Article 7.
Kumari, Rajni, Radhakanta Gartia (2012). Relationship between Stress and Academic Achievement of Senior Secondary School Students. Asian Journal of Multidimensional Research, Vol. 1, 152-160.
Siraj, Harlina H., Salam A, Roslan R, Hasan NA, Jin TH, Othman MN. (2013). Stress and it's Association with the Academic Performance of Undergraduate Four Year Medical Students at University Kebangsaan, Malaysia. Medical Education Department, UKM Medical Centre, Malaysia. Retrieved from http://iiumedic.net/imjm/v1.pdf.
Versaevel, L. Nicole (2014). Canadian Post-Secondary Students, Stress, and AcademicPerformance - A Socio-Ecological Approach. Electronic Thesis and Dissertation Repository. Paper 2657.
National Sleep Foundation. (2015, February 2). Retrieved July 11, 2016, from National Sleep Foundation Web site: https://sleepfoundation.org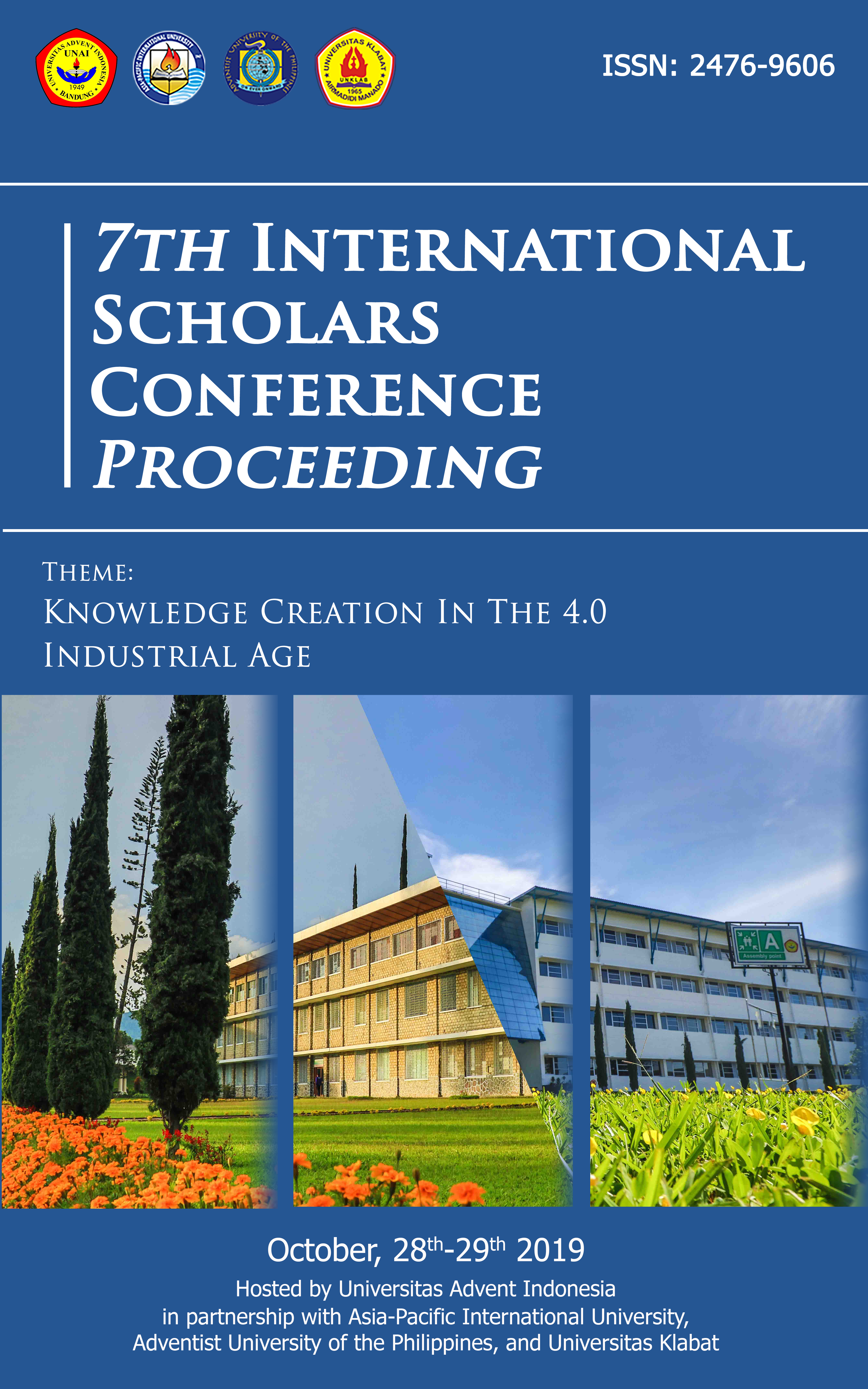 How to Cite
Divina, L., Bindosano, C. L., Hammer-Appiah, M.-J., Munthe, E. F., Bingcang, A., & Batiller, K. (2019). Sleeping Pattern, Stress Level and Academic Behavior of Students Enrolled in Health Related Programs. Abstract Proceedings International Scholars Conference, 7(1), 483-492. https://doi.org/10.35974/isc.v7i1.1091
Copyright (c) 2019 Abstract Proceedings International Scholars Conference
This work is licensed under a Creative Commons Attribution-ShareAlike 4.0 International License.
Copyright © 2019 ISC Committee.