Obstacles to E-Commerce Implementation in Indonesian Communities
Raymond Maulany

Fakultas Teknologi Informasi, Universitas Advent Indonesia
Keywords:
internet, e-commerce, Obstacles
Abstract
Teknologi pada zaman sekarang sudah sangat berkembang dan telah menghasilkan banyak transformasi dalam berbagai bidang aktivitas kehidupan manusia. Internet telah memudahkan pengembangan bisnis dan membuka banyak peluang dalam sektor ekonomi. Kehadiran teknologi semakin penting dan mendorong untuk selalu bertindak dengan cepat, praktis, efektif dan efisien, terutama dalam melakukan proses transaksi. E-Commerce merupakan salah satu peluang bisnis yang berkembang dalam bidang teknologi informasi. Konsep e-Commerce memberikan banyak kemudahan bagi pengguna. Kemudahan tersebut menguntungkan banyak pihak. Walaupun dengan banyaknya kemudahan yang diberikan e-Commerce, bukan berarti tidak ada hambatan yang dihadapi. Jurnal ini berasal dari berbagai informasi yang kami dapat dari berbagai literatur buku,jurnal dan website. Tujuannya akhir dari penulisan artikel ini adalah mengetahui hambatan yang selama ini di temukan dalam pengembangan E-Commerce khususnya di Indonesia.
Downloads
Download data is not yet available.
References
Anggayasta, A. (2011). Analysis of The Effect of Core Products and Peripheral Products Towards Interest In Buying In Retronomic Boy Shops In Semarang, Economics of Management, p. 65.
Firmansyah, A. (2017). Review of Constraints of E-Commerce Implementation in Indonesia, Telematics and Information Society, 8.
Yuliana, O. Y. (2000). Use of Internet Technology in Business, Accounting and Finance, 2, 16.
Aco, A and Endang, A. H . E-Commerce Business Analysis On Islamic University Students, Informatics Engineering, 13
Simamora, A. https://www.anri.go.id/assets/collections/files/Artikel_Online_Pembangan_ Internet_Dan_Strategi_P utilizationi_Pada_Per_ library_ANRI.pdf, [Online].
Yasha, (2018), September 26. [Online]. Available: https://www.dewaweb. com/blog/prehension-internet/.
Maryama. S. (2013). The Role of E-Commerce to Improve the Competitiveness of Small and Medium Enterprises (SMEs), Liquidity, 2, 7. Ekonomi. (2017). Sejarah E-commerce Indonesia: Apa yang Telah dan Akan Terjadi? . Retrived from https://www.kompasiana.com/www.bhinneka.com /59b25877085ea65943594dc2/sejarah-ecommerce-indonesia-what-is-have-and-will-show?page=all.
Helmalia & Afrinawati. (2018). E-Commerce Effects on Increasing Business Income, Islamic Economics and Business, 3, 10
Febriantoro, W. (2018). Study and Strategy for Ecommerce Development For Msmes In Indonesia, Managerial, 3.
Achjari, D. (2000). Potential Benefits and Problems in E-Commerce. Indonesian Economy and Business, 15, 8.
Irmawati, D. (2011). Utilization Of E-Commerce In The Business World,
Nuryanti. (2013) The Role of E-Commerce to Improve the Competitiveness of Small and Medium Enterprises (SMEs), Economy, 21, 15.
Gunawan, I. (2014). indraguna.staff.telkomuniversity.ac.id, [Online]. Available: https://indra guna.staff.telkomuniversity.ac.id/wpcontent/uploads/sites/17/2014/03/Tugas1_ ECommers_Indra-Gunawn1.pdf. [Accessed July 16, 2019].
Hidayat, A. (2012). Statistics. [Online]. Available: https://www.statistikian.com/2012/10/ contest-quantitative.html/amp.
jwadm, (2017), [Online]. Available: http://jakartawebs.com/sejarah-dan-perkembangan-ecommerce-di-Indonesia/.
Endang, A , H & Aco, A, Analysis of E-Commerce Business in Alauddin Makassar State Islamic University Students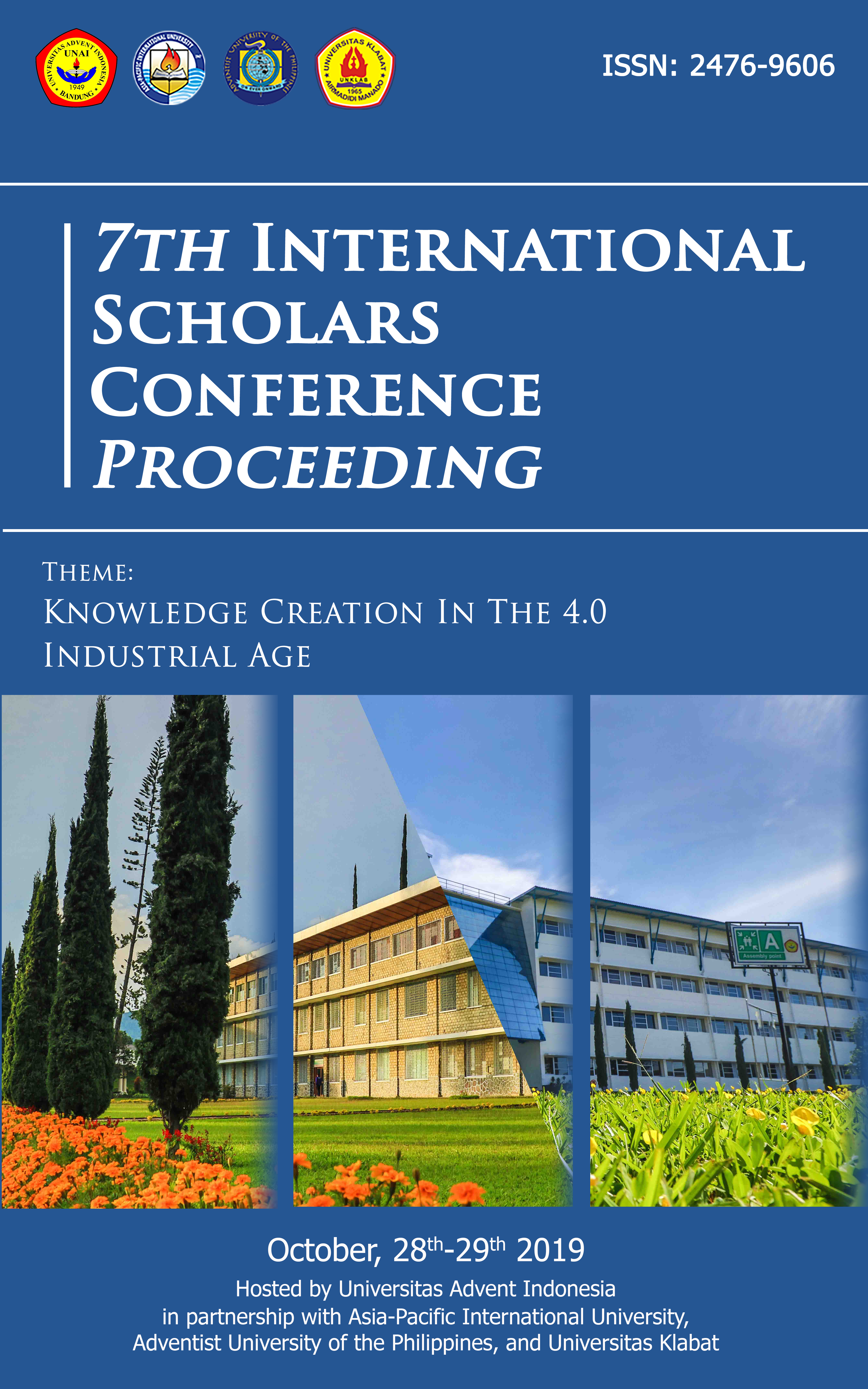 How to Cite
Maulany, R. (2019). Obstacles to E-Commerce Implementation in Indonesian Communities. Abstract Proceedings International Scholars Conference, 7(1), 1842-1854. https://doi.org/10.35974/isc.v7i1.2007
Section
Engineering & Technology
Copyright (c) 2019 Abstract Proceedings International Scholars Conference
This work is licensed under a Creative Commons Attribution-ShareAlike 4.0 International License.
Copyright © 2019 ISC Committee.