Plate Wastage and the Service Quality of the Cafeteria in a Private High School
Ruchel Gagarin Oasan

Adventist University of the Philippines

Kent Serafin N. Francisco

Adventist University of The Philippines

Gerald Z. Macalinao

Adventist University of The Philippines

Ranny Magdalena J. Satigi

Adventist University of the Philippines
Keywords:
plate wastage, service quality, cafeteria, food waste, Quarter Waste Method
Abstract
Millions of people in the world are suffering from scarcity of food, yet tons of food are wastedevery day. This study was conducted to determine the food wastage of high school studentsand the service quality of a cafeteria located in Silang, Cavite. Convenience sampling wasutilized to select high school students enrolled in the school where the cafeteria is situated toparticipate in the study. A descriptive-evaluative research design was used and data gatheredwere analyzed using descriptive statistics such as frequency, mean, and standard deviation.Quarter waste method was used to measure plate wastage while adopted questionnaire wasused to determine the service quality of the cafeteria. Findings revealed that the highestpercentage of food wastage was gluten followed by ground vegescallop, vegemeat, tofu, andbeans. In terms of service quality, the lowest percentage was the dining area (Mean= 2.95 andSD= 0.80), followed by Food Quality (Mean=3.44 and SD= 0.80), Food Variety (Mean= 3.76and SD= 0.61), Personnel employees' service (Mean= 3.80 and SD= 0.79), and Serving time(Mean= 3.85 and SD= 0.80). Among the five protein foods that incurred a leftover, gluten hasthe highest percentage of waste while among the five factors contributing to the service qualityof a cafeteria, dining area has the lowest percentage. Based on the results, the use of gluten aspart of the meal and the dining area as a place to eat should be improved to lessen the foodwastage and enhance the service quality, respectively.
Downloads
Download data is not yet available.
References
Ahmad A. (2015). The effect of service and food quality on customer satisfaction and hence customer retention. Asian social science, 11(23). Canadian center of science and education.
Andersen, B. V., & Hyldig, G. (2015). Food satisfaction: Integrating feelings before, during and after food intake. Food Quality and Preference, 43, 126-134.
Chang, M. L. D., Suki, N. M., & Suki, N. M. (2015). Students' Satisfaction with the University Cafeteria: Structural Relationships of Food Quality, Staff, Price Fairness, and Ambiance. Islamic Perspectives Relating to Business, Arts, Culture and Communication, 373–381. doi:10.1007/978-981-287-429-0_35
Cohen JF, Richardson S, Parker E, Catalano PJ, Rimm EB (2014). Impact of the new Department of Agriculture school meal standards on food selection, consumption, and waste.
Crossman, A. (2019). Convenience Samples for Research.
Dabija, D. C., & Băbuţ, R. (2014). Enhancing consumers' satisfaction and loyalty of retailers in Romania through store ambiance and communication. Procedia Economics and Finance, 15, 371-382.
Darzi, M. A., & Bhat, S. A. (2018). Personnel capability and customer satisfaction as predictors of customer retention in the banking sector: A mediated-moderation study. International Journal of Bank Marketing, 36(4), 663-679.
Dipesh K. & Apil P. (2018). How Food Quality, Price, Ambiance and Service Quality Effects Customer Satisfaction: A study on Nepalese Restaurants in Finland. Haaga helia university of applied sciences.
Djelassi, S., Diallo, M. F., & Zielke, S. (2018). How self-service technology experience evaluation affects waiting time and customer satisfaction? A moderated mediation model. Decision Support Systems, 111, 38-47.
Duong H. (2015). The effect of employee empowerment on service in food service firms. Jamk university of applied science.
Edwards J. (2016). Energy and Time modelling of kerbside waste collection: changes incurred when adding source separated food waste. https://doi.org/10.1016/j.wasman.2016.06.033.
Fransisco, Macalinao, Satigi, Oasan, Plate Wastage and …
Food and Agriculture Organization. (2011). Technical Platform on the Measurement and Reduction of Food Loss and Waste. Retrieved from: http://www.fao.org/platformfood-loss-waste/food-waste/definition/en/
Getts, K. M., Quinn, E. L., Johnson, D. B., & Otten, J. J. (2017). Validity and Interrater Reliability of the Visual Quarter-Waste Method for Assessing Food Waste in Middle School and High School Cafeteria Settings. Journal of the Academy of Nutrition and Dietetics, 117(11), 1816–1821. doi:10.1016/j.jand.2017.05.004.
Hanks, a. S., Wansink, B., & Just, a. D. (2013). Reliability and Accuracy of real time visualization techniques for measuring cafeteria tray waste: Validating the quarter- waste method. Journal of the academy of nutrition and dietetics, 470-474.
Jallinoja, P., Niva, M., & Latvala, T. (2016). Future of sustainable eating? Examining the potential for expanding bean eating in a meat-eating culture. Futures, 83, 4– 14. doi:10.1016/j.futures.2016.03.006.
Joshi, V.K., & Kumar, S. (2015). Meat Analogues: Plant based alternatives to meat products- A review. New Delhi Publishers, India. DOI Number: 10.5958/22779396.2016.00001.5.
Koklic, M. K., Kukar-Kinney, M., & Vegelj, S. (2017). An investigation of customer satisfaction with low-cost and full-service airline companies. Journal of Business Research, 80, 188-196.
Kumar, P., Chatli, M. K., Mehta, N., Singh, P., Malav, O. P., & Verma, A. K. (2015). Meat analogues: Health promising sustainable meat substitutes. Critical Reviews in Food Science and Nutrition, 57(5), 923–932. doi:10.1080/10408398.2014.939739.
Lemken, D., Spiller, A., & Schulze-Ehlers, B. (2019). More room for legume – Consumer acceptance of meat substitution with classic, processed and meat-resembling legume products. Appetite, 104412. doi:10.1016/j.appet.2019.104412.
Rioux L., Schmitt B., & Leclerc F. (2016). Consumers' reactions to waiting: When delays affect the perception of service quality. Advances in Consumer Research 16, 59-63.
Senduk, D., Saerang, D., & Lambey, L. (2016). The influence of restaurant ambiance and service quality on customer satisfaction at Pondok Huau Restaurant Manado. Jurnal Berkala Ilmiah Efisiensi, 16(03).
Wilkie, A., Graunke, R., & Cornejo, C. (2015). Food Waste Auditing at Three Florida Schools. Sustainability, 7(2), 1370–1387. doi:10.3390/su7021370
Zainol, N. A., & Seladorai, J. (2016). What Matters Most? Factors Influencing International Students' Satisfaction towards Cafeteria Foods. Mediterranean Journal of Social Sciences. doi:10.5901/mjss.2016.v7n4p295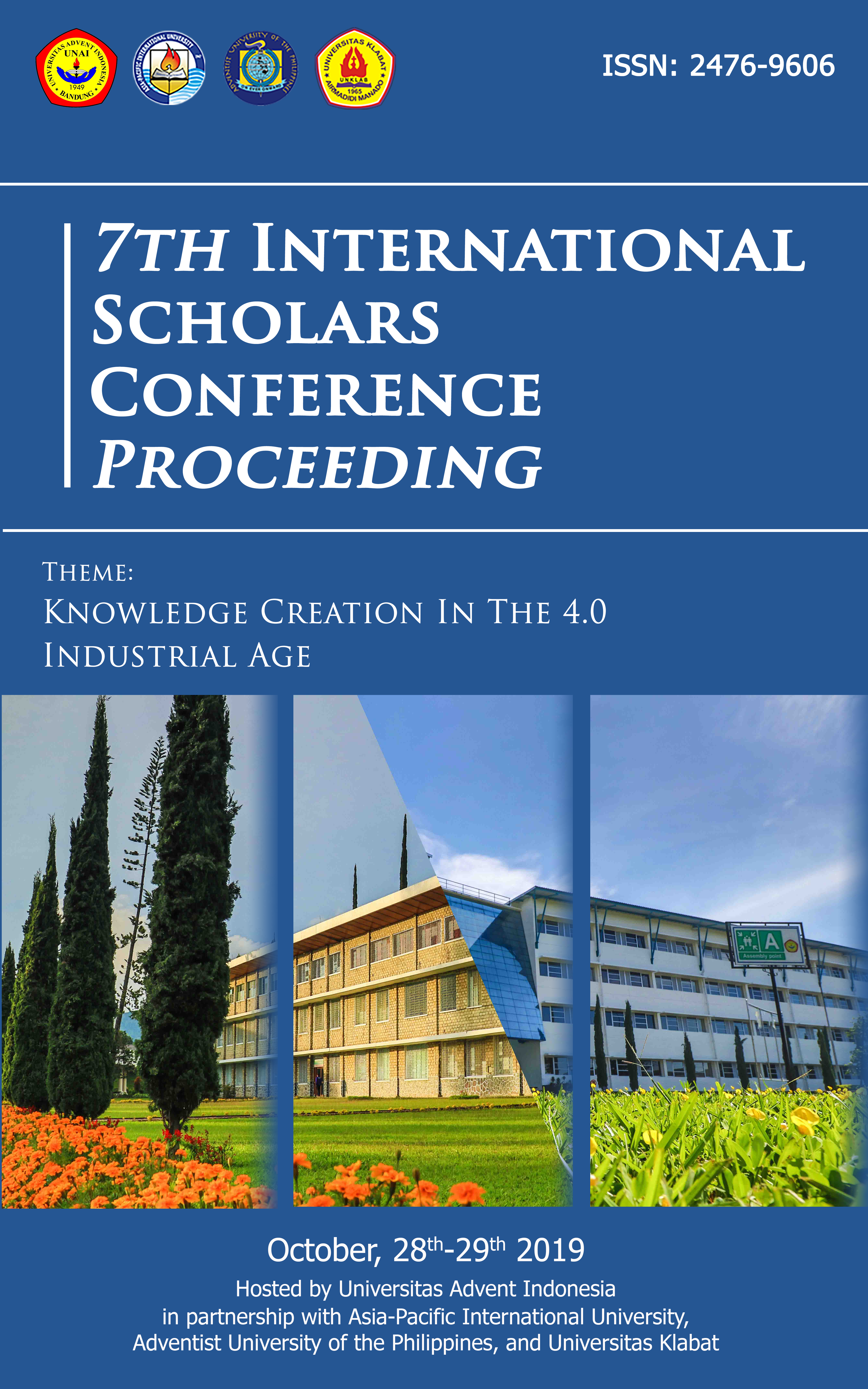 How to Cite
Oasan, R., Francisco, K., Macalinao, G., & Satigi, R. (2019). Plate Wastage and the Service Quality of the Cafeteria in a Private High School. Abstract Proceedings International Scholars Conference, 7(1), 69-83. https://doi.org/10.35974/isc.v7i1.896
Copyright (c) 2019 Abstract Proceedings International Scholars Conference
This work is licensed under a Creative Commons Attribution-ShareAlike 4.0 International License.
Copyright © 2019 ISC Committee.