Thai Students' Motivation To Speak English Outside The Classroom at Asia-Pacific International University
Suwannee Lansri

Asia Pacific International University

Josephine Esther Katenga

Asia Pacific International University
Keywords:
Speaking English, Speaking English Outside The Classroom, Motivation, Demotivating
Abstract
The purposes of this study were to explore the factors that motivated and those thatdiscouraged students from speaking English outside of the classroom at Asia-PacificInternational University, Mauk Lek Campus. The university offers undergraduate programsin both English and Thai medium. The majority of Thai students who were enrolled in bothprograms notably lived in the University dormitories, which exposed them to students from32 different countries, yet were still hesitant to speak English.Using the convenience sampling method, 197 students were selected to participate in thisstudy. A descriptive quantitative method and a self-administered questionnaire were used tocollect the data.The findings reveal that motivation for speaking English outside the classroom was mainlyfor instrumental motivational reasons (M=4.17, SD=0.59), followed by integrativemotivational reasons (M=3.74, SD=0.67). Less clear reasons were intrinsic motivation(M=3.41, SD=0.75) and extrinsic motivation (M=3.32, SD=0.82) motivations. The study alsoreported that factors such as inadequate vocabulary to speak effectively, insufficientknowledge of English grammar, and inability to speak English fluently and continuously,were perceived as hindering them from speaking English outside the classroom. Lastly, thestudy found statistically significant differences at the 0.05 level in instrumental motivation,intrinsic motivation, and extrinsic motivation when compared with gender, faculty, classstatus, program of study, and period of learning.The recommendations for future research threefold: to study learning approaches to a varietyof vocabularies which would enhance students" communication outside of the classroom; tostudy participants from other nationalities; and to use a larger sample using other types ofsampling and data collection methods.
Downloads
Download data is not yet available.
References
Amengual-Pizzaro, M. (2017). Engineering students" motivational variables towards English and the learning of the English language. Revista de Lenguas para Fines Específicos 23(1), 31-44.
Arnold, J. (2000). Affect in language learning. Beijing, China: Foreign Language and Research Press.
Baker, M. C. (1988). A theory of grammatical function changing. Chicago, IL: University of Chicago Press.
Chongpensuklert, S. (2011). A case study of Thai students in the International Program at International College, Suan Sunandha Rajabhat University. (Unpublished Thesis). Thammasat University, Language Institute, English for Careers, Thailand.
Choomthong, D. & Chaichompoo, C. (2015). English language learning motivation of Thai undergraduate students in the globalized era. Suranee J. Soc. Sci. 9(2), 23 – 45.
Deci, E. L., & Richard, M. R. (1985). Intrinsic Motivation and Self Determination in Human Behavior. New York, NY: Plenum.
Degang, M. (2010). Motivation toward English language learning of the second year undergraduate Thai students majoring in Business English at an English-medium university. (Unpublished Thesis). Bangkok: Graduate School, Srinakharinwirot University.
Gardner, R. C. (1985). Social Psychology and Second Language Learning: The r5ole of attitudes and motivation. London: Edward Arnold.
Ghanea, M., Pisheh, H.R.Z. and Ghanea, M. H. (2011). The relationship between learners
"motivation (integrative and instrumental) and English proficiency among Iranian EFL learners. World Academy of Science, Engineering and Technology, 59, 458-464.
Harmer, J. (1995). The Practice of English Language Teaching. 4th ed. London: Longman,
Harmer, J. (2007). The Practice of English Language Teaching. Harlow: Longman.
Jindathai, S. (2015). Factors Affecting English Speaking Problems among Engineering Students at Thai-Nichi Institute of Technology. The 3rd National Interdisciplinary Academic Conference (TNIAC 2015).
Juhana (2012). Psychological Factors That Hinder Students from Speaking in English Class. Journal of Education and Practice. 3 (12), 100-110.
López, M. G., & Tun, M. B. (2017). Motivating and demotivating factors for students with low emotional intelligence to participate in speaking activities. Teachers' Professional Development, 19(2), 151-163. doi: https://doi.org/10.15446/profile.v19n2.60652
Ministry of Education (2015). Thailand's ASEAN community educational preparation. Retrieved from http://www.en.moe.go.th/enMoe2017/ on February 12, 2019.
Nuttawat, P. (2008). A survey of needs and problems in learning to speak English of the third year Tourism Industry students at Suratthani Rajabhat University. (Unpublished Thesis). Thammasat University, Language Institute, English for Careers, Thailand.
Pengnate, W. (2014). Motivation, Attitude and English Learning Behaviors of the low-graded Students. TNI Journal of Business Administration and Languages. 2(1), 39 – 43.
Prakongchat, N. (2007). Relationship of Variables, and Usage in English Language learning Strategies of Thai Frist Year Students in Public Universities. (Unpublished Thesis).
Doctoral Dissertation of Arts in English language studies, Graduate School, Suranaree University of Technology.
Richards, J. C. & Renandya, W.A. (2002). Methodology in Language Teaching: an anthology of current practice. New York: Cambridge
Romwapee, W. (2012). Junior High School Students' English Pronunciation Development through Reading-aloud Dominoes. (Unpublished Thesis). Faculty of Humanities and Social Sciences, Khon Kaen University.
Shvidko, E. V. (2012). Students' perspectives on language use outside the classroom in an intensive English program. (Unpublished masters" thesis). Brigham Young University, Utah.
The National Institution of Educational Testing Service (Public Organization). (2015) Ordinary National Educational Test (O-NET). Retrieved from http://www.niets.or .th/en/catalog/view/2211 on February 22, 2019.
Thongmark, S. (2012). A study of Thaksin University Student's Motivation in English Language Learning. (Unpublished Thesis). Faculty of Education, Thaksin University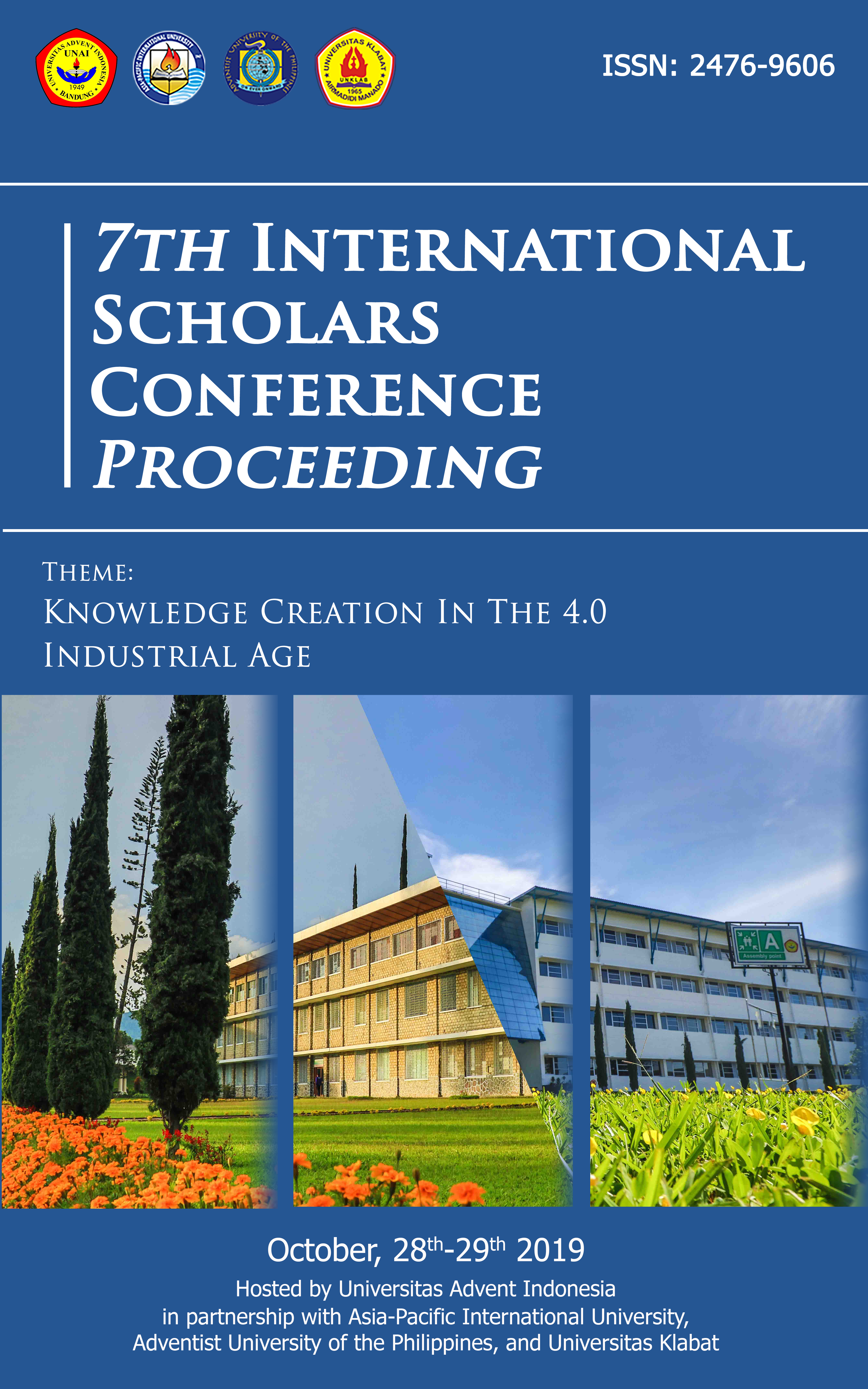 How to Cite
Lansri, S., & Katenga, J. (2019). Thai Students' Motivation To Speak English Outside The Classroom at Asia-Pacific International University. Abstract Proceedings International Scholars Conference, 7(1), 1538-1557. https://doi.org/10.35974/isc.v7i1.992
Copyright (c) 2019 Abstract Proceedings International Scholars Conference
This work is licensed under a Creative Commons Attribution-ShareAlike 4.0 International License.
Copyright © 2019 ISC Committee.