BUSINESS STUDENTS RESPONSE ON ONLINE CLASSES DURING COVID – 19 PANDEMIC
Kata Kunci:
Educational, Business, Covid-19, Boredom
Abstrak
Educational institutions all over the world have to stop the usual face-to-face interaction in the classrooms between students and lecturers. The purposes of this study are to explore the different responses and to assess business students' response about online classes during COVID-19 pandemic. This research is a qualitative research done in 2021.  Questionnaires were distributed to 212 business students. A content analysis was employed in analyzing the data.  Data gathered were analyzed and made into conclusion.  The findings showed that business students like online classes, it is beneficial, manage well their time, and resulted to high grades.  In addition, business student cannot concentrate because of some distractions, and not so much knowledge was gained since business student became reluctant and bored with online classes.  Despite of the boredom, business students were able to find ways to minimize it if not totally eradicated.
Referensi
Al-Amin, M., Zubayer, A. Al, Deb, B., & Hasan, M. (2021). Status of tertiary level online class in Bangladesh: students' response on preparedness, participation and classroom activities. Heliyon, 7(1), e05943. https://doi.org/10.1016/j.heliyon.2021.e05943
Choi, J. J., Robb, C. A., Mifli, M., & Zainuddin, Z. (2021). University students' perception to online class delivery methods during the COVID-19 pandemic: A focus on hospitality education in Korea and Malaysia. Journal of Hospitality, Leisure, Sport and Tourism Education, 29(September), 100336. https://doi.org/10.1016/j.jhlste.2021.100336
Evişen, N., Akyılmaz, Ö., & Torun, Y. (2020). A case study of university EFL preparatory class students' attitudes towards online learning during Covid-19 in Turkey. Gaziantep Üniversitesi Eğitim Bilimleri Dergisi, 4(2), 73–93. https://dergipark.org.tr/tr/pub/guebd/issue/59201/803017
Haftador, A. M., Shirazi, F., & Mohebbi, Z. (2021). Online class or flipped-jigsaw learning? Which one promotes academic motivation during the COVID-19 pandemic? BMC Medical Education, 21(1), 1–8. https://doi.org/10.1186/s12909-021-02929-9
Hossain, M. E., Akter, K., & Das, S. (2021). Students' Perception of Online Class During Covid-19 Pandemic: An Ordered PROBIT Model Estimation. International Journal of Academic Research in Progressive Education and Development, 10(2). https://doi.org/10.6007/ijarped/v10-i2/9685
Islam, S., Khan, I. M., & Quadir, S. (2021). Online Class Adaptation of Graduate and Post Graduate Students During the Covid-19 Pandemic in Bangladesh. European Journal of Business and Management, September. https://doi.org/10.7176/ejbm/13-16-05
Kofoed, M., Gebhart, L., Gilmore, D., & Moschitto, R. (2021). Zooming to Class?: Experimental Evidence on College Students&Apos; Online Learning During Covid-19. SSRN Electronic Journal, 14356. https://doi.org/10.2139/ssrn.3846700
Kusnayat, A., Muiz, M. H., Sumarni, N., Mansyur, A. S., & Zaqiah, Q. Y. (2020). Pengaruh Teknologi Pembelajaran Kuliah Online Di Era Covid-19 Dan Dampaknya Terhadap Mental Mahasiswa. Jurnal Edukasi Dan Teknologi Pembelajaran, 1(2), 153–165. Google Scholar
Landrum, B., Bannister, J., Garza, G., & Rhame, S. (2021). A class of one: Students' satisfaction with online learning. Journal of Education for Business, 96(2), 82–88. https://doi.org/10.1080/08832323.2020.1757592
Lee, J. W. (2020). The roles of online instructional facilitators and student performance of online class activity. Journal of Asian Finance, Economics and Business, 7(8), 723–733. https://doi.org/10.13106/JAFEB.2020.VOL7.NO8.723
Mahat, D. (2021). Students' Perception towards Online-calss during COVID 19 Pandemic. International Researcj Journal of MMC, Vol. 2 Issue 1, pp. 29-41
Mishra, L., Gupta, T., and Shree, A. (2020). Online Teaching-Learning in Higher Education during Lockdown Period of COVID-19 Pandemic. Int. J. Educ. Res. Open 1, 100012. doi:10.1016/j.ijedro.2020.100012
Mukhtar K, Javed K, Arooj M, Sethi A. (2020). Advantages, limitations and recommendations for online learning during COVID-19 pandemic era. Pakistan J Med Sci. 2020;36(COVID19-S4):S27.
Reju, C. O., & Loyiso, C. J. (2018). Students' experiences with distance and online learning of university-level undergraduate mathematics in nigeria. International Review of Research in Open and Distributed Learning, 19(2), 111–125. http://scholar.ufs.ac.za:8080/xmlui/bitstream/handle/11660/5387/RejuCO.pdf?sequence=1&isAllowed=y
Surani, D., & Hamidah, H. (2020). Students Perceptions in Online Class Learning During the Covid-19 Pandemic. International Journal on Advanced Science, Education, and Religion, 3(3), 83–95. https://doi.org/10.33648/ijoaser.v3i3.78
Thomas, A., Shenoy, M. T., K. T., S., Suresh Kumar, S., Sidheeque, A., C. Khovidh, Pillai, J. P., Pillai, P. M., CH, S. S., Mathew, A., Zakkir, T., Dileep, S., Mekha, V., Raju, S., Junaid K., M., & P., S. (2020). Survey Among Medical Students During COVID-19 Lockdown: The Online Class Dilemma. International Journal of Medical Students, 8(2), 102–106. https://doi.org/10.5195/ijms.2020.571
Yuelin, L., Yujie, L., & Xiaohui, S. (2021). Disrupted Class, Undisrupted Learning: A Study on the Effect of Online Learning Among Primary and Middle School Students. Studies in Microeconomics. https://doi.org/10.1177/23210222211024436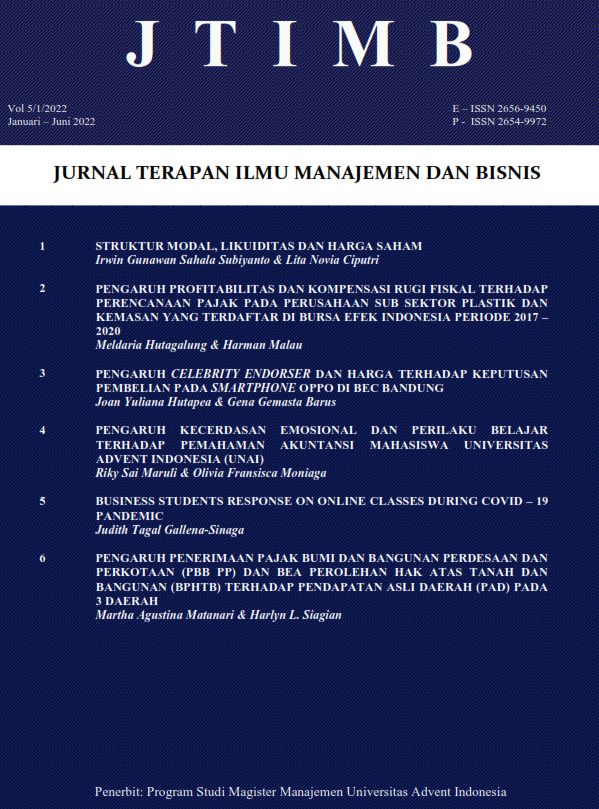 ##submission.downloads##
Cara Mengutip
Tagal Gallena-Sinaga, J. (2022). BUSINESS STUDENTS RESPONSE ON ONLINE CLASSES DURING COVID – 19 PANDEMIC. Jurnal Terapan Ilmu Manajemen Dan Bisnis (JTIMB), 5(1), 65-78. Diambil dari https://jurnal.unai.edu/index.php/jtimb/article/view/2883