PRICE EARNING RATIO, AVERAGE VOLUME AND STOCK BETA OF INDONESIA SE HEALTHCARE COMPANIES
Kata Kunci:
price earning ratio, average volume, stock beta
Abstrak
This research is entitled Price Earning Ratio, Average Volume and Stock Beta of Indonesia SE Healthcare Companies. This research method uses multiple linear regression analysis with data processing using the PSPP software. The sampling method of this research uses purposive sampling technique. The results showed that simultaneous Price earning ratio and average volume had significant affect on stock beta. The results of the t test show that the variables Price earning ratio and average volume partially have significant effect on stock beta with a significance level of 2,4%, and 4,2%, respectively.
Referensi
REFERENCE
Brigham, E. G., & Houston, J. F. (2018). Fundamentals of Financial Management. Cengage
Learnings, Inc.
Chandra, P. (2019). Financial Management Theory and Practice. McGraw Hill Education (India)
Private Limited.
Ester, Y., & Hutabarat, F. (2020). Pengaruh Tax Avoidance dan Profitabilitas terhadap nilai perusahaan pada perusahaan subsektor kosmetik dan barang keperluan rumah tangga. Jurnal Ilmiah Akuntansi Indonesia, Volume 5, Issue 2, 165-176. https://doi.org/10.32528/jiai.v5i2.3756
Firmansyah, I. (2017). Pengaruh Price Earning Ratio Terhadap Risiko Sistematis, Jurnal Akuntansi (JAK), Vol. 12 No. 1, 85-100.
Higgins, R. (2016). Analysis for Financial Management. McGraw Hill Education.
Hutabarat, F. (2020). Analisa Kinerja Keuangan. Desanta Publisher.
Naibaho, G., & Hutabarat, F. (2020). Liquidity, Solvability on Profitability: A Study on Consumption
Companies Listed at Indonesian Stock Exchange, JBMI (Jurnal Bisnis, Manajemen dan
Informatika), 17(1), 69-79. https://doi.org/10.26487/jbmi.v17i1.9548
Reilly, F. K., Brown, K. C., & Leeds, S. J. (2018). Investment Analysis and Portfolio Management.
Cengage Learnings, Inc.
Sari, A. N., & M. Alteza. (2019). Pengaruh Faktor Fundamental Terhadap Risiko Sistematik (Beta)
Pada Perusahaan Manufaktur Yang Terdaftar Di Bei Tahun 2015-2017. Jurnal Ilmu
Manajemen, Vol. 16, No. 1, 61-70.
Siringoringo, R. and Hutabarat, F. (2020) "Pengaruh Solvabilitas Terhadap Return On Asset Dengan Variabel Mediasi Likuiditas", Jurnal Penelitian Teori dan Terapan Akuntansi (PETA). Blitar, Indonesia, 5(2), pp. 96–106. doi: 10.51289/peta.v5i2.457.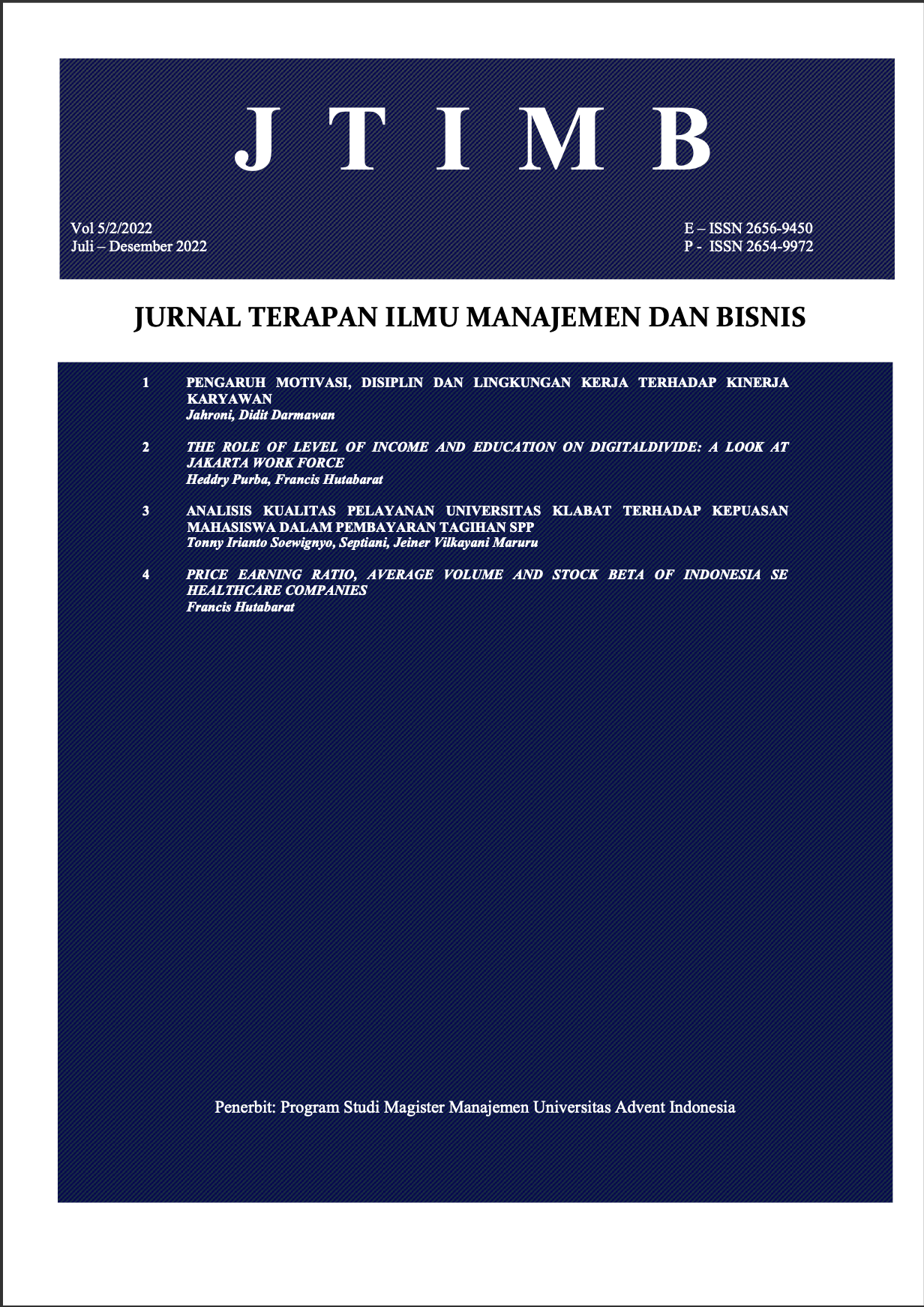 ##submission.downloads##
Cara Mengutip
Hutabarat, F. (2023). PRICE EARNING RATIO, AVERAGE VOLUME AND STOCK BETA OF INDONESIA SE HEALTHCARE COMPANIES. Jurnal Terapan Ilmu Manajemen Dan Bisnis, 5(2), 142-152. https://doi.org/10.58303/jtimb.v5i2.3030