ANALISIS PEMAHAMAN TENTANG APLIKASI CIRI-CIRI GEMBALA JEMAAT BERDASARKAN YEHEZKIEL 34:12 DI JEMAAT TOUMOU TOU BANDUNG
Abstract
One of the calling of Heavenly father for many people is a calling of serving Him.
This calling is given to every human being, but every human has a right to accept or
reject it. In a wide definition of serving the work of evangelism not only run by
pastors in a church, but also by the teacher in the school, literature evangelism
through books they share door to door an offices and also deacons as Stephen and
Philip in the bible also a seamstress named Dorcas share the word of God by sew the
dress for the poor people. Therefore God's people should the in everything they
could. Ezekiel 34:12 wrote "As a shepherd looks after his scattered flock when he is
with them, so will look after my sheep. I will rescue them from all the places where
they were scattered on a day of clouds and darkness." Based on this background so
the Identification of the problem of this research are:
1. What is the feature of the good shepherd based on Ezekiel 34:12? The feature
of a good Shepherd means they have to know their responsibility as the caretaker of
the sheep. The good shepherd never compromise with their responsibility as the
shepherd who always being trusted in every kind of serving.
2. What the feature application of a good shepherd? They have a characteristic of
a shepherd who always keeps the right of a shepherd to the church and have integrity
were prospect by the church. Keep the right means never fail.
3. What is the understanding of the member of Seventh-day Adventist Church in
Toumou Tou Bandung about the feature of the shepherd in his daily responsibility,
works, and leadership based on Ezekiel 34:12. In a leadership of a pastor/shepherd,
he has to be something to follow or good example that can be imitate by the church
member, so the church member are able to be better in serving in the church and in
the society. Pastor as a shepherd should always take care of them and find the losing
and bring them back to the stable of God so they are protected their spirituality and
physical needs.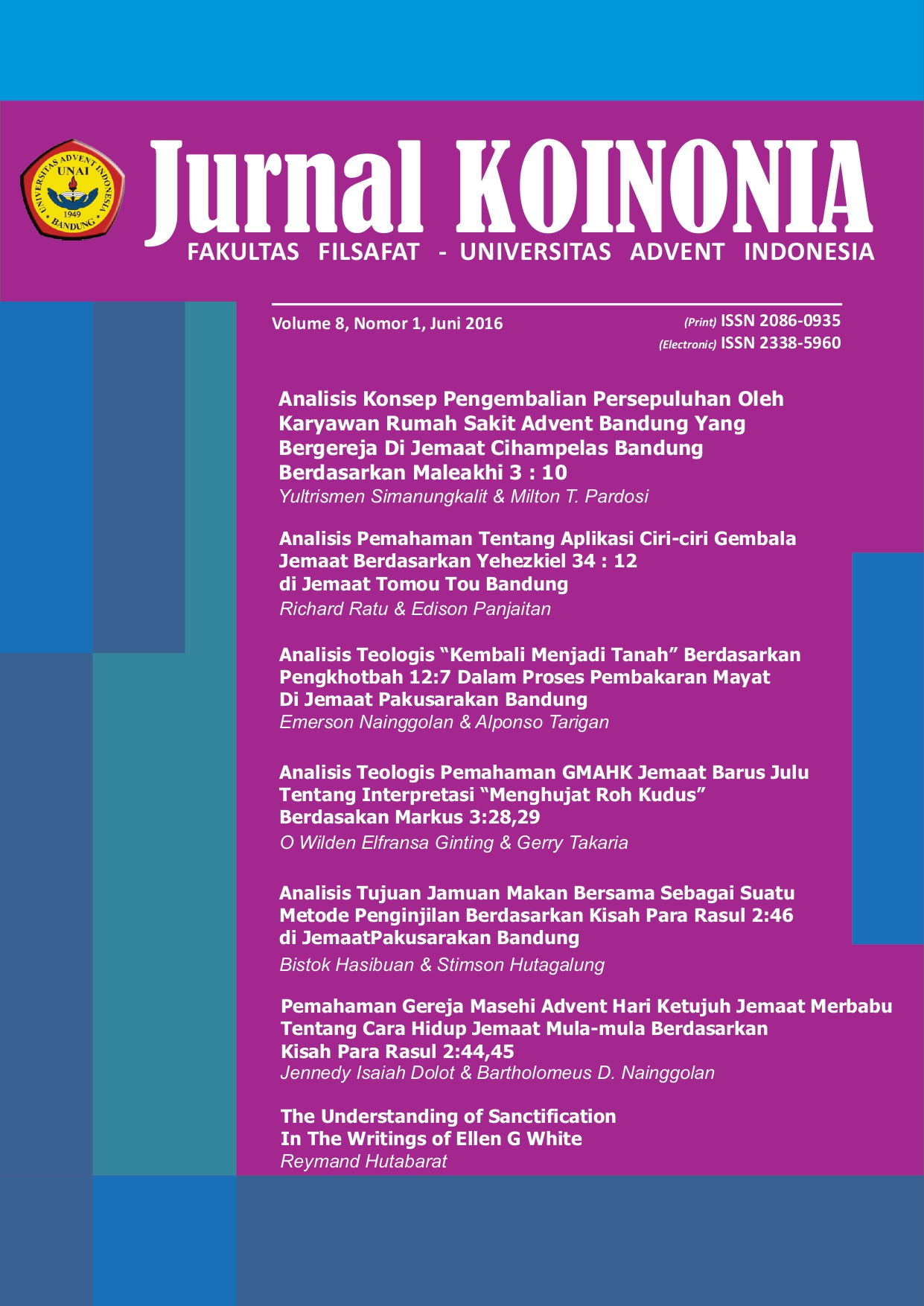 Downloads
How to Cite
Ratu, R., & Panjaitan, E. (2016). ANALISIS PEMAHAMAN TENTANG APLIKASI CIRI-CIRI GEMBALA JEMAAT BERDASARKAN YEHEZKIEL 34:12 DI JEMAAT TOUMOU TOU BANDUNG. Koinonia Journal, 8(1), 21-50. https://doi.org/10.35974/koinonia.v8i1.2267
Section
Pastoral Counselling