ANALISIS TEOLOGIS KELOMPOK YANG DIMETERAIKAN ITU: 144.000 BERDASARKAN KITAB WAHYU 7 DAN WAHYU 14 DI JEMAAT CIMINDI RAYA BANDUNG
Abstract
In this research, writer did a research about the interpretation of "144.000 people"
based on Revelation 7 and 14. This research includes 3 parts, those are: (1) Literally
or symbolically, which in this case there are two different comprehensions based on
two theories about who the 144.000 is. Many experts stated that the 144.000 is
physical Israel and others stated that it is spiritual Israel. About the number, many
experts said that it is the literal number and others said it is just a symbol; (2) The
symbol of the characteristics of the 144.000; (3) The fulfillment of sealing of the
144.000. Writer divided the research into two parts. They are theory research and
field research. The result of the theory research about the group of 144.000 found
out that 144.000 in Revelation 7 and 14 is perceived as symbolical. The group of
144.000 is spiritual Israel proved by no tribe of Dan in the group and because it is
symbolical, the number then perceived also to be symbolical. The Characteristics of
this group are: They follow the Lamb wherever the Lamb goes illustrate that they
have a loyalty to the truth of God and to God itself, they are virgin show that they
have purity in character, the ones who don't defile their faith; the group is not
involved in the falsification and the spiritual adultery. This group stays faithful to
God and to the God's truth. The fulfillment of the 144.000 before second coming of
Christ. The Result of the field research, through questionnaires distributed to 45
members of Cimindi Raya Bandung Seventh-Day Adventist Church, contains 19
points of statement and divided in three indicators founded the Statement of 6, 10, 12
and 14 church members still undecided.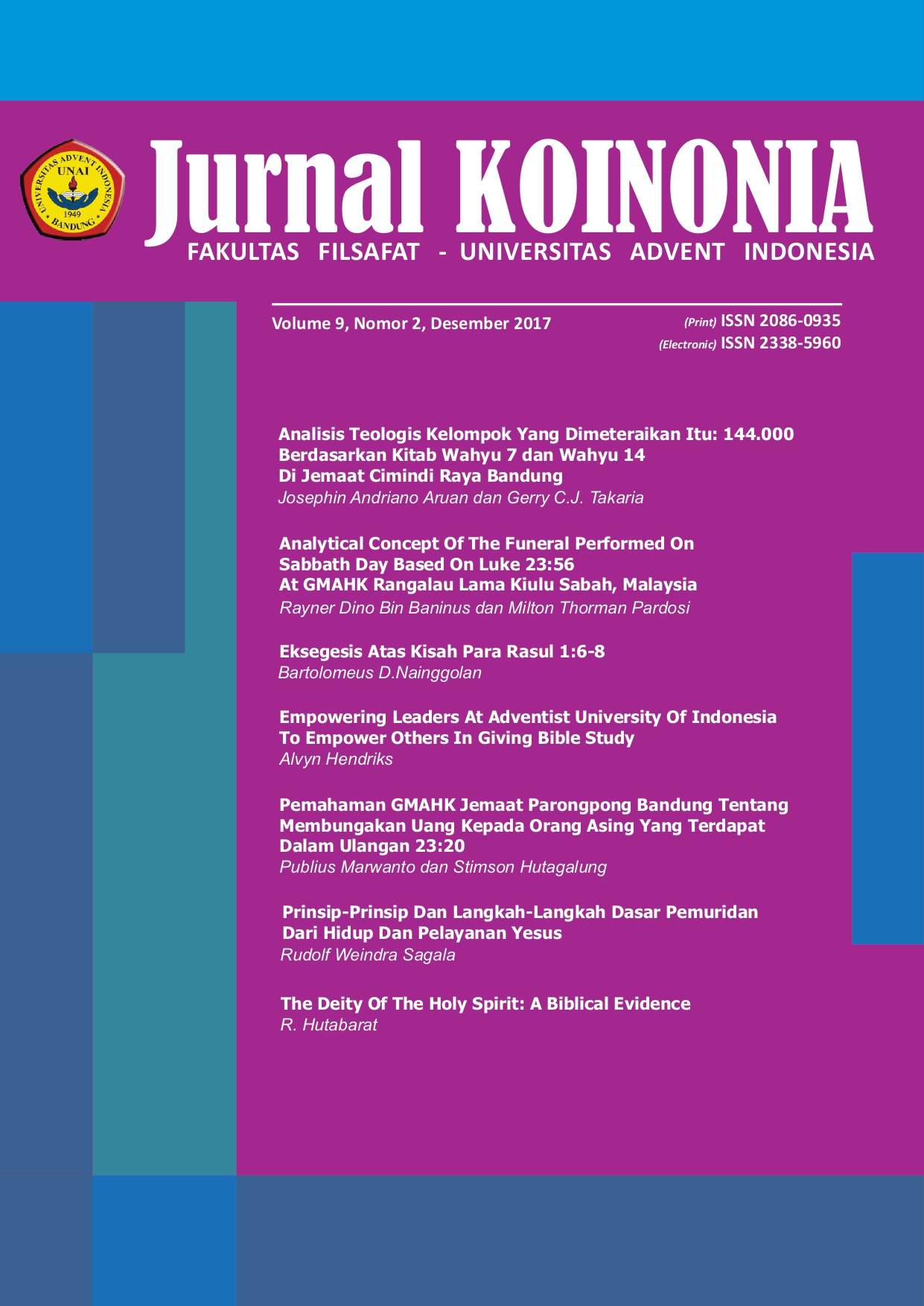 Downloads
How to Cite
Aruan, J. A., & Takaria, G. C. J. (2020). ANALISIS TEOLOGIS KELOMPOK YANG DIMETERAIKAN ITU: 144.000 BERDASARKAN KITAB WAHYU 7 DAN WAHYU 14 DI JEMAAT CIMINDI RAYA BANDUNG. Jurnal Koinonia, 9(2), 1-24. https://doi.org/10.35974/koinonia.v9i2.2277