PENGARUH IBADAH PERJAMUAN KUDUS TERHADAP PERTUMBUHAN KEROHANIAN JEMAAT GMAHK BUNSADAN KOTA MARUDU SABAH, MALAYSIA BERDASARKAN 1 KORINTUS 11:27
Abstract
In writing this thesis, the author tries to examine the effect of the Holy Communion
service on the spiritual growth of the GMAHK Bunsadan Kota Marudu Sabah City
of Malaysia congregation based on 1 Corinthians 11:27. This research is based on
four indicators: The theological understanding of the word "unworthy" in 1
Corinthians 11:27; how to attend the Lord's Supper to be considered worthy; the
impact of the Holy Communion Service on the spirituality of the members of the
congregation and the views of the experts on the spiritual growth in the Holy
Communion. This research is divided into two main parts, which is theoretical
research and field research. From the result of theoretical research, the meaning of
the word improper can be found in 1 Corinthians 11:27 where it refers to eating and
drinking as the Corinthians did, who ate it not referring to the death of Jesus Christ's
sacrifice (without respect), but in a manner like the Israelites made the Passover ,
which they celebrate as a reminder of their liberation from Egyptian slavery. The one
who is deemed worthy to attend the Holy Communion service are those who have
been baptized and are following the worship according to the Adventist Church's rule
book. There are several benefits of attending the Holy Communion service which are
commemorating His sacrifice, being humble, reconciling and developing the Spirit of
service. Experts say that this Holy Communion service is very important because it
encourages God's people to have an ethical life according to God's word and live a
spiritual life. In the field research, the results of the respondents provide information
that all statements contained in the questionnaire (P1 - P20) are well understood
except for statements P1 - P5 where the respondent gives a hesitant answer.
Overcoming this, the writer will give a seminar in connection with the writing of this
thesis.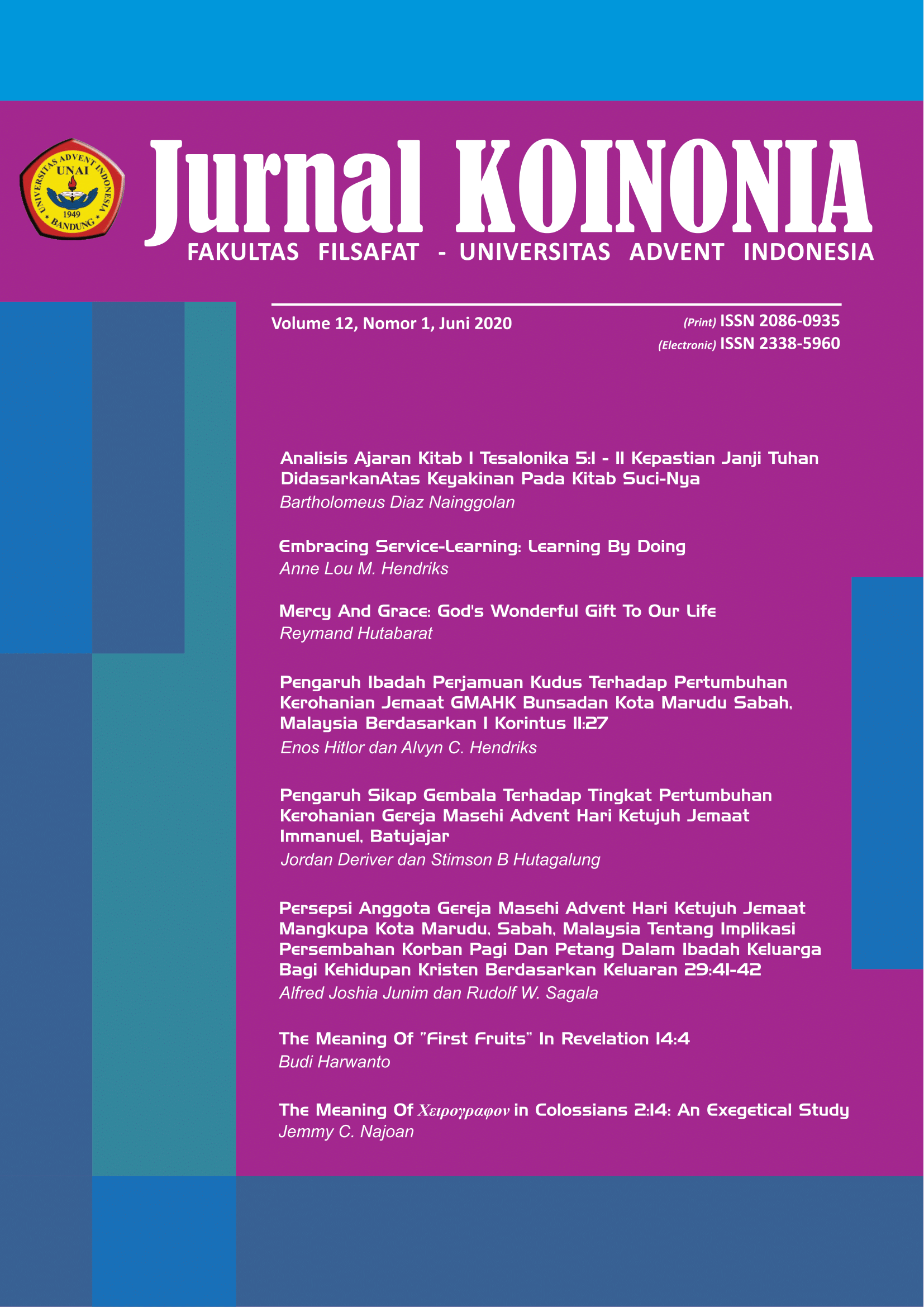 Downloads
How to Cite
Hitlor, E., & Hendriks, A. C. (2020). PENGARUH IBADAH PERJAMUAN KUDUS TERHADAP PERTUMBUHAN KEROHANIAN JEMAAT GMAHK BUNSADAN KOTA MARUDU SABAH, MALAYSIA BERDASARKAN 1 KORINTUS 11:27. Koinonia Journal, 12(1), 27-44. https://doi.org/10.35974/koinonia.v12i1.2361