PERSEPSI ANGGOTA GEREJA MASEHI ADVENT HARI KETUJUH JEMAAT MANGKUPA KOTA MARUDU, SABAH, MALAYSIA TENTANG IMPLIKASI PERSEMBAHAN KORBAN PAGI DAN PETANG DALAM IBADAH KELUARGA BAGI KEHIDUPAN KRISTEN BERDASARKAN KELUARAN 29:41-42
Abstract
In this research, author has identified regarded on implications offerings in family
worship on daily Christian life based on Exodus 29:41 – 42 and based on view of
Mangkupa Marudu Town, Sabah, Malaysia Seventh – day Adventist (SDA) church
members. This Research has four indicators: meaning on theological base on Exodus
29:41 – 42; Explaination on offering morning and evening performed during ancient
Israelites; Application offering morning and evening in relevance on family worship
in Christian family and; Adventist view based on Mangkupa church about
implications offerings morning and evening in family worship in daily Christian life.
This research divided into two main categories: teories and field research. Results
from this research is that application from offerings morning and evening on ancient
Israelites specially on family worship, as far we know that this ceremony refers to
daily sacrifice based on Exodus 29:38 – 46, that mentions there is no specific for
atonement for sins and only focus on worship of God, professor from United States
and later become teacher in University Advent Indonesia for many years, Sir Robert
L. Hancock said this fact in his syllabus. Offering morning and evening also, the
priest will become representive for all Israelites to bring the sheep to the altar and
offer it to the Lord. Based on EGW writings, applications that can be observed from
the morning and evening sacrifice ceremony is in the Christian custom of prayer and
spiritual songs every day, morning and evening, that is leaded by leader of the family
that is father who lead the family worship. Every family should doing the daily
morning and evening worship that lead into spiritual growth and development
Christlike. Results from response shows that they agree by interpretation based on
questioner P11 – P15 .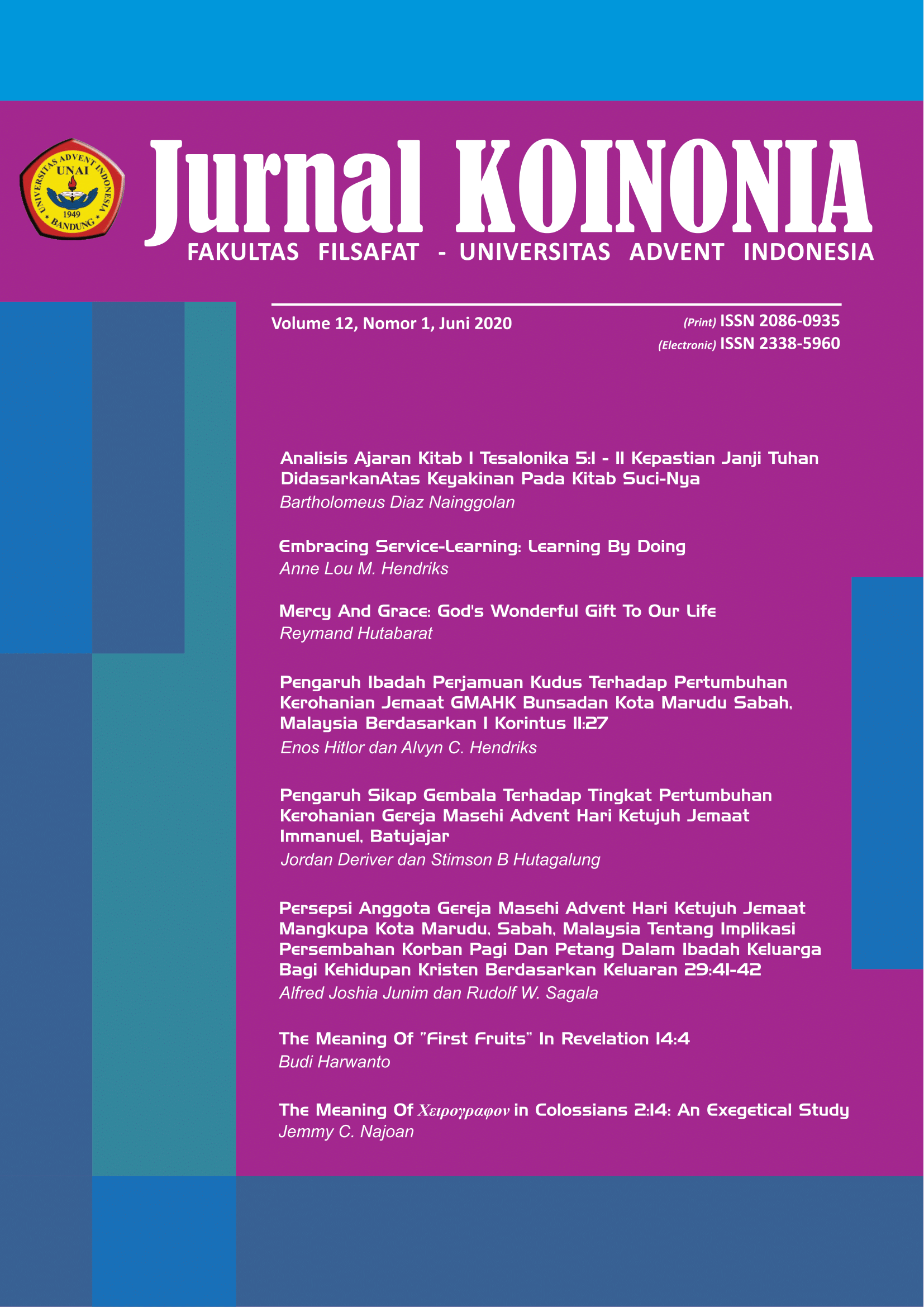 Downloads
How to Cite
Junim, A. J., & Sagala, R. W. (2020). PERSEPSI ANGGOTA GEREJA MASEHI ADVENT HARI KETUJUH JEMAAT MANGKUPA KOTA MARUDU, SABAH, MALAYSIA TENTANG IMPLIKASI PERSEMBAHAN KORBAN PAGI DAN PETANG DALAM IBADAH KELUARGA BAGI KEHIDUPAN KRISTEN BERDASARKAN KELUARAN 29:41-42. Jurnal Koinonia: Fakultas Filsafat Universitas Advent Indonesia, 12(1), 71-95. https://doi.org/10.35974/koinonia.v12i1.2363
Section
Pastoral Counselling