Influential Factors between the Primacy of Roman Church and the Origin of Sunday
Keywords:
Church, Authority, Sunday, Sabbath
Abstract
The debate between the mysterious rise of Sunday observance and the church dominance in the Roman empire throughout the Ante-Nicene period appeared as an emerging discourse in regard to the Sabbath adherence. The historical background has been capable of analyzing the supposed relation between the two when the Christian beliefs gradually developed. The connection would seem to bring relevant ramifications to today's theological understanding as far as observing the Sabbath or Sunday is concerned. The significant factors between the beginning of Sunday and the supremacy of the Roman church appeared to be intertwined and fused in the early church era. While many other events have circulated the social and religious cultures in Rome, the factors below indicate and strengthen the relationship between both church primacy and Sunday origin in history through a documentary research method. The time of the early church in this discussion is delimited around the year 100 up to 313 AD. Though the focus not only touches on one particular reason as to why Sunday replaced Sabbath, the research questions comprise of how the pre-eminence of papal supremacy took place and why the Sunday worship has seemed to alter the Sabbath observance since then.
References
Bacchiocchi, Samuele. From Sabbath to Sunday: A Historical Investigation of the Rise of Sunday Observance in Early Christianity. Rome: Pontifical Gregorian University, 1977.
______. The Sabbath Under Crossfire. Berrien Springs, Michigan: Biblical Perspectives, 1999.
Bauckham, R.J. "Sabbath and Sunday in the Post-Apostolic Church." In From Sabbath to Lord's Day: A Biblical, Historical, and Theological Investigation, edited by D.A. Carson, 257. Eugene, Oregon: Wipf & Stock, 1999.
Bennett, Todd D. Scriptural Truth Concerning the Sabbath and Christian Sunday Observance. Herkimer, New York: Shema Yisrael Publications, 2005.
Brattston, David W. T. Sabbath and Sunday Among the Earliest Christians. Searcy, Arkansas: Resource Publications, 2017.
Gulley, Norman R. Systematic Theology: The Church and the Last Things. vol. 4. Berrien Springs, Michigan: Andrews University Press, 2016.
______. "The Battle Against the Sabbath and Its End-time Importance." Journal of the Adventist Theological Society 5/2 (Autumn 1994): 81.
Irenaeus, The Ante-Nicene Fathers, Grand Rapids, Michigan: Eerdmans, 1989.
Justin Martyr, The Ante-Nicene Fathers, Grand Rapids, Michigan: Eerdmans, 1989.
Lebreton, J. and Zeiller, J., The History of the Primitive Church, vol. 1. New York: The MacMillan Company, 1949.
McIver, Robert. "When, Where, and Why did the Change from Sabbath to Sunday Worship Take Place in the Early Church?" Andrews University Seminary Studies, 53 (2015): 27.
Schaff, Philip. The History of the Christian Church. Vol. 2. Edinburgh: T.& T. Clark, 1889.
Strand, Kenneth. Sabbath in Scripture and History. Washington, D.C.: Review and Herald Publishing Association, 1982.
Tonstad, Sigve. The Lost Meaning of the Seventh Day. Berrien Springs, Michigan: Andrews University Press, 2009.
Waggoner, Ellet J. Sunday: The Origin of Its Observance. Scotts Valley, California: CreateSpace Independent Publishing Platform, 2016.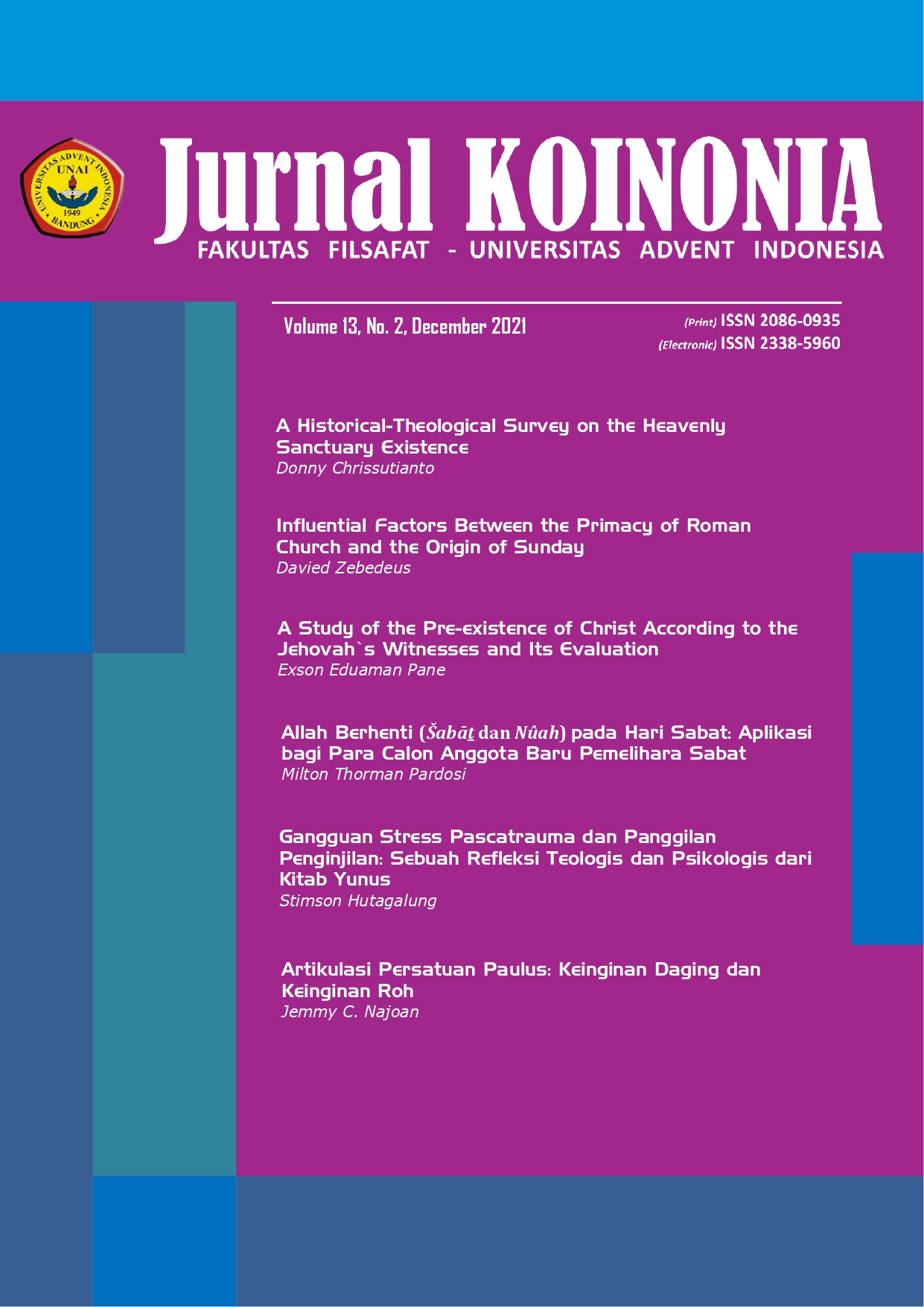 Downloads
How to Cite
Zebedeus, D. Y. A. (2021). Influential Factors between the Primacy of Roman Church and the Origin of Sunday. Koinonia Journal, 13(2), 16-25. Retrieved from https://jurnal.unai.edu/index.php/koinonia/article/view/2701
Section
Systematic Theology