Religious Movement of Movement of Ugamo Malim in Batak Land-Indonesia
Keywords:
Movement, Ugamo Malim, Parmalim, Colonialism
Abstract
Religious movements developed during the Dutch colonial period in Indonesia. One of the religious movements, Ugamo Malim, emerged in Batak land, North Sumatra, Indonesia.One of the reasons behind the religious movement in Indonesia during colonialism was to revive the holy king among the people to fight colonialism. However, the movement of Ugamo Malim was not ended after independence but continually recently. Therefore, this research tries to clarify the purpose of the establishment of the Ugamo Malim movement in Batak lands and the important things that we can learn from this movement as Christians. In order to get the clarification of this movement the author uses qualitative research by using documentary research analysis of Batak's literature regarding the movement of Ugamo Malim and compare it to the Biblical principles.  As the result the study found that before the colonialism Ugama Malim was existed as the way to have a pure life, however when colonialist came the purpose of this movement became formed as a movement in against the colonization and their religion which was brought to Batak Land. For today, the purpose of Ugamo Malim is to conserve the Batak's culture, ceremonies, and practices in Batak's Land. Although Ugamo Malim and Biblical principles is different, however there are several similarities in beliefs and practices such as worship God as they called "Mula Jadi Nabolon" (the creator), the day of worship is Saturday, forbidden eating blood and several unclean food as written in the Leviticus 11.  Therefore, the main purpose of the movement of Ugamo Malim was to reach the pure life but it developed due to the coming of colonialism and modernity.
References
Gultom Abraham, Agama Malim di Tanah Batak. Jakarta: Bumi Aksara, 2010.
Gulley, Norman R. Systematic Theology: Prolegomena, Vol. 1. Berrien Springs, MI: Andrews University Press, 2003.
Leandha, Mei. "Kisah Penganut Agama Leluhur Batak yang Terasing di Negeri Sendiri," Harian Kompas, diakses 5 september. Http://regional.kompas.com/read
/2016/05/24/08191341/kisah.penganut.agama.leluhur.batak.yang.terasing.di.negeri
Hirosue, "Prophets and Followers in Batak Millenarian Responses to the Colonial Order: Parmalim, Na Siak Bagi and Parhudamdam, 1890- 1930", (Ph.D. dissertation submitted to the Australian National University, 1988).
_______, "The Parmalim Movement and Its Relations to Si Singa Mangaraja XII: A Reexamination of The Development of Religious Movements in Colonial Indonesia," Jurnal Antropologi Sosial Budaya ETNOVISI 1 (Desember 2005): 113-122.
Hutapea, Jadiman, "Upacara Ritual Parmalim", Accessed on Sept 23, 2022. Http://jadimanhutapea.blogspot.com/2011/04/upacara-ritual-parmalim- lagubotitoba.html.
Jang Aisjah Muttalib, "Jambi 1900-1916: From War to Rebellion," Ph.D. dissertation submitted to Columbia University, 1995.
Leandha, Mei "Kisah Penganut Agama Leluhur Batak yang Terasing di Negeri Sendiri," Harian Kompas. diakses 5 September. Http://regional.kompas.com/read/2016/05/24
/08191341/kisah.penganut.agama.leluhur.batak.yang.terasing.di.negeri.
"Malim: Inilah Agama Suku Batak Tempo Dulu," Accessed on Juky 23, 2022 http://www.becaksiantar.com/2012/09/malim-inilah-agama-suku-batak- tempodulu.html.
Millard J. Erickson, Christian Theology. Grand Rapids, MI: Baker Academic, 2013.
Mukhlis, "Batara Gowa: Mesianisme dalam gerakan sosial di tanah Makassar" in Dari Babad dan Hikayat Sampai Sejarah Kritis, edited by T. Ibrahim Alfian, H. J. Koesoemanto, Dharmono Hardjowidjono and Djoko Suryo. Yogyakarta, Gajah Mada University Press, 1987.
Nadapdap, Tety Irawati, Konstruksi Upacara Sipaha Lima Dalam Kepercayaan Parmalim. Skripsi. Medan: Fakultas Ilmu Sosial dan Ilmu Politik, 2009.
Pardosi, Benny Rafael, Parmalim. Skripsi. Medan: Fakultas Ilmu Sosial dan Ilmu Politik, USU, 2010.
Saragih, Johannes Paulus, Gerakan Mesianis Di Toba; Suatu Tinjauan Sosio Politis Religious," Dalam Majalah Ilmiah Mahasiswa, 2009.
Sartono Kartodirdjo "Agrarian Radicalism in Java: Its Setting and Development", in Culture and Politics in Indonesia, edited by C. Holt with assistance of B. R. O'G. Anderson and J. Siegel. Ithaca: Cornell University Press, 1972.
_______. Protest Movements in Rural Java: A Study of Agrarian Unrest in the Nineteenth and Early Twentieth Centuries. Oxford: Oxford University Press, 1973.
Scott, C. The Moral Economy of the Peasant: Rebellion and Subsistence in Southeast Asia. New Haven and London, 1976.
Siburian, Robert "Kearifan Ekologi Dalam Budaya Batak Sebagai Upaya Mencegah Bencana Alam". Dalam Manusia Indonesia, Lembaga Ilmu Pengetahuan Indonesia. Vol. XXXIV No. 1. Yayasan Obor Indonesia (2008): 73–76.
Sijabat, W.B, Ahu Sisingamangaraja. Jakarta: Sinar Harapan, 1982.
Silaen, Julianto, Parmalim di Kota Medan, Skripsi. Medan: Fakultas Ilmu Budaya, USU, 2013.
Silaban, Charly, "Parmalim: Kami Bukan Penganut Ajaran Sesat." Accessed on June 23, 2022http://www.silaban .net/2007/01/07/parmalim-kami-bukan-penganut-ajaran-sesat/
Situmorang, Sitor, Toba Ba Sae: Sejarah Lembaga Sosial Politik Abad XIIIXX. Jakarta: Komunitas Bambu, 2004.
"Ugamo Parmalim, Pertama di Tanah Batak (Part 1)," Accessed on March 8, 2022. http://www.metrosiantar.com/2015/07/01/197238/ugamo-parmalim-pertama-di-tanahbatak-bag1/.
Wallace, A. F. C. "Revitalization Movements," Anthropologist, vol. 58, (1956): 264-281.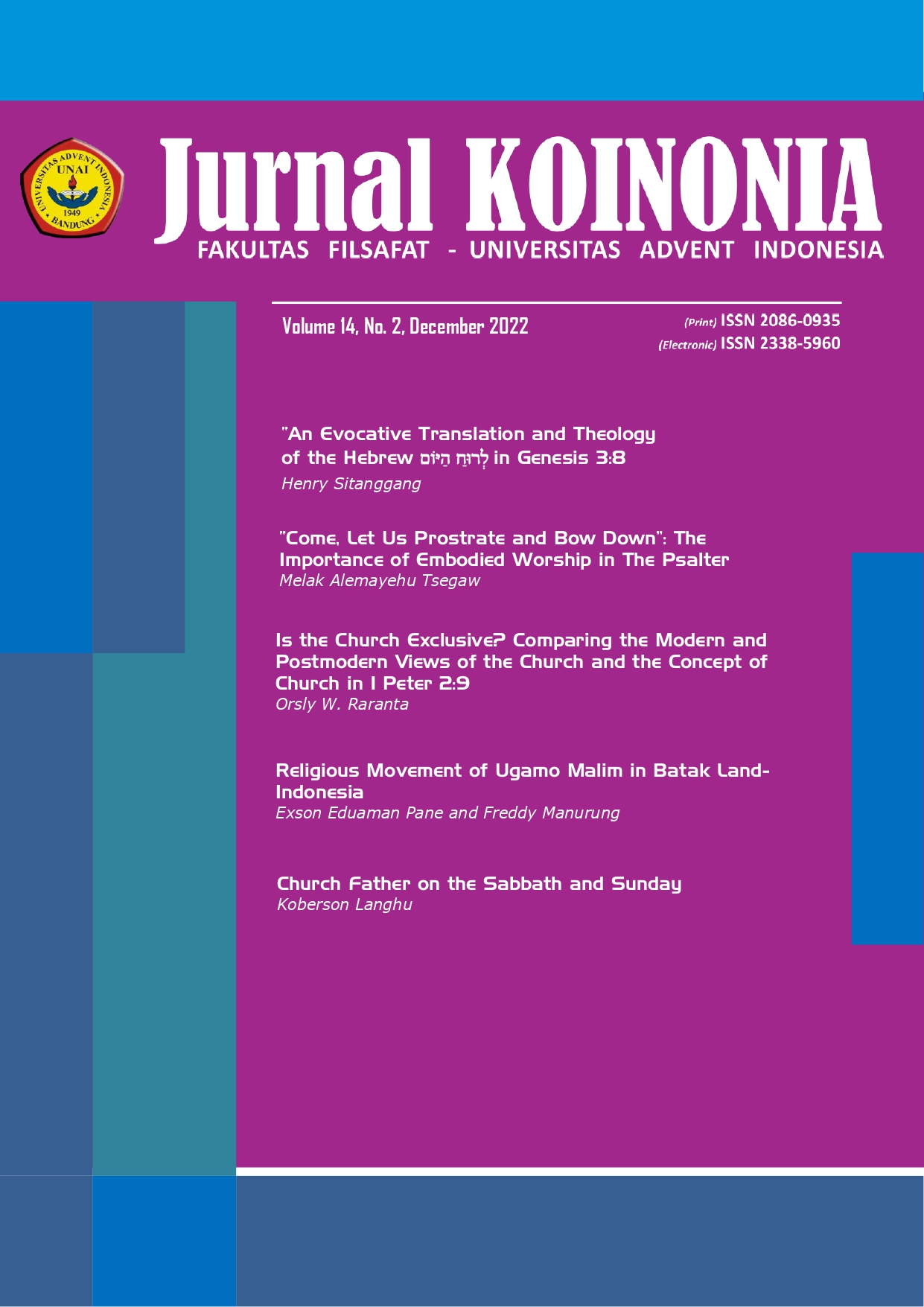 Downloads
How to Cite
Pane, E., & Manurung, F. . (2022). Religious Movement of Movement of Ugamo Malim in Batak Land-Indonesia. Jurnal Koinonia: Fakultas Filsafat Universitas Advent Indonesia, 14(2), 119-133. https://doi.org/10.35974/koinonia.v14i2.2960
Section
Systematic Theology