The Influence Of Cow Urine Fertilizer, Leaf Bokashi, And AB Mix For The Growth Of Water Spinach Plant (Ipomoea Reptans Var.Poir) With The DFT (Deep Flow Technique) Hydroponic System At Adventist University Of Indonesia
doli jerry situmeang

universitas advent indonesia

Ricky Girsang

Universitas Advent Indonesia

Titin Sulastri

Universitas Advent Indonesia
Keywords:
Cow urine, Hydroponics, Kale (Ipomoea reptants var.poir)
Abstract
Urine cow is livestock waste that can be used as liquid fertilizer. Urine has a high N and Kcontent and there is enough P content for plant development. Besides being able to workquickly, urine turns out to contain certain hormones that can stimulate plant development.Urine in cattle consists of 92% water, nitrogen 1.00%, 0.2% phosphorus, and 0.35%potassium. Water spinach is a vegetable commodity that is liked by many people, itsnutritional content is high, and its cultivation is very simple and easy. The nutritional contentof kale is quite high, especially vitamin A, vitamin C, iron, calcium, potassium, andphosphorus. Hydroponic system cultivation can be done in a backyard. The purpose of this study was to determine growth by using leaf Bokashi, cow urine, and AB Mix (control). One-way ANOVA and Duncan data analysis with a significant level of α = 0.05. The results obtained showed that the urine urine nutrition affected the growth of plant height, leafnumber, leaf width, and root length, giving significance to the testing of descriptive analysis.
Downloads
Download data is not yet available.
References
Ashari, Saptana, & Purwantini, T. B. (2012). Potential and Prospects of Utilization of Yard Land to Support Food Security. Agro Economic Research Forum, Volume 30 No. 1, Juli 2012: 13-30.
Desiana, C., Banuwa, I., S., Evizal, R., & Yusnaini, S. (2013). Effect of Organic Fertilizer and Tofu Waste on Growth of Cocoa (Theobroma cacao L.) Seeds. Faculty of Agriculture, University of Lampung.
Hanafiah, K., A. (2005). Fundamentals of Soil Science. PT Raja Garindo Persada, Jakarta.
Lakitan, B. (2004). Fundamentals of Plant Physiology. Raja Grafindo Persada, Jakarta.
Roidah, Ida Syamsu. (2014). Land Use by Using a Hydroponic System. Journal of the University of Tulungagung Bonorowo Vol. 1 No. 2 Tahun 2014.
Silvina, F., & Syafrinal. (2008). Use of Various Planting Medium and Concentration of Liquid Organic Fertilizer on the Growth and Production of Japanese Cucumber (Cucumis sativus) Hydroponically. J. SAGU. 7 (1) 7-12.
Sofiari, E. (2009). Characterization of Cassava (Ipomoea reptans) Silk Varieties Based on Individual Testing Guidelines. Germplasm Bulletin 15: 49-53.
Sutedjo, M. (2010). Fertilizer and Fertilization Method. Jakarta: Rineka Cipta.
Sutiyoso, Y. (2014). Hydroponics ala Yos. Penebar Swadaya. Jakarta.
Sutrisno, H., Muhdarina, & Amri, T., A. (2014). Gmabut Water Treatment with Liquid Coagulant as a Result of Extraction of Natural Cempal in Cengar Village using H2SO4 Solution. Journal of the Faculty of Mathematics and Natural Sciences, University of Riau.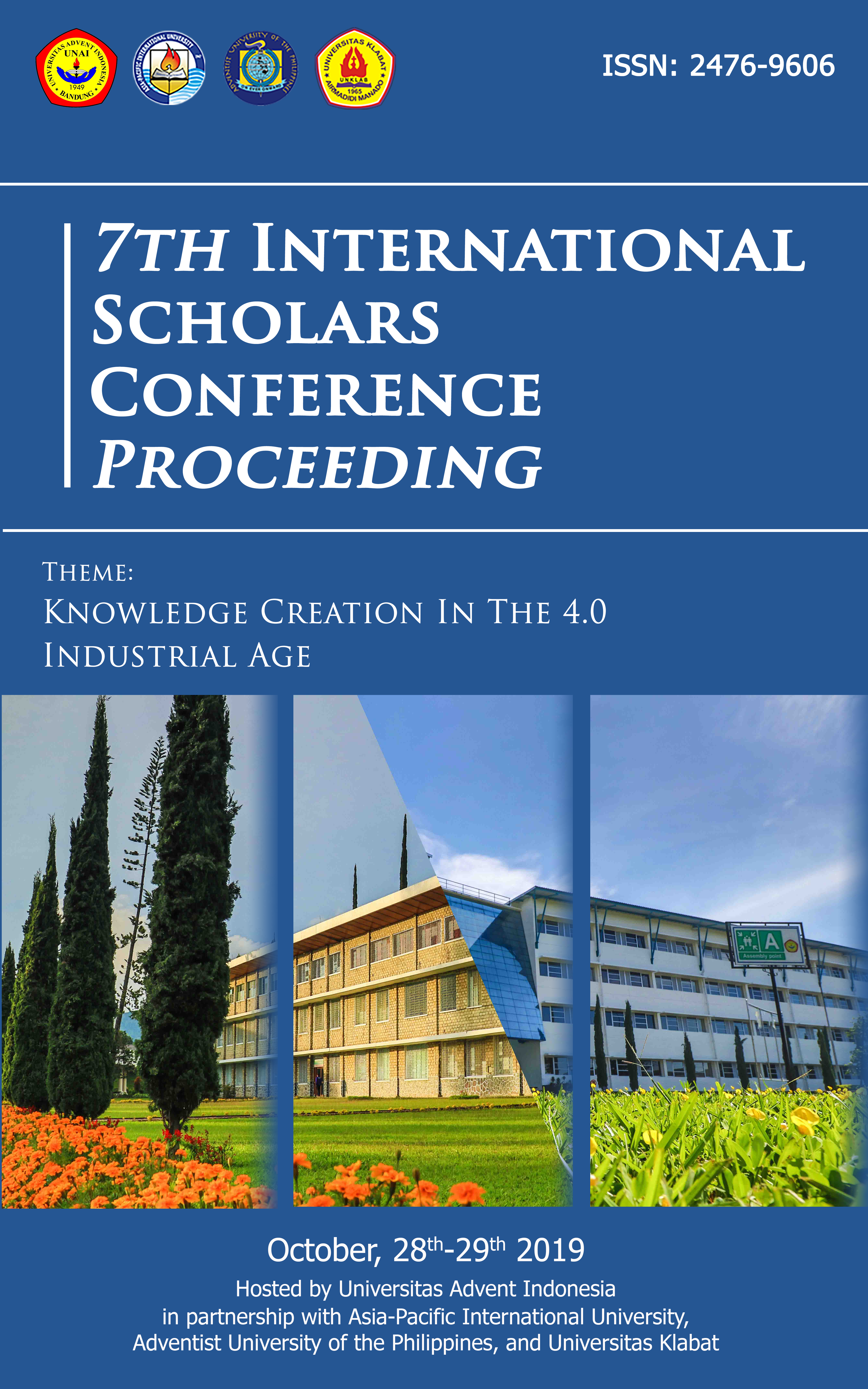 How to Cite
situmeang, doli, Girsang, R., & Sulastri, T. (2019). The Influence Of Cow Urine Fertilizer, Leaf Bokashi, And AB Mix For The Growth Of Water Spinach Plant (Ipomoea Reptans Var.Poir) With The DFT (Deep Flow Technique) Hydroponic System At Adventist University Of Indonesia. Abstract Proceedings International Scholars Conference, 7(1), 1879-7894. https://doi.org/10.35974/isc.v7i1.1981
Copyright (c) 2019 Abstract Proceedings International Scholars Conference
This work is licensed under a Creative Commons Attribution-ShareAlike 4.0 International License.
Copyright © 2019 ISC Committee.