Comparison of Cow Urine Bokashi, Green Bokashi and Chemical Fertilizer on Growth Of Pakcoy (Brassica Rapa L. Subsp. Chinensis) Utilizing Deep Flow Technique Hydrophonic
Titin Sulastri

Fitri Kamelia Simbolon

Doli Situmeang

Marvel Reuben Suwiton

Universitas Advent Indonesia
Keywords:
hydroponics, green bokashi, cow urine bokashi
Abstract
Hydroponic is a known technique in agriculture, using water instead of soil as growingmedia, where specific fertilizer were constinously added. Generally, chemical fertilizer wereused in hydrophonic system, i.e. AB mix fertilizer, a combination of several fertilizer, whichcertainly costly. This research aim to find alternative fertilizer for hydrophonic where growthof the plants/crops is maintained. Two possible fertilizer easily found nearby UNAI campuswere cow urine, and discarded parts of green vegetables. Fermentation of these urine andgreen compost were the main role to produce appropriate fertilizer, known as bokashi.Pakcoy (Brassica rapa L. var. Chinensis) seedling were used from its ready for planting time(approx. 4 days) in rockwool. Hydroponics system utilizing Deep Flow Technique (DFT), Ashape model. Data of pakcoy growth including height of the plants, leaves width and rootlength were measured every week up to 5 weeks. Data were analyzed using Analysis ofVariance (ANOVA) and continued with Duncan Multiple Range Test. The result showedthat, on plants height, each fertilizer was differing each other, where AB mix is higher withaverage 22.71 cm, followed by green bokashi 18.74 cm, and cow urine bokashi 16.38 cm. Onleaves width, AB mix is greater with average 9.22 cm, followed by green bokashi 8.03 cmand cow urine bokashi 7.00 cm. Analysis on root length, AB mix is higher with average49.76 cm, followed with green bokashi 21.33 cm, and cow urine bokashi 21.21 cm. Thisresearch concludes that green bokashi and cow urine bokashi could be use as alternativefertilizer in hydroponics system, although AB mix gives higher growth.
Downloads
Download data is not yet available.
References
Affandi, (2008). Pemanfaatan Urine Sapi yang Difermentasi sebagai Nutrisi Tanaman. Yogyakarta: Andi Offset.
Agustina, (2004). Dasar Nutrisi Tanaman. Jakarta: Rineka Cipta
Chadirin, Y. (2007). Teknologi Greenhouse dan Hidroponik. Diktat Kuliah. Departement Teknik Pertanian. IPB.
Djuarnani, N., Kristian, B., & Setiawan. (2005). Cara Cepat Membuat Kompos. Agromedia Pustaka.
Hamli, F (2015). Respon Pertumbuhan Tanaman Sawi (Brassica Juncea L.) Secara
Hidroponik Terhadap Komposisi Media Tanam Dan Konsentrasi Pupuk Organik Cair
Indriani, L. (2006). Membuat Kompos Secara Kilat. Jakarta: Penebar swadaya.
Mappanganro N., Sengin E L., & Baharuddin. (2011). Pertumbuhan Dan Produksi Tanaman Stroberi Pada Berbagai Jenis Dan Konsentrasi Pupuk Organik Cair Dan Urine Sapi Dengan Sistem Hidroponik Irigasi Tetes. Fakultas Pertanian Universitas Hasanuddin
Putra, R.M. (2018). Budidaya Tanaman Hidroponik Dft Pada Tiga Kondisi Nutrisi Yang Berbeda.
Rizal S. 2017. Pengaruh Nutriasi Yang Diberikan Terhadap Pertumbuhan Tanaman Sawi Pakcoy (Brassica Rapa L.) Yang Ditanam Secara Hidroponik.
Silvina, F. dan Syafrinal. 2008. Penggunaan Berbagai Medium Tanam dan Konsentrasi Pupuk Organik Cair pada Pertumbuhan dan Produksi Mentimun Jepang (Cucumis sativus) secara Hidroponik. J. Sagu. 7(1), 7-12.
Subadiyasa, (1997). Teknologi Efektive Mikroorganisme (EM4) Potensi dan Prospeknya Di Indonesia, makalah seminar Nasional Organik yang diselenggarakan di Hotel Atlit Century Park, Jakarta.
Suparman. U. A. Supandi & A. Sudirman. (1990). Pengaruh Beberapa Jenis Pupuk Kandang Terhadap Pertumbuhan Empat Varietas Lada Balittrto. Pertanain Littri. VIII
Susanto, R. 2002. Penerapan Pertanian Organik. Yogyakarta:Kanisius.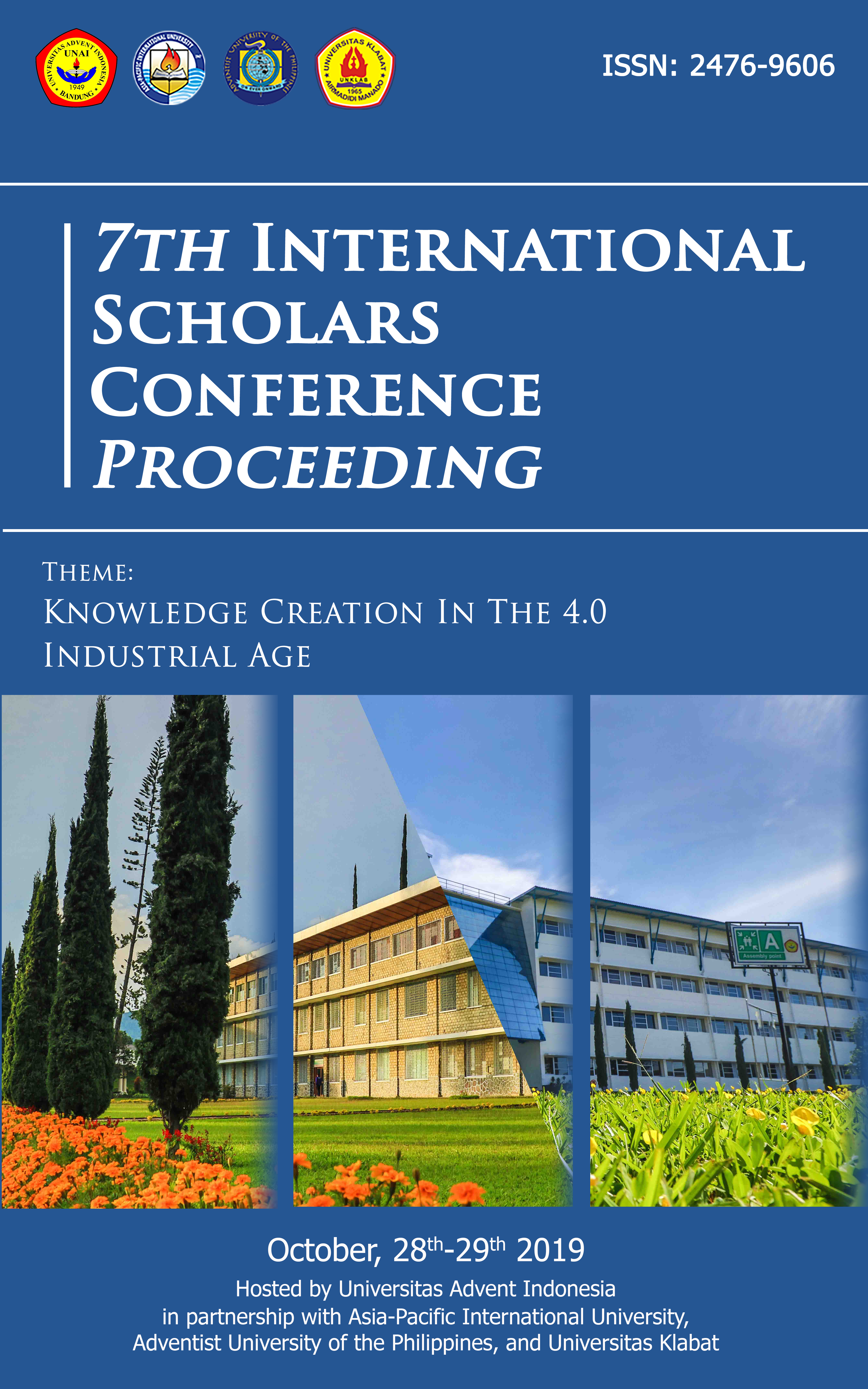 How to Cite
Sulastri, T., Simbolon, F., Situmeang, D., & Suwiton, M. (2019). Comparison of Cow Urine Bokashi, Green Bokashi and Chemical Fertilizer on Growth Of Pakcoy (Brassica Rapa L. Subsp. Chinensis) Utilizing Deep Flow Technique Hydrophonic. Abstract Proceedings International Scholars Conference, 7(1), 1895-1900. https://doi.org/10.35974/isc.v7i1.1992
Copyright (c) 2019 Abstract Proceedings International Scholars Conference
This work is licensed under a Creative Commons Attribution-ShareAlike 4.0 International License.
Copyright © 2019 ISC Committee.