In House Training In Nursing On Knowledge of Chemical Phlebitis In Giving Intravena Therapy
Ernawaty Siagian

Fakultas Ilmu KeperawatanUniversitas Advent Indonesia
Keywords:
Chemical plebitis, In house training, Intravenous therapy
Abstract
Intravenous therapy is the provision of access that aims to provide fluid, electrolytes, nutritionand medication administration. The causes of chemical phlebitis are drugs that have acidic andalkaline pH, hypertonic infusion fluids and droplets that are too fast. The purpose of this studywas to determine nurses' knowledge about intravenous therapy with the incidence of phlebitis.Pre-experimental descriptive analytical research method with one group pretest-posttest designwith accidental sampling technique approach involving 89 nurses with career paths includingPKI – PK IV. The variables studied were to find out the knowledge of nurses about phlebitisin administering intravenous therapy at the Bandar Lampung Advent Hospital. With the pretestand posttest questionnaire. Statistical test using Paired T-test. The results obtained before theseminar on PK I were 8.7 (80%) and after the seminar 9.43 (94%). The level of knowledgebefore the seminar on PK II was 7.92 (79%) and after the seminar 9.74 (97%). In PK III beforethe seminar the value was 7.97 (79%) and after the seminar 9.23 (92%). Whereas in PK IVbefore the seminar value 8.2 (83%) and after the seminar 9.47 (94%). The Paired T-test resultshave a significant difference between the knowledge of nurses before and after the seminar onIV PK I-PK with a p-value of 0.000 <0.05. Advice that nurses increase knowledge aboutintravena therapy and the causes of chemical phlebitis so that it can improve the quality ofservice.
Downloads
Download data is not yet available.
References
Alexander, M., Corrigan, A., Gorski, L., Hankins, J., & Perucca, R. (2010) .Infusion nursing: An evidence based approach,3nded. St. Louis: Saunders Elsevier. Darmawan (2010) Terapi Cairan Parenteral Majalah Farmacia Artikel, Edisi April, Vol. 6 No. 9.
Dougherty, L.,Bravery, K., Gabriel, J., Kayley, J., Malster, M., Scales, K., & Inwood, S.(2010). Standards for Infusion Therapy: The RCN IV therapy forum. diperoleh dari jurnal keperawatan Indonesia, Vol. 16, No.2, Juli 2013.
Higginson, R. & Parry, A (2011). Phlebitis: Treatment, care and prevention. Nursing Times, ,07(36), 18-21.
Hidayat, A.(2009). Metode penelitian keperawatan dan teknik analisis data. Jakarta: PT. Salemba Medika.
https:com/files/image/skorind.jpg.Daugherty (2008).diakses pada tanggal 18 oktober 2017.
Kozier, B., Erb, G., Berman, A., & Synder, S.J. (2010).Buku ajar fundamental keperawatan: konsep, proses, &dan pralktik. (E. Wahyuningsih, D. Yulianti, Y. Yuningsih, & A. Lusyana, Penerjemah). Jakarta: EGC.
Notoatmodjo. (2015). Ilmu Perilaku Kesehatan. Jakarta: Rineka Cipta.
Price. S. A. (2006). Patofisiologi: Konsep Klinis Proses-proses Penyakit Edisi 6 Volume 2. Alih Bahasa: Jakarta: EGC.
Potter, P. A. & Perry, A.G. (2009).Fundamental Keperawatan buku 2 edisi 7.(A. Federika, Penerjemah). Jakarta: Salemba Medika.
Siagian, In House Training…
Robert .G.Caroll. (2014). Medikal surgical nursing: Clinical management for Positive Outcomes. (dr.J. Mulayanto, dr. A. Puspita, dr. Y. Wibowo & dr. E. Sulistyoningrum, Penerjemah). Singapore: Elsevier.
Rimba Putri. (2016). Jurnal Pengaruh Lama Pemasangan Infus dengan Kejadian Plebitis pada Pasien Rawat Inap di Bangsal Penyakit Dalam dan Syaraf Rumah Sakit Nur Hidayah Bantul Yogyakarta, Yogyakarta.
Royal College of Nursing (RCN).(2005). Standard for infusion therapy. London: RCN IV Therapy Forum.
Smeltzer, S.et.al. (2002) Keperawatn medikal Bedah. Brunner & Suddarth text book.
Uslusoy, E., & Mete, S. (2008). Predisposing factors to phlebitis in patients with peripheral intravenous catheter. Di kutip dari jurnal Hasanah, et al., Menurunkan Derajat Plebitis akibat Terapi Intravena pada Anak dengan Kompres Aloe Vera. Vol.20, No 1, Maret 2017, Pekanbaru:Pekanbaru 2017.
Wahit I Mubarak. (2015). Buku Ajar Ilmu Keperawatan Dasar. Jilid 2. Jakarta Selatan: Penerbit Salemba Medika.
Yuda.(2010) Infus Cairan Intravena (Macam-macam Cairan Intravena). Diakses 11 Oktober 2017: http://dokteryudabedah.com/infus-cairan-intravena macam-macam-cairan-infus/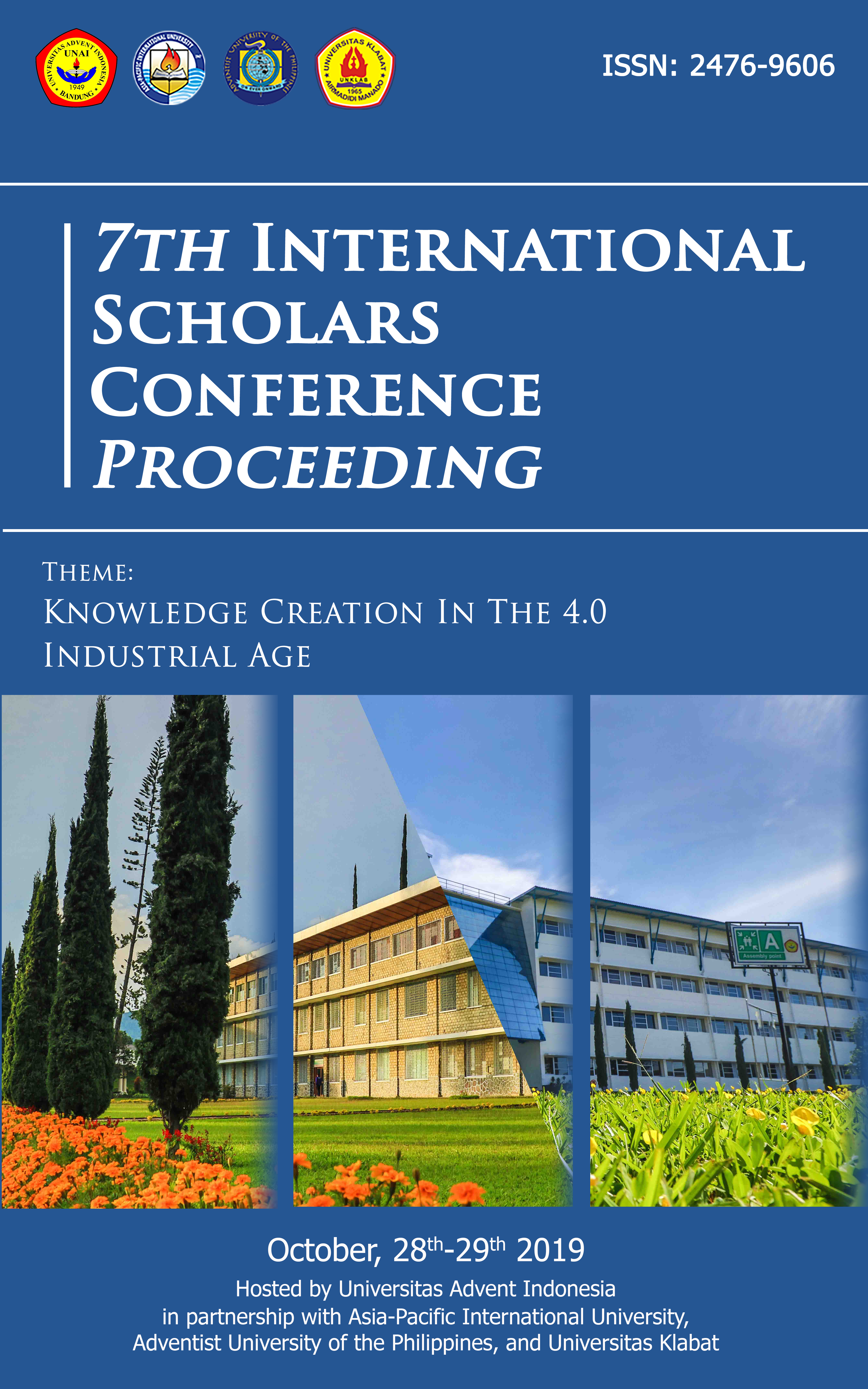 How to Cite
Siagian, E. (2019). In House Training In Nursing On Knowledge of Chemical Phlebitis In Giving Intravena Therapy. Abstract Proceedings International Scholars Conference, 7(1), 42-53. https://doi.org/10.35974/isc.v7i1.877
Copyright (c) 2019 Abstract Proceedings International Scholars Conference
This work is licensed under a Creative Commons Attribution-ShareAlike 4.0 International License.
Copyright © 2019 ISC Committee.