Relationship of Job Design, Organizational Commitment on Compensations of Physicians In A Private Hospital, Philippines
ENOCH ASUAH-DUODU

ADVENTIST UNIVERSITY OF THE PHILIPPINES

Sechelle P. Smith

Adventist University of the Philippines

Phyo Wai Lin Thein

Adventist University of the Philippines
Keywords:
Job Design, Organizational Commitment, Compensation
Abstract
The profession of a physician is one of the highly respected and challenging jobs in the world today. It is one of the fields where intelligence and hard decisions are made to save lives. This study examined the relationship between job design, organizational commitment, and compensations; if job design and organizational commitment are predictors of compensation of physicians of a private hospital in Manila, Philippines; and if there is a significant difference in compensation when physician's gender and years of service are considered. The research design was correlational using a t-test, analysis of variance (ANOVA), regression, and Pearson Correlation. Fifty hospital physicians were conveniently selected to answer a self-constructed questionnaire. The study revealed that job design and organizational commitment has a positive correlation to compensation in a health facility. Sex and years of service of the physicians do not differ on compensation. The study also revealed that attention should be given to organizational commitment. Organizational commitment predicted a positive relationship to compensation, but job design in terms of prediction, could not predict compensation though it had a positive relationship, which requires future studies to further investigate using other variables. 
Downloads
Download data is not yet available.
References
Armstrong, M. (2013) How to manage people. London: Kogan Page. Retrieved from
https://www.dmu.ac.uk/documents/dmu-staff/pod/people-managementhandbook/
recruitment-and-selection/guidance/jobdesign.pdf.
Asli, K & Metin, K. (2018) The Relationship between Organizational Commitment and Work
Performance: a Case of Industrial Enterprises. Journal of Economic and Social
Development (JESD), 5(1)
Batang, M., D. (2015). The Doctor's Salary in the Philippines. Retrieved from:
https://batangmd.wordpress.com/2015/01/22/the-doctors-salary-in-the-philippines/.
Bathi, R., S.(2015) The Impact of Motivation on performance Finding From Karachi Based
Service Organizations, IJSM 2(1),11-20.
Bhim, C. (2018 ) Job Design: Process, Benefits or Objectives, Methods in HRM. Re-trieved
from: https://www.wisenepali.com/2016/02/job-design-process-benefits-or.html.
Carnegie, D. (n.d) What Do Candidates Look For In A Job? Retrieved from
Http://Www.Whatishumanresource.Com.
Chand, S. (n.d) Job Design: Top 3 Factors Affecting Job Design. Retrieved from
http://www.yourarticlelibrary.com/human-resources/job-design-top-3-factorsaffecting-
job-design-explained/35251.
DeVaro, J. (2010). A theoretical analysis of relational job design and compensation. Journal
of organizational behavior.
Doximity (2018). U.S. Physician Employment Report. Retrieved from:
https://s3.amazonaws.com/s3.doximity.com/press/2018_US_physician_employment
_report.pdf.
Essays, UK. (2013). Impact of Job Design on the performance of employees. Essay on
business, Retrieved from https: //www.uniassignment.com/essaysamples/
business/impact-of-job-design-on-employee-performance-businessessay.
php?vref=1.
Ezeuduji, I., O. & Mbane T., l. (2017) Length of Service versus Employee Retention
Factors: Hotels in South Africa, cape town. Retrieved from
file:///C:/Users/Home/Desktop/RESEARCH%20ON%20LENGTH%20OF%20SER
VICE.pdf.
Farrukh, M., Chong, W., Y., Mansori, S., & Ramzani, S., R. (2017). Intrapreneurial Behavior:
The role of organizational commitment: World J. Entrepreneurship manage,
sustainable13: 243-256.
Gul, Z. (2017). Impact on Organizational Development of employee commitment, FWU,
Social Science Journal, 9(2) 117-124.
Hafiz A., Z(2017), Relationship between organizational commitment and performance
evidence of employees from Lahore's banking sector, Arabian Journal of Busi-ness
and Management Review,1(2) 3-7
Hameed, A., Ramzan, M., Zubair, H., M., K., Ali, G., & Arslan, M. (2014) Empirical
evidence from Pakistan's banking sector: Impact of Compensation on Employee
Performance. Retrieved from
http://ijbssnet.com/journals/Vol_5_No_2_February_2014/34.pdf.
Henry, T., A.(2019) 5 tips to succeed with remote patient monitoring. Retrieved from:
https://www.ama-assn.org/practice-management/digital/5-tips-succeed-remotepatient-
monitoring.
Hidayah, T., Sulianti, D., & Tobing, K. (2018). The Influence of Job Satisfaction, Motivation,
And Organizational Commitment To Employee Performance. Retrieved from
file:///C:/Users/Home/Documents/JOB%20SATISFACTION.pdf.
Joy, M., M.(2015) Job design - compensation management. Retrieved from
https://www.slideshare.net/manumelwin/job-design-compensation-managementmanu-
melwin-joy.
Kappel M. (2018) What Is Compensation? Retrieved from
https://www.patriotsoftware.com/payroll/training/blog/what-is-compensation.
Khan, I. (2014), The Impact of Academic Work at Higher Education Institutions (HEIs) in
Pakistan on Organizational Commitment Against Switching.
Kreitner. (2014). Motivating Employees Through Job Design. Retrieved from
https://www.inkling.com/read/organizational-behavior-kreitner-kinicki-
th/chapter-8/motivating-employees-through.
Leonardia, J., A, Prytherch., H., Ronquillo., K., Nodora, B., G. & Ruppel, A.(2012).
Assessment of variables affecting retention in the Philippine National Deploy-ment
Program for Rural Physicians. Retrieved from:
https://bmchealthservres.biomedcentral.com/articles/10.1186/1472-6963-12-411.
Lojomac (2014) Motivating Employees through Job Design. Retrieved from
https://lojomac1989.wordpress.com/2014/02/17/motivating-employees-through-jobdesign/.
Lussier, R., N., & Hendon, J., R. (2017). Fundamentals Of Human Resource Manage-ment:
Functions, Applications, Skill Development: California: Sage.
MaRS(2015) Salary, benefits, and incentives: Key components of your employee compensation
strategy. Retrieved from: https://www.marsdd.com/mars-library/salarybenefits-
and-incentives-key-components-of-your-employee-compensation-strategy.
MaRS(2019) Talent management: Compensation issues and your employees. Retrieved from
https://www.marsdd.com/mars-library/talent-management-compensation-issuesyour-
employees.
Mindtools(2018) The Three Component Model of Commitment: Improving Commitment
and Engagement. Retrieved from: https://www.mindtools.com/pages/article/threecomponent-
model-commitment.htm.
Moldogaziev, T., T, & Silvia, C. (2015). Fostering effective organizational commitment in
public sector agencies: The significance of multifaceted leadership roles." Public
Administration 93 (3):557-575.
Moriarty, J.(2014) Compensation Ethics and Organizational Commitment. Retrieved from
https://www.cambridge.org/core/journals/business-ethics
quarterly/article/compensation-ethics-and-organizationalcommitment/
A453366E268A2F3856D4FA96AD22C.
Mousa, M. (2017) Responsible leadership and organizational commitment among doc-tors:
Can the relationship be enhanced by inclusive diversity climate? Retrieved from
https://www.researchgate.net/publication/321833089_Responsible_Leadership_and
_Organizational_Commitment_among_Physicians_Can_Inclusive_Diversity_Clima
te_Enhance_the_Relationship.
Muhammed, I. (2016) Job Satisfaction and Employee Performance: An Empirical Approach,
The Millennium-Journal 1(1) 90-99, 2016.
Nawab, S., & Bhatti, K., K. (2011), Influence of Organizational Commitment on em-ployee
compensation and Job Satisfaction: A Case Study of Educational Sector of Pakistan,
COMSATS Institute of Information Technology, Pakistan. Re-trieved from
http://www.ijbssnet.com/journals/Vol._2_No._8%3B_May_2011/3.pdf.
Orentlicher, D. (2018). The Physician's duty to Treat During Pandemics. Retrieved from:
https://ajph.aphapublications.org/doi/abs/10.2105/AJPH.2018.304582.
Oyinlade, O. (2018) Job Structure Relationships with Affective Organizational commitment.
Human Resources Management and Labor Studies journal.2(2). 1-10.
Parker, S., K. (2014). Over and above motivation: Development job and work design, health,
ambidexterity, and more. Annual psychological review, 65(1). 661-691.
Rahaman, S., Abdul, M., & Rahman, M., M. (2016) on Organizational engagement:do the
compensation and benefits of staff matter? Retrieved from:
https://www.researchgate.net/publication/309269532_Organizational_Commitment
_Do_Employees'_Compensations_and_Benefits_Matter.
Riscall, D., A., Lalu Suparman, L., & Nurmayanti, S. (2018) The Effect of Job Design and
compensation Mediation on The Influence Of Leadership to Employee Performance
Study on Planning Officer / Program Skpd of Mataram City. In-ternational journal for innovation in the field of multidisciplinary studies. Re-trieved from:
Http://Www.Ijirmf.Com/Wp-Content/Uploads/201805008.Pdf.
Russo, G. (2016) Job Design and Skill Developments in the Workplace. Retrieved from
http://ftp.iza.org/dp10207.pdf.
Sheridenlaw (2016) Suing the NHS: Medical negligence compensation. Retrieved from
http://www.sheridanlaw.co.uk/clinical-negligence-overview.htm.
Silaban N., Yanuar, T.,& Syah, R. (2018) The Compensation Influence and organiza-tional
commitment to the Intention to Turnover of Employees. IOSR Journal of Business
and Management (IOSR-JBM). 20(3). 1-10.
Sung, J., & Ashton, D., N. (2015). Competencies in the company. The role of business
strategy, development of sectoral abilities and politics. Thousand Oakes, Sage.
Thomas, S.(2017) Incentives/Bonuses, Pay For Performance. Retrieved from:
Https://Www.Compensationcafe.Com/2017/11/Performance-Pay-And-Job-
Design.Html.
Tsounis, A., Sarafis, P., &, Bamidis P., D. (2014) Motivation among Physicians in Greek
Public Health-Care Sector. Retrieved from
https://www.researchgate.net/publication/258437171_Motivation_among_Physician
s_in_Greek_Public_Health-Care_Sector.
Umoh, G., I., Amah, E, & Wokocha, I., H. (2014). Employee benefits and Continuance
commitment to the Nigerian Manufacturing Industry. IOSR. J. Bus. Manage., 16: 69-
WHB (2017) HRT: Benefits and risks. Retrieved from https://www.womens-healthconcern.
org/help-and-advice/factsheets/hrt-know-benefits-risks/.
WLTW (2017). Philippines salary increases slowing down, bonuses slightly up –Willis
Towers Watson survey. Retrieved from
https://www.willistowerswatson.com/en/press/2017/03/philippines-salary-increasesslowing-
down-bonuses-slightly-up.
Yahaya, R., & Ebrahim, F. (2016). organizational commitment and Leadership styles:
literature review, J. Manage, Dev., 35, 190-216.
ZeePedia. (2014). Production Operations Management: Design of Work Systems Job Design,
Specialization, Methods Analysis, Retrieved from
http://www.zeepedia.com/read.php?design_of_work_systems_job_design_specializ
a-tion_methods_analysis_production_operations_management&b=55&c=21.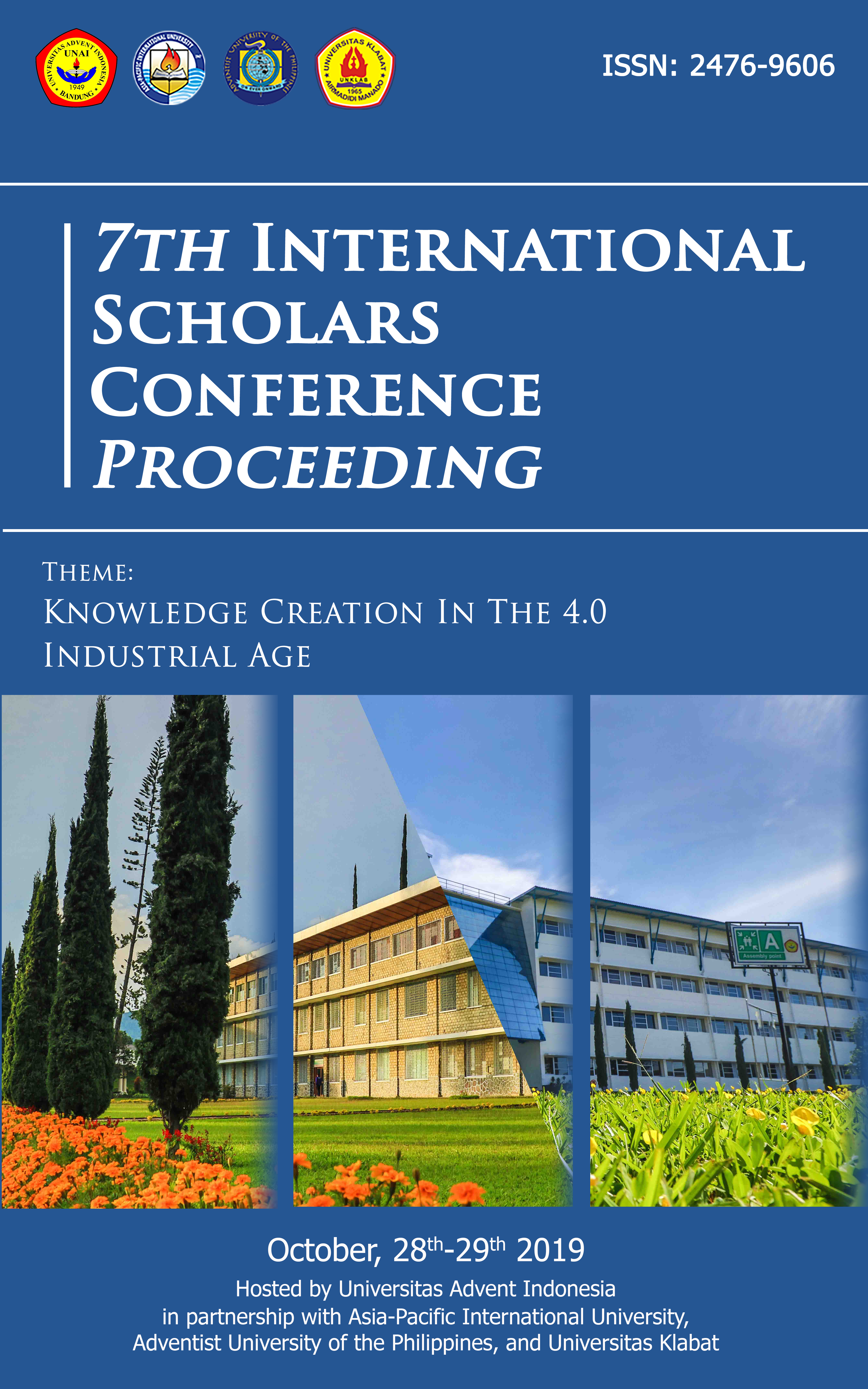 How to Cite
ASUAH-DUODU, E., Smith, S., & Lin Thein, P. (2019). Relationship of Job Design, Organizational Commitment on Compensations of Physicians In A Private Hospital, Philippines. Abstract Proceedings International Scholars Conference, 7(1), 1067-1086. https://doi.org/10.35974/isc.v7i1.956
Section
Business & Governance
Copyright (c) 2019 Abstract Proceedings International Scholars Conference
This work is licensed under a Creative Commons Attribution-ShareAlike 4.0 International License.
Copyright © 2019 ISC Committee.