The Difference Between Ghana Cocoa Farmers' Personal Profile on their Financial Sustainability
WILLIAMS KWASI PEPRAH

VALLEY VIEW UNIVERSITY

Ruben T. Carpizo

Adventist University of the Philippines

Enoch Asuah-Duodu

ADVENTIST UNIVERSITY OF THE PHILIPPINES
Keywords:
Financial Sustainability, Financial Viability, Financial Self-Sufficiency, Financial Impact, Cocoa Farmer
Abstract
In pursuing their enterprises, cocoa farmers now need financial sustainability. This research focuses on financial sustainability because it is linked to the accessibility of agricultural funding and the effect on society for current and future generations in order to guarantee a sustainable livelihood. This study considers the personal profiles of cocoa farmers, which are sex, education level, number of dependents, and farm sizes. The cocoa farmers profile has a divergent view on their financial sustainability. The study is quantitative research andcorrelational design research. The sample population of 1,000 Cocoa farmers was conveniently sampled from the six cocoa-growing regions of Ghana as respondents. The study used selfconstructed questionnaires to measure financial sustainability, which had sub-variables of financial viability, financial self-sufficiency, and financial impact. The statistical analysis for the differences was computed by using SPSS 23 with T'Test and ANOVA. The results of the study revealed that there was no significant difference in a number of dependents and educational level of cocoa farmers on their financial sustainability. Also, farm size and sex proofed to have a significant difference in the financial sustainability of the cocoa farmer. Large farm size indicated a major difference in financial sustainability as compared to small farm size. Male cocoa farmers were better than the female cocoa farmers on their financialsustainability. The dominance of males in cocoa farming in Ghana makes them consider the financial sustainability of the cocoa farming venture more than females. This is because they are mainly supporting the livelihood of their families. Farm Size as a determinant of financialsustainability is evident by the yield larger farm size can give a cocoa farmer. The study recommends that in order to attain financial sustainability for the cocoa farmer, the farm size and sex must be considered. 
Downloads
Download data is not yet available.
References
Abas, M. S. (2016). Factors influencing self-reliance in rice production, the case of small
farmers in Bataan, Philippines. International Journal of Agricultural Technology,
(1), 41-53.
Adhiana, Z., & Maida, E. (2018). Analysis of Factors Affecting the Poverty Level of Farmers
Post-Tsunami in Aceh. In Proceedings of MICoMS 2017 (pp. 309-315). Emerald
Publishing Limited.
Akoto, G. O., Appiah, K. O., & Turkson, J. K. (2017). Financial literacy of cocoa farmers in
Ghana. International Journal for Accounting & Finance, 7(1).
DOI:10.1504/IJAF.2017.083928.
Akudugu, M. A. (2016). Agricultural productivity, credit and farm size nexus in Africa: A case
study of Ghana. Agricultural Finance Review, 76(2), 288-308.
Asamoah, M., & Owusu-Ansah, F. (2017). Report on land tenure and cocoa production in
Ghana. Retrieved from: http://www.worldcocoafoundation.org/wpcontent/
uploads/files_mf/1492612620CRIGLandTenureSurveyFinal41217.pdf.
Ashley, S., & Faulk, L. (2010). Nonprofit competition in the grants marketplace: exploring the
relationship between nonprofit financial ratios and grant amount. Nonprofit
Management & Leadership, 21(1): 43–57.
Asumah, S. Y., Adu-Tutu, F., Dankwa, B., & Amponsah, L. (2013). Attitude towards
sustainable agriculture: a survey of agricultural science students in Sunyani
Polytechnic, Ghana. International Journal of Innovation Research Management,
(2), 29-40.
Beg, K. (2016). Determinants of financial self sufficiency of andhra pradesh microfinance
institutions. Journal of Business and Finance Affairs. DOI.10.41721267-
1000209.
Bowman, W. (2011). Financial capacity and sustainability for ordinary nonprofit. Nonprofit
Management and Leadership, 22 (1), 37–51. DOI:10.1002/nml.20039
Burns, J. (2016). Economic self-reliance: building bullet proof wealth. Retrieved from
http://www.jblife.com/2016/07/economic-self-reliance-building-bullet-proofwealth/.
Cocoa Initiative (2017). Cocoa farmers in Ghana experience poverty and economic
vulnerability — Retreived from: https://cocoainitiative.org/news-media-post/cocoafarmers-
in-ghana-experience-poverty-and-economic-vulnerability/.
Cooke, E., Hague, S., & Makay, A. (2016). The Ghana poverty and inequality report. Retreived
from: https://www.unicef.org/ghana/Ghana_Poverty_and_Inequality_Analysis_FIN
AL_Match_2016(1).pdf.
da Silva, M. H. F., & Filipe, J. A. (2013). The main Portuguese SAD᾿s comparative study
between the economic and financial viability and the success of their sports clubs.
International Journal of latest trends in Finance and Economic Sciences 3(2): 486–
Djokoto, J. G., Afrane-Arthur, A. A., and Badu-Prah, C. (2015). Adoption of fair-trade
practices by cocoa producers in Eastern Ghana. Central Inquiry 1(1), 11–26.
Fitch, K., Jorgensen, E., Riart, N., & Vandenberg, H. (2014). Increasing Self-Sufficiency in
Agriculture with Hydroponics. Bangkok: Worcester Polytechnic Institute.
Ford. (2012). The global mobility through changing times. Retrieved from:
http://corporate.ford.com/doc/corpgov_sustainability_committee_charter.pdf
Ghana Statistical Service. (2018). Rebased Quarterly Gross Domestic Quarterly Gross
Domestic Product (Product 2009-2016 2013Q1-2018Q2). Retrieved from:
http://www.statsghana.gov.gh/docfiles/GDP/GDP2018/Rebased%202013Q1%20to
%202018Q1%20and%20Provisional%202018Q2%20Quarterly%20GDP/Rebased%
GDP%20quarterly%20bullettin_October%202018%20edition.pdf.
Hayes, L. (2013). Financial viability and sustainability. Corporate Synergies Australia Pty Ltd.
Hira, T. K. (2016). Finance sustainability and personal finance education. Switzerland:
Springer International Publication. DOI 10.1007/978-3-319-28887-1_29.
Koleda, N., Lace, N. & Oganisyan, K., Kaliev, G. G. (2013). Business Entrepreneurs'
Financial Expertise in Financial Stability Management. Riga: RTU Publishing
House, p. 107.
Kuhlman, T., & Farrington, J. (2010). What is sustainability? Sustainability Journal, 2, 3436 -
doi: 10.3390/su2113436.
Larnyoh, M. T. (2018). 2.8 millio Ghanaians are living in extreme poverty. – report. Retrivied
from: https://www.pulse.com.gh/ece-frontpage/world-poverty-clock-28-millionghanaians-
are-living-in-extreme-poverty-report/7f1eemx.
Leon, P. (2001). Four pillars of financial sustainability. Virginia: International Publications
Program, the Nature Conservancy.
Manes Rossi, F., Brusca, I., & Aversano, N. (2018). Financial sustainability as a driver for
transparency and E-Democracy: A comparative study in Italian and Spanish local
governments. International Journal of Public Administration, 41(1), 22-33.
Molela, G. F. (2016). Capital markets financing for agricultural business development in
Tanzania; A case of cocoa farming in Kyela and Rungwe Districts. The Journal of
Entrepreneurial Finance, 18(1), 1-15.
Nyirenda, V., Nkhata, B., Tembo, O., & Siamundele, S. (2018). Elephant Crop Damage:
Subsistence Farmers' Social Vulnerability, Livelihood Sustainability and Elephant
Conservation. Sustainability, 10(10), 3572.
Obuobisa-Darko, E. (2015). Credit access and adoption of cocoa research innovations in
Ghana. Research on Humanities and Social Sciences, 5(12), 16-29.
One Acre Fund. (2017). Financial Sustainability 2.0: A means to an end. Retrieved from:
https://oneacrefund.org/documents/273/Financial_Sustainability_One_Acre_Fund.p
df.
Osei, B. (2018). Women in cocoa production bemoan lack of credit. Retrieved from:
https://citibusinessnews.com/index.php/2018/09/30/women-in-cocoa-productionbemoan-
lack-of-credit-audio-report/.
Page, G., & Bellotti, B. (2015). Farmers value on-farm ecosystem services as important, but
what are the impediments to participation in PES schemes?. Science of the Total
Environment, 515, 12-19.
Perrini, F. & Vurro, C. (2013). Stakeholder orientation and corporate reputation: A quantitative
study on US companies. Emerging Issues in Management, 1: 1–13.
Samberg, L. H., Gerber, J. S., Ramnkutty, N., Herrero, M., & West, P.C. (2016). Subnational
distribution of average farm size and smallholder contributions to global food
production. Environmental Research Letters, 124010. doi:10.1088/1748-
/11/12/124010.
Seibel, H. D. (2000). IFAD rural finance policy, working paper. University of Cologne,
Development Research Center, No. 2000, 6.
Serido, J., & Deenanth, V. (2016). Financial parenting: promoting financial self-reliance of
young consumers. Springer International Publishing. DOI.10.1007/978-3-319-
-1.
TEEB. (2015). TEEB for Agriculture & Food: an interim report, United Nations Environment
Programme, Geneva, Switzerland.
Utaranakorn, P., & Yasunobu, K. (2016). Rice farmers' attitudes toward farm management in
Northeatern Thailand. Journal of Agricultural Science, 8(8), 21-31;
doi:10.5539/jas.v8n8p21.
Watling, A., & Zhou, E. (2011). Attitudes Towards Sustainability: A quantitative study of
Sustainable Ålidhem (Dissertation). Retrieved from
http://urn.kb.se/resolve?urn=urn:nbn:se:umu:diva-45541.
Woldatlas. (2019). Top 10 Cocoa Producing Countries, Retrieved from:
https://www.worldatlas.com/articles/top-10-cocoa-producing-countries.html
World Bank. (2016). Agriculture and poverty reduction. Retrieved from:
http://web.worldbank.org/wbsite/external/extdec/extresearch/exTWDRS/0,,content
MDK:21501332~pagePK:478093~piPK:477627~theSitePK:477624,00.html
Xiao, J. J. (2013). Chapter 8: Money and happiness: Implications for investor behavior. In H.
K. Baker & V. Riccardi (Eds.), Investor behavior: The Psychology of Financial
Planning and Investing. Hoboken, NJ: Wiley.
Zietlow, J. (2012). A financial health index for achieving nonprofit financial sustainability.
Social Science Research Network, 56. http://dx.doi.org/10.2139/ssrn.2049022.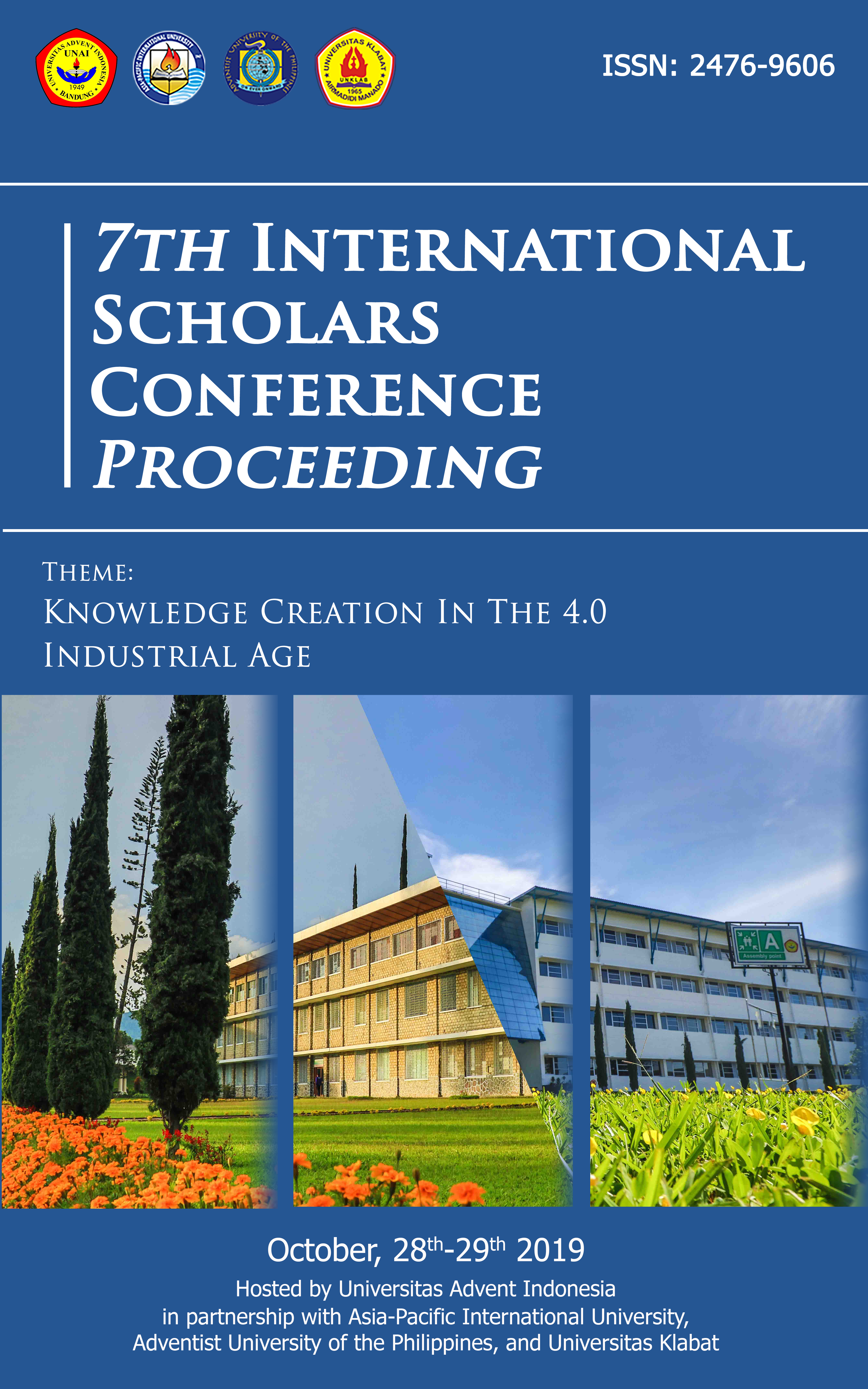 How to Cite
PEPRAH, W., Carpizo, R., & Asuah-Duodu, E. (2019). The Difference Between Ghana Cocoa Farmers' Personal Profile on their Financial Sustainability. Abstract Proceedings International Scholars Conference, 7(1), 1054-1066. https://doi.org/10.35974/isc.v7i1.953
Section
Business & Governance
Copyright (c) 2019 Abstract Proceedings International Scholars Conference
This work is licensed under a Creative Commons Attribution-ShareAlike 4.0 International License.
Copyright © 2019 ISC Committee.