PENINGKATAN STATUS GIZI PADA SISWA SMP MARDI YUANA RANGKASBITUNG
Kata Kunci:
libraries, publishing, research services
Abstrak
ABSTRAK
Pendahuluan: pencegahan obesitas perlu dilakukan sejak dini karena kelebihan berat badan dapat menjadi obesitas pada saat usia dewasa. Tujuan: penelitian ini bertujuan untuk mengetahui hubungan antara jenis kelamin, umur, kebiasaan sarapan, kebiasaan makan fast food, kebiasaan jajan di sekolah/ngemil, pengetahuan tentang gizi, olahraga dengan peningkatan status gizi siswa di SMP Mardi Yuana Rangkasbitung. Metode: Penelitian deskriptif kuantitatif ini menggunakan pendekatan cross sectional dengan jumlah responden sebanyak 76 orang. Hasil: analisis bivariat dengan uji t-test menunjukkan hubungan yang signifikan antara variabel umur (P = 0.038) dengan peningkatan status gizi. Hasil uji multivariate dengan regresi  linier ganda menunjukkan variabel yang paling berpengaruh terhadap peningkatan status gizi adalah kebiasaan sarapan.
ABSTRACT
Introduction: Prevention of obesity needs to be done early because obesity can become obese as adult. The purpose of this study is to determine the relationship among sex, age, breakfast habits, the consumption habits fast food, habit of eating snack, knowledge, exercise  and nutritional status of the students of Junior High School (SMP) Mardi Yuana in Rangkasbitung. This descriptive quantitative study utilized cross-sectional design with 76 (seventy-six) respondents. The result of the bivariate analysis using t-test  shows a significant relationship between age ( P = 0.039) and nutritional status. The multivariate analysis using  multiple linear regression test shows that breakfast is highly correlated to the nutritional status.
Unduhan
Data unduhan belum tersedia.
Referensi
Adiposity: a four year longitudinal study. Int. J. Obes. Relat. Metab. Disord. 1998; 22(8):758-764.
Apriadji, Wied Harry. (1986). Gizi Keluarga. Jakarta: PT.Penebar Swadaya .
Brown, J.E., Isaacs, J.S., Krinke, U.B., Murtaugh, M.A., Sharbaugh, C., Atang, J., & Wooldridge, N.H. (2005), Nutrition through the Life Cycle (2nd ed.).USA : Wadsworth, Thomson Learning, Inc
Maffeis CG, Talamini G, Tato L (1998). Influence of diet, physical activity and parents' obesity on children's.
Marbun, M.R. (2002). Hubungan Konsumsi Makanan, Kebiasaan Jajan dan Pola Aktivitas Fisik dengan Status Gizi Siswa Suatu Studi di Sekolah Dasar Santa Maria Fatima Jakarta Timur Tahun 2001. Tesis. FKM-UI
Moehyi, Sjahmien (2003). Ilmu Gizi 2: Penanggulangan Gizi Buruk. Jakarta : PT Bhratara Niaga Media
Nur Ratna (2008). Faktor-faktor yang Berhubungan dengan Obesitas Berdasarkan Persen Lemak Tubuh pada Remaja di SMA Islam Nurul Fikri Depok Tahun 2008. Skripsi. FKM-UI
Nurjanah Hayati (2009). Faktor-faktor Perilaku yang Berhubungan dengan Kejadian Obesitas di Kelas 4 dan 5 SD Pembangunan Jaya Bintaro, Tangerang Selatan Tahun 2009. Skripsi.FKM-UI.
Prihatini (2006). Hubungan antara Kebiasaan jajan dan Pola Aktivitas Fisik serta Faktor-faktor lainnya dengan Kejadian Obesitas pada Siswa-siswi SDIT Darul Abidin Depok Tahun 2006. Skripsi. FKM-UI
Rahmawati (2009). Hubungan antara Aktivitas Fisik, Frekuensi Konsumsi Makanan cepat Saji (Fastfood) dan Keterpaparan Media dengan kejadian Obesitas pada Siswa SD Islam Al-Azhar 1 Jakarta Selatan Tahun 2009. Skripsi. FKM-UI.
Ratu Ayu Dewi Sartika (2011). Faktor Risiko Obesitas pada Anak 5-15 tahun di Indonesia ; Makara Kesehatan, Vol. 15, No. 1, Juni 2011: 37-43
Riskesdas (2010). Badan penelitian dan Pengembangan Kesehatan Kementerian Kesehatan RI Tahun 2010
Sediaoetama, A.D (2000). Ilmu Gizi jilid 1.Dian Rakyat. Jakarta
Siagian, Priska Cesillia (2008). Jangan Lewatkan Sarapan. (Online),
(http :www.jurnalnasional.com., diakses tanggal 05 Januari 2016, jam 10.00 WIB)
Spear. B (1996). Adolescent Growth and Development. In: Rickert VI (Ed). Adolescent Nutrition. Assessment and Management. New York: Chapman & Hall, 1-24
Spohrer, Gail CF. (1996). Community Nutrition Applying Epidemiology To Contemporarry Practice. Maryland: An Aspen Publication
Wahdini (2006). Gambaran Kejadian Obesitas serta Faktor-faktor yang berhubungan pada Anak Kelas 5 dan 6 SDIT Nurul Fikri Kelapa Dua Depok Tahun 2005. Skripsi. FKM-UI
Wenni Haristia (2012). Faktor-faktor yang Berhubungan dengan Perilaku Pencegahan Obesitas pada Siswa SMP di Kota Depok. Skripsi. FKM-UI
WHO (2000), Obesity : Preventing and Managing the Global Epidemic. WHO Technical Report Series, Geneva.
WHO (2007). BMI-for-age BOYS to 5 to 19 years (persentiles). BMI-for-age GIRLS to 19 years (percentiles)
Worthington (2000). Nutrition Trought The Life Cycle. The MacGraw-Hill International Edition: USA
in the treatment of Allergic Rhinitis. Arch Otolaryngol Head Neck Surg. ;132, 164-72
Mullol J, Maurer M, Bousquet J 2008. Sleep and Allergic Rhinitis. J Investig Allergol Clin Immunol; 18 (6). 415-9
Navarro A, Colas C, Anton E, Conde J, Davila I, Dordal MT et al 2009. Epidemiology of allergic rhinitis in allergy consultation in Spain : Alergologica-2005. J Investig Allergol Immunol ,19(2) 7-13
Pawankar R, Mori S, Ozu C, Kimura S 2011. Overview on the pathomechanisms of allergic rhinitis. Asia Pac Allergy ; 1: 157-67
Pinto JM, Jeswani S 2010. Rhinitis in the geriatric population. Allergi, asthma & clinical immunology. ; 6,1-12
Quyang Y, Virasch N, Hao P,Aubrey MT, Mukerjee N, Blerer BE, Freed BM 2000. Supression of human IL-1β, IL-2, IFN-γ, and TNF-α production by cigarette smoke extracts. J All Clin Immunol ;106:280-7
Suprihati 2005. The Prevelence of Allergic rhinitis and its relation to some risk factors among 13-14 year old students in semarang, Indonesia Otolaryngologica Indonesiana : XXXV(2); 37-70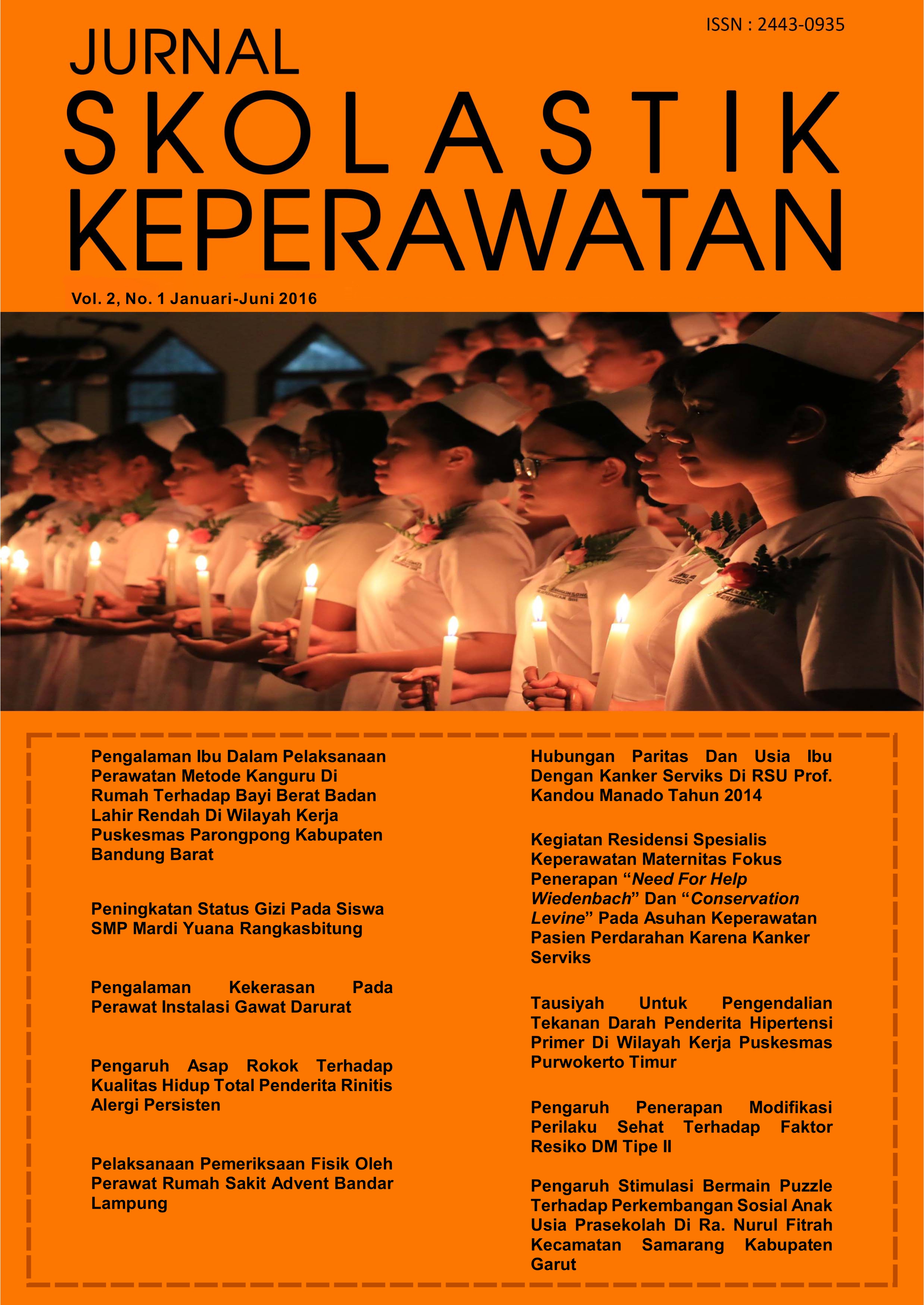 ##submission.downloads##
Cara Mengutip
Natalia Sinaga, S. E. (2016). PENINGKATAN STATUS GIZI PADA SISWA SMP MARDI YUANA RANGKASBITUNG. Jurnal Skolastik Keperawatan, 2(1), 70. https://doi.org/10.35974/jsk.v2i1.245
Lisensi
Hak Cipta (c) 2020 Sarma Eko Natalia Sinaga
Artikel ini berlisensiCreative Commons Attribution-NonCommercial-ShareAlike 4.0 International License.
Authors who publish with this journal agree to the following terms:


Authors retain copyright and grant the journal right of first publication with the work simultaneously licensed under a Creative Commons Attribution-NonCommercial-ShareAlike 4.0 International (CC BY-NC-SA 4.0) that allows others to share the work with an acknowledgment of the work's authorship and initial publication in this journal.
Authors are able to enter into separate, additional contractual arrangements for the non-exclusive distribution of the journal's published version of the work (e.g., post it to an institutional repository or publish it in a book), with an acknowledgment of its initial publication in this journal.
Authors are permitted and encouraged to post their work online (e.g., in institutional repositories or on their website) prior to and during the submission process, as it can lead to productive exchanges, as well as earlier and greater citation of published work (See The Effect of Open Access).