FACTOR ANALYSIS OF E-LEARNING USAGE
Kata Kunci:
Factor Analysis, E-Learning, Asia-Pacific International University
Abstrak
Due to the recent event, happening around the world, the E-Learning approach has continued to increase at a rapid pace at universities and institutions. However, eventhough the use of e learning has grown and the e-learning progress is high and give strategic positioning, the question remain is that how the current user look at the usage of e-learning in their learning process. There are still many challenges in E-learning implementation and process  The study use factor analysis method using SPSS in this study, Descriptive statistic, factor analysis, KMO & Bartlett's test, rotated component factor are utilized in this study to have test battery outcome. The study uses 23 sample from Asia-Pacific International University in Thailand. With respondend from Indonesian students and lecturer. The results shows that factors in the analysis of e-learning usage at Asia-Pacific International University. The following are factors the approval of respondent of the e-learning usage in the university that helped them: System Visibility, Material Relevance and Depth using E-Learning, Support Class Learning, and System Connectivity, Help Option & Documentation, System Design, Appearance & Color, Error & Shortcut & System Repair Guide. These factors is the result of the study that was divided in three components they are   "System Support," "System Design," and  "System Repair." Thus, the features shown in the results such as system support, system design and system repair can help management in maintaining and enhancing e-learning program.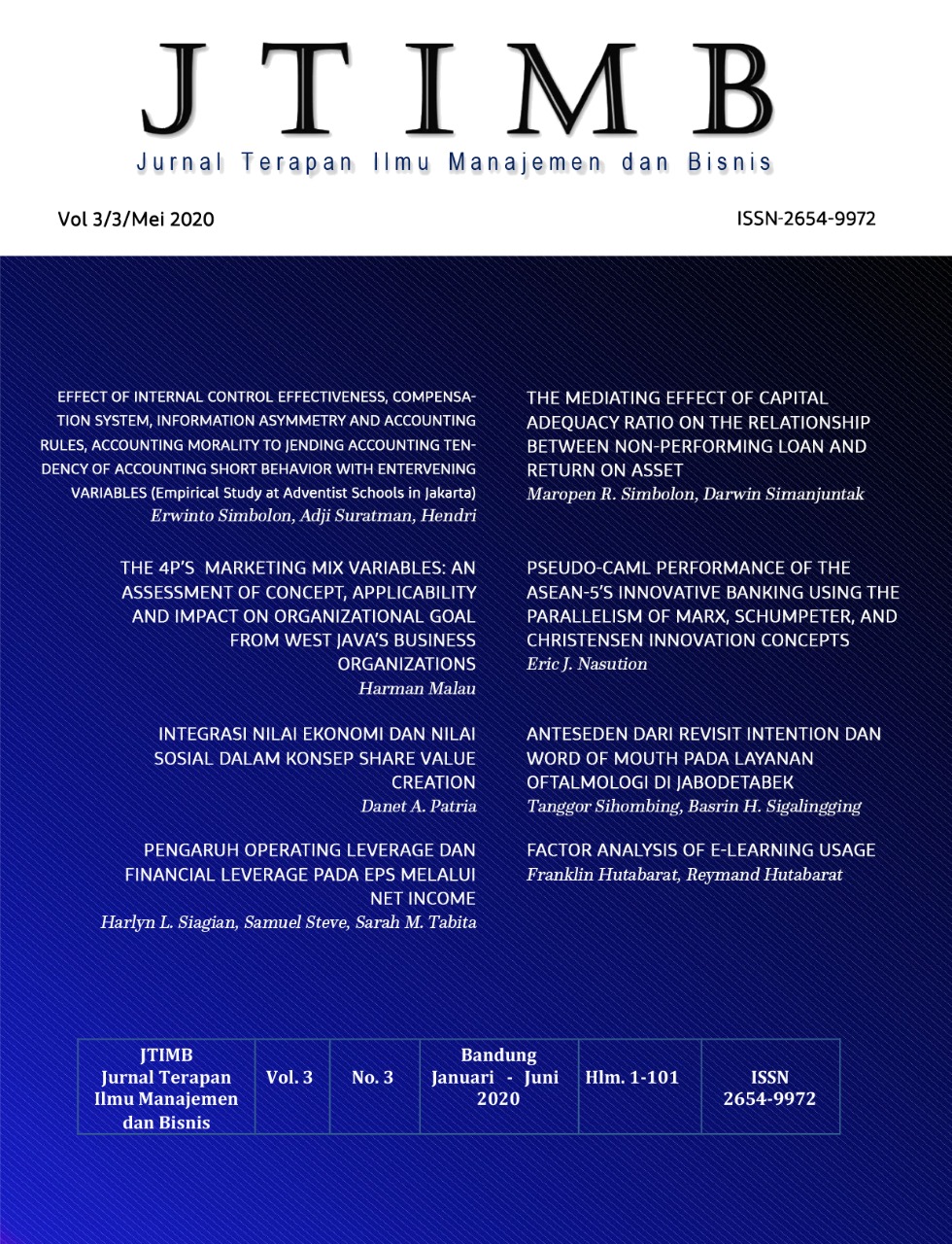 ##submission.downloads##
Cara Mengutip
Hutabarat, F., & Hutabarat, R. (2020). FACTOR ANALYSIS OF E-LEARNING USAGE. Jurnal Terapan Ilmu Manajemen Dan Bisnis (JTIMB), 3(1), 37-46. Diambil dari https://jurnal.unai.edu/index.php/jtimb/article/view/2303