ANALISA KEHIDUPAN SARA: PRIBADI DAN SPIRITUAL
Abstract
Sarai (or Sara) is the wife of Abram (or Abraham). She is the first four
women named in the Bible. There are many interesting things that could be
researched and taken from Sara's life including her personal life; as a wife; as a
mother; and as a believer in Yahweh. The purpose of this paper was to find out the
interesting things of the life of Sara that need to be imitated, especially by women in
modern times. This is deemed necessary because Sarah is exemplified as an example
of faith in Hebrews 11 and her faith is aligned with the faith of Abraham, her
husband. The results of this paper are: (1) Sara was a beautiful woman, an attractive
person despite having a personal struggle; (2) Sarah was a wife who deeply loved her
husband, faithful, firm but submissive to the husband even willingly in honey for the
happiness of her husband and the integrity of the household; (3) Sara was a good
mother and loved Isaac that is why Isaac loved her so much. She was ready to
sacrifice just for the happiness of her child; (4) Sarah was a woman who has a firm
faith in Yahweh. She was aligned as the figures of faith in the book of Hebrews. She
believed in God's promises even though she had never enjoyed the land of Canaan;
she never saw the great Israelites and the coming of Messiah. The positive
characters of Sarah need to be copied by women in modern times if they want to
maintain their self-credibility; the integrity of their household; the future of their
children; especially their faith in Yahweh.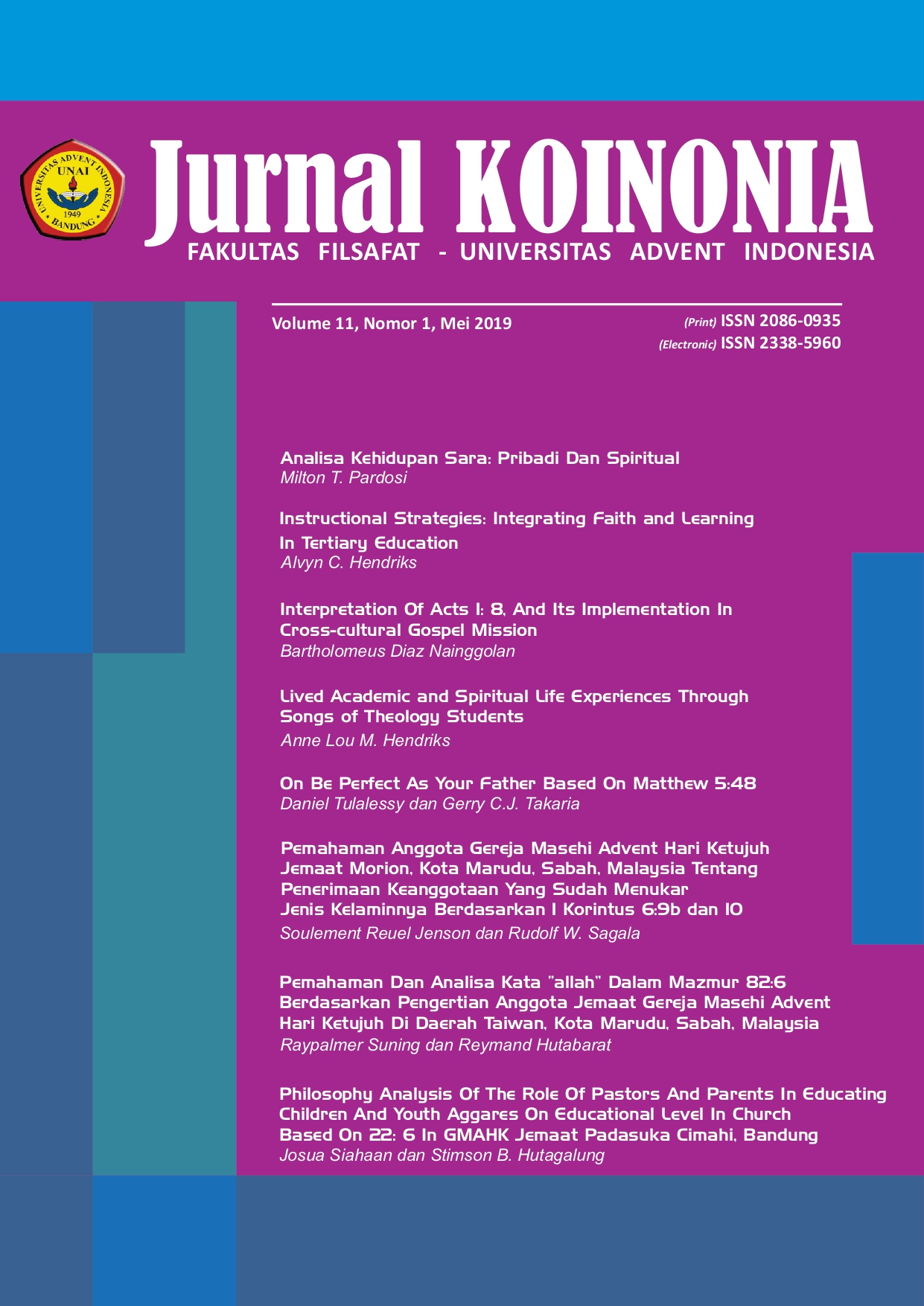 Downloads
How to Cite
Pardosi, M. T. (2019). ANALISA KEHIDUPAN SARA: PRIBADI DAN SPIRITUAL. Jurnal Koinonia: Fakultas Filsafat Universitas Advent Indonesia, 11(1), 1-13. https://doi.org/10.35974/koinonia.v11i1.2291
Section
Kepemimpinan dan Pendidikan Kristen