The Patient Satisfaction On Quality of Health Services in Out Patient Department of Bandar Lampung Adventist Hospital
Novita Verayanti Manalu

Universitas Advent Indonesia

Tresia Budiarti

Universitas Advent Indonesia
Keywords:
Quality of Health Service, Patient Satisfaction
Abstract
One of the health service facilities is a hospital. Hospitals are required to provide the bestservices for patient satisfaction. Satisfaction will be fulfilled if the service provided in a hospitalis felt to be in accordance with patient expectations, otherwise the patient will not feel satisfied.Disatisfaction with services will encourage patients to use the services of other competitors andwill result in decreased profits for the hospital. The level of satisfaction is closely related toquality services so that the services provided are in accordance with patient expectation. Thepurpose of this study was to determine the level of patient satisfaction, patient assessment ofthe quality of health services and the relationship between the level of satisfaction with thequality of health services in an Out Patient Department (OPD) of Bandar Lampung AdventistHospital.The method used in this study is a descriptive correlation involving 160 patients in OPD ofBandar Lampung Adventist Hospital. The data gathering was done by purposive sampling, andused a questionnaire instrument. The questionnaire used in the form of a checklist consist oftwo parts were those related to the patient satisfaction levels (23 questions) and related to thequality of OPD services (45 questions), so the total of all questions was 68. Then the data wereanalyzed using the McClave percentage formula, Benson, and the correlation formulaaccording to Sugiyono (2007: 122).The results of this study found the percentage level of patient satisfaction in the Out PatientDepartment of Bandar Lampung Adventist Hospital is 76.35%. This states that the level ofpatient satisfaction is included in the high category. The percentage of patients' assessment ofservice quality is 75.96%, this value is also included in the high category. Through these twopercentages, the correlation value is 0.852. It states that there is a very strong relationshipbetween the level of patient satisfaction with the quality of health services in OPD of BandarLampung Adventist Hospital.Based on the results of the study it can be concluded that patients in OPD of Bandar LampungAdventist Hospital have a high level of satisfaction that related to the quality of hospital healthservices. Suggestions given to the head of the OPD are expected to be able to maintain andimprove quality services so that the patient satisfaction is maintained properly.
Downloads
Download data is not yet available.
References
Abdel-Hadi, S. A. (2017), Manajemen Tenaga Kerja, Jakarta: Erlangga
Azwar,(2010) Pengantar Administrasi Kesehatan.Tangerang:Binarupa.
Aksara Bustami (2011) Penjaminan Mutu Pelayanan Kesehatan dan Askeptabilitasnya
Depkes, Permenkes RI. No. 269/MenKes/Per/III/2008, Tentang Rekam Medis. Jakarta: Depkes RI 2008
Dharma, Kusuma Kelana. (2011). Metodologi Penelitian Keperawatan: Panduan Melaksanakan dan Menerapkan Hasil Penelitian. Jakarta: Trans Infomedia
Gerson, Richard F. (2002). Mengukur Kepuasan Pelanggan, Cetakan kedua, Jakarta: PPM
Gultom,D.K,P.Ginting & B.KF.Sembiring. (2014). Pemasaran Jasa dan Kualitas Pelayanan Terhadap Kepuasan
Hidayat, A. Azis. (2007). Metode Penelitian Keperawatan dan Teknis Analisis Data, Jakarta: Salemba Medika
J. Supranto, M.A.(2009). Metode Peramalan Kuantitatif untuk Perencanaan Ekonomi dan Bisnis, Jakarta: Rineka Cipta.
Kotler, Phillip.(2008). Manajemen pemasaran, Edisi Kesebelas, Jilid 1-2, Jakarta: Index
Murdani, Eti (2007) Pengembangan Sistem Informasi Rekam Medis Rawat Jalan Untuk Mendukung Evaluasi Pelayanan Di Rsu Bina Kasih Ambarawa ( Information System Development Of Outpatient Medical Record To Support Evaluation Of Services At Bina Kasih Public Hospital, Ambarawa). Masters Thesis, Program Pascasarjana Universitas Diponegoro.
Notoatmodjo, Soekidjo. (2002). Metodologi Penelitian Kesehatan, Penerbit Rineka Cipta, Jakarta.
Nugrroho, Adi. (2011). Perancangan dan Implementasi Siistem Basis Data. Yogyakarta: Andi
Nursalam. (2013). Metodologi Penelitian Ilmu Keperawatan Pendekatan Praktis. Edisi 3. Jakarta: Salemba Medika.
Pohan Imbalo. S, MPH, MHA,Dr. (2007). Jaminan Mutu Layanan Kesehatan: Dasar-dasar Pengertian dan penerapannya. Jakarta: EGC
Rahayu , Sri (2009) Pengembangan Model Sistem Informasi Rumah Sakit Pada Instalasi Radiologi Rawat Jalan Untuk Mendukung Evaluasi Pelayanan Di Rumah Sakit Paru Dr. Ario Wirawan Salatiga. Masters Thesis, Program Pasca Sarjana Universitas Diponegoro
Rahmatika, Yulia. (2009). Analisis Tingkat Kepuasan Pasien Rawat Jalan Terhadap Kualitas Pelayanan Rumah Sakit Pusat Pertamina. [Skripsi]. Bogor: fakultas Ekonomi dan Manajemen IPB
Riduwan. (2007). Rumus dan Data dalam AnalisisStatistika. Bandung: Alfabeta.
Setiadi, Nugroho J. (2003). Perilaku Konsumen konsep dan Implikasi untuk Strategi dan Penelitian Pemasaran. Bandung: Kencana
Sipayung, Darmawaty (2012).Hubungan Komunikasi Teraupetik Dengan Kepuasan Klien di Rawat Inao di Rumah Sakit Advent Medan
Sugiyono.(2012). Metode Penelitian Pendidikan Pendekatan Kuantitatif, Kualitatif dan R&D. Bandung: Alfabeta
Supardi, & Rustika. (2013). Metodolgi Riset Keperawatan. Jakarta: TIM.
Tjiptono, Fandy. (2013). Pemasaran Jasa. Malang: Bayumedia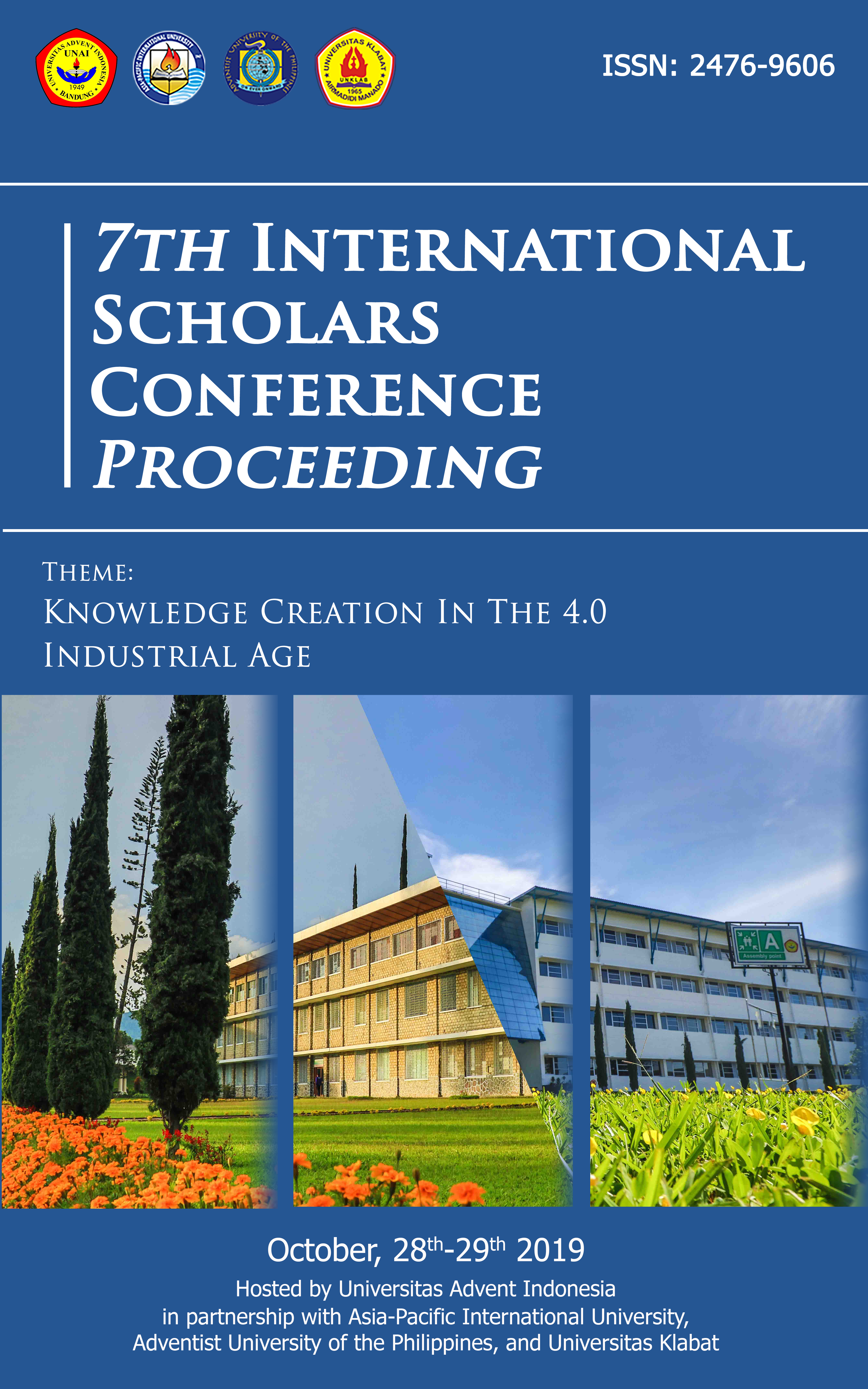 How to Cite
Manalu, N., & Budiarti, T. (2019). The Patient Satisfaction On Quality of Health Services in Out Patient Department of Bandar Lampung Adventist Hospital. Abstract Proceedings International Scholars Conference, 7(1), 550-563. https://doi.org/10.35974/isc.v7i1.1162
Copyright (c) 2019 Abstract Proceedings International Scholars Conference
This work is licensed under a Creative Commons Attribution-ShareAlike 4.0 International License.
Copyright © 2019 ISC Committee.