The The Influence of Hypertension Exercise on Blood Pressure in Elderly Hypertension in The Working Area Of The Kedaton Health Center in Penengahan Raya Village Bandar Lampung
Novita Verayanti Manalu

Universitas Advent Indonesia
Keywords:
Elderly Hipertension Exercise, Elderly Hypertension
Abstract
Blood pressure can increase when one is aged 45 – 55 years old. The artery walls become thickdue to the collagen acumulation in the muscle layers. As a result, the blood vessels willgradually narrow and become rigid. Elderly exercise is a mild exercise. It is easy to do wothourburdensome, which is dedicated to the elderly. The objective of this research is to analyze theeffect of the elderly exercise on the blood pressure of the hypertension elderly at CommunityHealth Center of Kedaton.This reseach used the quasi experimental method with pre and post test design. The populationof research consisted of 64 respondents, 32 as the experimental group and the rest 32 as thecontrol group. The former was exposed to the intervention of the elderly hypertension exercise.The data of research were analyzed by using T test.There was an effect of the elderly hypertension exercise on the systolic blood pressure anddyastolic blood pressure of the hypertension respondents at Community Health Center ofKedaton as indicated by the p value = 0,000. So H0 rejected and H1 accepted. The healthworkers are required to conduct socialization and training of the elderly hipertention exerciseneed to socialize and train the performance skill of hipertension exercise. So, they can managethe elderly whom have hypertension by using non-pharmacological management to controlblood pressure on hypertension patients.
Downloads
Download data is not yet available.
References
Anggraini, A. D., dkk (2003). Faktor-faktor yang Berhubungan dengan Kejadian Hipertensi pada Pasien yang Berobat di Poliklinil Dewasa Puskesmas Bangkinang Perioder Januari Sampai Juni 2008. Riau: Faculty of Medicine-University if Riau.
Arikunto, S. (2006). Prosedur penelitian suatu pendekatan praktik. Edisi revisi 6. Cetakan ke-13. Jakarta: PT. Rineka Cipta.
Arrmilawati, Amalia H., Amiruddin. (2007). Hipertensi dan Faktor Resikonya Dalam Kejadia Epidemiologi. Ujung Pandang: FKM UNHAS.
Astari, dkk. (2012). Pengaruh Senam Lansia erhadap Tekanan Darah Lansia Dengan Hipertensi Pada Kelompok Senam Lansia di Banjar Kaja Sesetan Denpasar Selatan.
Azizah, M. Lilik (2011). Keperawatan Lanjut Usia. Edisi 1. Ygyakarta: Graha Ilmu
Badan Penelitan dan Pengembangan Kesehatan. (2013). Riset kesehatan dasar Rikesdas 2019. Jkarta: Kementrian Kesehatan RI.
Dahlan, S. (2009). Besar Sampel Penelitian, Jakarta: Salemba Medika.
Depkes, R.I. (2003). Sistem Kesehatan Nasional. 2004, Jakarta
Devi (2012). Menurunkan Tekanan Darah. Jakarta: PT> Bhuana Ilmu Populer.
Dharma, K.K. (2011). Metodologi penelitian keperawatan: Panduan melaksanakan dan menerapkan hasil penelitian. Jakarta: Trans info Media
DINKES Prov. Lampung (2016). Data informasi Kesehatan Propinsi Lampung 2016.
Giriwijoyo, S. (2007). Olahraga untuk kesehatan. Jakarta: Balai Pustaka.
Gunawan, D. (2009). Perubahan Anatomik Organ Tubuh Pada Penuaan.
Gunawan, L. (2001). Hipertensi Tekanan Darah Tinggi. Yogyakarta: Kanisius.
Harrison, I. Wilson, B.W. & Kasper, M.F.(2005). Prinsip-prinsip Ilmu Penyakit Dalam, edisi 13 Volume 3. Jakarta: EGC
Haryono. (2012). Lansia perlu perhatian. Kementrian koordinator bidang kesejahteraan rakyat. Retrieved from www.menkokesra.co.id
Hastono, S.P. (2007). Basic Data Analysis for Health Research. Depok: FKM-UI.
Henuhili, Yuliati, Rahayu, dan Nurkhasanah. (2011). Pola Pewarisan Penyakit Hipertensi Dalam Keluarga Sebagai Sumber Belajar Genetika, Prosiding Seminar Nasional Peneliti, Pendidikan dan Penerapan MIPA, Fakultas MIPA, Universitas Negeri Yogyakarta, 14 Mei 2011.
Hidayat, A.A. (2011). Metode penelitian keperawatan dan kebidanan serta teknik analisis data. Surabaya: Salemba Medika.
Jlkafah (2014). Pengaruh Latihan Fisik (Senam Lamsia) Terhadap Penurunan Tekanan Darah Pada Lansia Dengan Hipertensi Ringan – Sedang di Rektorat Unibraw Malang, Jurnal Surya, Vol. 2 No. IV, Malang Ismayadi. (2004). Proses Menua (Aging Process). (online). Skripsi. Medan: Program Studi Ilmu Keperawatan Fakultas Kedokteran Universitas Sumatera Utara. http://repository.usu.ac.id/bitstream./123456789/3595/1/keperawatanismayadi.pdf,
Junaidi, I. (2011). Stroke Waspadai Ancamannya. Penerbit Andi, Yogyakarta.
Katzung, B. G. (2010). Farmakologi Dasar dan Klinik. Jakarta: Salemba Medika.
Kusmana, D. (2006). Olahraga Untuk Orang Sehat dan Pendertia Penyakit Jantung
Margiyati. (2010). Pengaruh senam lansia terhadap penurunan tekanan darah pada lansia penderita hipertensi di posyandu ansia ngudi waras, Dusun Kemloko, Desa Bergas Kidul
Potter, P.A. & Perry, A.G. (2005) Buku ajar fundamendatl keperawatan konsep, proses, dan praktik. Alih Bahasa: Yasmin Asih. Edisi 4. Jakarta: EGC
Price, S.A. & Wilson, L. M. (2005). Patofisiologi konsep klinis peroses-proses penyakit. Edisi 4. Jakarta: EGC
Rigaud, F. B. (2006). Hypertension in Older Adults. J. Gerontol. 2001; 56A: M2175.
Ruhyanudin, F. (2007). Asuhan Keperawatan Pada Klien Dengan Gangguan Sistem Kardiovaskular. Malang: UMM Press.
Sabri, L. & Hastono, S. (2010). Statistik data kesehatan. Jakarta: Rajawali Press.
Setiawan, IWA, Yunanu dan Ksyati. (2014). Hubungan Frekuensi Senam Lansia Terhadap Tekanan Darah Dan Nadi Pada Lansia Hipertensi, Prosising Konferensi Nasional II PPNI Jawa Tengah, Semarang.
Sheps, S.G. (2005). Mayor Clinic Hipertensi, Mengatasi Tekanan Darah Tinggi. Jakarta: Intisari Mediatama.
Smeltzer, S. & G. Bare (2011). Buku Ajar Keperawatan Medikal Bedah. Edisi 8 Vol. 3. Jakarta: EGC
Soeharto, I. (2004). Serangan Jantung dan Stroke Hubungannya dengan Lemak dan Kolesterol. Edisi 2. Jakarta: PT. Gramedia Pustaka Utama.
Sumintarsih. (2006). Kebugaran Jasmani untuk Lansia. Olahraga, 147-160.
Suroto. (2004). Senam Kesehatan. Yogyakarta: Muha Medika
Titin S. (2010). Pengaruh senam terhadap kebugaran lansia. Trias Sok & Senam 10 menit. Edisi 2. Jakarta: FKUI
Underwood, J. (2000). Patologi Umum dan Sistemik. Edisi 2. Jakarta: EGC
Woods, S.L., Froelicher, ES., Motzer, SU., & Briges, JE. (2009). Cardiac Nursing. Philadelphia: Wolters Kluwer Health.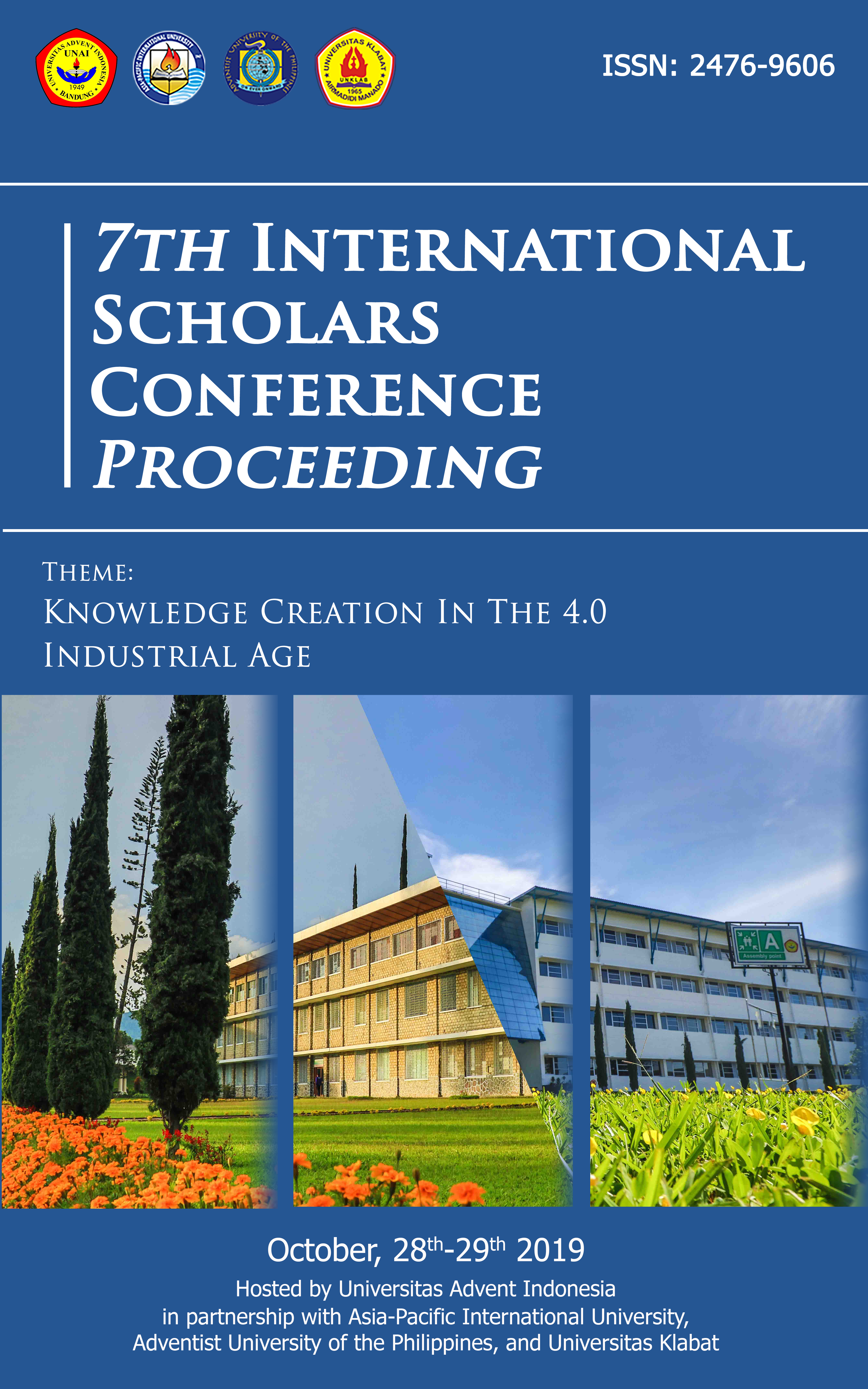 How to Cite
Manalu, N. (2019). The The Influence of Hypertension Exercise on Blood Pressure in Elderly Hypertension in The Working Area Of The Kedaton Health Center in Penengahan Raya Village Bandar Lampung. Abstract Proceedings International Scholars Conference, 7(1), 564-579. https://doi.org/10.35974/isc.v7i1.1170
Copyright (c) 2019 Abstract Proceedings International Scholars Conference
This work is licensed under a Creative Commons Attribution-ShareAlike 4.0 International License.
Copyright © 2019 ISC Committee.