The Relationship Between Maternal Knowledge About Lactation Management and Behavior in Breast Feeding In Kedaton Health Center Bandar Lampung
Novita Verayanti Manalu

Universitas Advent Indonesia
Keywords:
Breast milk, Breastfeeding, Lactation Management, Knowledge, Behavior
Abstract
Breastfeeding is the right of every mother even for mothers who work as a farmers, traders, civilengineering, or private employees. The implementation of breasfeeding can be done properly andcorrectly if there is complete information about the benefits of breast milk and breastfeeding alsolactation management. Exclusive breastfeeding can be inhibited by a number of things such as lowmaternal and family knowledge about the benefits of breast milk, correct breastfeeding, lack of lactationcounseling services, socio-cultural factors, incessant marketing of formula milk, lack of support fromhealth workers and maternal working. This study aims to determine the relationship between maternalknowledge about lactation management and behavior in the provisionof breast milk in the workingareas of the Health Center, Penengahan Raya Kedaton Village Bandar Lampung. This study useddescriptive correlation design with cross sectional approach. The population of this study was allbreasfeeding working mothers in the working area of Health Center Penengahan Raya Kedaton Villagewith a total sample of 40 respondents. The instrumen consist of 10 knowledge questions and 10behavioral questions with Guttman Scale, which validated by 10 respondents. The result of the bivariateanalysis using the kendall test know that p value = 0,016 then p value p < 0,05 with coefissiencorrelation is 0.76. Based on the result of the research and analysis above, it can be concluded that thereis a high correlation relationship between the level of knowledge about lactation management andmaternal behavior in giving breast milk in the working areas of the Health Center, Penengahan RayaKedaton Village Bandar Lampung
Downloads
Download data is not yet available.
References
Arikunto, S. (2000). Prosedur Penelitian Sutu Pendekatan Praktek. Jakarta: PT. Rieneka Cipta.
Ayu, R. (2011). Faktor-faktor yang Berhubungan dengan Pemberian ASI Eksklusif di Kecamatan Salawa dan Suka Hening Kabupaten Tasikmalaya tahun 2010. Jurnal Penelitian. Tasikmalaya: Stikes Respati.
Bestable, SB. (2002). Perawat Sebagai Pendidik: Prinsip-prinsip Pengajaran dan Pembelajanan. Jakarta: EGC.
Cadwell, K. Cindy, T. (2011). Manajemen Laktasi. Alih Bahasa: Estu Tiar. Jakarta: EGC.
Desi, Ariyana (2008). Tingkat Pengetahuan Tentang Penyimpanan ASI pada Ibu Bekerja di Asrama Polisi Kalisari Semarang Kecamatan Semarang Selatan. Journal Keperawatan. FIKKES. Volume 1 no. 208.
Depkes, RI. (2005). Kebijakan Depkes tentang Peningkatan Pemberian ASI Pekerja Wanita. Jakarta: Pusat Kesehatan Kerja Depkes RI.
Dinas Kesehatan. (2008). Profil Kesehatan Jateng.
Dyah. (2009). Pemodelan Kuantitatif untuk Analisis Faktor Penentu Praktek Pemberian ASI eksklusif pada Ibu Bekerja di Instansi Universitas Jenderal Soedirman Purwokerto.
Elmiyasna, K. (2009). Kajian Pemberian ASI Eksklusif Kaitannya dengan Pendidkan dan Pekerjaan Ibu Menyusui di Puskesmas Nanggala Padang. Vol. 1 No. 1. Padang.
Hidayat, AA. (2011). Metode Penelitian Keperawatan dan Teknik Analisa Data. Jakarta.
Kristinasari, SW. (2009). ASI, Menyusui dan Sadari. Yogyakarta: Nuha Medika.
Mubarok, WI., Chayantin, N. (2009). Ilmu Keperawatan Komunitas Pengantar dan Teori. Jakarta: Salemba Medika.
Muchlisin, R. (2013). Pengertian, Tingkatan, dan Cara Memperoleh Pengetahuan. Dipetik 6 Oktober 2013. Dari: Pendidikan.
Notoatmojo, S. (2005). Metodologi Penelitian Kesehatan. Jakarta: Rineka Cipta.
Notoatmojo, S. (2010). Metodologi Penelitian Kesehatan. Jakarta: Rineka Cipta.
Perinasia. (2009). Bahan Bacaan Manajemen Laktasi, Cetakan ke-2. Program Manajemen Laktasi. Jakarta: Perinasia.
Proverawati, A., Eni, R. (2010). Kapita Selekta ASI dan Menyusui. Yogyakarta: Nuha Medika.
Purwanti, HS. (2004). Konsep Penerapan ASI Eksklusif. Jakarta: EGC.
Riwidikdo, H. (2010). Statistik Kesehatan. Yogyakarta: Mitra Candekia Press.
Roesli, U. (2005). Mengenal ASI Eksklusif. Jakarta: PT. Pustaka Pembangunan Swadaya Nusantara.
Sari, MM. (2009). Pengaruh Penyuluhan Manajemen Laktasi Terhadap Pengetahuan dan Sikap Bidan Tentang Manajemen Laktasi di Kecamatan Peusangan Kabupaten Birauen. Skripsi. Medan. Universitas Sumatera Utara.
Sugiyono. (2013). Metode Penelitian Bisnis. Penerbit Alfa Beta Bandung.
Suradi, R. (2010). Ikatan Dokter Anak Indonesia: Indonesia Menyusui. Badan Penerbit: IDAI.
Wawan, Dewi. (2011). Teori dan Pengukuran Pengetahuan, Sikap dan Perilaku Manusia. Yogyakarta: Nuha Medika.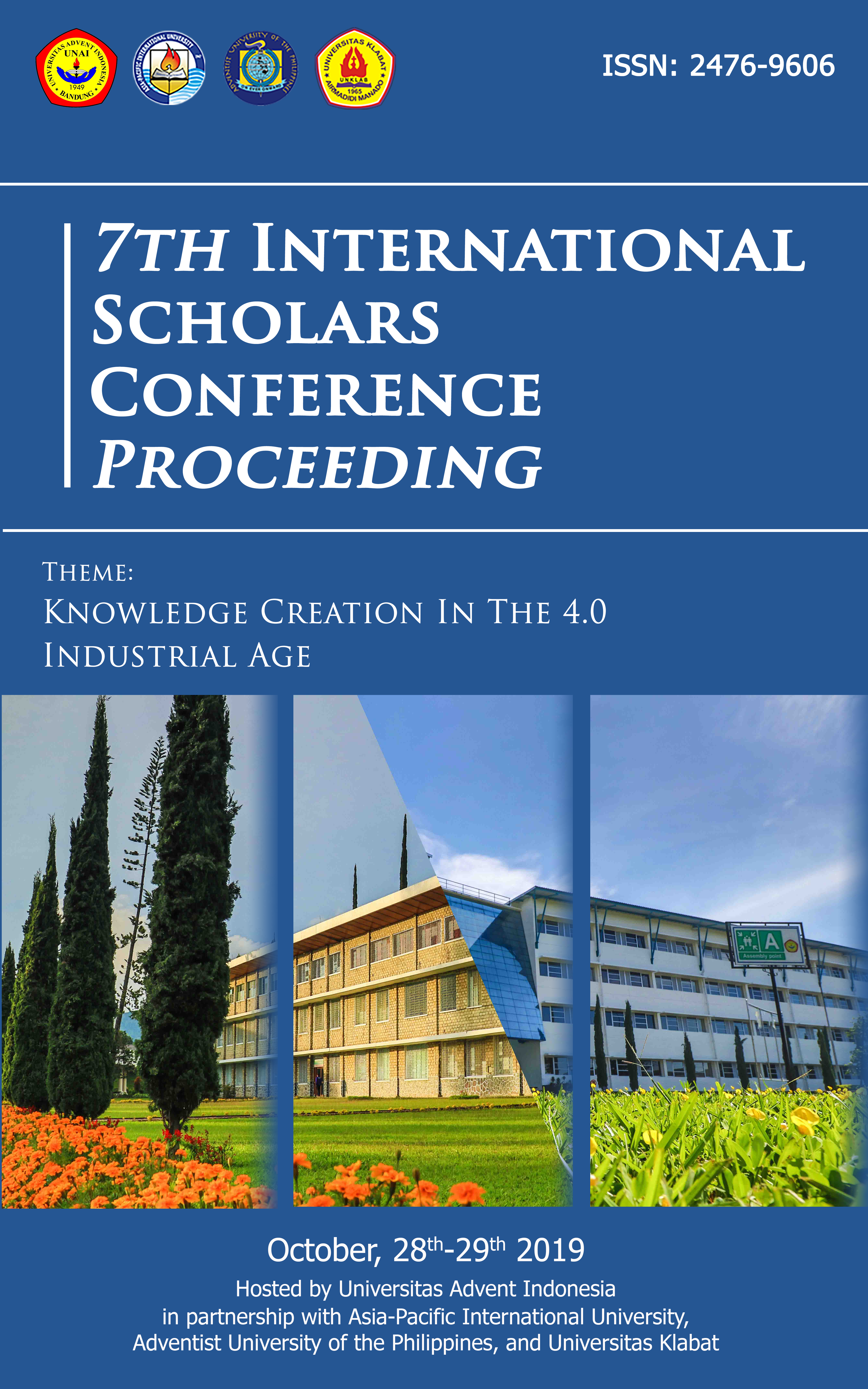 How to Cite
Manalu, N. (2019). The Relationship Between Maternal Knowledge About Lactation Management and Behavior in Breast Feeding In Kedaton Health Center Bandar Lampung. Abstract Proceedings International Scholars Conference, 7(1), 1-16. https://doi.org/10.35974/isc.v7i1.801
Copyright (c) 2019 Abstract Proceedings International Scholars Conference
This work is licensed under a Creative Commons Attribution-ShareAlike 4.0 International License.
Copyright © 2019 ISC Committee.